Home
›
East Central General Fishing & The Outdoors
PC Offshore 06-09-11
ACME Ventures Fishing
Posts: 851
Officer
Another day, another Dol-PHIN, or two, or three..... Though not a trolling trip, we did
drag lines for an hour or so, from 125' to the weather buoy. This resulted in a nice
20 pounder (Mahi) a Cuda, and a few misses. Sea's were rough, but we managed 25
to 30 mph out, though with a lot of splash. Our plan for the balance of the day was
reef fishing.
We headed to 8A to see what was on the reef besides bottom game. Anchored up
and chumming the waters, the fishing began. Two days earlier a 13 Mahi were caught
with this approach, though all but four were small schoolies. The bottom is always
active, with nice sized Triggers and Sea Bass filling the icebox quickly. Most of the
Triggers were caught on a small verticle jig. A surprise catch on the verticle jig was a
large Flounder. We have caught small ones here before, but never this large, right on
the ridge.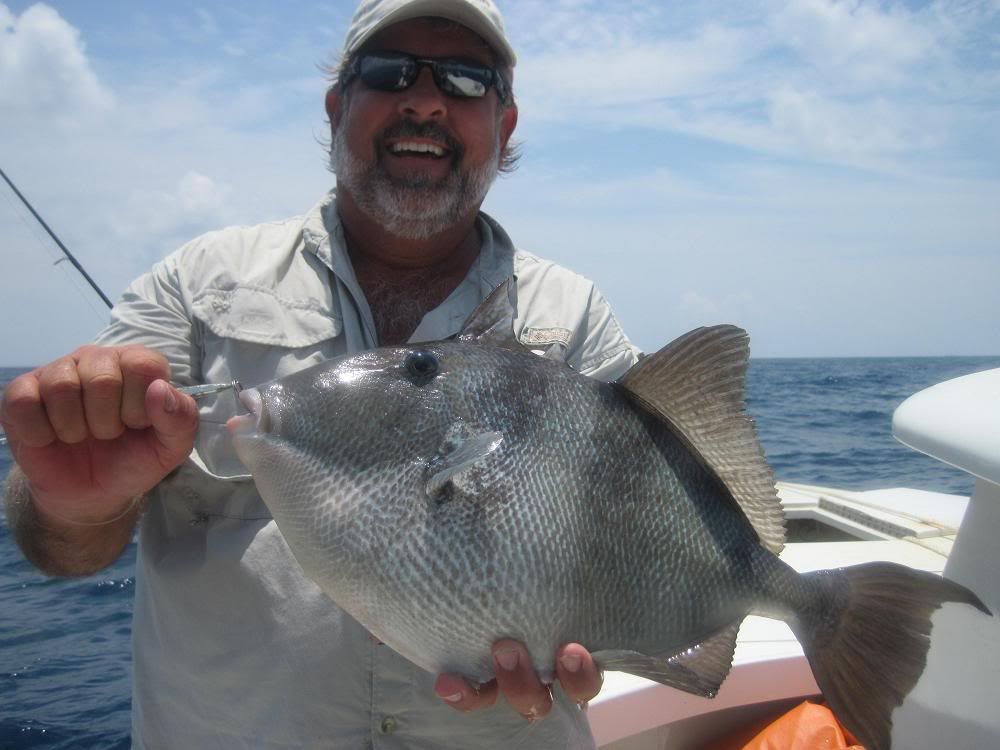 The Remora's were a real obsticle with a half dozen waiting for anything we put
in the water, but we managed. Our flatlines were quiet most of the day, aside from
the stray Remora finding the bait. First non-remora was a schoolie that took the bait.
A quick release, and lines deployed again. Only one more Mahi showed up the rest of
the day but it was a 15 pounder right at the boat. One of the flatlines was quickly reeled in and in "cane pole" fashion bait was placed in fornt of it, and "Fish-On"! Now it wanted far away from the boat, and we hoped the fight would show up another, but it must have been running solo. Into the icebox it went.
Our ride to port was fast but wet. A USCG Cutter wanted to do a safety stop in the 4'
choppy sea's still about 10 miles out, but settled for the boats name and number, and
sent us on our way. To the Port, and Cleaning tables we went. 3 trips so far for the
week and 19 Mahi. 4 more trips to go in the next 5 days, so hopefully the pattern will
continue, and maybe a few real lunkers can be found!
Captain Henry
"wile e Coyote"