Home
›
Fly Fishing
What rod wt for what species?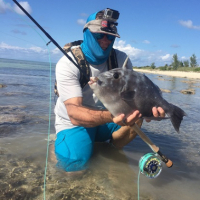 Docked Wages
Posts: 2,911
Admin
I am still a novice fly fisherman and steadily becoming an addict. I picked up an 8wt about three years ago and a size 9 reel. I put little effort into becoming adequate until recently. My vision was to catch large saltwater fish equal to spin or jig tackle. I failed miserably during this cobia season on fly, but did ok in the bahamas with bonefish and in Canada with Northern and Walleye.

I want to target small trout in the river, jacks or oversized reds at the inlet and work my way up to tarpon on the beach. In reference to another post here, what advantage is a rod smaller than 8wt? Does my one set up for all tackle seem to ridiculous? (silly question if I look at my saltwater inventory)

What size rods work for what species?

Currently I have one reel with floating line but found that to be a destraction in Canada, had to add pinch wts to get it to sink. That hurt my hook up ratio I believe. When do you use Sinking line? Any general tips would be appreciated and thanks in advance for any discussion or advice.
Mark P. Wilson
Marine Surveyor, SAMS-SA, ABYC
Wilson Yacht Survey, Inc
Old Bahama Bay (Owner / Board of Directors)