Home
›
Panhandle General Fishing & The Outdoors
Pananam City Offshore - 5/26/12... limit of red grouper and a colorful box
Panhandler80
Posts: 8,209
Moderator
Well, the weather cooperated yesterday and it allowed me to fish the area that I wanted to fish last weekend.
We made one stop a few miles inshore of where I thought the red grouper would be thick. The purpose of this stop was to catch those 20+ inch beeliners and hopefully a trigger or two, and to do so quickly. We boated two beeliners over 20" and a few triggers and a pair of small red grouper, but it was not fast and furious. We messed around at two other spots within about half a mile of there, and fished another one that we ran across, but the action was not good enough to stick around. Felt like the gaint beeliners that had been holding right there for the past 3 or 4 years got head boat found, but who knows.
Went ahead and made a sizable move offshore to the area that I thought would be holding red grouper. We didn't mark a whole lot, but the trigger rigs produced quickly, and the machine came to life so we decided to get situated on that spot and soak some baits. Probably 45 minutes later we'd boated 14 addtional red gropuper, a pair of kings, probably ten schoolie+ sized dolphin (for in close of NW Florida), 4 or 5 more triggers and a beeliner or two.
The red grouper bite was insane. They were jumping on whatever hit the bottom.
Here's me holding one that I'd just boated, while my wife is fighting another. If you look closely you can see her rod doubled over. She did pretty well at this spot and ended up with four of our keepers there... three of which came on the same mashed up grunt.
We had very little problems with gags or snapper. Of course we were targeting red grouper, but you never know what you're going to deal with so we did get kind of lucky in terms of absence of gags and snapper. We did boat one 15# gag. Pictured here....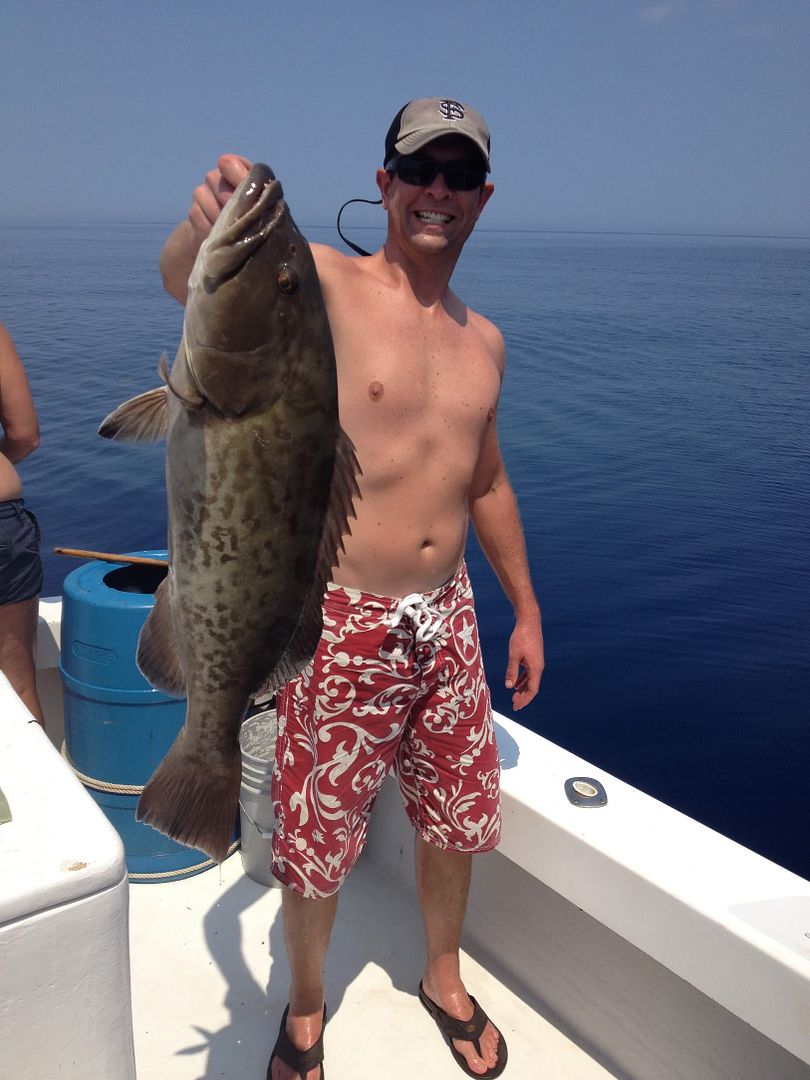 Three or four snapper (our biggest of which we fed to flipper.... so stupid!) up to 10#, a small black grouper and then I lost what was probably the biggest grouper I've ever gotten off the bottom. Hd him coming and then... PLINK! As soon as I lost it I hollered out, "My ******* hook straightened out!" I was not sure just how I knew that, but that was my suspicision.
Sure enough.... I'm sure it was a gag, but he was a stud! Would have at least liked a picture. I'm guessing a 40+ pound fish. I'm guessing he was hooked right in the top of the mouth, or somewhere where just the tip was digging in and the hook never came through the mouth. Oh well. He would have just been released anyway.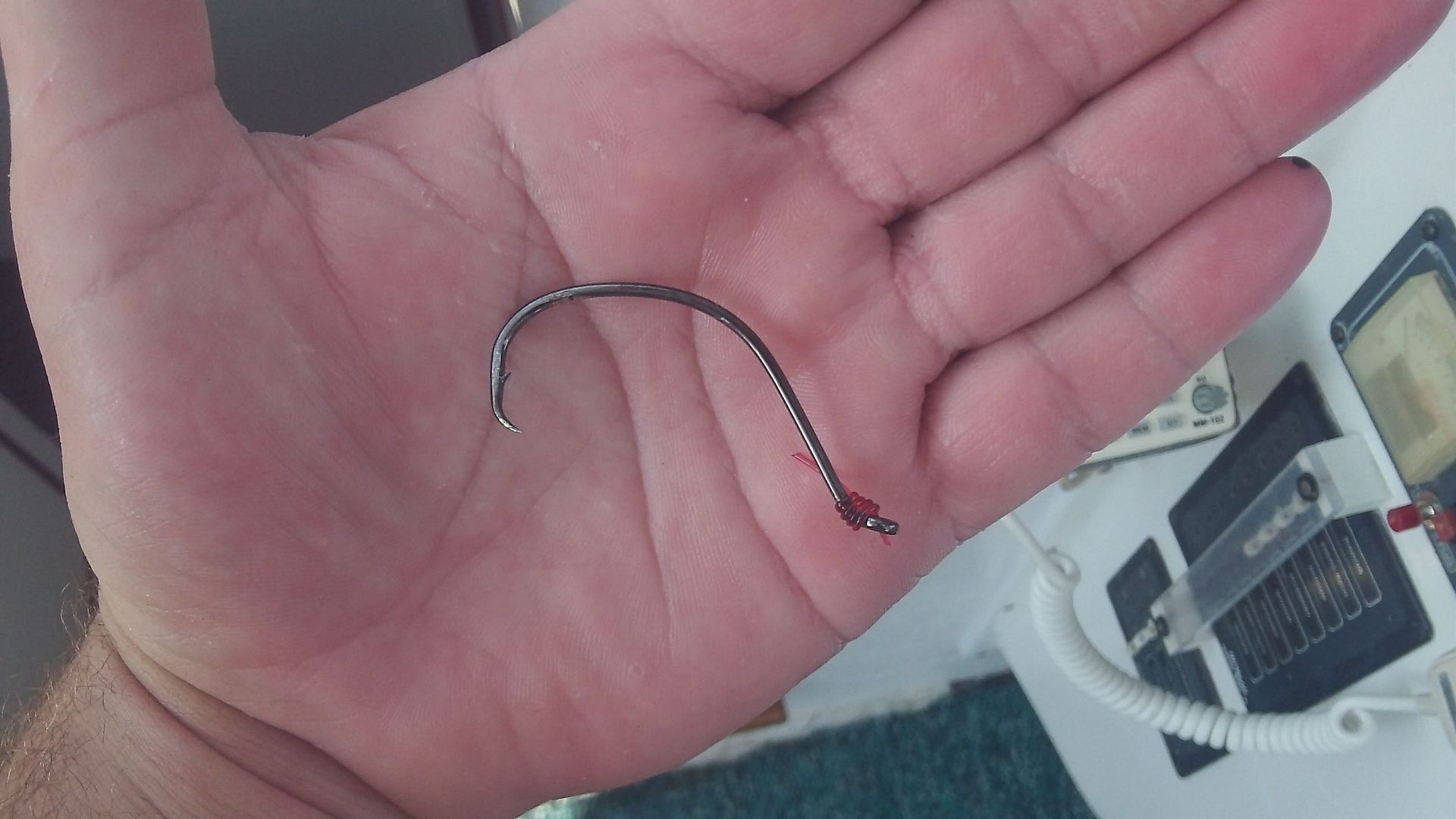 So... we grouper fished, triggerfished and kept the flat lines out best we could. Everytime we brought in a fish, the dolphin would show up (I guess they were holding deep). We'd boat that grouper and then try to pull at least one dolphin off the school and we were usually successful. Was nice to have them for a little color in the box.
The grouper we were catching were all quality fish. None were huge, but all decent. Here is probably the third or forth biggest that my buddy put over the rail.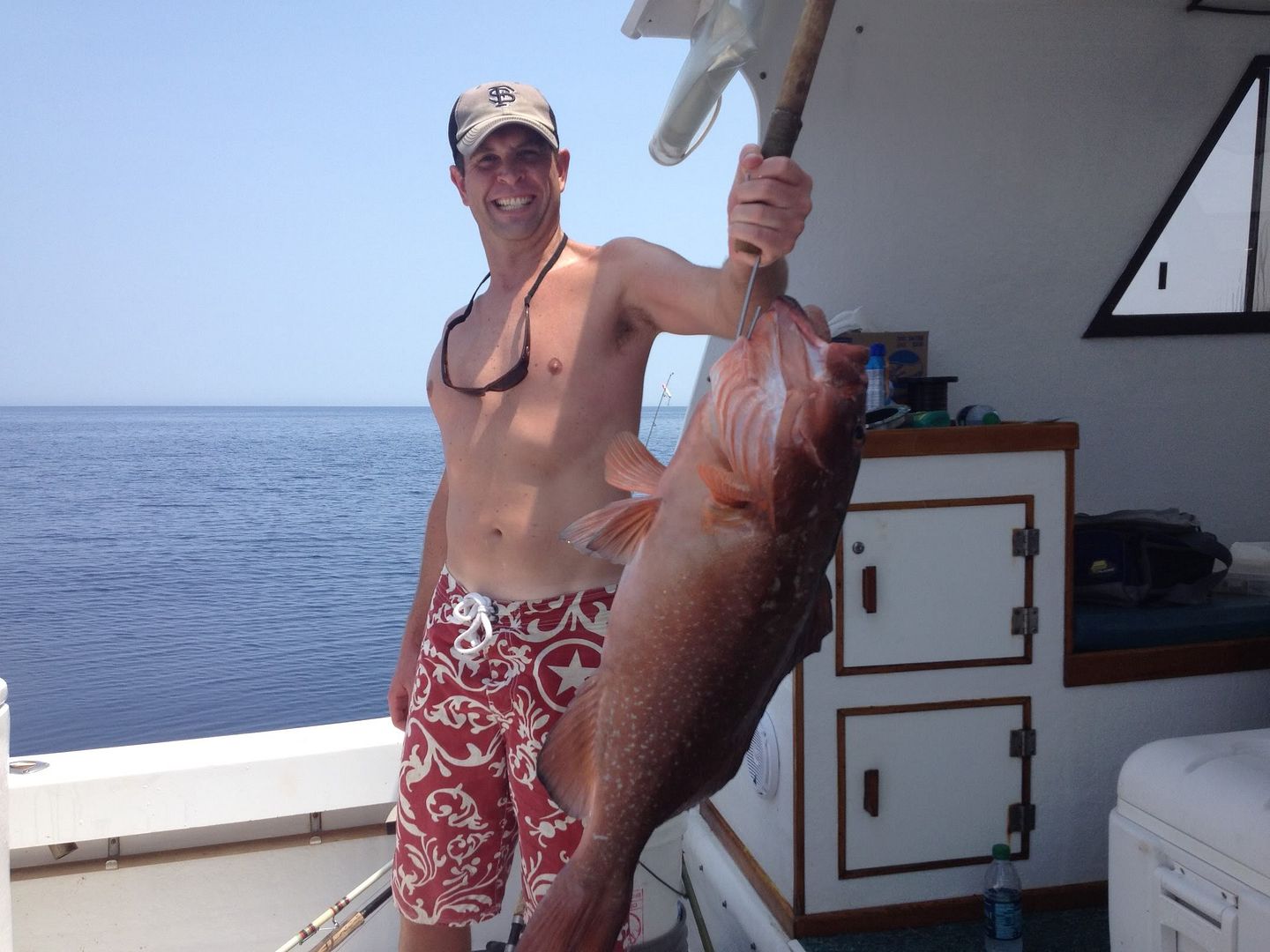 We also had two HUGE kings circle the boat a few times. I tossed a live hardtail on a single hook with wire too them and they'd chase it, but woudln't commit to it. The sun was straight above, water was almost blue and it was slick. I guess they just new sometnig was up. They were monsters, though. Probably over 50# because they were so wide and moving so slowy down deep that I thougth there were cobia when I tossed the hardtail up. They blitzed to the surface right there at the boat and chased the hardtail but wouldn't eat. I don't really care about kings, but when they're that big you can't help but get excited. The hardtail kept seeking the shelter of the boat, so I tied a balloon about 15' up line, hooked the hardtail in the butt and flipped it out there. That kept him away form the boat, and we got one big boil on the balloon, but nobody took the hook.
Anyway, after maybe an hour and half at that spot we four red grouper short of our 5 man limit. Figuring that we'd be able to pick them up on the way home, we decided to add some jack(s) to the mix.
On our way to the jack spot we ran across a little show and put two more red grouper in the box. Now we have time to burn and we're only two away from 20.
So, we pulled up to a spot that has traditionally held them the machine marked well. Looking back, we should have anchored. Instead we tried to hold up. We fired down hardtails on long long leaders and cranked them off the bottom. Soak. Soak. Soak. Soak. Looked like one of those days nobody was going to chew. Finally got off the spot. Put the boat in gear and when we did, one of the baits got hammered.
Bait was on a 30 year old solid glass rod that I like for small to medium sized grouper. It's a noodle with no real lifting power. That and a 4/0 equated to a 15 minute fight, but we eventually boated this guy. I'm guessing he's right at 50#. Will know more about that shortly as we're about to meet to clean fish. Hit the dock yesteray at 5:30 and we were all pretty beat.
I've also got a good video of him coming over the rail, but I have not yet figured out how to edit it so that photobucket.com will accept it. It's currently too long. A nice fish, though.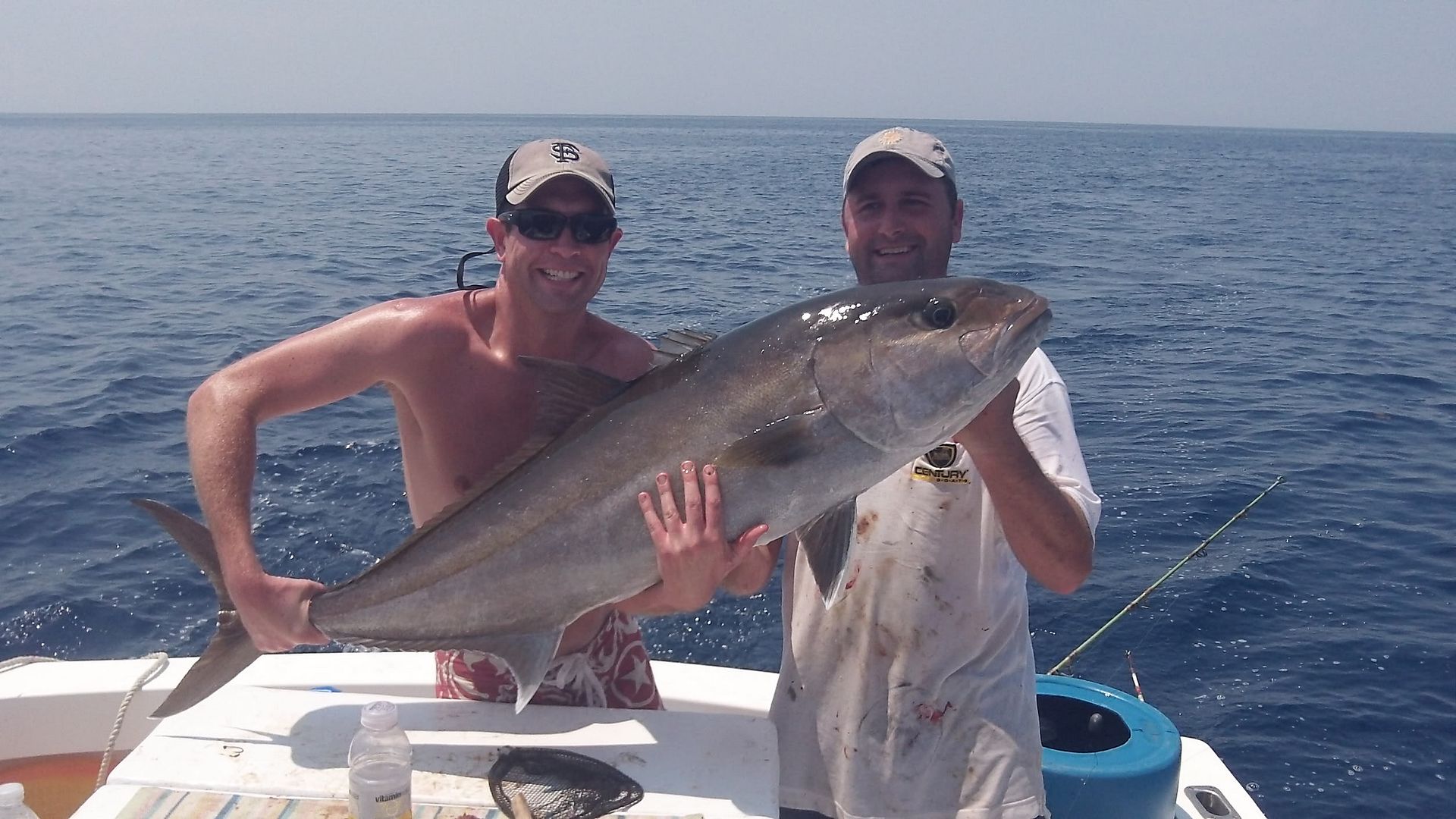 Here is the video of the jack coming over the rail... Oh, and we put him on a scale on Sunday... he went 52.8 pounds. I was pretty sure he was right at 50, if not a touch over, and I was correct. The biggest red grouper wa almost 18 pounds.
There was a pretty good current out there and during the fight we drifted 2/10 of a mile off the spot. We got back on it and it marked, but not like before. We sent down pretty baits fished them for jacks. Almost all got crushed, but they wouldn't inhale it. Pretty sure that jacks were well fed and they were just sport-crushing our hard tails. We tried every trick in the book, including various jigs and some flatlines. They just didnt' really want to chew, and we scattered them pretty good I'm sure with that big fish.
Hence my previous statement... we probably shoudl have anchored.
Anyway, we boated the jack and then spent a precious hour tyring to get another. Finally hung it up and said let's go to the house, but if we run across something let's try for our last two groupers.
Well, we put the high speeeder out (zero luck on it yesterday) and started headihng that way. About two miles later I realized that we were about to run right over a spot we've fished before. Sent two lines down in in short order had three keeper red grouper in the boat. Kept the bigger two. Boxed them and then started scrubbing the cockpit.
We're done!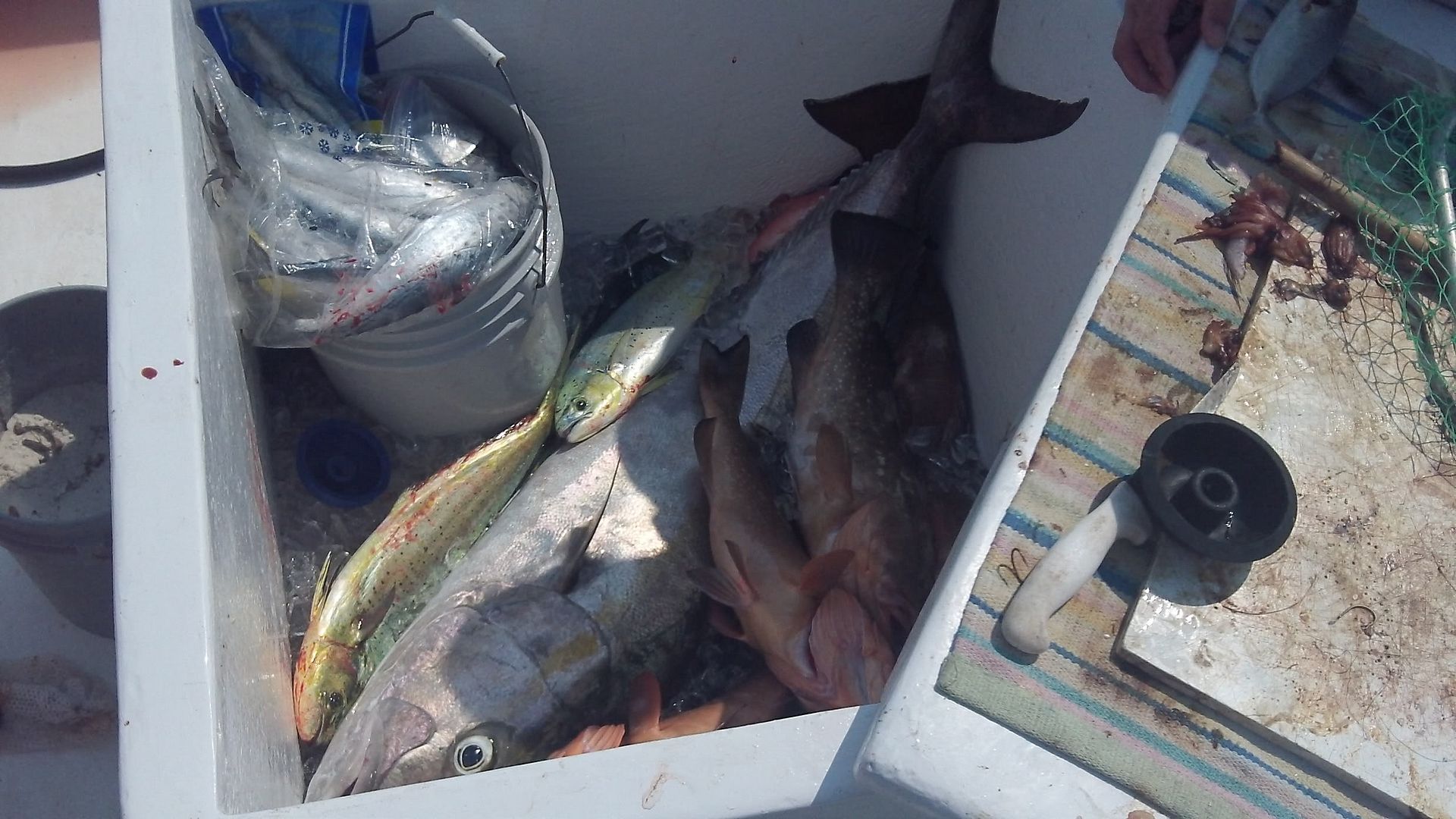 Headed home and there's a hot plate of mexican food and margarita with my name ALL over it back on the hill.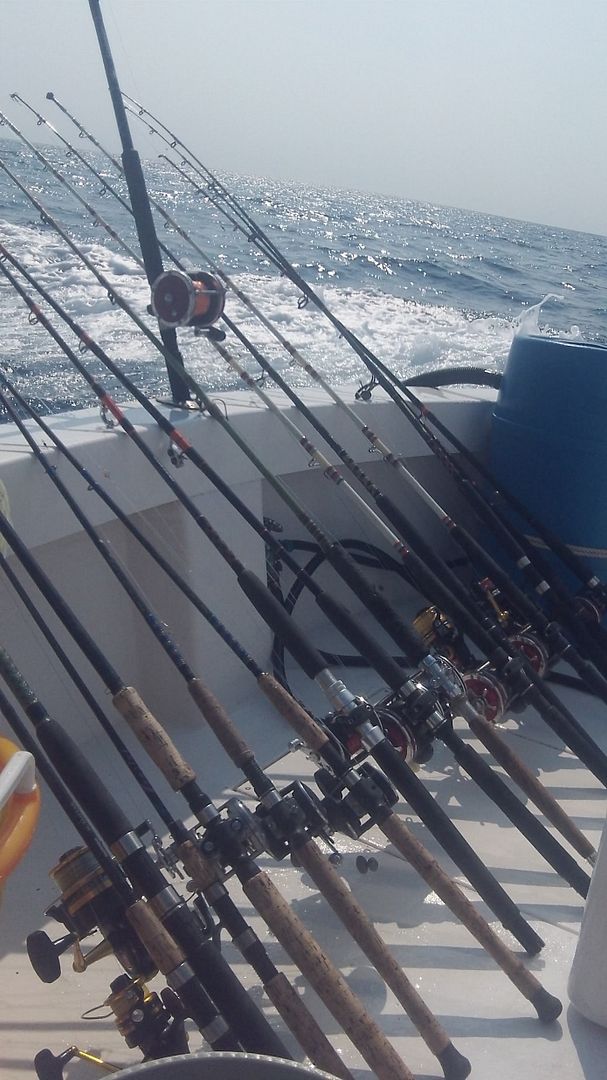 Back at the dock with a couple of the nicer red grouper. I'm going to weigh some of the bigger fish this morning. I'm guessing the biggest grouper was probably around the 16# mark. But we'll see. No real monsters, but nice quality fish for sure.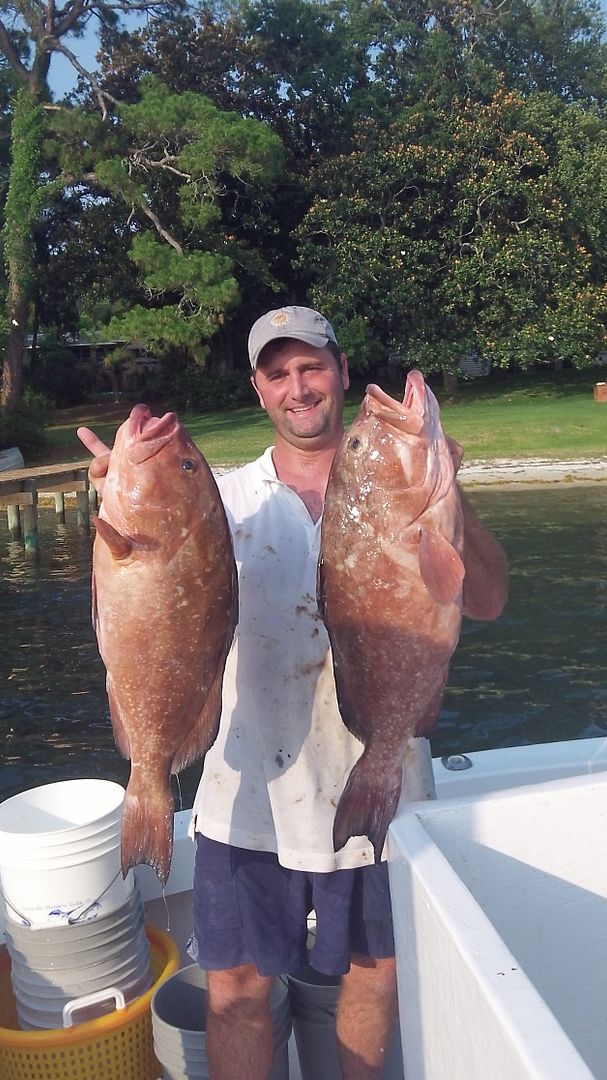 Taking everything out of the big box for a picture. I also like to re-ice and layer them at the end of the day if we're going to clean the next day. This 1. Allows us to get a picture which we sometimes skip, and 2. Means that I can layer them by species so we're pulling the same kind of fish out at once and putting filets in same bags.
Anway, here we have most of the red grouper and no ice in a box.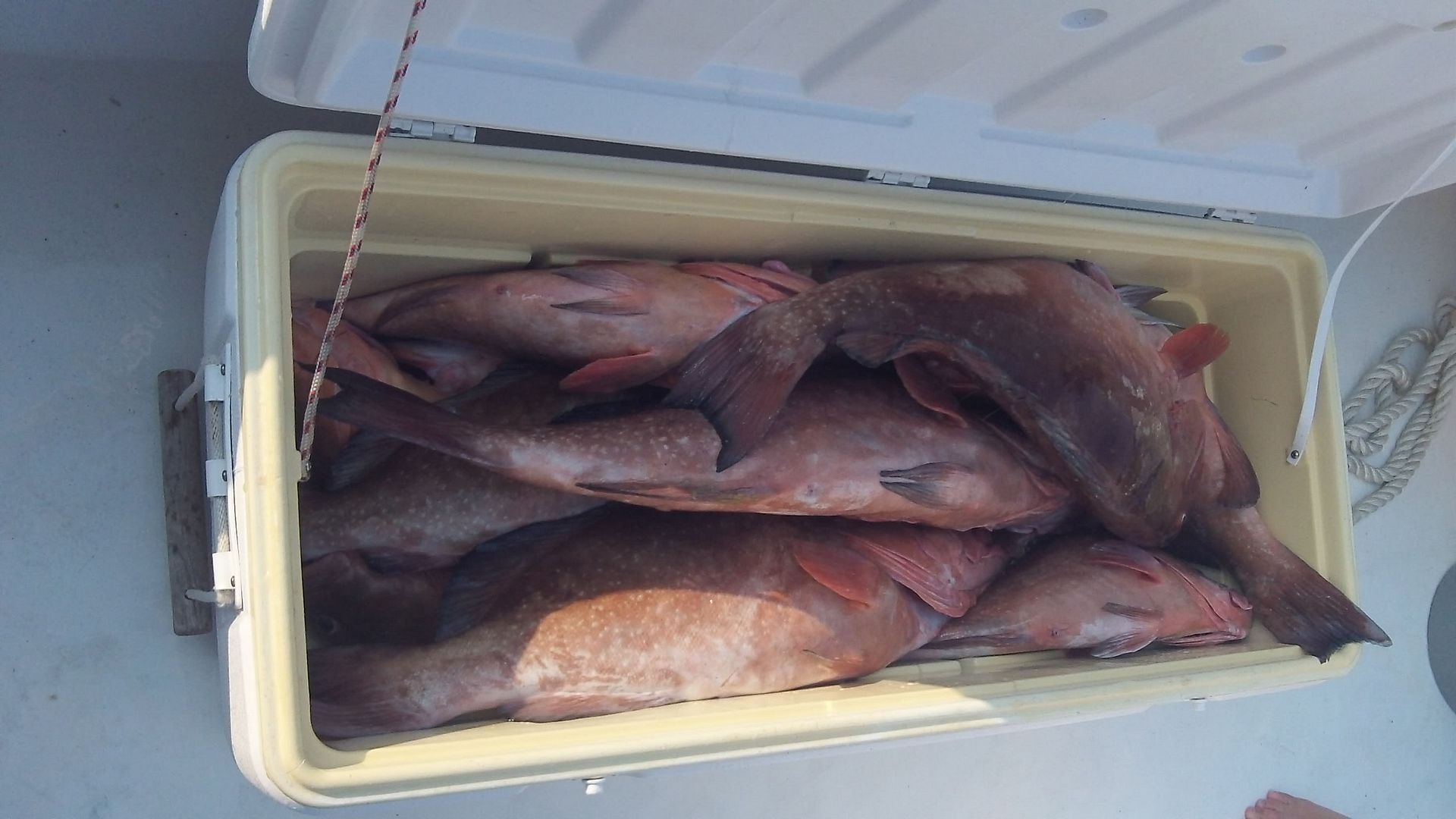 Still had a few more. Just not going to close!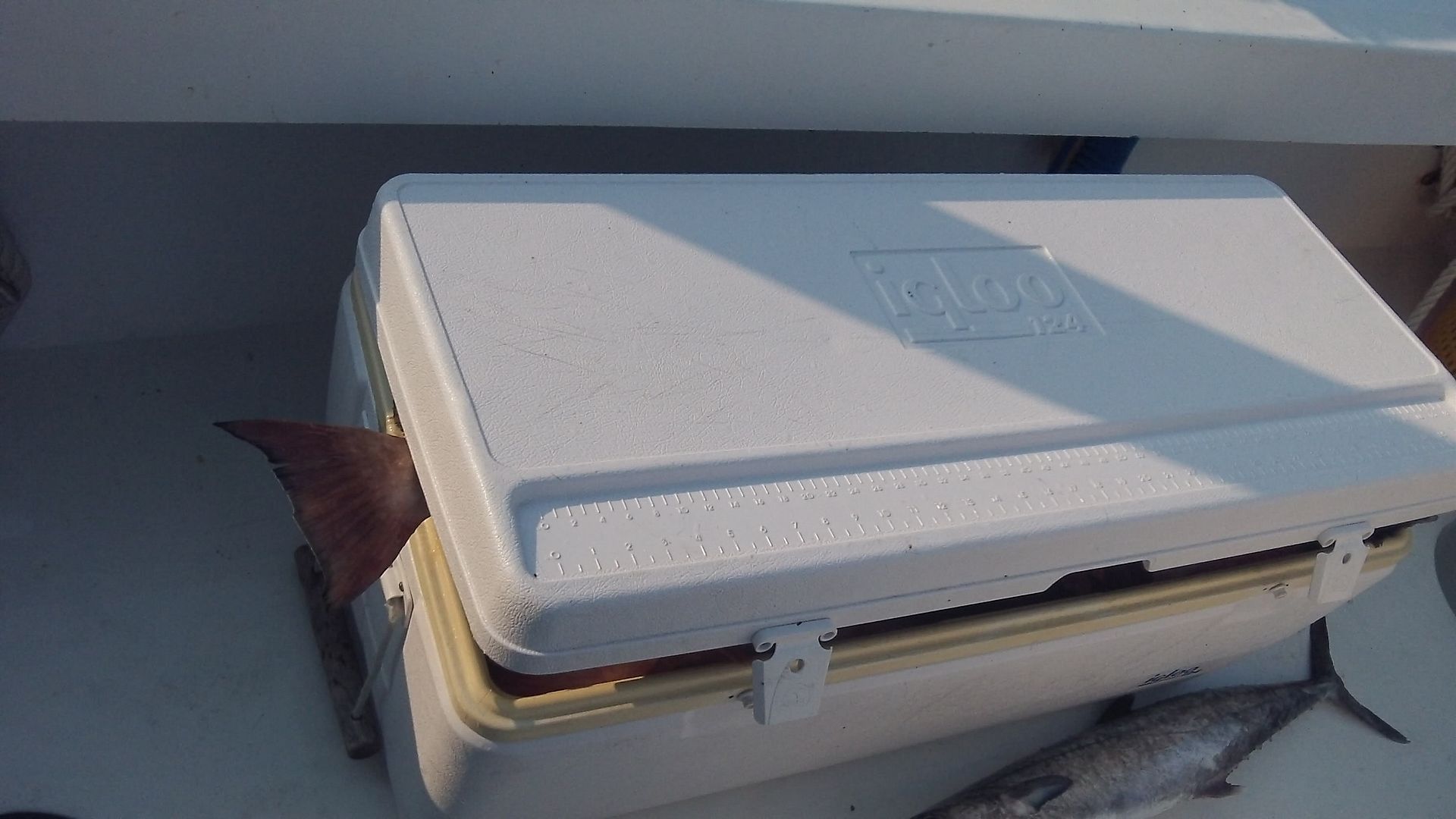 All on the dock. Not a bad haul!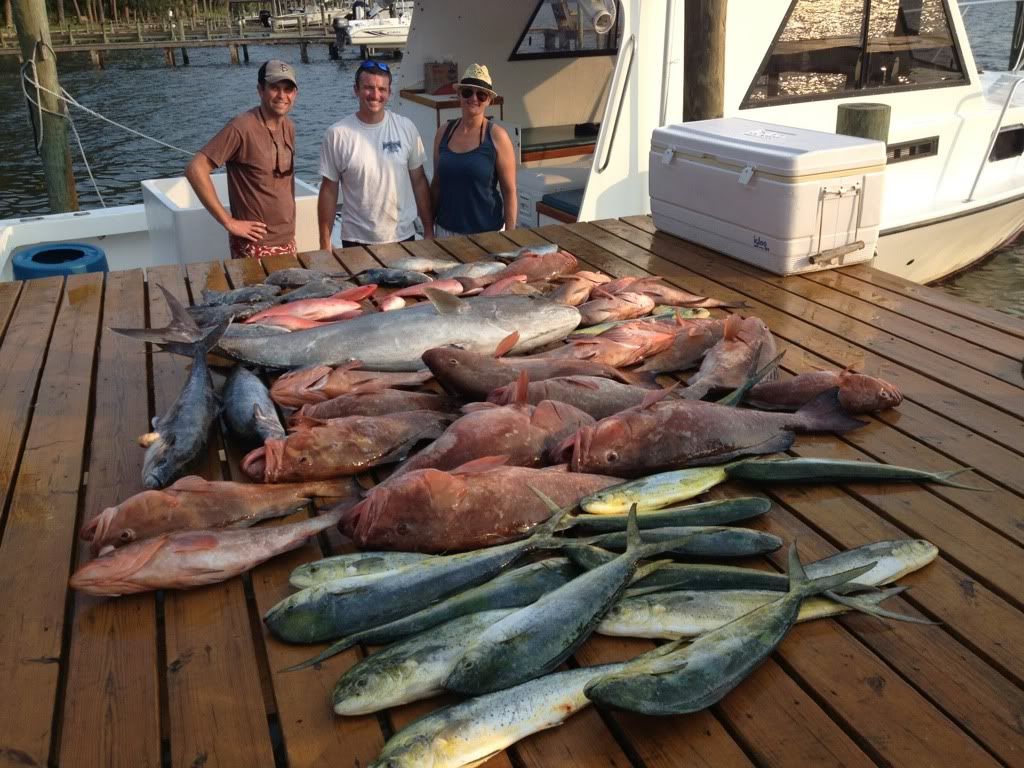 20 red grouper
9 triggers
1 big ol' jack
17 decent little dolphin
11 good sized beeliners
2 kings
And this plus a filthy boat is what I have waiting on me right now. Guess I better get on it!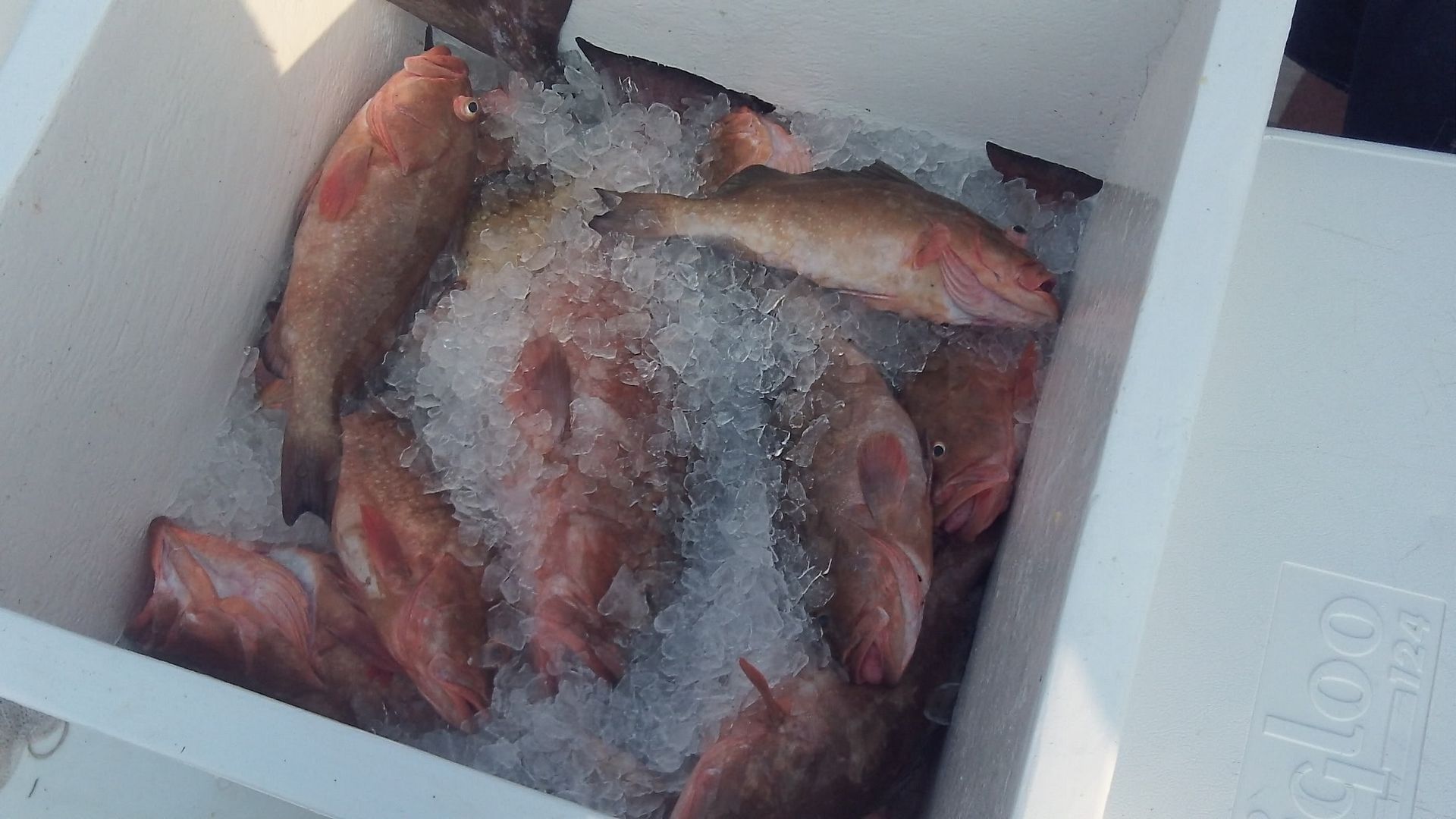 Raw carnage below. Check out the size of that beeliner up front. I think he was right around the 22" mark. We had a couple that size, but not as many as I would have liked. Pretty sure my handfull of beeliner wrecks through that area have been stomped on pretty hard.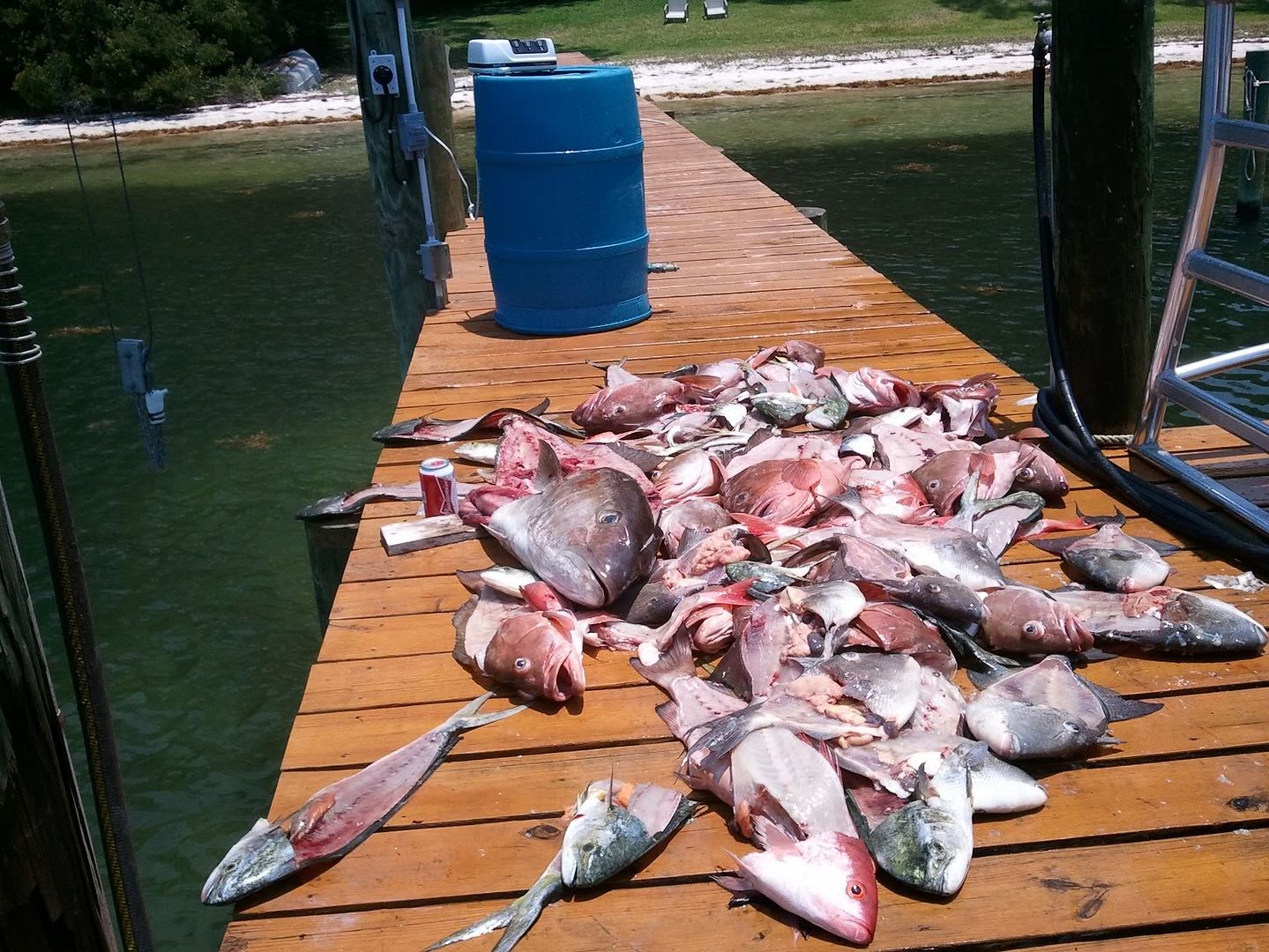 Weighed the biggest grouper and the jack.... red grouper wet 17.8 and the jack was 52.9.
"Whatcha doin' in my waters?"