Home
›
Keys General Fishing & The Outdoors
Yankee Capt (3.24-25.12) Short Report
LitiGATOR
Posts: 819
Officer
I didn't take many pics and the Mutton fishing was a little slow, so I'll keep this short. I hopped on this trip at the last second because the weather looked amazing -- which it was. It couldn't have been more than 1-2' at any point the entire trip, and on Saturday night it was glass all night. Very little current and calm winds -- it was amazing. But, the fish don't always like that.
When I reached the boat I couldn't believe how many people were on board. But, with the calm weather, I shouldn't have been surprised. I believe we left the dock with 43 patrons. The first few spots saw a few nice Muttons come over the rail, including one of my own. I had high-hopes for the trip right off-the-bat. There were two things that prevented this trip from being really good with the Muttons --- sharks, and yellowtails. Yes, that's right -- yellowtails. Never have I seen them as voracious and plentiful, and big as they were this trip. It got to a point where you absolutely could not get away from them. Any bait deployed for Muttons was immediately shredded by medium to large yellowtails. Those baits that survived the yellowtail onslaught and were gobbled-up by Muttons on the first morning, but most of those Muttons were eaten by sharks. In the ~17-years that I've been fishing the boat, I've never seen the sharks this bad. I'm not talking about the little Atlantic Sharpnose sharks that eat your bait, but rather 80-100# Sandbar/Caribbean Reef Shark/Hammerheads.
I wasn't affected at first, but heard that several people on the bow and pulpit were repeatedly losing Muttons to sharks. I would ask around about how many [Muttons] people had, and was consistently responded with "1/2, but lost 3 or 4" to the sharks. There's nothing you can do but hope the tax-man doesn't find your Mutton on the way up. Also, reel them in as fast as you can. This was my third trip in about a month and the other two trips weren't bad with the sharks at all, so I'm hoping it was an anomaly.
The daytime fishing for the Muttons was slow, but yellowtails continued to come over the rails. They went deep, but the Gulfstream was up on the reef in many of the places where Capt. Greg wanted to fish. Go in shallower and the yellowtails were like locusts. But, the majority of the fisherman switched over to yellowtail gear and loaded-up. Normally I would turn my nose at such heresy, but the yellowtails were pretty big and fun to catch. I don't blame anyone for filling up the fish box with yellowtails on this trip.
There was a lot of talent on the boat and several people from the forum, who can supplement my report. Jarbas has 8 or 9 Muttons, which for him is horrible. But, he was high hook. There were also a couple huge kingfish caught, and a cobia missed on the first morning. I finished with three muttons, one of them pushing 19# and the biggest of the trip. Team Nuespeed/Hialeah fished the pulpit and had a few Muttons too, but the fishing was tough. I lost several big Muttons to sharks/tangles on the final night, but that's fishing . . .
The highlight of the trip for me, was when Big Nick (hevhitters), his son Nicholas, and nephew Ben, all hooked/landed ~ 15# Muttons within minutes of one another. The bite was dead, and Nick hooked a big one, landed it. Seconds later his son hooked a big one, and landed it. A couple minutes after that, Ben did the same thing. No other fish were caught on the entire boat during that span, so it was really cool to witness. I know that Ben and Nicholas caught their biggest Muttons with those fish. Very cool and some very good up-and-coming anglers in Nicholas and Ben.
All-in-all, the trip was a blast. There was always something biting if you wanted it, mostly yellowtails, mixed-in with some very big Muttons and kings. Many big Red Grouper were caught and released as well. I would say half the boat caught at least one Mutton, with many in the 103 Mutton range. Countless fish were lost to the sharks, which is frustrating because I can't ever recall that being an issue before this season, and especially this trip. I recall one specific spot where people were consistently hooking nice Muttons, only to have them eaten a few seconds into the fight. Capt. Matt -- visibly upset -- had to move off the spot while the fish were biting. Not much they can do about that.
The trip was crowded, but there was always room somewhere to fish. My advice for anyone looking to do a trip like this: when you call the office and find that a trip isn't crowded -- GET ON.
Here are some pics
My 19# Mutton
SnookAddict's (Robert) friend with a nice Mutton
Big Nick and Nicholas with a pair of beauties
Big Nick's nephew, Ben with a fatty
My catch with some flag yellowtail and porgies mixed in.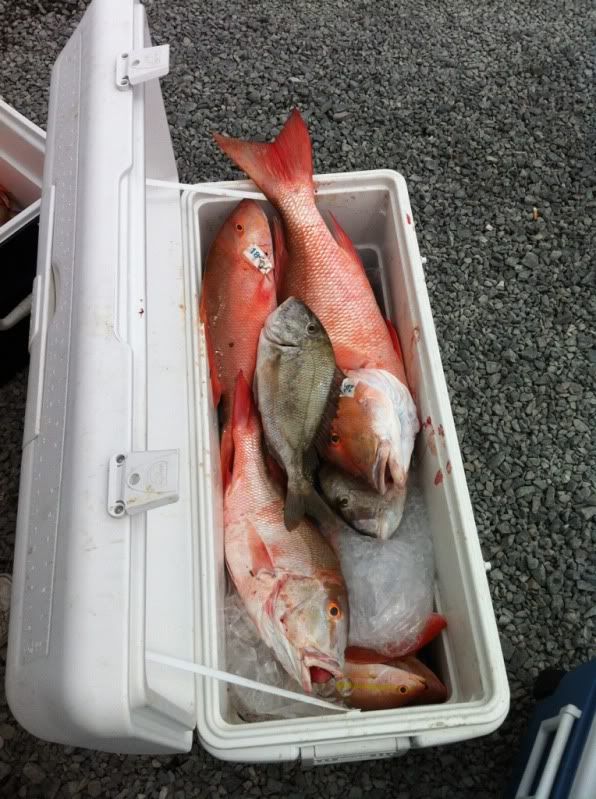 The totes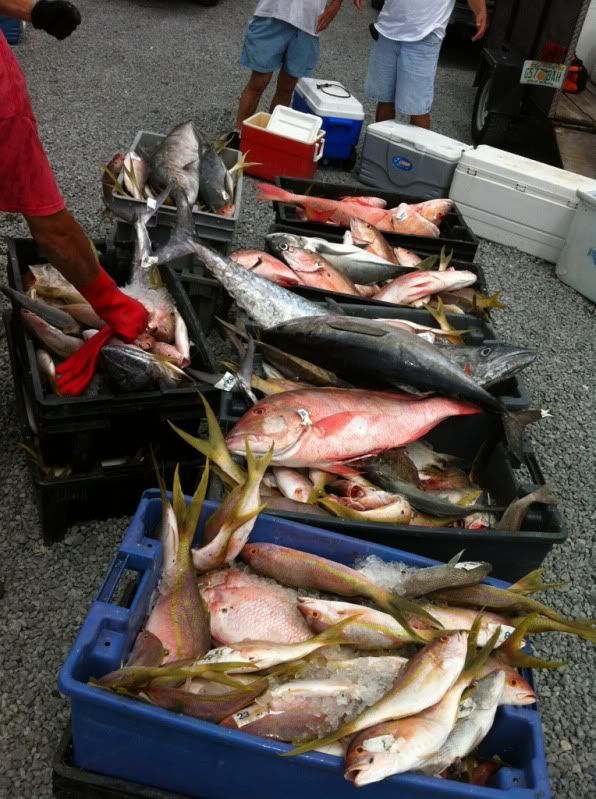 And of course, the new tradition of stopping by
Ballyhoo's
for All-You-Can-Eat stone crab / snow crab
I'll be back hopefully in the next week or two and get my revenge. The fish are down there; I'm working on a shark repellant!