Home
›
Tropics
OBB/West End July 4th weekend!
This trip was never planned as a fishing trip (that was last month at Grand Cay!) but just a hang-out, relax and go-with-the-flow kind of getaway....... much as we have done on a few previous July 4th weekends. We'd be staying aboard our 30 Grady, the
HEY MON!
for the next four nights......
We booked a slip at OBB last January and we were looking forward to this trip because we had just passed through OBB in late May on our way to Grand Cay. We shoved off the home dock last Thursday morning in north Broward and had the usual, sloppy trip over (where was the "2 feet or less" that NOAA predicted??) and in just under 3 hours we pulled into the Marina at Old Bahama Bay with a few rainshowers in the area.
Being the only guy in the Office, Customs was a breeze as we had already planned to get in there a day before the "rush" of boaters that we knew would be coming in on Friday for the long weekend! Here's how "busy" Customs was that day! Hehe......... :Rockon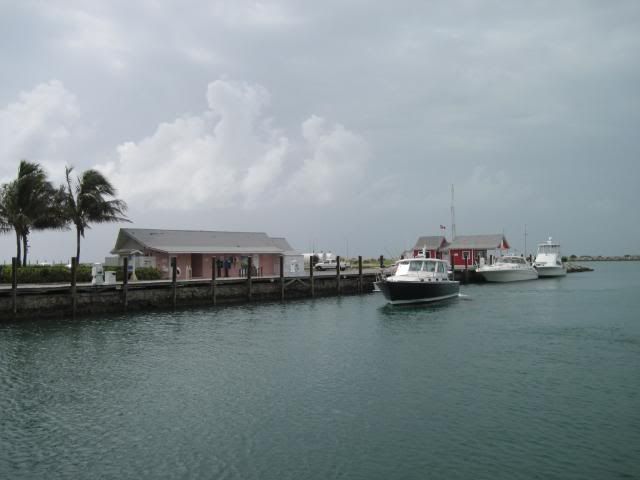 Checking in at the Dockmaster's Office, I was able to pick from the many open slips which was also nice! We soon were backed in at C-13 and our buddy Jamal had us quickly plugged in to shorepower......... only thing left to "do" was to head on down to the beach bar/restaurant which is now called "Teaser's", where we had to pick from the non-conch items as the conch man was late with his daily delivery! Oh well, it was go-with-the-flow!
On Thurs/Fri/Sat we had to deal with some rainy and cloudy days, but we also worked around that as well. Here's our dock looking back to the seawall on the first afternoon. We were down a few slips on the left.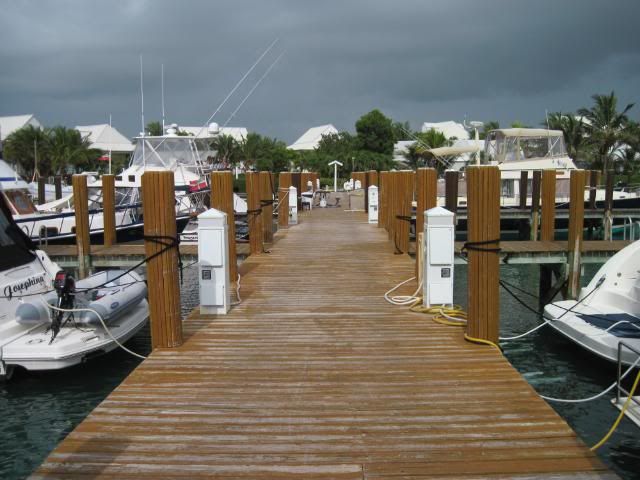 That night, we had dinner up at "Bonefish Folley's" right there at the Marina. They have an excellent menu and we enjoyed all of our dinners there. First night it was a stone crab claw appetizer and we split a lobster/shrimp pasta dish. "Bonefish Foley" himself was a famous fishing guide and his former client list even included Richard Nixon! The entire dining room looks down on the south dock where all the big boats dock. The dining room is filled with old photos of the greater West End area going back 50 years or more.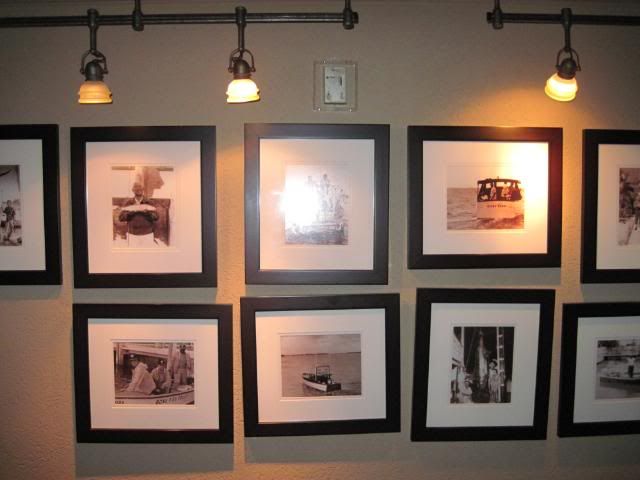 Friday was more of the same. Sleep in, wander down to Teaser's for a late breakfast on the beach, overlooking The Little Bahama Bank. They had the place decorated with flags, etc for the weekend-long stuff that they had organized for our July 4th celebration........ very nice!
And sure enough, by about 11am that Friday, the boats pulling in to clear Customs were almost never-ending! Notice the line of people outside the Customs Office and the rafted up boats. Yeah, nice to slide in a day early!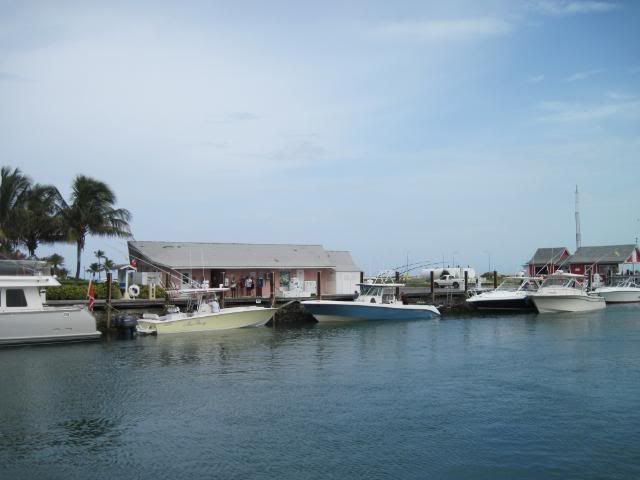 Down the dock from us was the big trawler "Miles Aweigh" and this looked like a pretty awesome place to "hang out" during happy hour!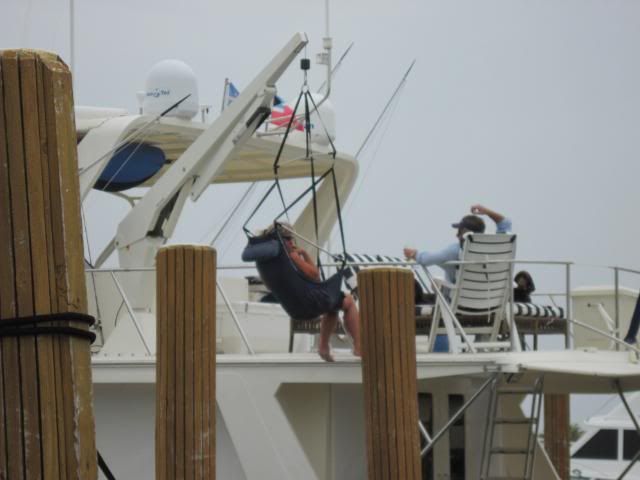 Also on our dock were three Grady-Whites with these custom designed swim/dive platforms. They can be set up to lift up when the motors are tilted out of the water! The guy that owns this 33 designed them....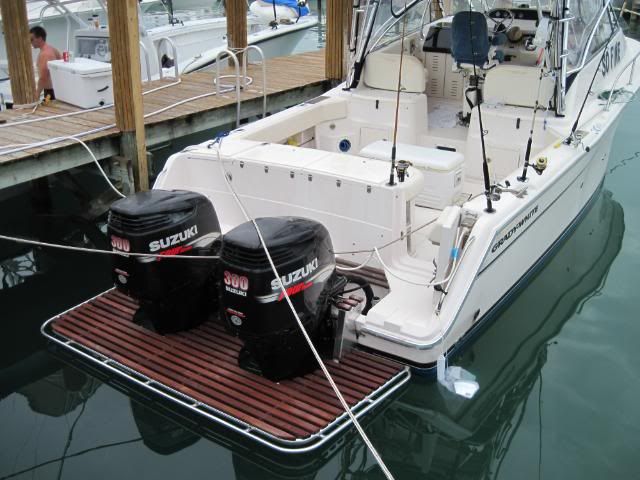 On most afternoons, the "Conch Mon" as I nicknamed him, would pass through the Marina, offering fresh, cleaned conch for sale. I told them to check with me on Sunday afternoon!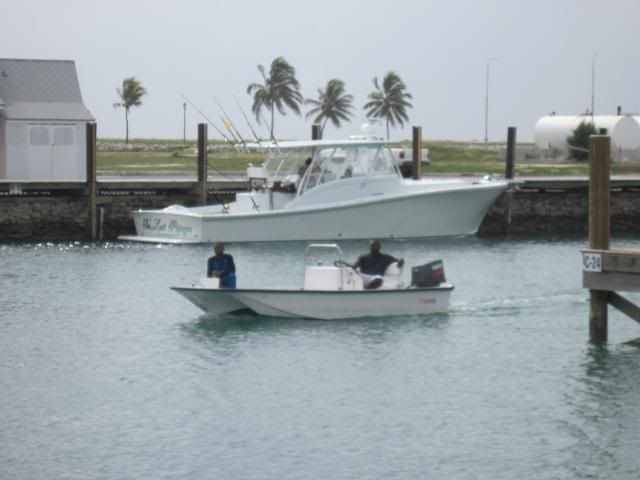 Dinner that night at Bonefish Folley's was steaks for both of us and trust me, they were
good
! We'd usually stop for a drink at the bar there with our new friend Colby Rolle serving us up! He's live entertainment for sure! :beer
Saturday, we headed back to Teaser's for lunch and luckily, the conch had been delivered! I ordered a Conch Burger and Jenn ordered Cracked Conch. We have known most of the staff there for a few years, so I popped in to see Jessie "The Goddess of Conch" and Donna do their magic. Check out that mallet for tenderizing our conch!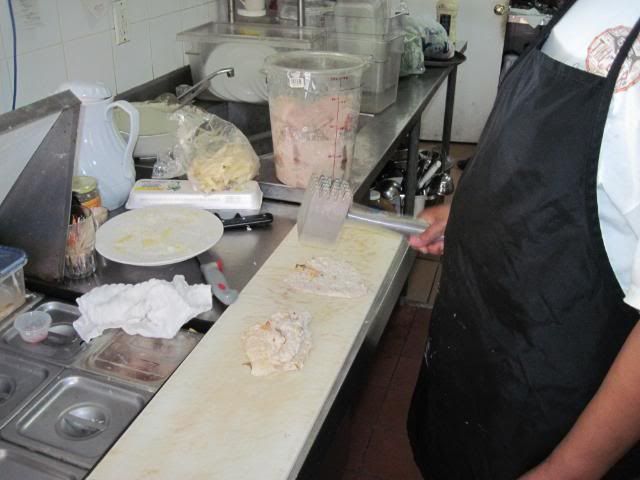 Okay, here's her recipe! Tenderize it as shown, drop it in some egg and milk wash, drip off excess, then into a bowl with just flour and cracker meal! I asked about any special seasoning and she "claimed" none. Drop in hot oil.......... that's it!
Wow, another great meal and I had to pop in to the tiny kitchen there at Teaser's to say "Thanks"! It was nap time for sure after that!!