Home
›
Southeast General Fishing & The Outdoors
FPI Offshore Report 12/30 and a stud Cadillac
BacDoc
Posts: 704
Officer
Yesterday went out of FPI in my boat and turned left, today went out in John's (Barrell on this forum) boat and turned right. Same crew, same goal, put some grouper in the box before the season closes. It was sloppy with spotty rain and waterspouts:hairraiser and noaa forecast of 5kts east and 2'long period swell wind turned into 3'-4' short period chop and 10-15 kts NNW. It was a slow bumpy ride but I was sure a spot I gave to John a couple of years ago would be on fire. He was not so keen on running out to 80' (up here its 15 miles out) and told me that spot never produced much. We went back and forth on the subject and eventually he agreed to hit it even though this spot "sucks" because of little relief and lack of impressive structure on the screen. This spot only has about a 2' depth change but that 2' is actually a long cave that stretches over 100' into this section of reef. The key is anchoring on the right side of the hump and John put us dead on.
Machine was lit up and we had a steady bite of triggers, sea bass and grouper. Caught some short Gag and Red grouper and lost some big fish to the reef or just luck. Anybody who seriously bottom fishes knows that first 30 seconds can be exhilarating or frustrating with swing and miss more common than a solid hook up, at least for me!:banghead Even if you get a good hook set the big guys are pretty good at digging back to the reef. Big Wave Dave gets lucky on this big genuine and the thing that makes the catch better is the fact his fish got tangled on my line (fishing for bait) and John's, who had a big trigger doing circles off the side. When the Red Snapper get this size we call em Cadillacs and this is a stud. Fish hit a strip of barracuda and you can see the bait in his mouth.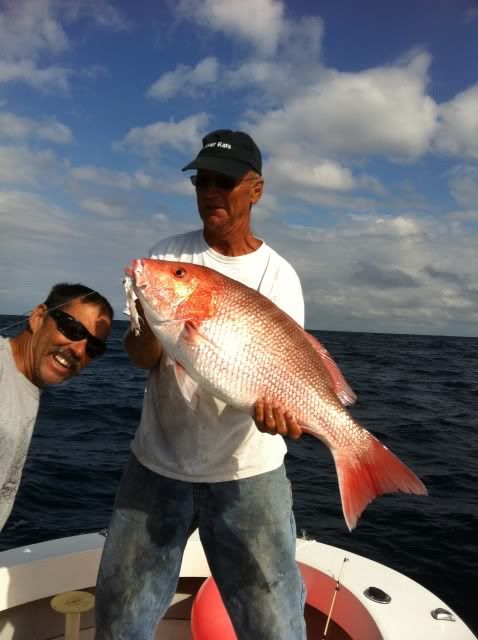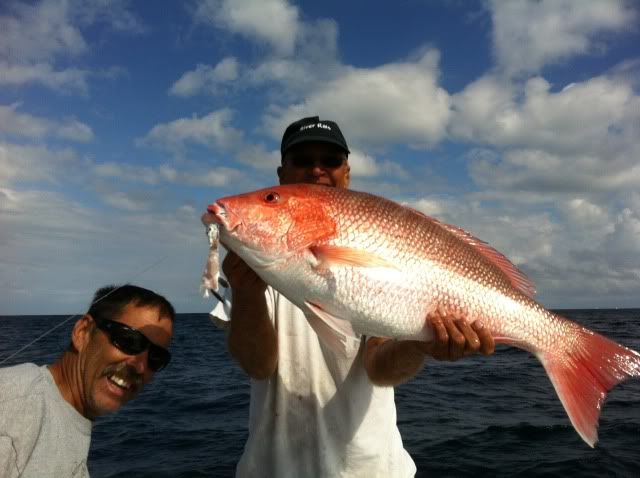 Current was lite and 2-4 oz could hold bottom. No sharks. No hits on the flat lines and we had a pretty good chum slick going.
Trolled in from 80' and got some action from king fish but they were scattered.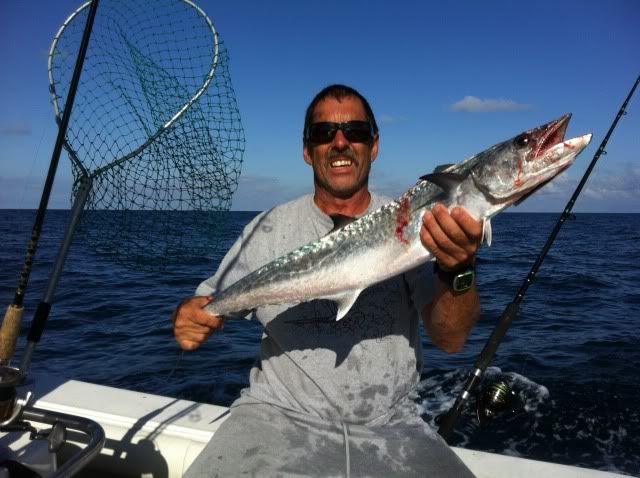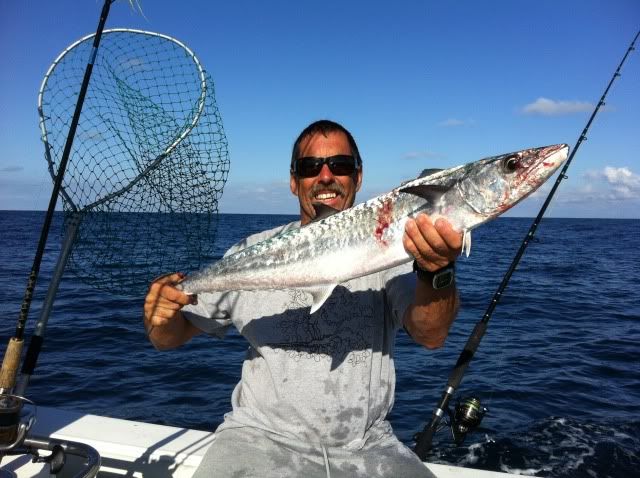 Saw some of the Sporty's coming in the inlet with lots of flags flying and we saw some free jumpers while bottom fishing so the sails are out there. Looks like a couple more fishing days before the next front blows it up again