Home
›
Fly Fishing
Grand Teton National Forest Fathers Day Fishing Report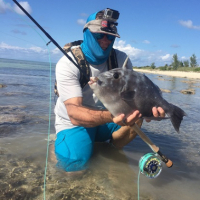 Docked Wages
Posts: 3,053
Admin
Our trip to Yellowstone and Jackson Hole to visit our daughter and her husband on Fathers day was impacted after day 2 when they closed the Yellowstone park due to high water, flooding and roads washing out. Outside of Yellowstone, the aftermath spilled over South into Jackson Hole and West into Idaho where the rivers and creeks also flooded with dirty water, rough currents and washed out banks from high water. Adding to this we encountered fresh snow fall on 3 of the days we were there. It would snow over night and reach 80 degrees in the day time, the Badlands reached 90 degrees. 
Our daughter Sam, who is a Ferry Capt on Lake Jenny, and her husband Austin were great hosts and took us to many parts of Wyoming and Idaho searching for wildlife, great views, hikes, creeks, falls and eventually clean slow moving water to do some fly fishing. This resulted in catching brown trout and cutthroats while Kris built an occasional snowman or read a book on the shoreline. Some trails we came across were closed due to aggressive bear activity or washouts, other areas were target rich with wild life including Bison, Antelope, Elk, Badgers, Deer, Chipmonks, Eagles, Osprey, Cranes, Steers and more.

Travel home was an adventure in its own with multiple cancelled flights, delayed flights, missed connecting flights and 15 hour lay overs. Traveling by airline is not fun anymore. Travel Tip: If you do have a connecting flight, start your first leg as early as you can and select a generous layover and you will have a better chance to making your connection.

Video of creek currents:
https://www.dropbox.com/s/qi7xnkf35vx3cwp/IMG_9017.MOV?dl=0
Mark Wilson
USCG 100t Master, Assist Tow, 200nm Coastal
Marine Surveyor, SAMS, ABYC, IAMI, FMIU
Wilson Yacht Survey, Inc.