Home
›
Northeast General Fishing & The Outdoors
Stayed close 8/8 (Mayport)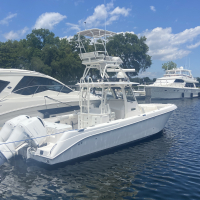 cftsmoke
Posts: 378
Deckhand
For most of this summer I've been meaning to take out a young family friend and her family to bend a pole, but somehow haven't made it happen.  We fixed that issue this past Sunday.  Since we we taking her young daughter, we decided to stay close to Mayport, find some of those endangered ARS and maybe visit the shark buffet behind the shrimp boats.  As an added bonus, staying close allowed me to get home and pack for this week's trip to NorCal.
Not surprisingly, we found no shortage of short seabass and smaller ARS on some of the nearshore ballast piles.  Surprisingly enough though, we also managed to find a decent supply of mules that really strained the crew's arms and 2 keeper Trigs - a first for me in 50'.  After a couple hours, we ran to the inlet and, for the 2nd weekend in a row, found out that most of the shrimp boats aren't working the Huguenot area right now and have taken the shark buffet with them.  We'll save that for next trip out for Lauren and her family. A good time was had by all and they will be back for a rematch and a further offshore trip.
2016 Everglades 325.