Home
›
Northeast General Fishing & The Outdoors
Elton Bottom - 6/19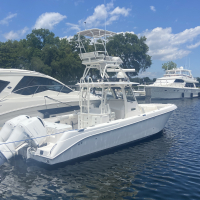 cftsmoke
Jacksonville
Posts: 378
Deckhand
Had a friend of my daughter's (KT) on board for her first offshore trip so knew we needed to keep the rods bent.  We got a later start and had to skip the live bait search but finally got out the Elton area by 0930.  It was a decent ride out because, although the swell/waves were 2-3' there was more than a little confused sea to it.  Nothing like we dealt with 2 weeks ago on our Fort Pierce to Spanish Cay Bahamas run, but enough to slow me down a little.  When we got out there there were 6-8 other boats in the area as expected so plenty of room to check some of my numbers.
Fishing a mixture of sardines, minnows and squid, KT managed to put 14 vermillions, 1 grouper and an Almaco in the box in just over 1.5 hours - mostly on squid and a chicken rig.  Funny thing is that my buddy fishing 4' down the gunwale from her never had a nibble.  KT was heard to say this offshore fishing is alot of fun but she felt bad having to catch all the fish,.  She almost earned a long swim home. The run in was much better and the ceviche was outstanding.
2016 Everglades 325.