Home
›
General Paddle Craft
Pompano Beach - Offshore Kayak Fishing - 27th of Dec 2020

John McKroid
Posts: 2,926
Captain
Pompano Beach - Offshore Kayak Fishing - 27th of Dec 2020
It's been in the 50's, so neoprene pants and top were necessary to fish comfortably.  The pre-dawn beach launch went uneventful.  Goggle eye fishing was quick with a couple of full sadiki's giving me plenty of time to peddle out to the fishing zone before sunrise. 
Once out in about 200+ft of water, A live Goggle eye was put out on a stinger rig, and I began to vertical jig.  The first several lure drops produced a Horse Eye Jack, an Almaco and a nice fish that came off after a couple of runs.  After the sun rose, the bite shut off, but the activity on the sonar continued. 
On the left is a screenshot of a fish intercepting my lure as it sinks from ninety feet down to about 150ft before deciding to swim off.  On the right screenshot are large bait marks from about thirty to one-hundred and fifty feet with some other fish buzzing the bait.  The solid mark around 90 feet is my downrigger presenting a live goggle eye at that depth.  Fishing outside the third reef, I did not have a hit on a live google eye the entire day.  The activity on the fish-finder kept me motivated to keep trying. Several hours went by without a single bite.  Eventually I headed out to 380ft looking for Blackfin Tuna.  A solid hook up produced a Little Tunny. Another hook up for an Almaco Jack, but no Blackfin out deep.  A couple more hours passed without a bite when I hooked something solid on the bottom with the jig in 300ft.  Eventually I got the fish up to 30 feet when it decided to wake up and pull out 150ft of line.  I did not see any bubbles on the sonar, and based on the way it was fighting, I had hopes for a Cobia so I played the fish light to tire it out.  My hopes were shattered when a side snagged Barracuda came up -- perhaps the hardest fighting Barracuda I have ever taken.  It was a disappointment, but still nice to pull on a big fish.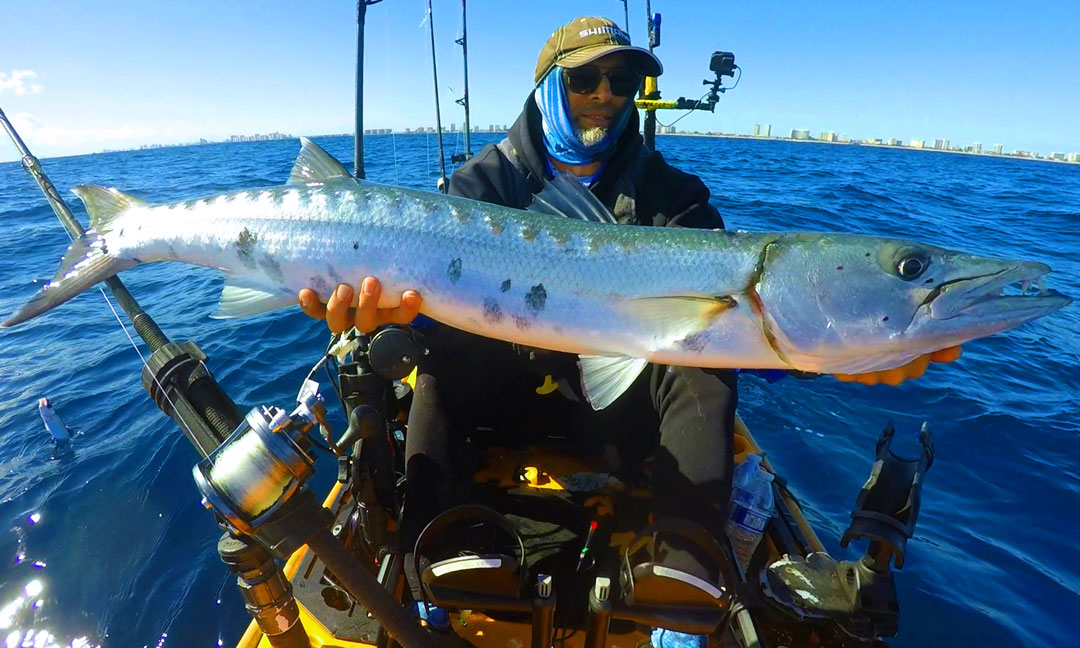 Eventually I snagged a small Blackfin in 250ft of water, so at least I had some Tuna for Sushi.
In the afternoon, I caught a couple of nice Speedos for bait.  With that, my hopes for getting a nice exotic went up. 
The first Speedo was put down for a grouper, and was quickly destroyed by a Barracuda.  My hopes died when my fish-finder died.  With no eyes to see what's happening down below, I called it a day.  I trolled the second speedo on my way to the beach and it also was side swiped by a Cuda.  All fish were released, except for the Blackfin.  Although it was a slow day on the water, it was great to get out there and enjoy the sport of offshore kayak fishing.