Home
›
Southeast General Fishing & The Outdoors
10/14 BBI mahi 850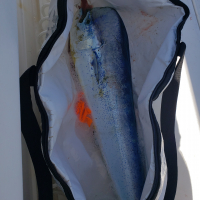 JWPB
West Palm Beach
Posts: 256
Deckhand
Cleared 10am, returned around 1. 

Calm seas on way out, swell and wind out of NE. 

Did not see anything shallow so went out to 650 and found scattered weed and trolled 5 lines on surface.

Around 850 I saw a white flash across wake and then flat line started running.   Fought like a Cuda but yellow closer to boat and was a small mahi.   Close to legal or legal, but not a lot of fight nor meat so threw back for good karma to catch larger.

Wind picked up and whitecaps offshore along with a waterspout just off the bow as I headed back in.

Post spout I got my second mahi but one of the smallest I've caught.  

Threw back and started a rough, wet ride back into BBI.  fished southeast of the inlet with wind and seas against the stream. 

Not a lot of weed nor flying fish.

Jupiter 29FS