Home
›
Southeast General Fishing & The Outdoors
11/12 BBI to LWI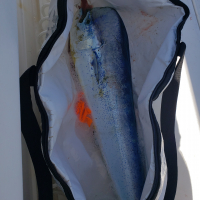 JWPB
West Palm Beach
Posts: 248
Deckhand
Go north.   Cleared BBI around 8:45 and trolled around 50 to 400 for a while.  A few birds, not much else.  No real current nor weed, but super nice 2-3 seas. 

Weather allowed me to fish 7 lines solo which is 2-3 too many if I catch something or come across a school of mahi.    I broke off one planer around 300 off the LW Pier, 40lb braid failed. 

Headed north and a sail surfaced next to boat in 180 off breakers.   Would have been an absolute cluster had i hooked him but he ignored my lures.

Kept north and caught 2 bonita so small they did not pull drag shallow off LWI but at least some life and bait.  

Still out, have seen some Mark's on screen so fish deep around 100.  Never saw anything off BBI.

Jupiter 29FS