Home
›
South General Fishing & The Outdoors
Everglades backcountry, Flamingo, 5 November
lemaymiami
Posts: 4,728
Captain
This past weekend was a great time to be fishing out of Flamingo.  The weather was great and the action was hot.... This time of year all of the action is controlled by water temperatures - and we still haven't had that first cold front of the year (so the big tarpon are still here...).
Last Friday I had local attorney Albert Diaz and his ten year old daughter, Kati, aboard for a day out along the coast of the Everglades in the Shark River area.  After catching some bait (small ladyfish) we set up for tarpon and were soon rewarded.  Kati had her first tarpon ever hooked up and running.  That fish, a fifty pounder was just the right size.  Here's a pic or two..
with Dad doing some camera work in the background
The rod, a relatively light spinner with 12lb line...
Kati went on to jump two more tarpon - the last one a solid sixty pound fish that she fought to the skiff using all that she learned from that first fish... An outstanding performance by a very young angler on her first visit to the 'glades....
The next day I had Alex Niles and his friends aboard for another trip out to the coast.  On this day the tarpon were slow to bite - and the sharks got most of our offerings.  We made up for it by working back into the rivers where there's lots and lots of small goliath grouper willing to hit anything that comes their way.  I call them small but at eight to ten pounds they give a real fight to anyone with light spinning gear...
Alex drew struck first and this fish gave him all the fight it had, making repeated short runs back to the river bank that it was holding on when a small lure tempted it into striking... Like all goliaths it had to be carefully released since it's protected....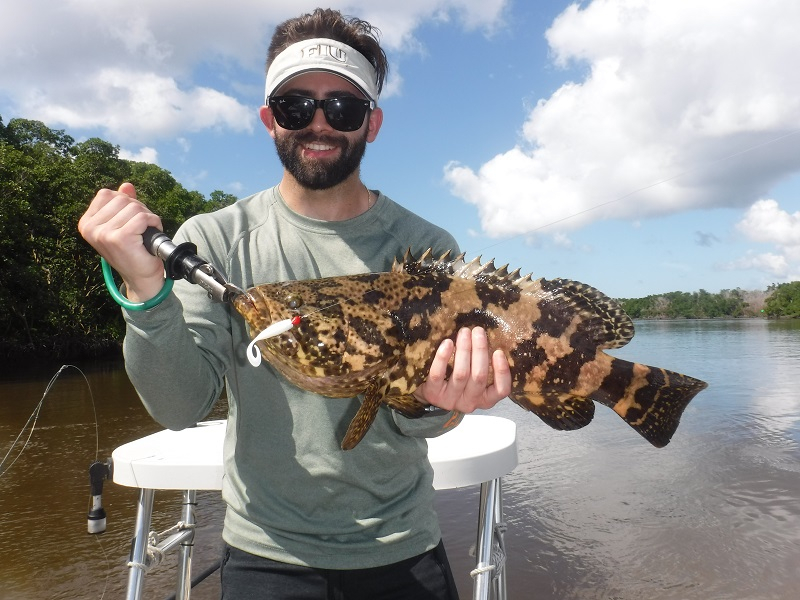 Not to be out done Kevin was the next to hook up... note the small leadhead with Gulp tail - it was all we needed that day...
Finally on Sunday I had local angler Mike Cole aboard for our third or fourth trip into the backcountry.   That day he easily did a backcountry grand slam on light gear - mostly lures (the same ones that the goliath grouper were eating the day before).  We quit counting the numbers of small snook, redfish, and speckled trout we caught and released.  Along the way we also found some solid slot sized redfish and invited one home for dinner... That day we worked our way north from the Shark River area and finally spotted a few tarpon in a river mouth just rolling occasionally.  Mike hooked up a good sized one that I estimated at around 80lbs and was in for a long fight with a fish that just wouldn't quit... Here's a pic or two....
We chased that fish back and forth for about 20 minutes before it settled down and just began slugging it out at close quarters...
The reward?  A big tarpon in the hand to be carefully revived and released in good order.  I don't think Mike wanted another...

We ended the day with a stop at a spot that usually holds some big goliaths in the 100lb class.  No joy there - those fish just shredded any lure or bait we dropped down to them... I'm making plans to bring some heavier gear for the next time I visit the "landlords"... It's the kind of place that hooking even a small fish won't work out since the "landlord" promptly makes a meal of it...

The fishing we've found this past weekend should continue strong until that first cold front comes along - and I don't see any in sight...

Be a hero, take a kid fishing...
Tight Lines
Bob LeMay
(954) 435-5666