Home
›
West Central General Fishing & The Outdoors
Docking the Alafia
Bassin Assassin
Posts: 1,317
Officer
Been doing some fishing and catching a few, but mostly small snook,reds and trout. Launched on the Alafia today just after 1pm. Tide was incoming and the water was dirty. Water temp varied from 69-72 degrees. Wind was fairly brisk from the east. Tide was fighting the river and the river was winning. Water was still flowing out.

Hit my first dock around 1:20pm. I was skipping a 4" RT Mullet in Smoke Silver shad on a 1/4 oz jig head. Second cast and I hooked up with a small snook. Took a ride down river to some prime docks. Working along and skipped into the shade under a dock. Reeling in at 1:55pm and got smashed very close to the boat. The fish was digging hard under and around the boat.Turned out to be a decent red of 24" in a beautiful copper color. Over to another string of docks and nada.

Farther down river and another set of docks.  Hooked into another small snook under a dock at 2:35pm. Ten minutes later another small snook under a dock.  Needed to size up. Went into a back bay area where I have had some luck and some heartbreaks. Working really shallow, maybe 2 feet. Good cast up under a dock at 3:20pm and as soon as my lure neared the end of the boat slip, my lure got rocked. Set the hook and the water erupted. This fish had weight and came right at the boat. Turn on the tm to follow her. She surges and gets airborne. Big snook! Bring her back towards the boat and she dives under it. Loosen the drag and hold on. She comes back out from under it and surfaces. Adrenaline was pumping. She circles the boat and again gets completely out of the water. Amazing! She starts going to the back of the boat. Scramble to the back. She is making a run for the dock. Tighten my drag and stop her just short. Walk her back to the front and turn on the tm to get me away from the dock. She puts up a fight and again surges to get away. Pull her back around and grab the net. After an incredible battle, I am able to slip the net under her and haul her in. After a quick pic and a measure, I lowered her back into the water. She revived quickly and went under the boat and disappeared into the darkness. She came in at 37.5" w/o a pinched tail. Just a beautiful specimen.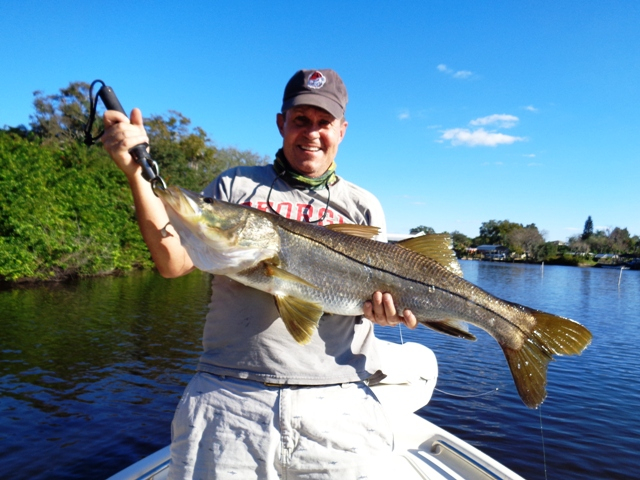 Everything after that is a bonus. Worked more docks close by, but after all that hell had broken loose, it had to alert any other predators within 50 yards.On down river to the next dock. I was rewarded with a small rat red at 3:42pm. A few more docks nearby, but bupkis. Water was up so down to another shallow bay that has paid off in the past. Very shallow and skipped under a dock with the 3" mullet in the same color. Got thumped at 4:20pm. It was another small snook. Saw water movement further down. Cast up on a point and bring it back slowly.  Got a solid strike at 4:35pm. Set the hook and the fish came at me. Turned out to be a decent red of 23.5". Not really pic worthy, but had the camera ready, so why not.

Getting late. Hit a few more docks and no strikes. Headed back up river and stopped on a quality line of docks that I worked previously with no success. Hit the final deep water dock and got nailed at 5:56pm. It was a snook and she went ballistic and crashed into the side of the boat. Hoisted her aboard and she came in at a respectable 26". Worked a few more docks, but no more luck. I headed for the ramp right at dark. It was a fun day and great to get out on the water.
Final Body Count
Snook - 6 (37.5", 26" and 4 smalls)
Reds - 3 (24", 23.5" and a rat)

Improve Our Fishery - Practice Catch and Release