Home
›
South General Fishing & The Outdoors
Yellowtail Snapper Jigs 50 pack - $15 (FREE SHIPPING)

kayakerinkeywest
Posts: 631
Officer
I originally posted this in the Keys section as I figured they are more of a Keys thing, but the South Florida market seems to be my largest market share so I figure I would throw it in the South section for those that might be interested.
I got tired of the local shops (in the Lower Keys) being sold out or being stuck with buying Kmarts cheap jigs so I dropped a bunch of money for some high speed injection molds, worked out a deal with Mustad for their 7766D Tarpon hooks, and got a production facility to start pumping them out.  
I'm selling them in 50 packs, with three weight options 1/32 oz, 1/16 oz, 1/8 oz, and a mixed pack with all three weights.  There is also five different color options.  Red, White, Chartreuse, Pink, and Glow.
Hooks sizes: #2 for 1/32 oz,  #1 for 1/16 oz, and 1/0 for 1/8 oz.
Pricing:
50 pk - 1/32oz - $15 (Free Shipping)
50 pk - 1/16oz - $15 (Free Shipping)
50 pk - 1/8oz -  $16 (Free Shipping)
50 pk - Mixed - $18 (Free Shipping)  ***16 of each weight + 2 random
(Glow color is additional $1)
You can purchase through my website: www.AllAboutTheBait.com or 
https://allaboutthebait.com/collections/artificial-lures
I process daily and mail Monday thru Saturday at noon.  Order before noon and usually it goes out same day.  Sat evening and Sunday are shipped Monday.  You will receive a notification when I process the order and when I receive the tracking number.  
These are heavy duty hooks, not the thin wire stuff.  No losing out when a bigger species shows up in your chum line.
I created a short how-to video on how to use these Yellowtail Snapper "Drift" jigs.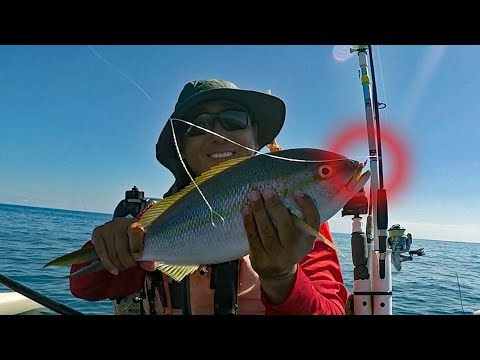 The products that I am selling on my website are sort of Keys specific as I fish out of Key West and am slowly putting together a one-stop shopping site for those wanting to buy Keys specific baits/gear.
Thanks for checking it out.
Steve