Home
›
Southeast General Fishing & The Outdoors
9/26 BBI to LWI Mahi and Football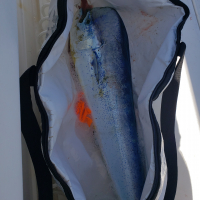 JWPB
West Palm Beach
Posts: 217
Deckhand
Headed out BBI around 9:15 and not many boats out. Cruised through greenish water then saw something, can't remember what and put baits out around 650. No action, no birds, scattered weed so kept trolling east, all artificial surface spread.

Lost one Mahi in 1100 off BBI and boated a second, 29" cow. Fooled around and never found them again between 1100 and 1300 and had a free diver on board, so dragged him around weed patches at 2mph with a spear gun and he saw nothing and breathed in a lot of exhaust since my longest dock line is 30'.

After that we trolled north and then West around LWI and saw something breaking water in front of us. Blind luck we stumbled on super small blackfin and boated 2. Small enough I would have thrown back if a single, but was my two guests first Mahi and first blackfin, so we kept them and circled around 350'. Hooked up again, slightly larger, and lost it 20 feet from boat. I never saw the fish, but we were still deep for Bonita, so I'd assume a 4-5 pound blackfin.
Headed in LWI and cleaned the fish.

You can see the rats nest he pulled in, I did not clear the other lines, and the small silver mylar lure I troll shotgun behind a tormenter bird. We untangled the mess while the third guy free dove in 1200'.

Jupiter 29FS