Home
›
Keys General Fishing & The Outdoors
Yankee Capts Half Way Ledge 4 Day iron Man
Xaf
Senior Member
Indialantic, FL
Posts: 1,132
Officer
My fishing buddy, Mike and I, started out early, 0530, to get to the boat for the 6 pm departure.   With a few stops along the way it usually takes us about 8 hours to make the drive from Melbourne.  If you have ever been on one of these trips you know the parking lot is quickly filled with cars, coolers, bags and fishing rods. The first order of business was to stop in the Homestead area to pick up fresh goggle eyes we had ordered.  About half way there we got the dreaded call from the bait guy. Fresh water from all the rains had gotten into the water where he keeps his pens and all his bait was killed off.  With 80 degree water temps it did not take long for the gogs to deteriorate to where they couldn't even be used for dead bait.  After a few phone calls I managed to find a couple people with frozen goggle eyes,  I prefer fresh dead but sometimes you have to go with what you can get. For what its worth, with the bite the way it was I'm not sure it mattered. Luckily we didn't have to go to far out of our way to pick up the goggle eyes.  So after a stop at the Yellow Bait House to pick up some ballyhoo and a gas stop we arrived at the Yankee Capts about 2 pm.   There were already a few people there when we arrived.  After a little confusion about the departure time and the 2nd Captain at the health clinic with an ear infection we managed to go through the ritual of loading all our gear and departing.  I believe it was about 7 or 7:30 when we departed but Greg said it wouldn't affect the time we started fishing.  (I believe this is the first trip I have been on the YC that did not depart on time.)
Departing Stock Island                                                                      
As you can see there was no shortage of fishing gear 
The first day we awoke to overcast sky's and an occasional drizzle, which in reality was a blessing.  With the breeze and the clouds the heat wasn't as bad as I was expecting.  The bite started out pretty good, by noon I had a big mutton, a big red grouper and a big black fin tuna along with a couple smaller fish.  The bite was pretty consistent through out the day. 
My fishing buddy with a few red groupers, i caught one of them but not sure which one.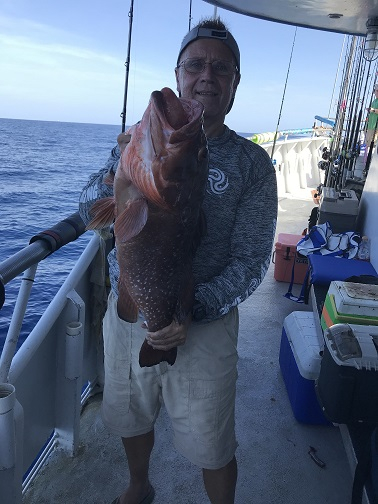 and yet another red grouper with a fish on in the background.   
 Daylight soon slipped into darkness but the fishing continues.  (So much gear on the bench there is hardly any room to sit down.)                                
The next day was bright and sunny.  Luckily my spot was in the shade most of the day, so I stayed there and didn't move around to much.  With only 20 anglers there is plenty of room to move around if you want to.  I didn't mange to get a picture of it but Adel [Sp?] managed to create a little excitement by hooking into a good sized sail fish that came out of the water along side the boat right in front of me.  The sail eventually got off to be caught another day.
Even in the shade, sunglasses are needed for the glare off the water.   
Plenty of room to spread out.  (Adel in blue shirt.)
Plenty of room along the rail but a couple no-nos aboard the Yankee Capts.  Only the rod you are using should be kept on the rail in case someone hooks a big fish and needs to move down the rail quickly.  As for the second picture, someone jokingly commented that Greg must have his spots marked with red buoys because they were on every spot we fished.  (The buoys were connected to the sea anchor that was deployed.)
 Extra rods on the rails.                                                                
Red buoys that followed us around.