Home
›
South General Fishing & The Outdoors
Biscayne nights -Everglades days, 5 December
lemaymiami
Posts: 3,794
Captain
Our first outing this week was a night trip last Thursday night, with a start time of 10pm... You have to ride the tide on night trips and that's just about when the outgoing tide we needed would get moving (funny thing - when I tell a prospective angler that we need to start at midnight or 1Am.... I don't get many takers...). This is really early in the season for the small tarpon in the Bay (they average 20 to 40 lbs and don't really turn on until the shrimp begin to run....) but we had hopes. My angler, a visitor from England, fishes with me every year when he's here on business so it was fly rods and looking for a few early fish. That night he jumped five fish on a 9wt fly rod that ranged all they up to 40lbs - mostly towards the end of the evening when a few shrimp began to show... We finally hooked up solid and the fish co-operated by running away from the bridge so it was game on. That fish only jumped a few times, saving it's energy for a long close quarters affair. We fought it for more than twenty minutes and I had my hands on the leader repeatedly before it finally gave up. Here's a pic or two taken at around 3am...
[img][/img][img][/img]
[img][/img][img][/img]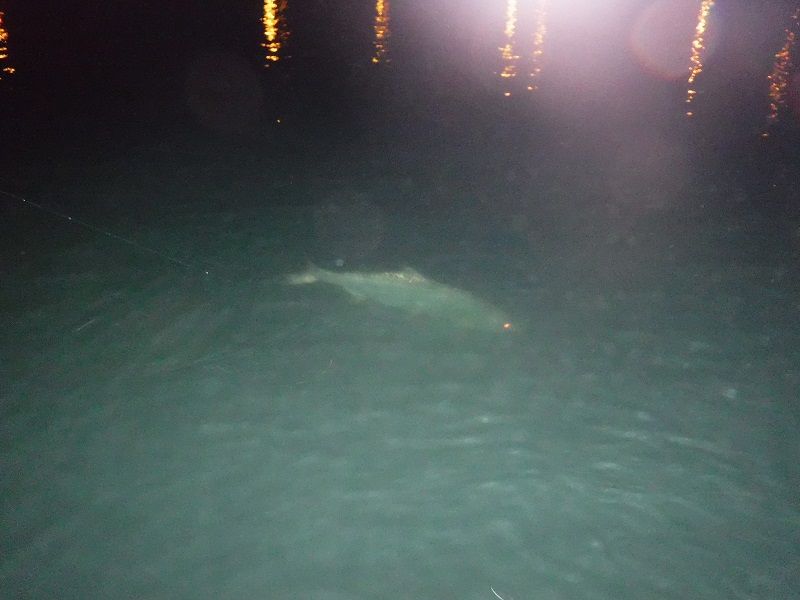 the fish weighed roughly 30 lbs and was carefully released...
The night scene will go strong all winter long once the shrimp begin to move (as long as it doesn't get too cold....) all the way through April. Twice a month for five days at a time the falling tide will start early in the evening. The rest of the time the tide will still fall - but not always at a convenient time.... Me, I'll start a trip almost any time at night if I can find an angler.... Some nights we're fly fishing - other nights it will be spinning gear and DOA shrimp.... Night trips are pretty convenient since they're only five hours and all of the fishng is really close by (all the bridges and docklights between Miami and MIami Beach hold fish at night -the trick is to find the ones the fish are liking each night...).
On the day side of things we fished on both Saturday and Sunday out of Flamingo. Saturday there were a lot of other boats on the water. On Sunday it was a lot quieter at the ramp.... We're finding more and more trout now, and a few snook and redfish up in shallow shorelines. The first strong grouper bite in the rivers has begun as well - but on Saturday, the ones we hooked were too quick to get to ground on us... Both days sharks were just about everywhere... as the next two pics from young Colby will show...
[img][/img][img][/img]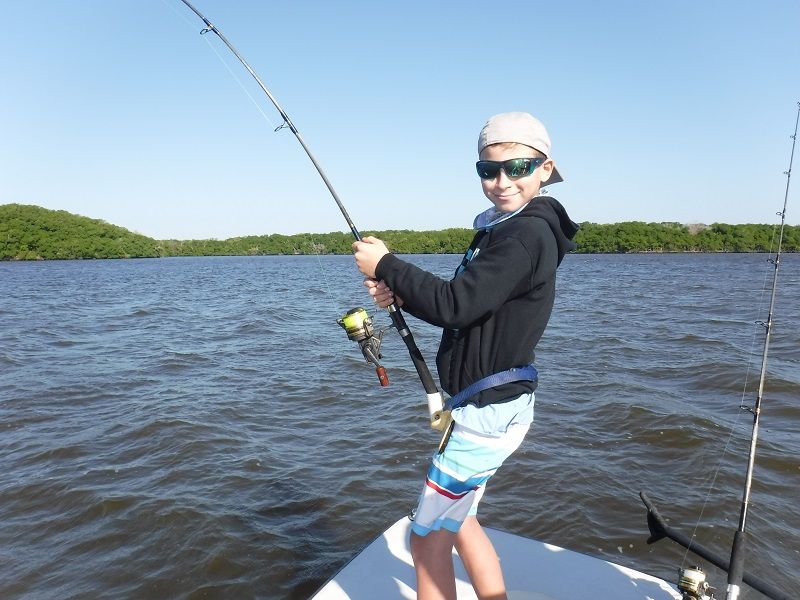 [img][/img][img][/img]
the shark and the boy were just about the same size... the rod had 15lb mono and they were pretty evenly matched... I was able to leader the critter and carefully removed the hook before it swam away in good condition (an 18" Arc DeHooker is the tool I use for getting back hooks from fish that have teeth....).
The next day it was all lures and sight fishing along the shallow shorelines around Whitewater Bay with Larry and Sean. Early on water temps were a bit low and we didn't begin seeing much until around 10Am. Most of the snook and reds we found (many more snook than redfish on Sunday for us...) were pretty sharp and were seeing us just about when we saw them.... That meant lots of missed opportunities up really shallow but we did find a bunch of trout in a bit deeper water. We caught and released most of them, keeping three for the table... When we shifted to shorelines with a bit deeper water both Larry and Sean hooked up with a couple of nice snook in the 22 to 24 inch range... Here's the pics.
[img][/img][img][/img]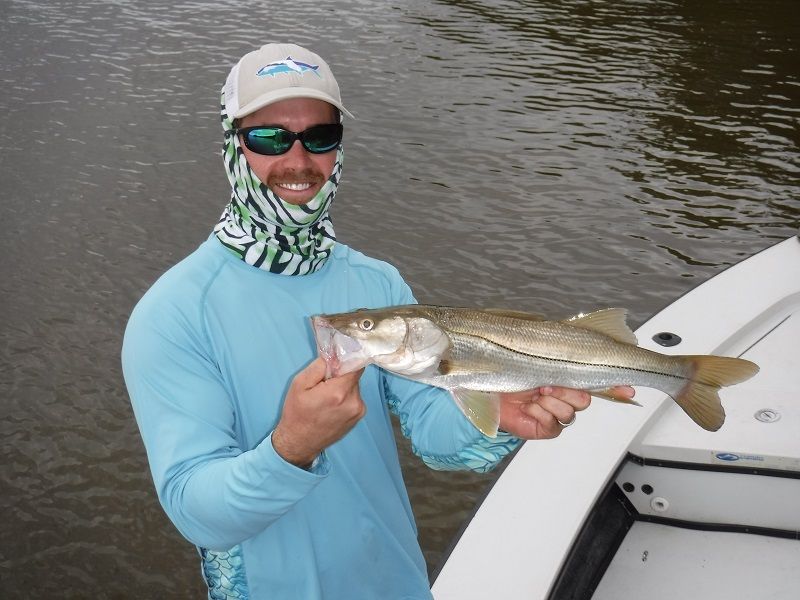 [img][/img][img][/img]
Each was carefully handled and released. Snook season in the 'Glades (and everywhere else along the Gulf coast) will re-open on March 1st. It will be strictly catch and release until then...
This time of year I'm booking gift certificates as well as trips... Anyone can give a trip to their favorite angler for the coming year - contact me for details.
Be a hero, take a kid fishing!
Tight Lines
Bob LeMay
(954) 435-5666