Home
›
Southeast General Fishing & The Outdoors
7/29 out bbi and in lwi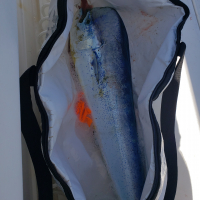 JWPB
West Palm Beach
Posts: 248
Deckhand
Out bbi right at sunrise. Multiple boats catching bait to south so headed north around sandbar.

Lines out at 100 and caught first bonita with 1.5 lines out so trolled east to deeper.

Weed and rips with 2-3 mph current around 200. Stagnant water inside 100.


Some flyers, more bonita, lots of clearing weed.

In 500 now off singer and nothing at 10 so trolling back to inlet.
Jupiter 29FS