Home
›
Tropics
Cape Cod Report-A-Thon 6/17-26th!
Jenn and I own a 1-week timeshare in her native New Zealand and we are able to 'trade' that week for units all around the world. We even traded our 'week' to upgrade to an outer cabin with balcony for an Alaska Cruise that we did out of Seattle in 2005! We did the same in May on 2014 down in St Maarten.
We looked from Puget Sound to Maine to use our 'week' some place where we could enjoy cooler and drier air from our normal, South Florida, Keys and Bahamas summers and we hit a grand slam with this one! We found a wonderful, one-bedroom, 2-bath townhouse type of unit just minutes from Hyannis Harbour in nearby Yarmouth. "
The Cove at Yarmouth
". This Report will be full of fishing, boats, commercial fishing boats, lighthouses, maritime, seafood, docktails and more!
We hopped on our jetBlue A-320 flight out of FLL only to be delayed and delayed for hours due to rain. Finally, 3 hours late, we were making our approach to the southwest into nearby Providence Airport (PVD). Nice view of Narragansett Bay, looking south.......
Very cool shot of the Pomham Rocks Lighthouse! One of the original lighthouse keepers had a piano brought over for his wife. They had to hang it between two masts and then tilt the boat over to lower in onto land! :willynilly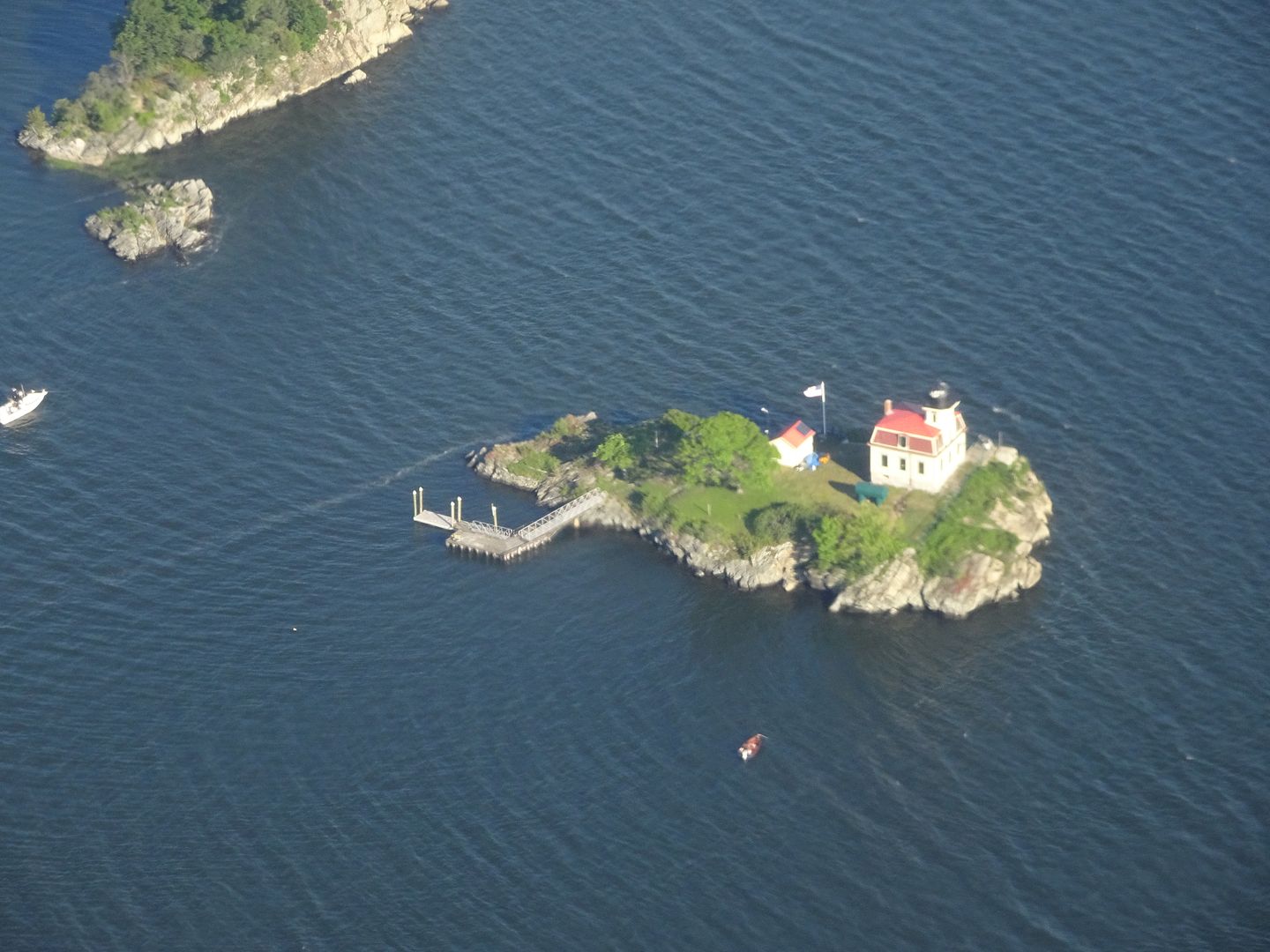 Got our bags, got the rental car (Mustang Convertible of course!) and ended up having the put the top up because it was getting too cool on the evening drive to Yarmouth!
Had a nice dinner at Captain Parker's on Hwy 28 but I was furious when I realized that I had accidently left my heavily highlighted Cape Cod guide book back at the airport! :banghead The IPA beers and wonderful baked scallops did help a bit! There are dozens and dozens of places like Captain Parker's. All, with fresh, locally caught seafood.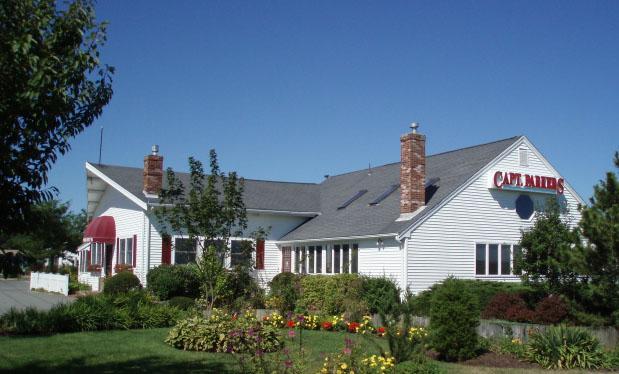 Nice, cozy, 2-story unit! The small bedroom looks down onto the main floor! We have just enough of a kitchenette to enjoy tea, coffee in the mornings and we later prepared a small lobster bisque and sashimi 'dinner' too!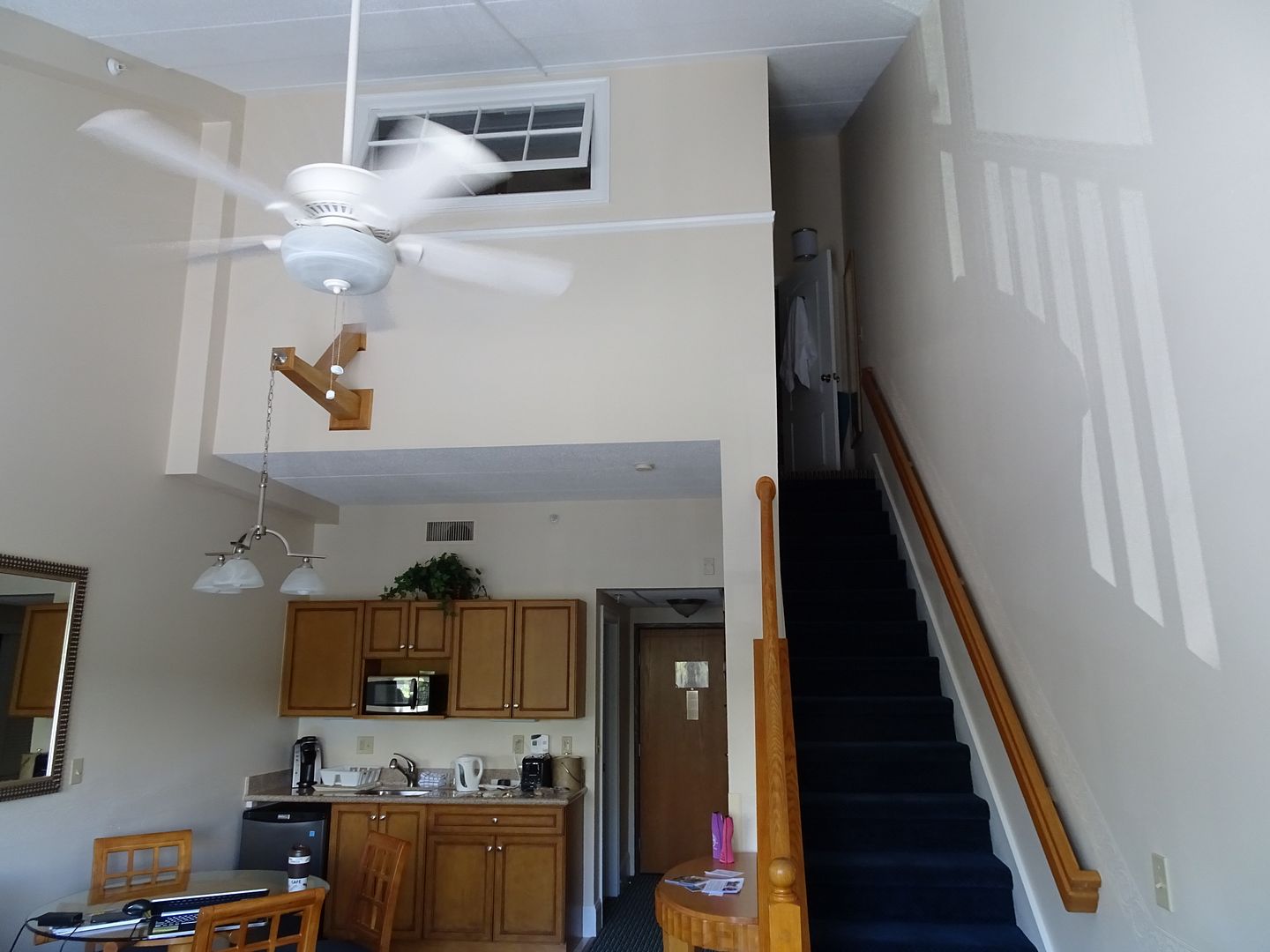 "The Cove at Yarmouth" is located between 'Hyannis' and the Hwy (28) symbol. Very centrally located!
Jenn wanted to go to the Keltic Kitchen for breakfast so we did just that the first morning (last Saturday). I had Seafood Hash which has diced up shrimp, clams and mussels under the eggs in a crab cake sort of patty. The portions here are huge!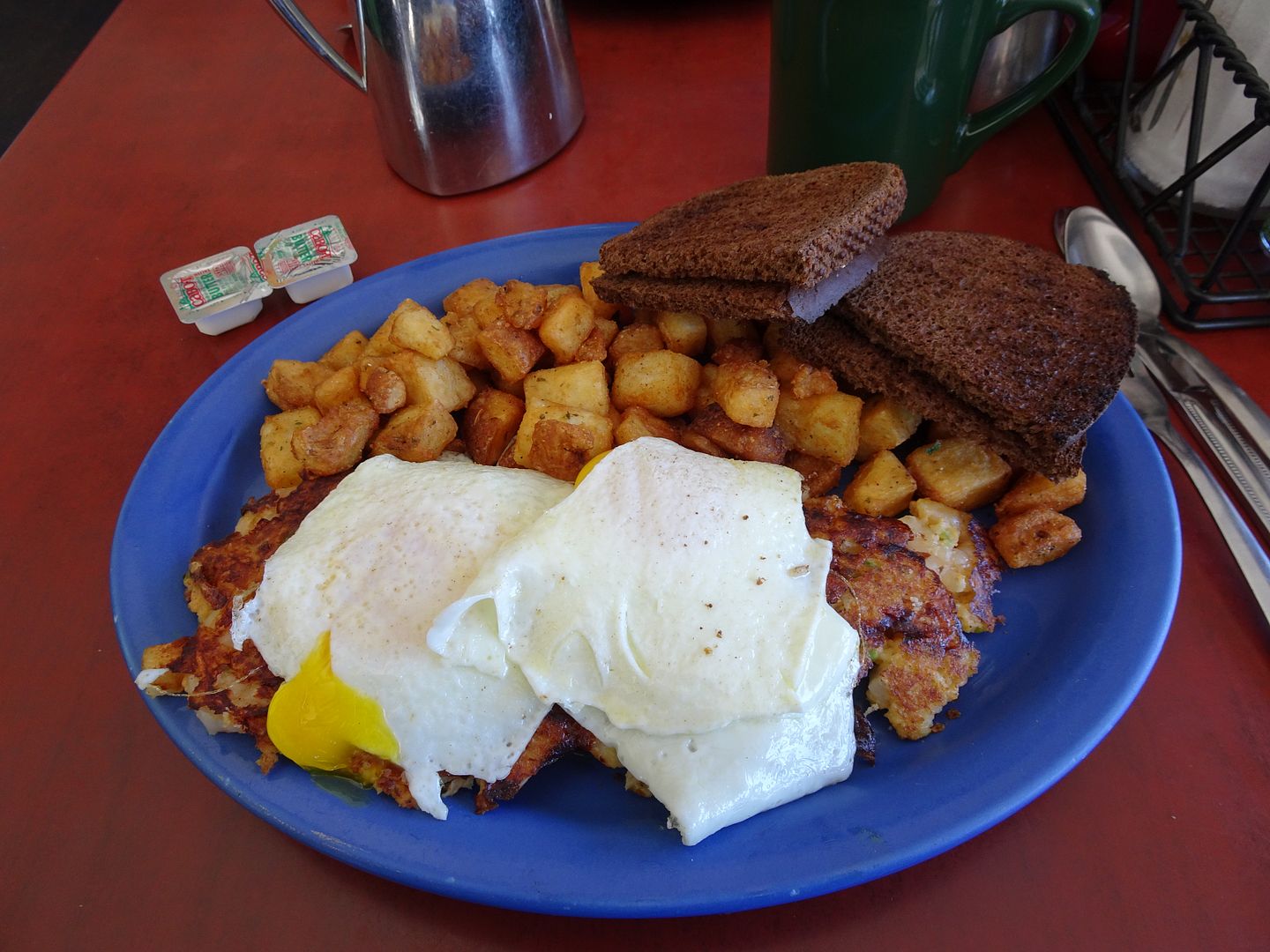 Being just Day One, we took a drive along Hwy 28 which is the main drag for the southern coast in this part of the Cape. Found a very fun place called 'Sea Treasures'!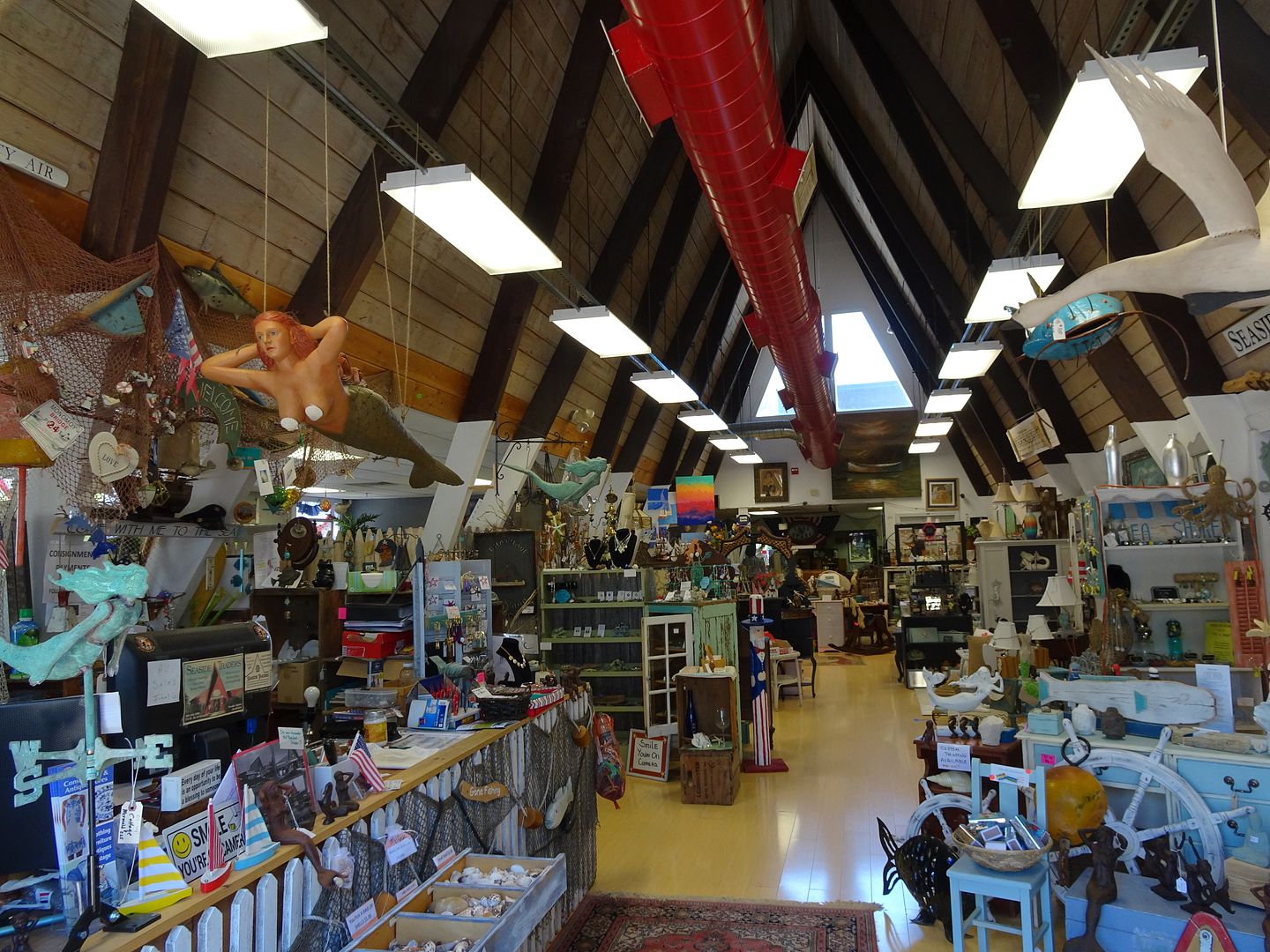 We resisted buying about 100 things but did go behind this fun place to an outlet for G. H. Bass shoes and clothes. There, the discounts were just too good to pass up and I picked up a new pair of fishing shoes and Jenn got some sandals.
We made our way to the Inner Harbor in Hyannis and soon found ourselves hopping on to the Jonathon Lewis which does one-hour harbor tours. We do these things all the time because it's fun and a great way to 'see' a lot of things in a short time! We also discovered that this Inner Harbor area is our favorite part of all of Cape Cod!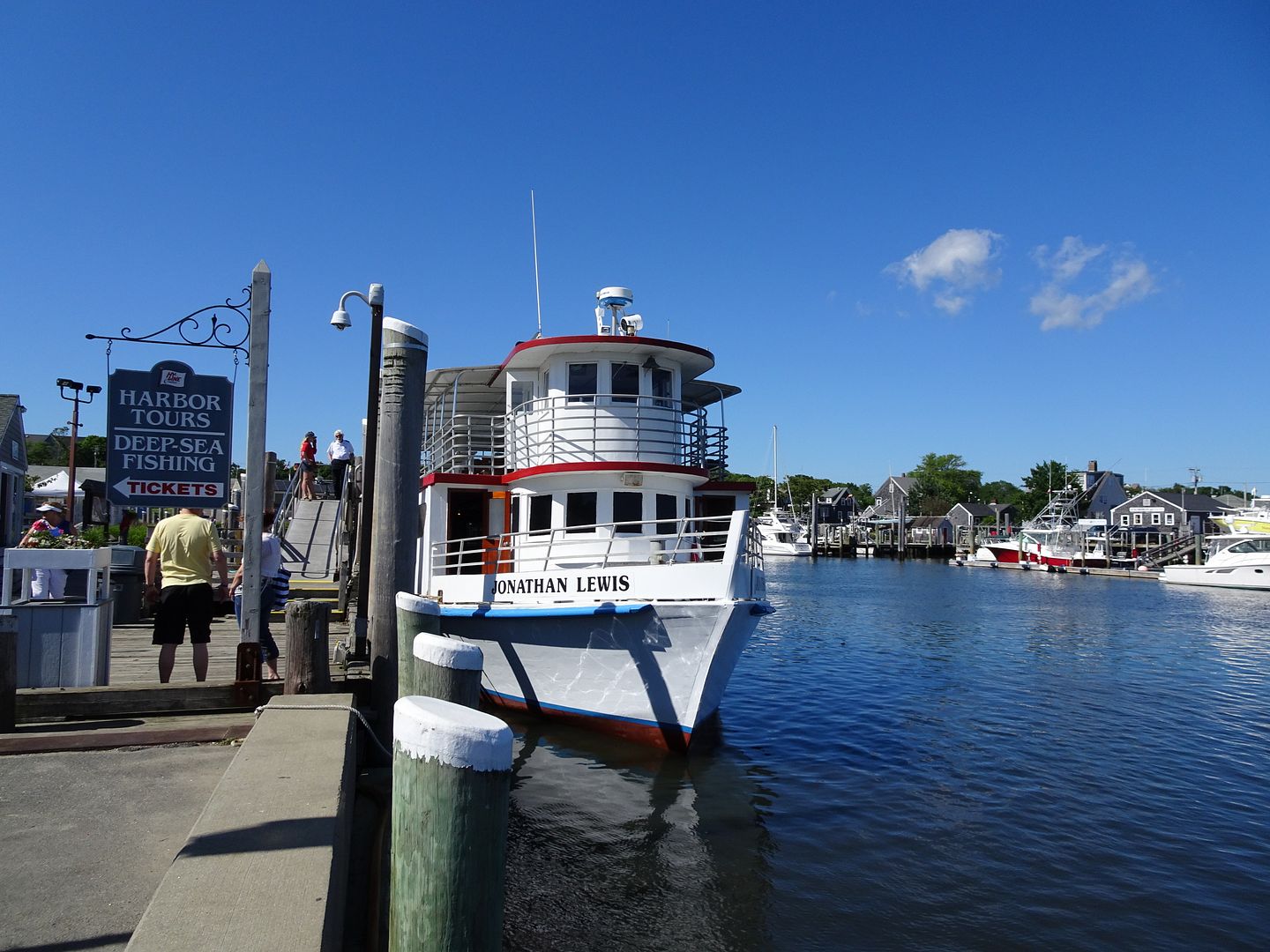 Our Guide Book (bought another copy!) keeps talking about the crowds in July and August and it turns out that we got lucky in that not all Massachusetts schools were out for the summer when we got here! Lots of parking and on our Harbor Tour we had made 20 people total on the big boat!
Actor Donald Sutherland has a new summer job being the Captain of the Jonathon Lewis and he was nice enough to let me take a photo of the helm area. "You'll notice here on the Cape that the bright blue Solo Cups are THE cups that the locals use around the waterfront." Huh? :huh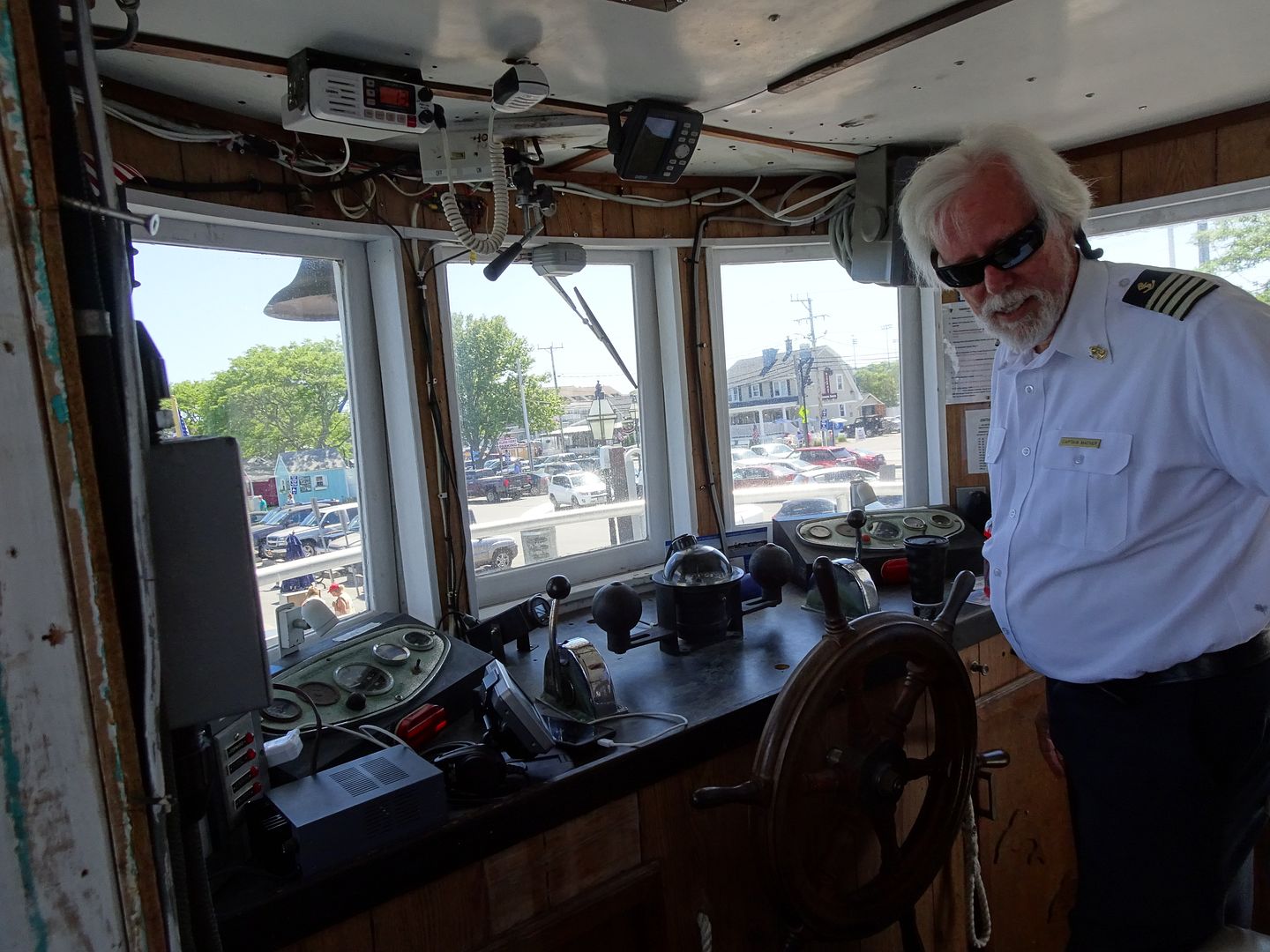 We shoved off and we saw a lot of the Kenndey stuff as the Kennedy family has owned homes here for nearly 90 years. Here's the Kennedy Memorial.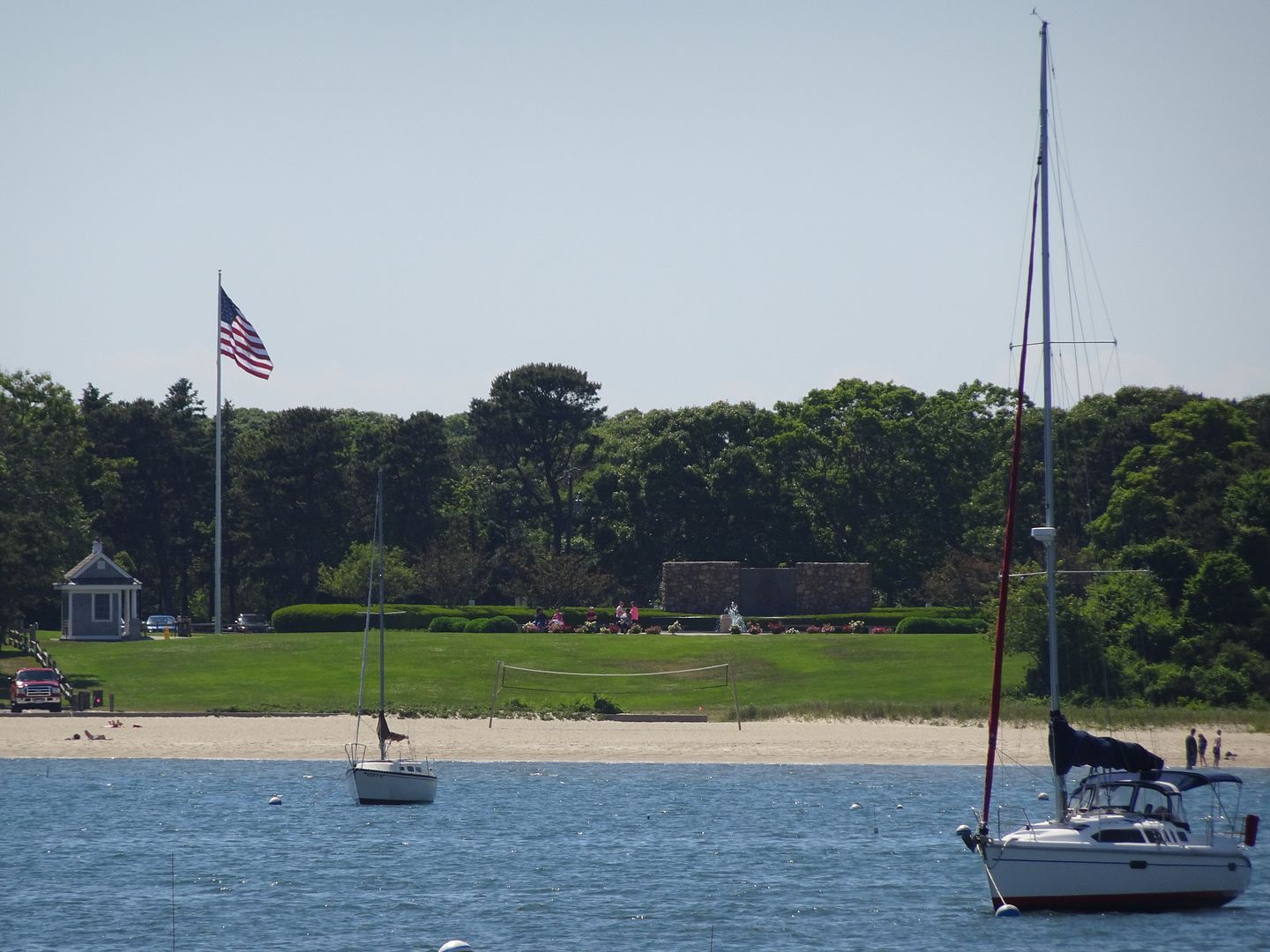 Here's the 6 acre Kennedy Compound. Father Joe and mother Rose lived in the large, middle house. JFK lived in the home to the right and Bobby Kennedy lived in the home to the left. Ted lived in the parent's home until he passed away in the home, in 2009. There is another home out on a point, that JFK used when he was President because it was easier to protect him that way, surrounded on three sides by water. If you have seen the Bush Compound in Kennebunkport, it's similar.
"But Gary, why do you still use a camera when your Super iphone takes great photos?" "Because my camera has a 30 power zoom." I needed and used it on this day and most others...........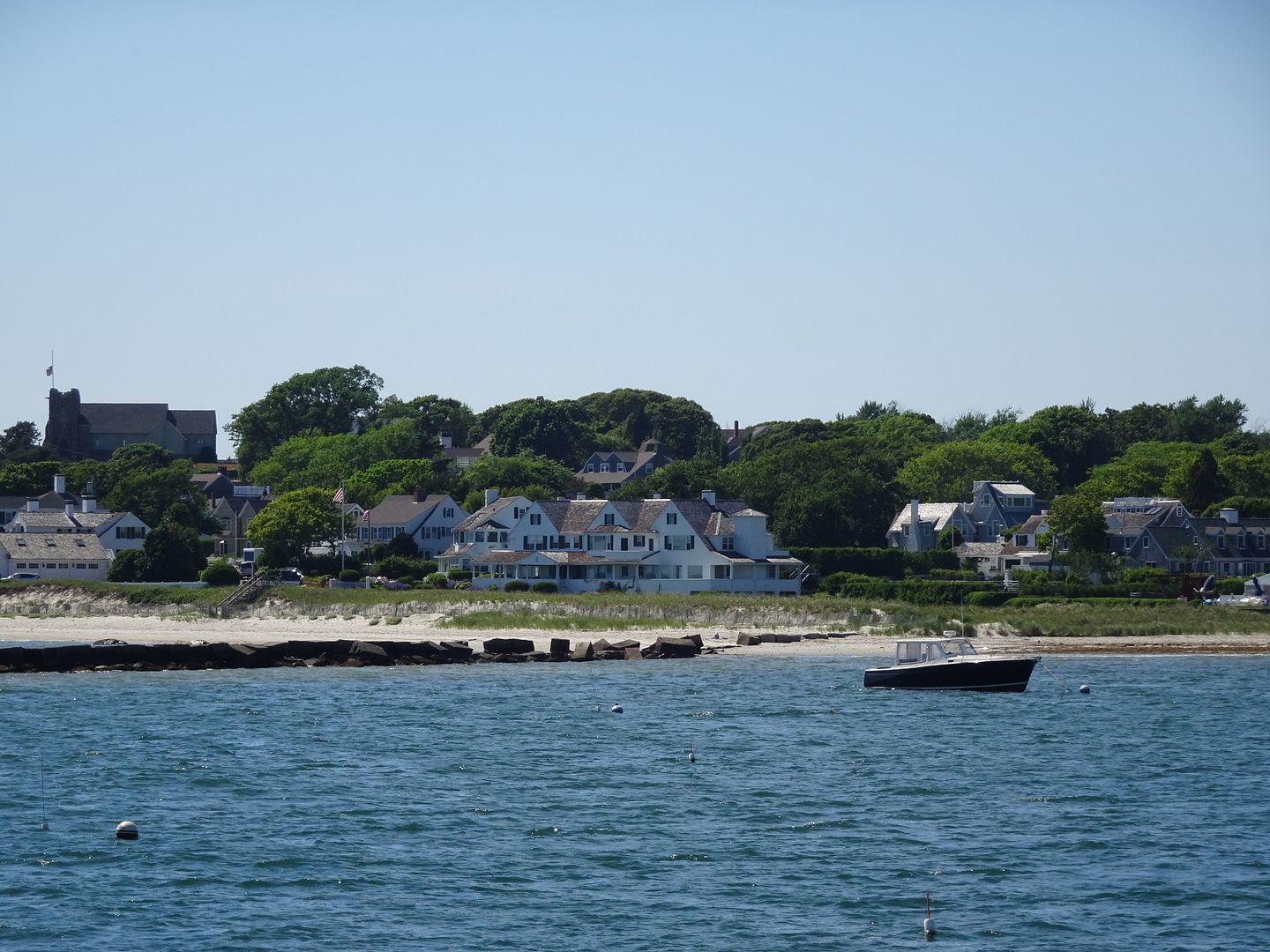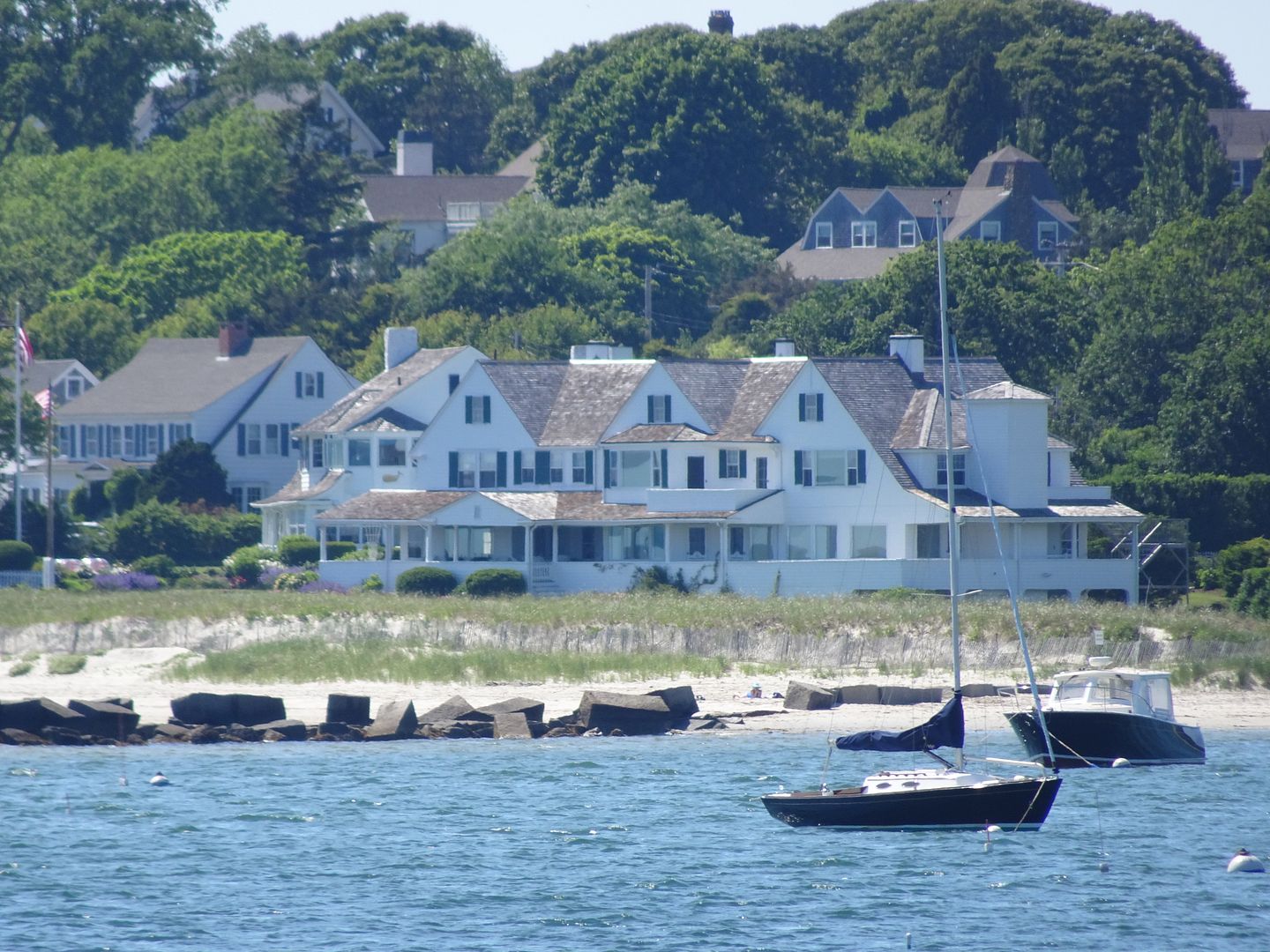 Uggggghhhh...... this is how accidents happen! :nono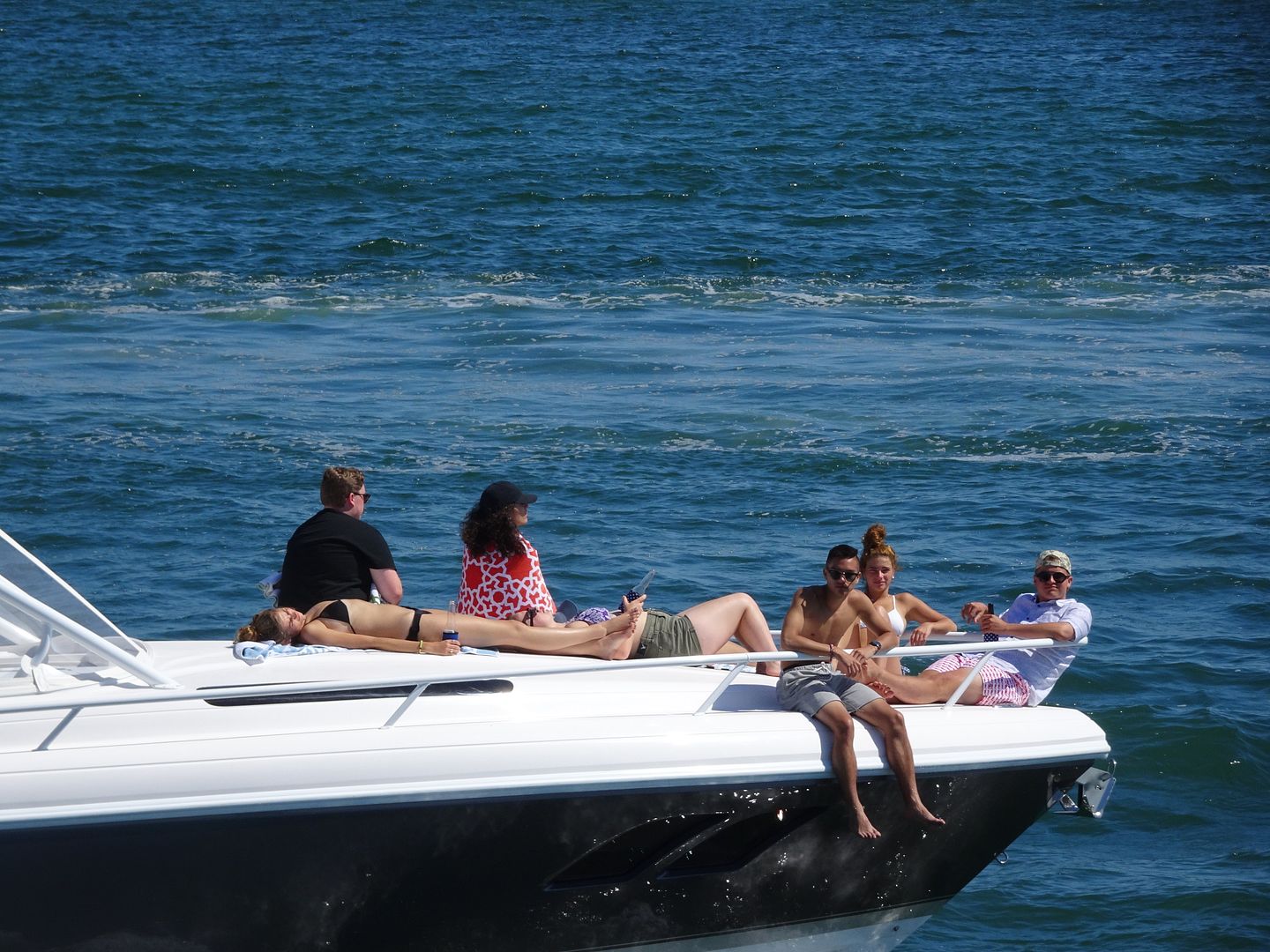 This house/compound was across from the Kennedys and although I'm not a sailboater, this looked pretty nice!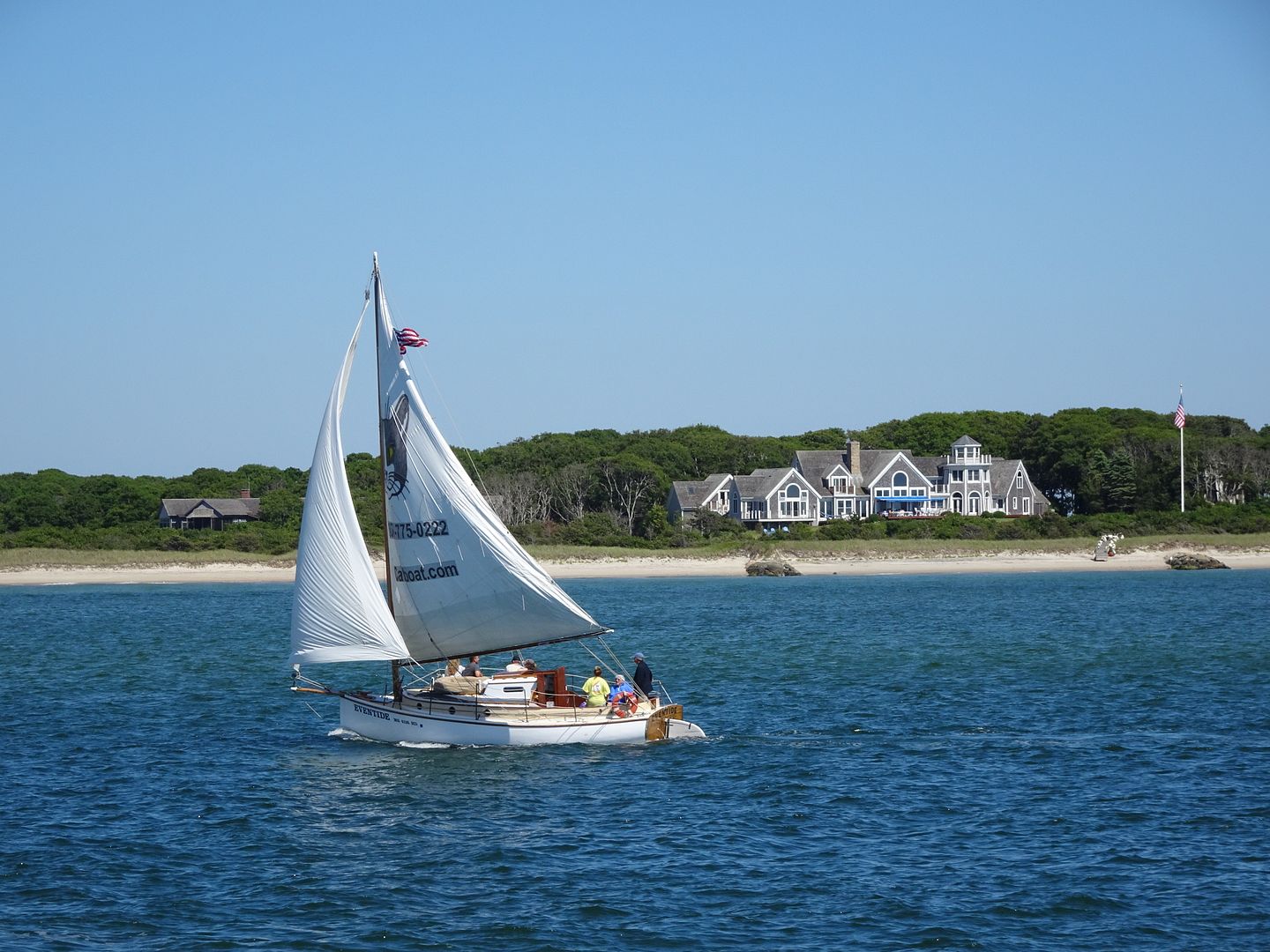 The main 'inlet' from Nantucket Sound is actually a bit narrow as you can see here where this freight boat is coming in as we are about to turn around to head back in.......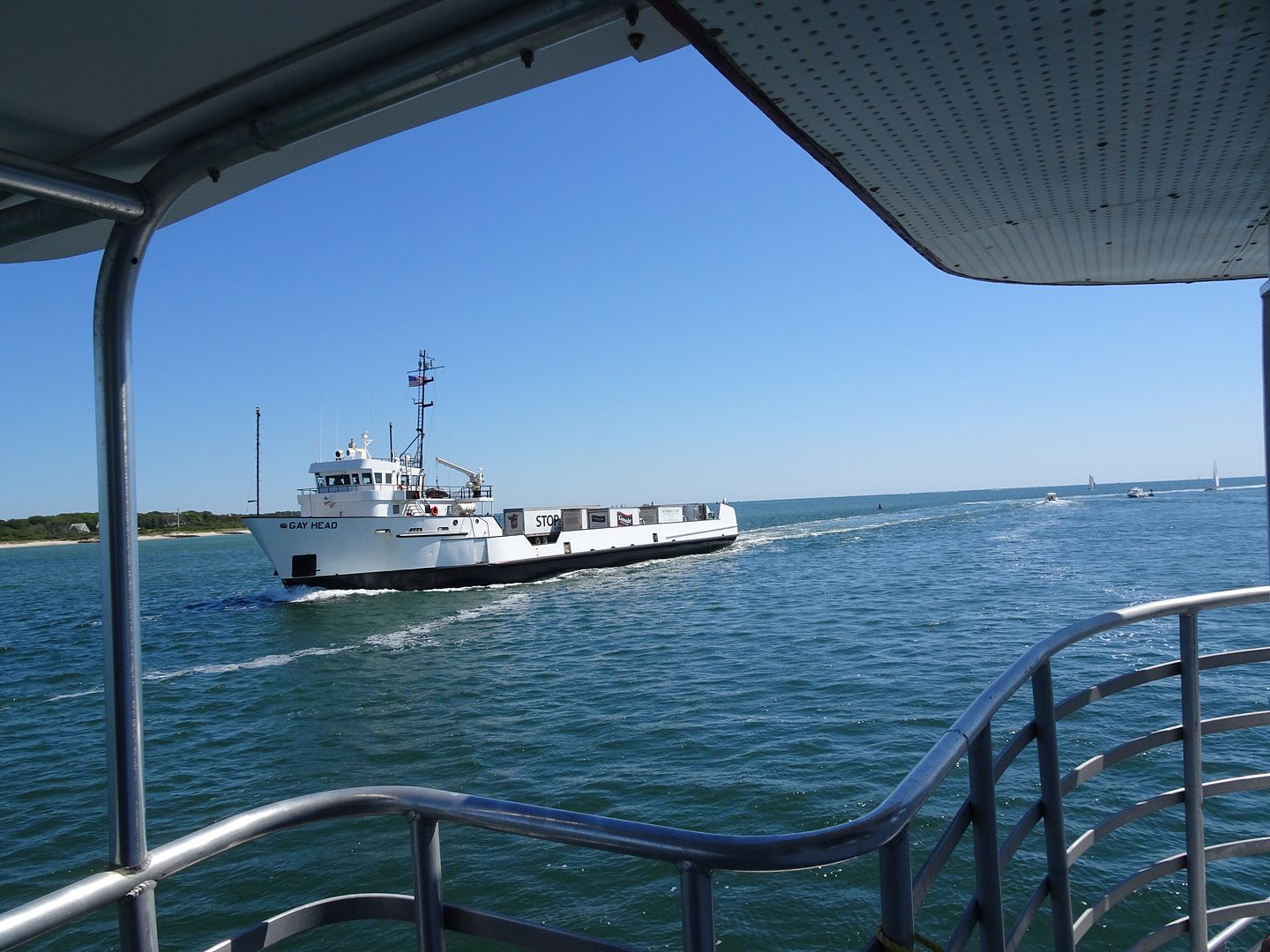 'Rachel' was our very cute and very knowledgeable tour guide! She's in school for Maritime Studies with plans to be a boat Captain!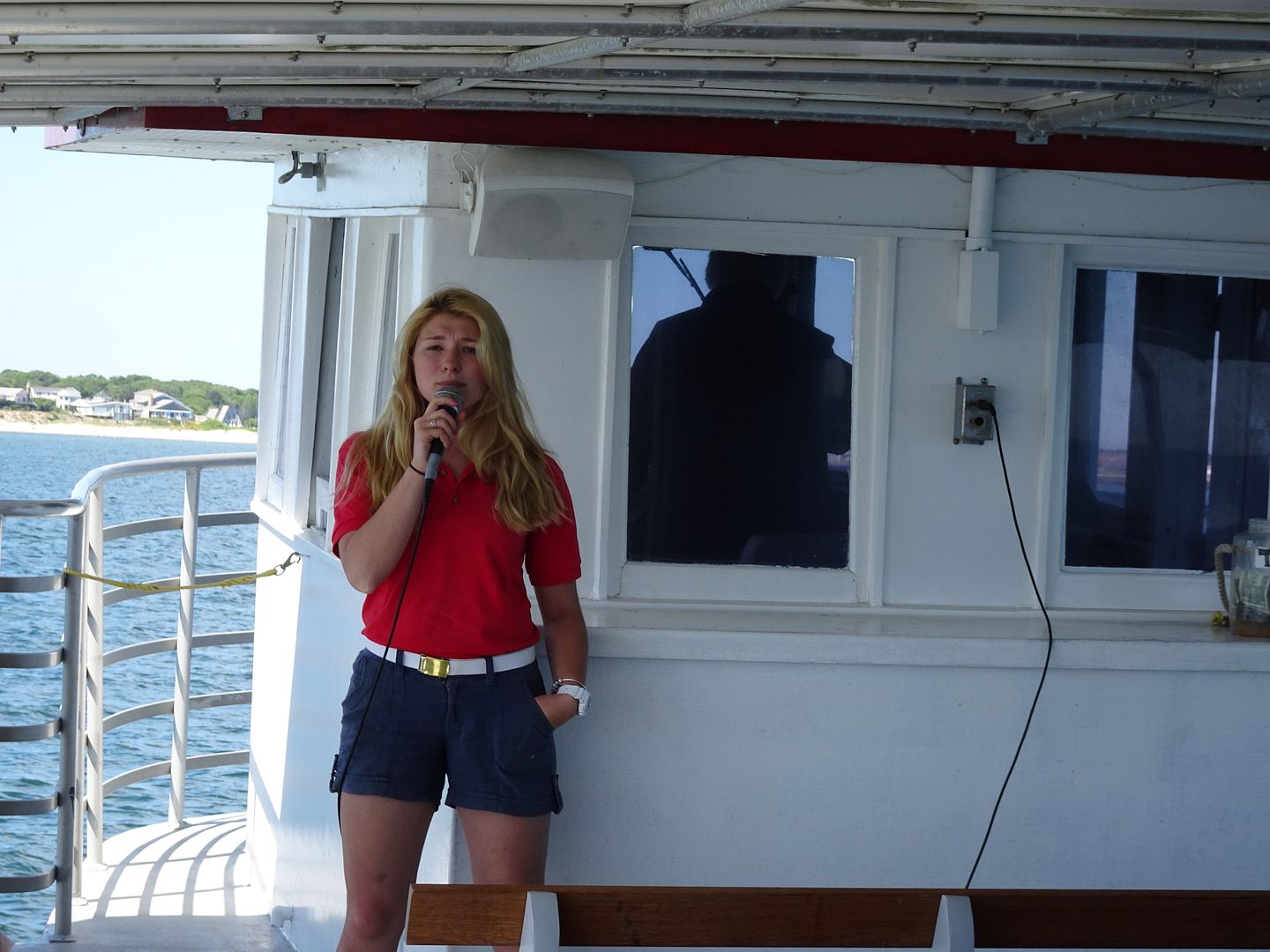 Here's the 'Grey Lady' coming out on her way to Nantucket. She's part of the Hy-Line Fleet based in the Inner Harbor at Hyannis. "See ya soon, Grey Lady"!!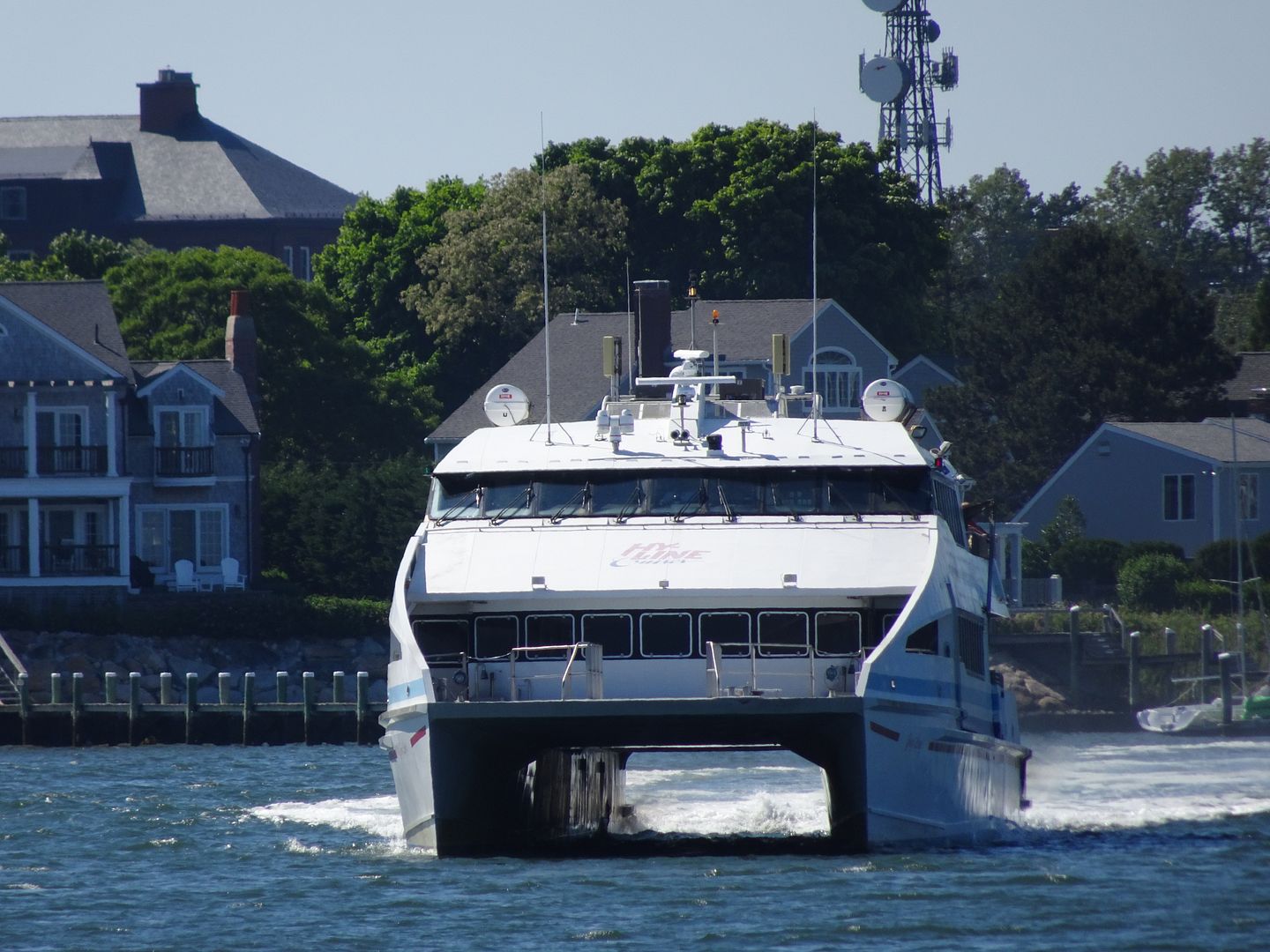 :huh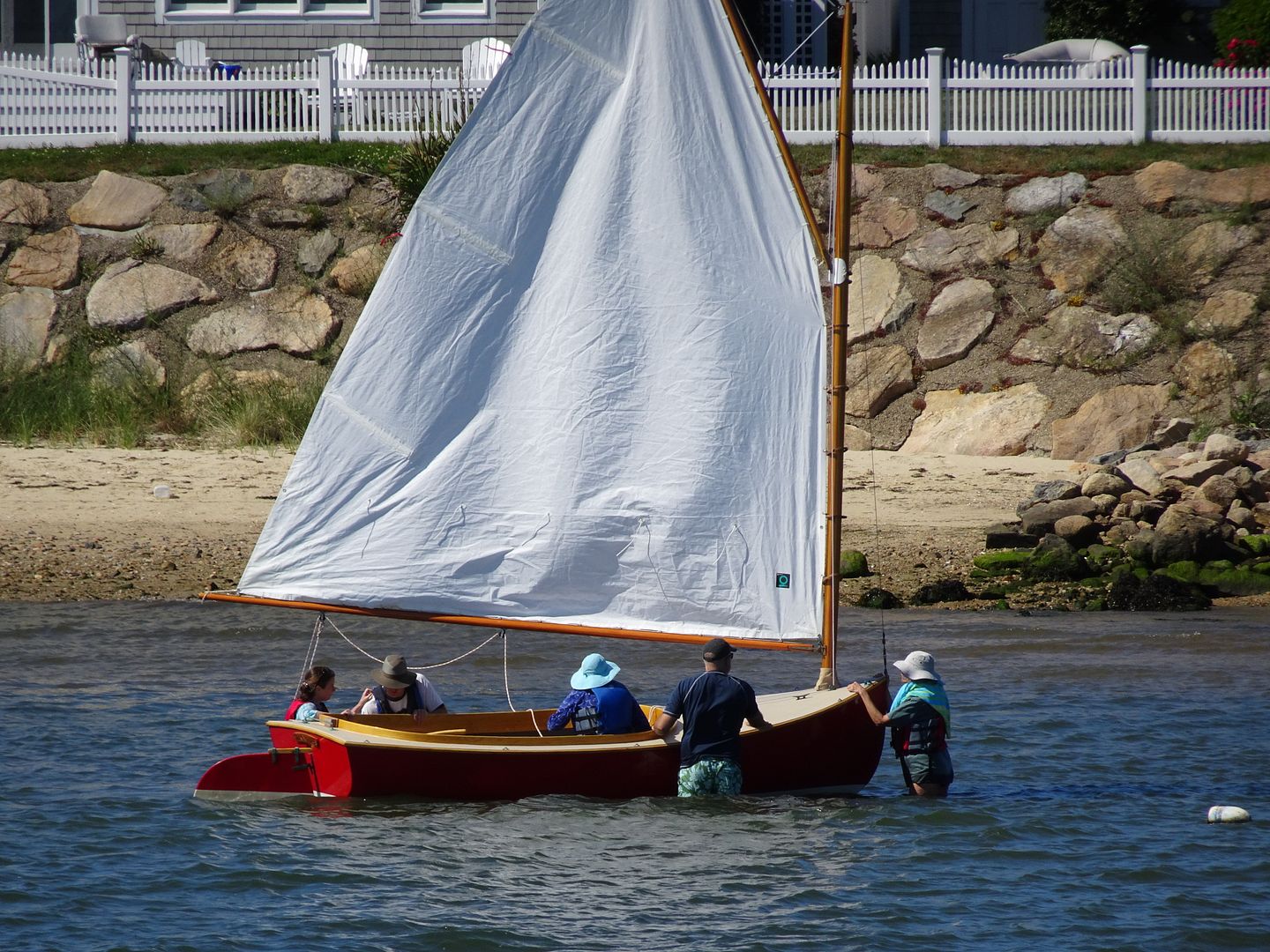 "Look"! Jenn said. "She MUST be a local"! :grin "Yep, a blue SOLO cup for sure"!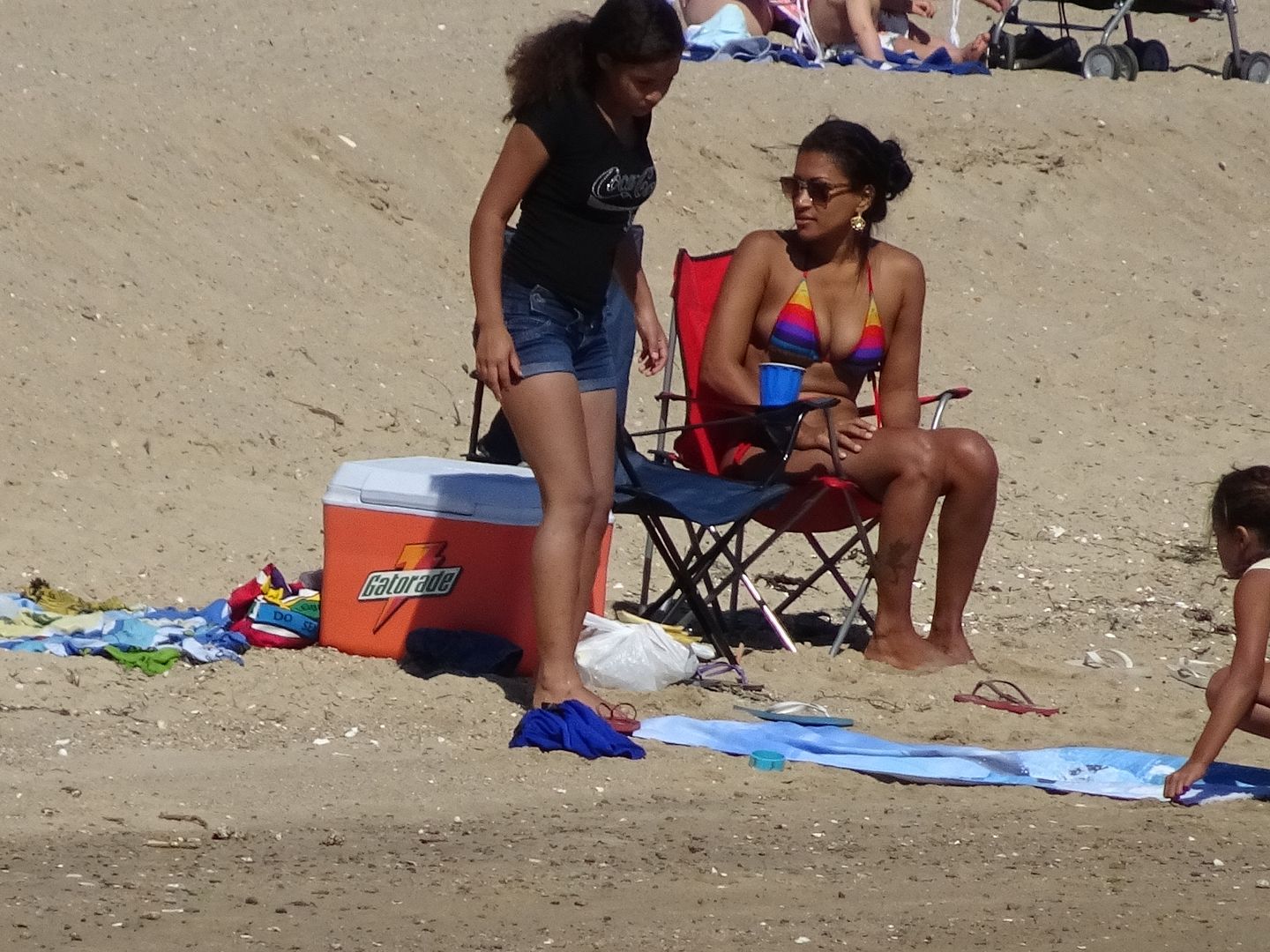 The car ferrys dock up at a drive-on, drive-off Ramp and we had not decided if we were going to take the Mustang over to Nantucket or not, but here's the 'Gay Head' at the ramp. W-i-d-e........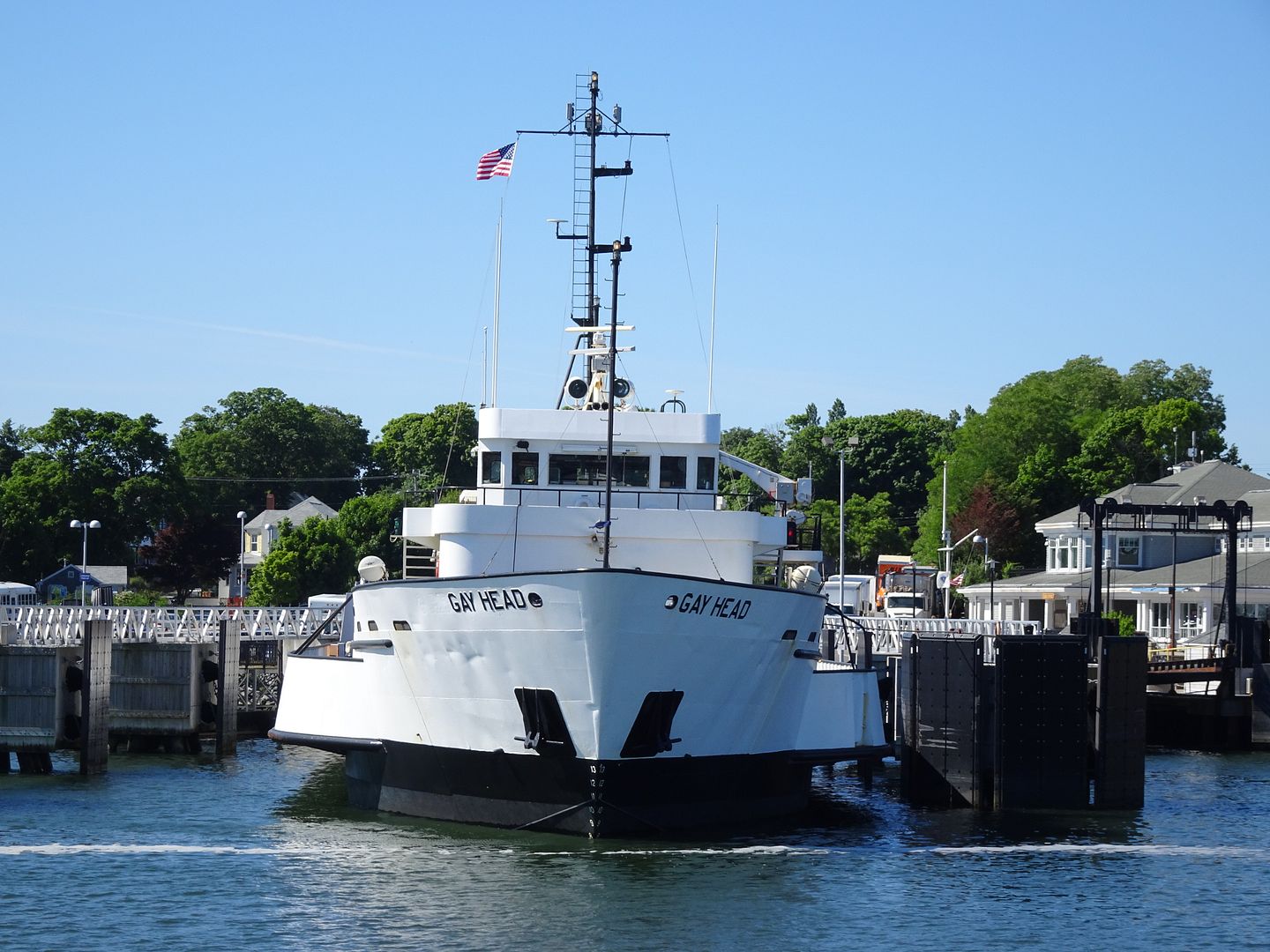 Our 'first day' was not quite done!