Home
›
Southeast General Fishing & The Outdoors
3/29 Boynton Inlet 0/0 but sails and weed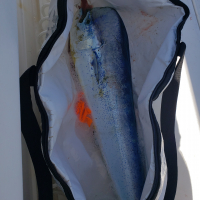 JWPB
West Palm Beach
Posts: 221
Deckhand
Got a late start Tuesday, but had to go out due to calm seas and wind. Cleared the inlet around 10:15 with plans to head east till I saw something interesting. That lasted 3 minutes till I saw 40 boats trolling and drifting in the 80-150 foot range just north of the inlet, so I slowed down and put lines in water.

Trolled around for a while and nothing, so started heading east. Wind and slicks were all out of the north, so I was trolling across them, and did not see a lot of activity till 550ft.

Between 550 and 700 I saw 3 different sails jumping, all heading south with wind against the gulf stream. Saw a shark doing the same. Saw some north/south trash lines around 550 as well, then at 600 there was a color change and weed line that looked very fishy.

I'd wasted enough time getting out that I only fished it for and hour or so before the lightening chased me back in, and I did not see the 2 other boats out there hook up either, but was the best looking fishing conditions I had seen for 3+ weeks.
Jupiter 29FS