Home
›
Panhandle General Fishing & The Outdoors
Christmas Vacation in SFL and da Keys (Lobster and Wahoo too) long and lots of pics
crcattypc
Posts: 632
Officer
It had been some time... about 1-1/2 years since I made a good trip to the American Caribbean. Courtney and I began planning this trip last June when we knew we were not going to be able to make the August keys trip with the rest of the Panhandle faithful. So Christmas in the Caribbean it is!.
We first left PC to a cool bright morning on December 18, 2015 and headed south to Delray Beach Fl and my mother's house. We had a plan to try and get some days of fishing and diving in before Christmas, but that was not to be. (Thanks to the weather man).
My wife is a die hard Gator fan, so we went to the UF v. Oklahoma State basketball game on Dec 19. The Orange Bowl Classic. Fun game at a nice place in Sunrise Fl called the BB&T Center (Where the Fl Panthers hockey team plays).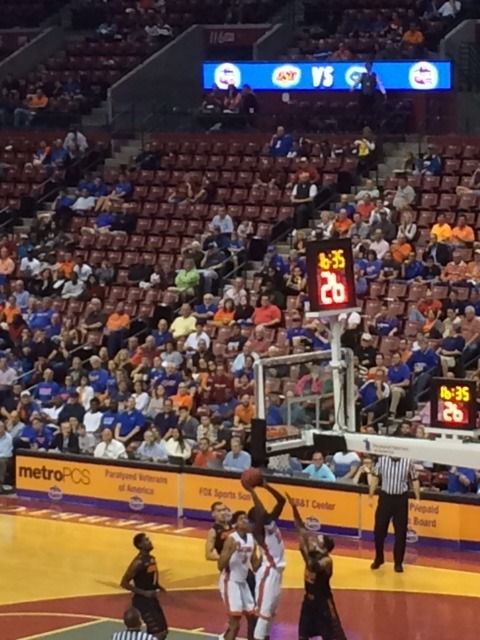 Then we waited and hung out in Delray and saw some friends, hung with Family, and did Christmas. Christmas eve was my grandmothers 87th birthday so we did it up big time for her.
We did get out on the inter coastal on Christmas day, but there was no way we could get out either the Boca or Boynton inlet. So we just cruised and looked at boat ****. (insert any picture of a giant beautiful contender/Seavee/Jupiter/yellowfin, etc... you get the idea)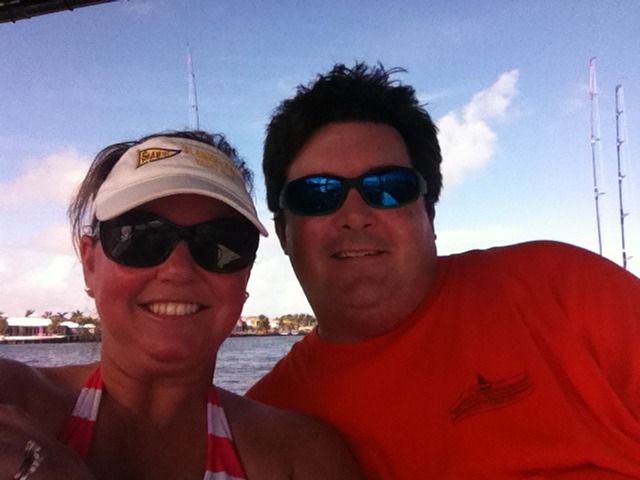 Had to represent to those Boca folks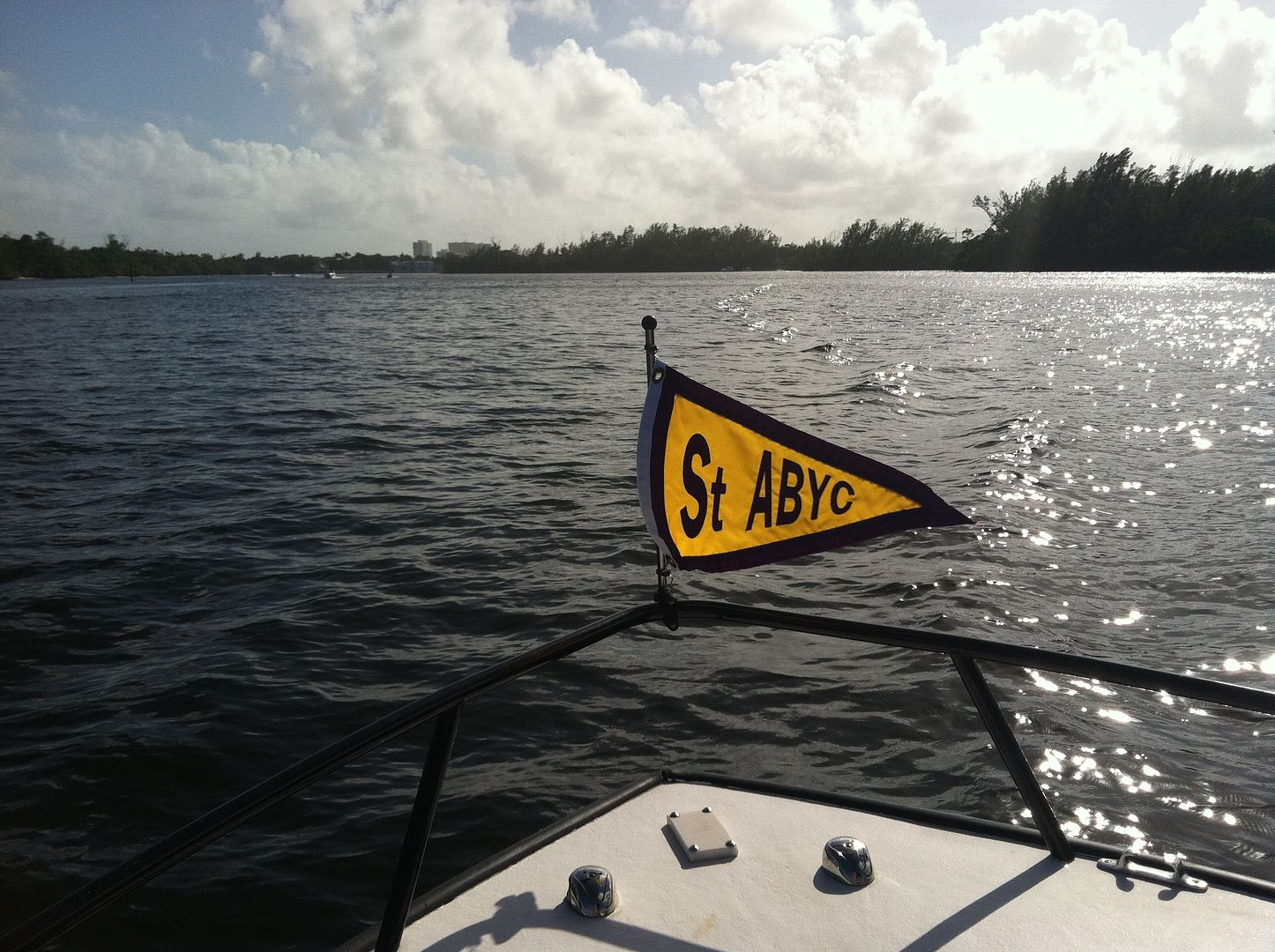 We found this guy on the boat and thought he would be a good omen. This not photoshopped, that is a real caterpillar with a smile on his face!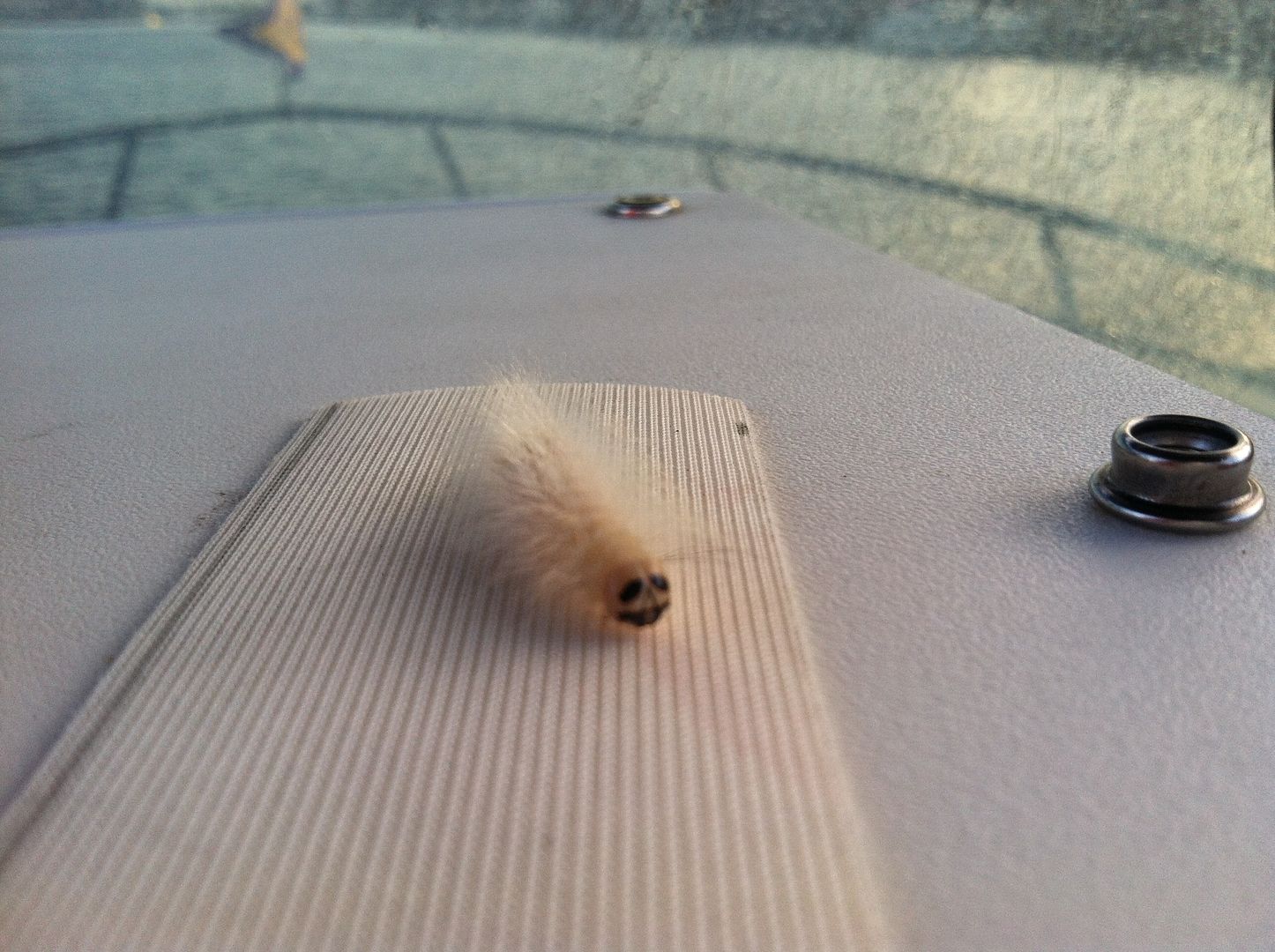 OK now to what you want to see and hear about. Sorry for taking so long to get to the point.
We arrived in Sugarloaf key on Sunday December 27, 2015. The wind followed us and the first few days it was blowing 15-20 from the south east. The gulf side was somewhat protected, but the visability was great!
Days 1 and 2 on the back side yielded a few keepers (like 6 each day), but we found some awesome hotels which were packed with smalls. Like 1 millimeter small.
Court getting ready to dive.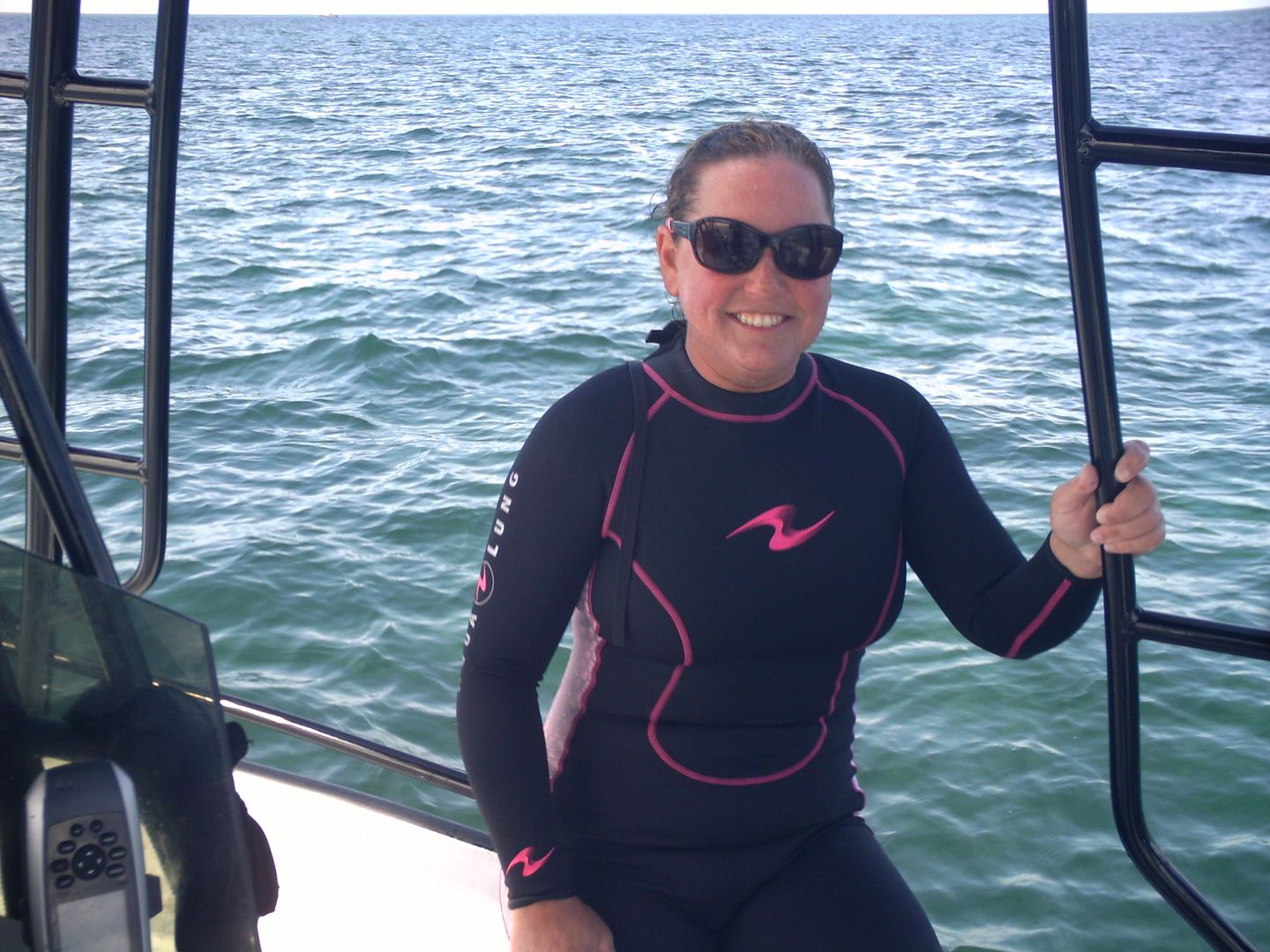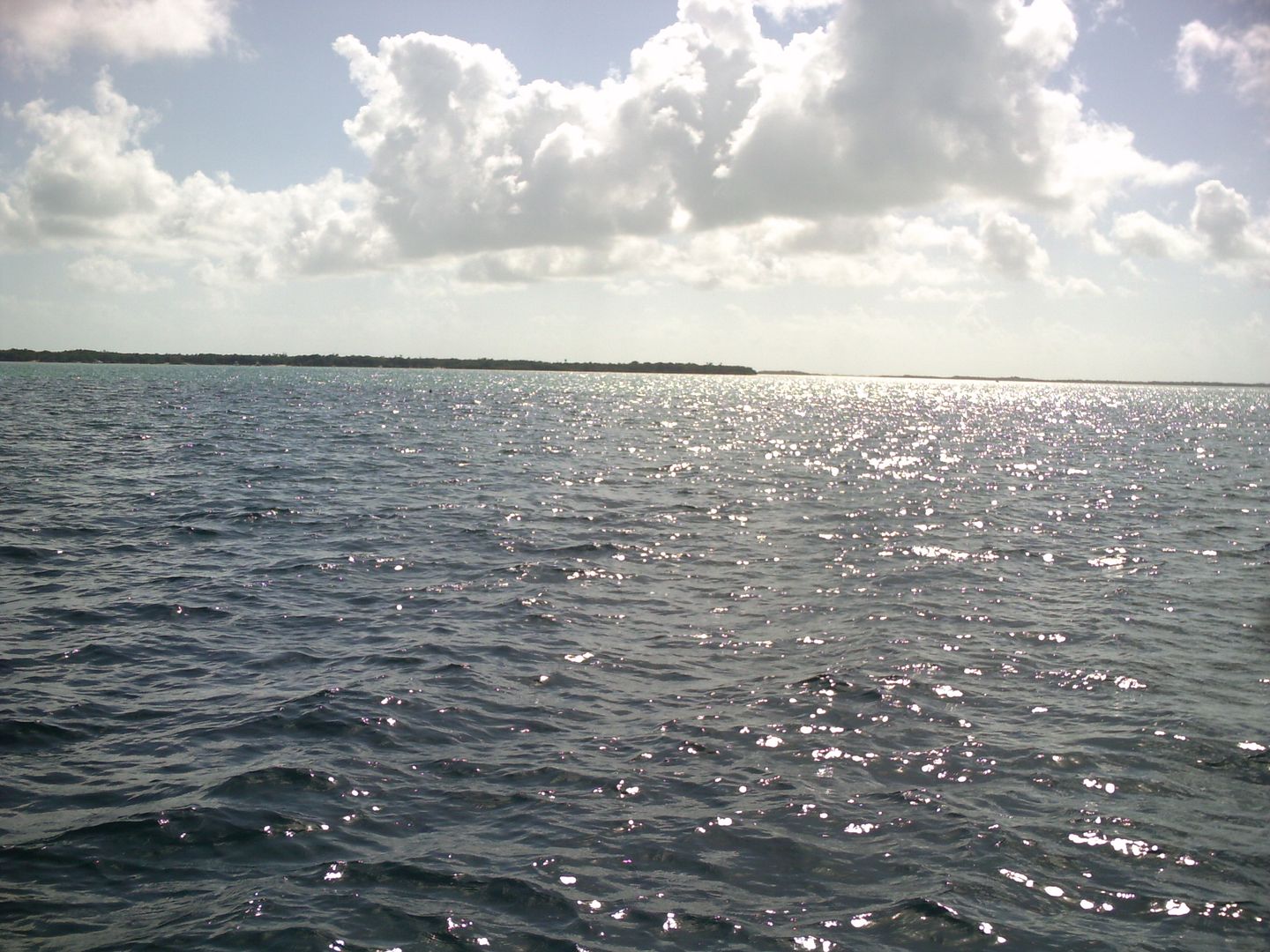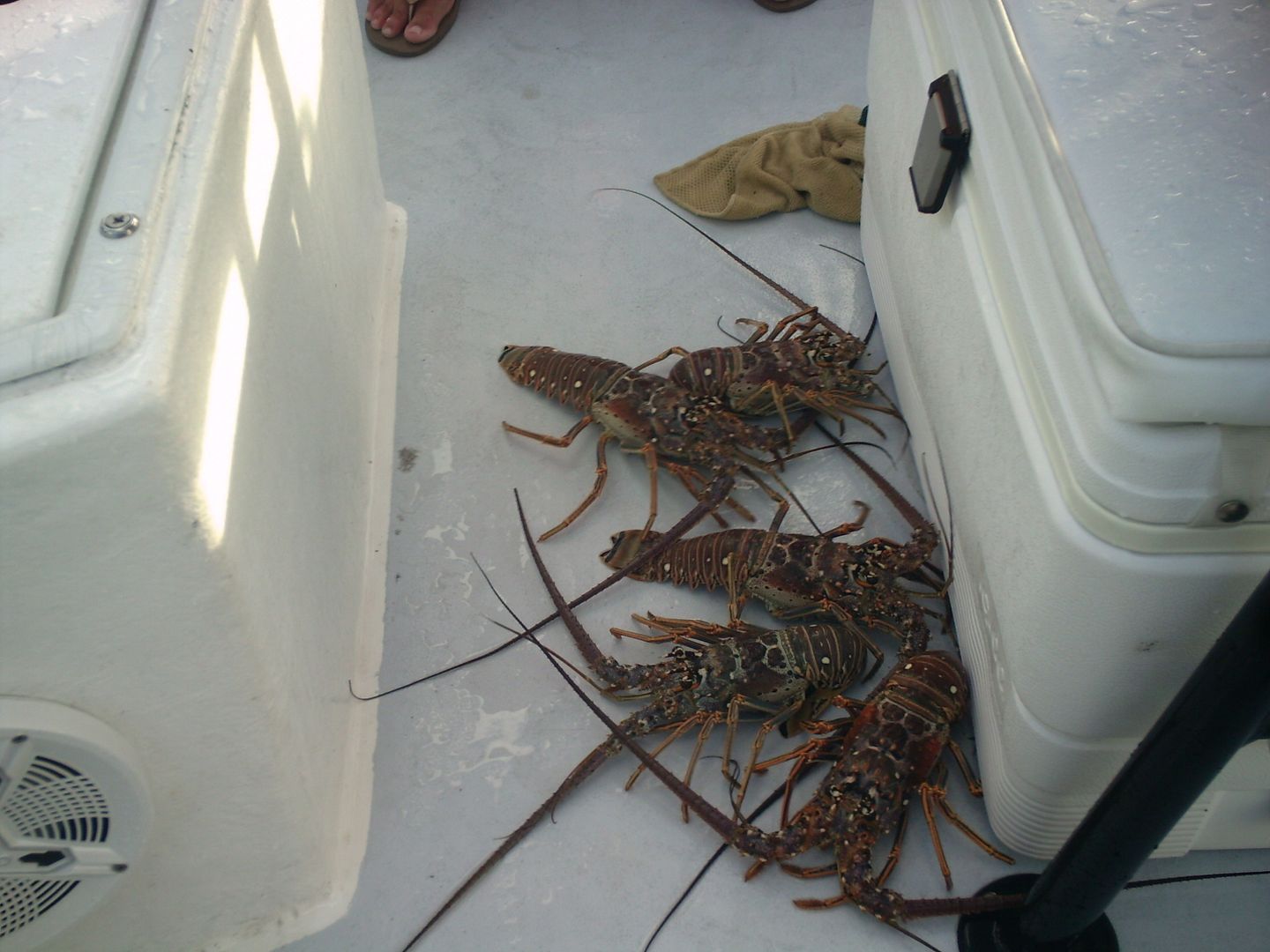 Court with a few back at the dock.
Making them sleep on their heads.
On New years day Jan 1, 2016, Courtney and I went out on the backside and got a few lobster. Beautiful day nice clear conditions.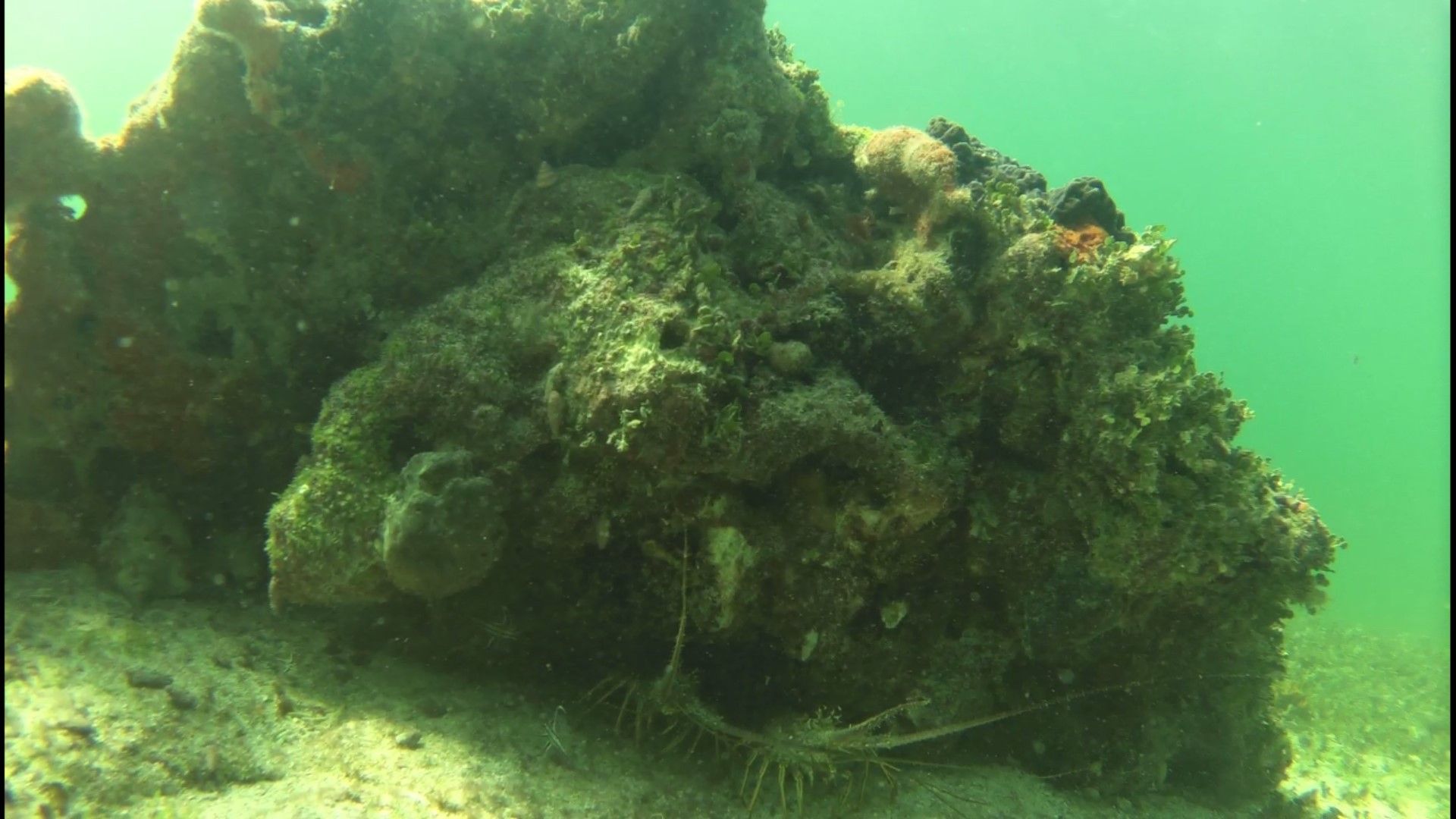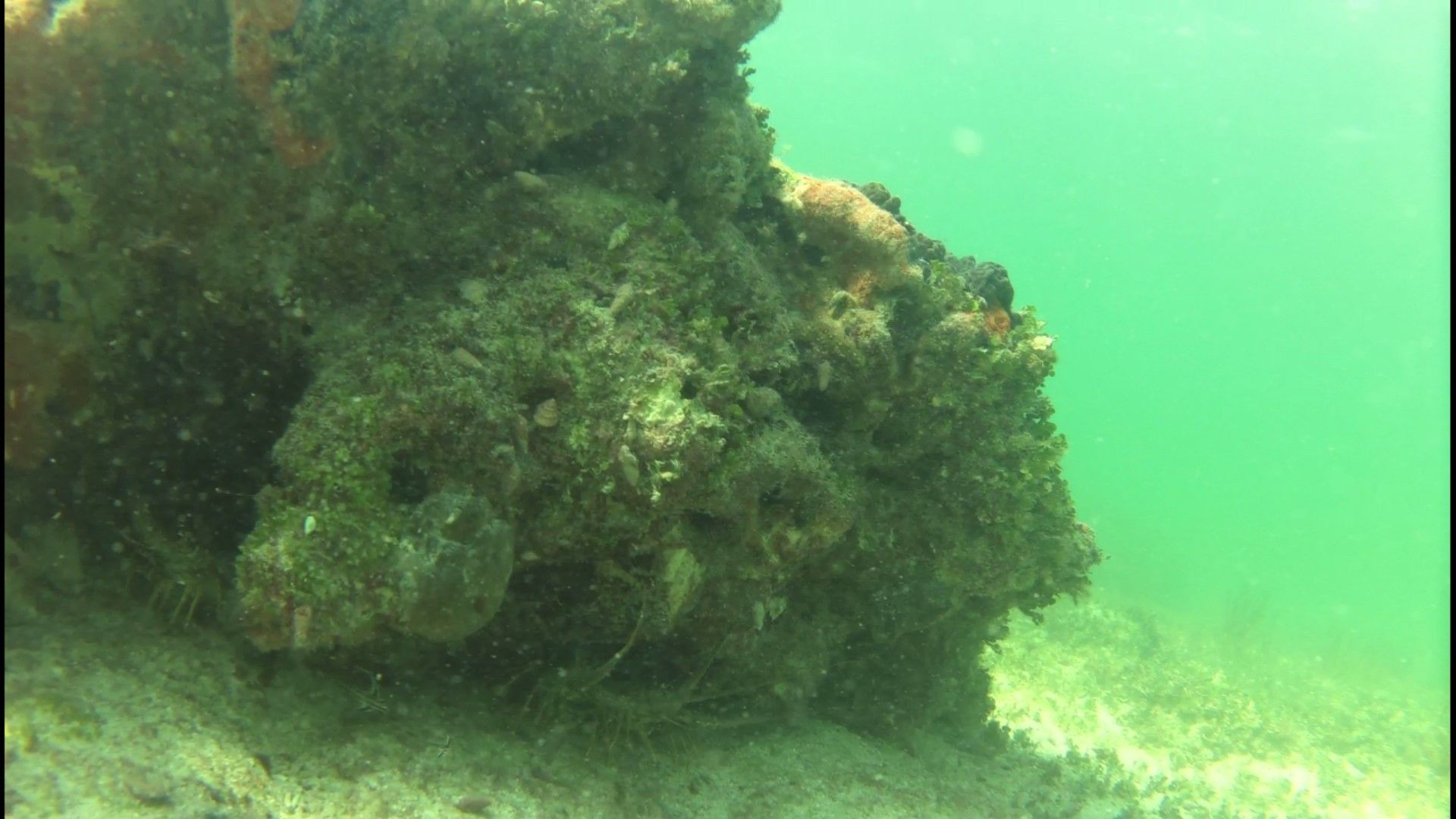 We knew the best day to try and fish the Atlantic side was going to be Saturday January 2, 2016. We made the most of it and headed out early with a plan to look around and try to find some birds, weeds, debris etc. We start with the high speed troll and it was uneventful, looked around on the gps and see a wreck in about 250 right in front of Sugarloaf Key. The Wilkes Barge I think. I roll up on it and there are a few guys fishing it, but all are just kind of slow trolling or jigging. I have no live bait so I get a jig out and start dropping when I see the machine light up. Nada. Do this for a little while and Courtney decides she is going to take a nap. OK this is the part where we discuss clean livin! There was a guy out there slow trolling pilchards and live chumming in a blue and white bay boat with a trolling motor. He was by himself and as he comes by me I ask if he has gotten any hits. He says he has been broken off a few time, and wanted to know if I had any wire leader. I say absolutely, here I have 2 packs, take 1. He then asks me if I have any live bait. I say, no, and yes I would love a scoop of pretty little pilchards. Whoever you are bro, you are the man and I owe you a beer and a red snapper trip in PC if you ever want to come. If you by chance read this PM me.
So I switch up the spread, and put some lines out for slow troll. I have one bait on a 20 lb floro leader if there may be some blackfin, and the other on the saltist with wire. After about 20 minutes, a few people start leaving the wreck. And then I get the hit. First, the floro line goes off and is immediately cut off. I start reeling in the cut line when the other gets tight and starts to bend. Fish on.
Fought him for about 10 minutes an got the gaff. (video to come).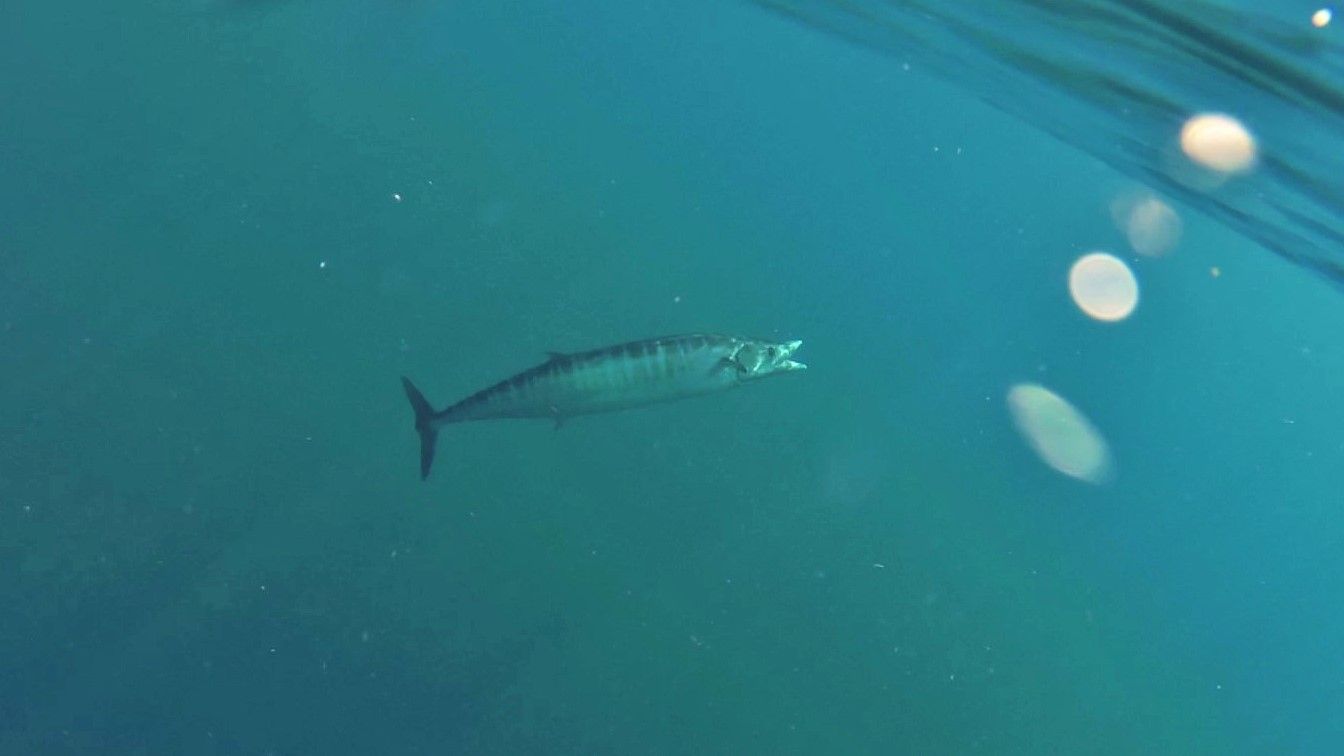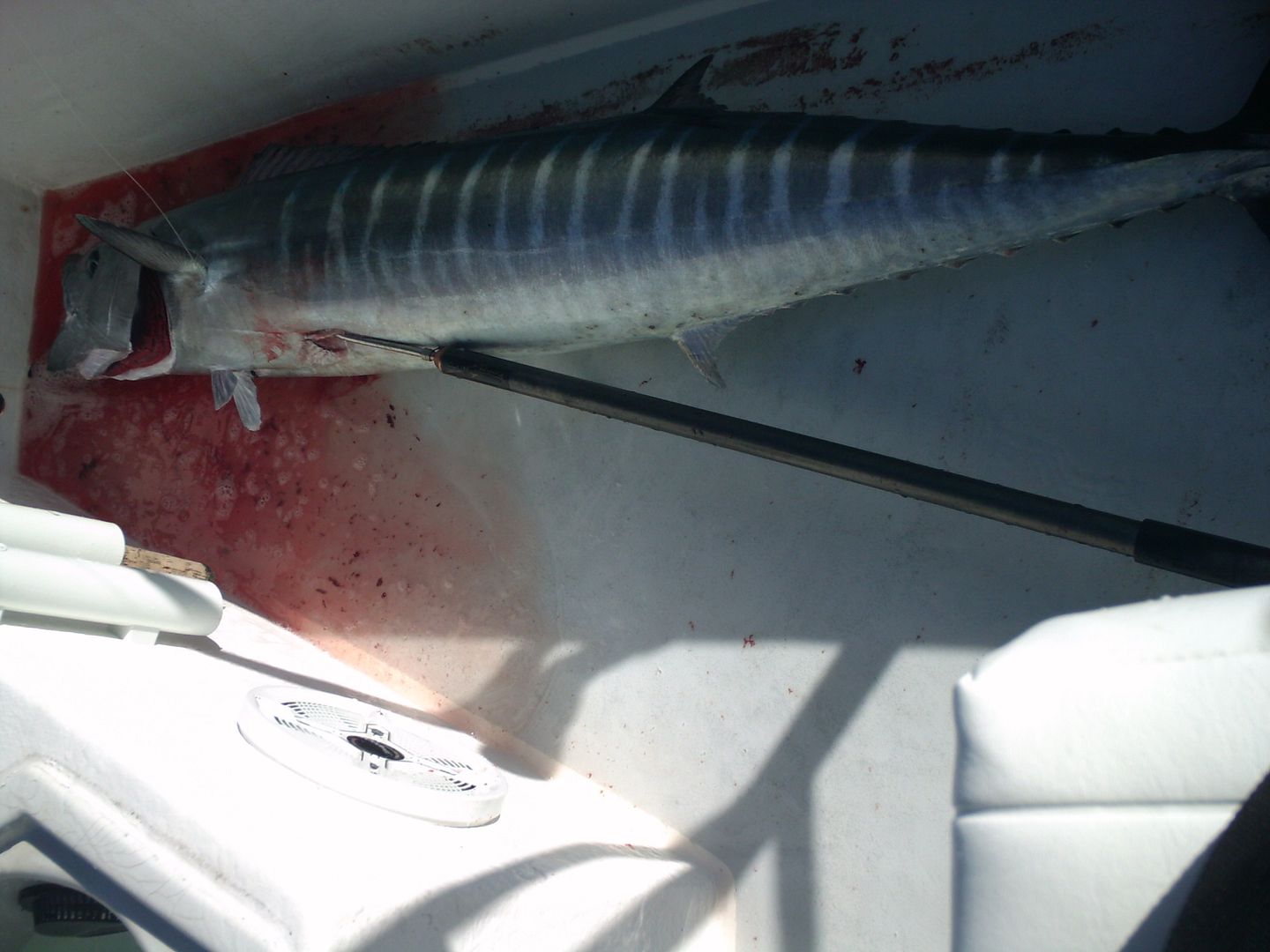 As we did not have a cooler or fish box big enough to put him away, it was time to head back to the dock. Weighed 45 lbs on the scale at Cudjoe Gardens Marina.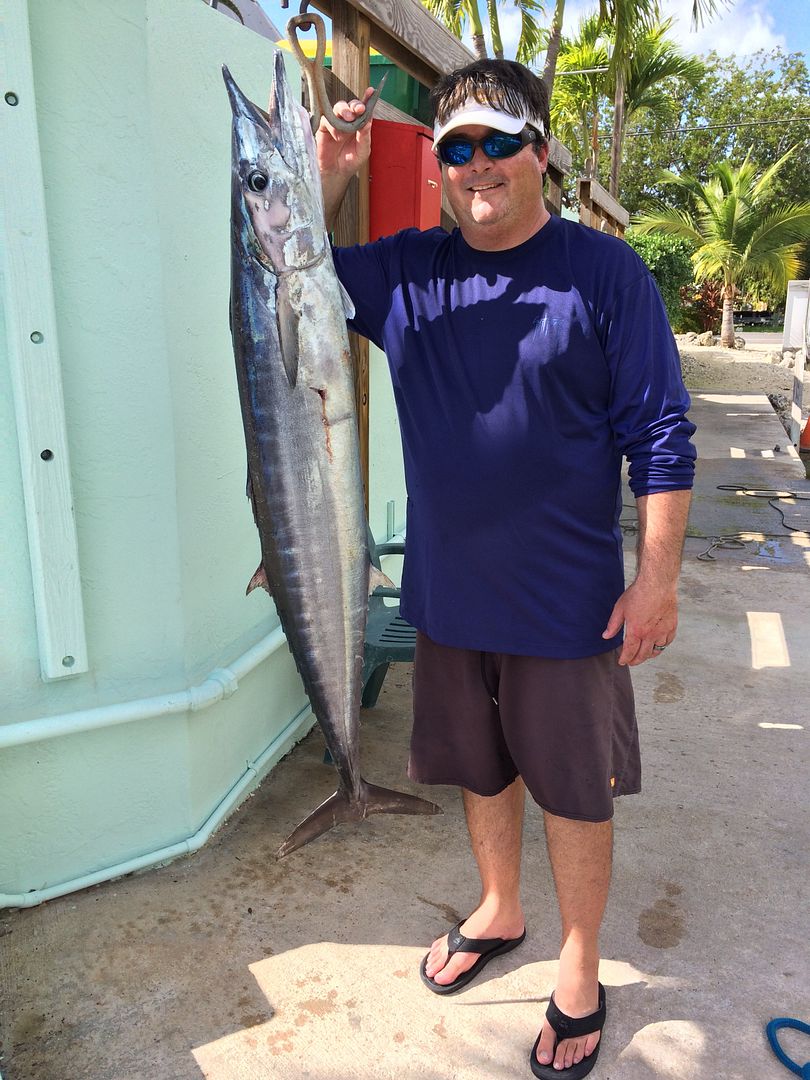 Awesome time with just me and my wife who was instrumental in getting this fish in the boat. I will try to post the video. That may take some doing as I have no clue how yet. Tried to fish again yesterday, but it was very bumpy in the am. Should have waited for the afternoon as it got very nice. Woke up today to a chilly (for the keys at 71) morning but the north wind has kicked up something fierce.
I love the keys!!
:fishing:grin