Home
›
Sportsman's Kitchen
My venison parm...
Panhandler80
Posts: 8,359
Moderator
On Sunday I thawed out a bunch of different things, one of which was this venison roast which would have turned a year old this coming weeeknd.
There was post on Monday about venison parmeasan and I realized then that I had not done anything like that in a while. So, Monday evenin I sliced / tenderized the roast while it was still partilly frozen (much eaiser that way) and then last night got down to businss.
I changed a few things from he recipe... most notably I sarted with just a very few crushed red peppers and cloves of garlic before adding additional EVOO, sauce and herbs. I also skipped the dried oregano. Into the sauce did go the following dried herbs (some are in addition to the recipe posted on Monday).... marjoram, basil, a very little bit of rubbed sage, thyme, a pinch of salt, black pepper). I also whisked in a very little bit of heavy cream. Other changes... I skipped the milk in the egg wash and I went with bread crumbs that already had cheese in it. I also garnished with fresh parsley and fresh basil leaf. I also opted to use the Jaccard 48 blade meat tendrizer as opposed to a mallet.
Here we go!
Out of the freezer at -5. Meat looks like its in pretty good shape.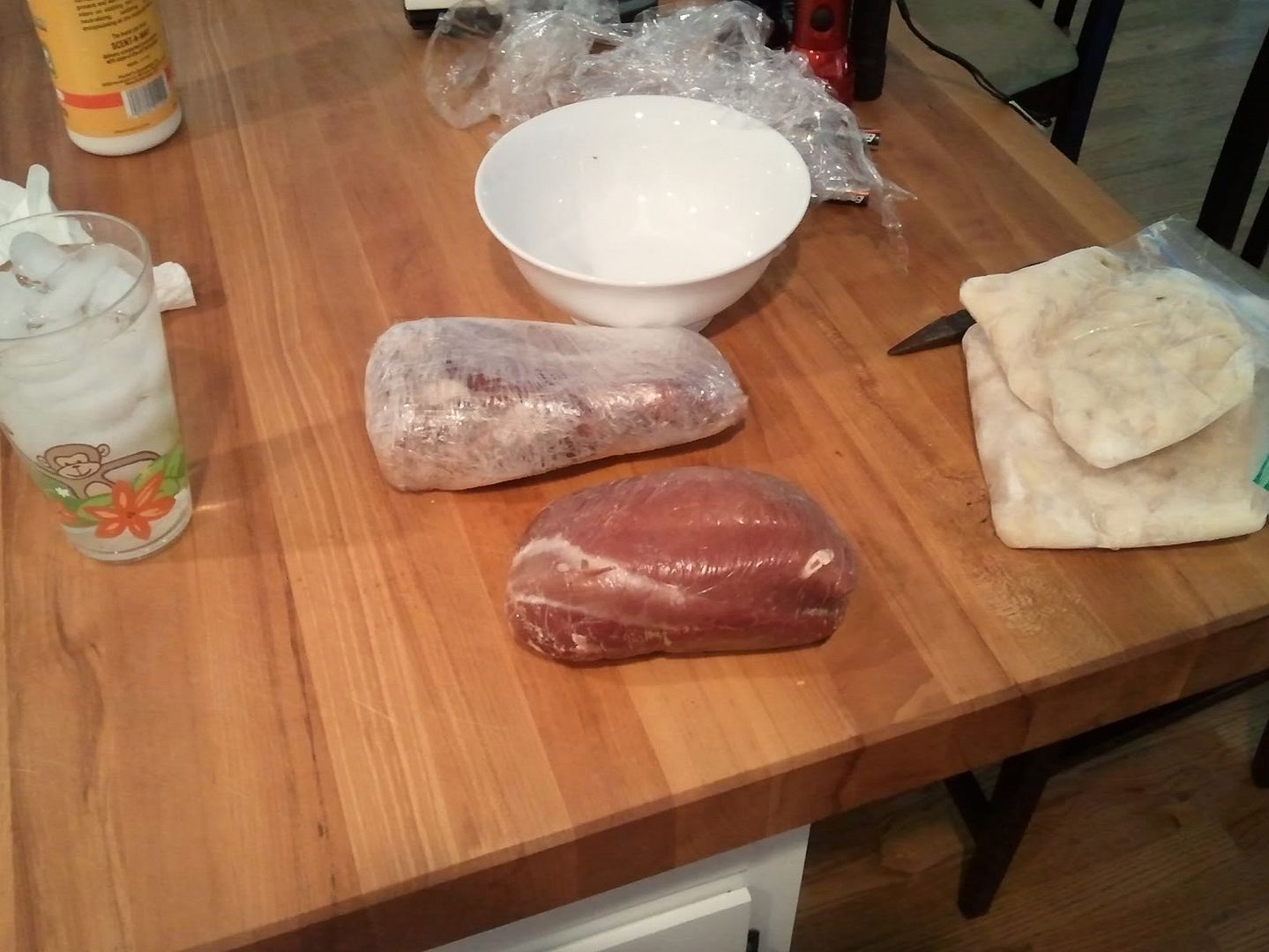 Yep! Before tenderizing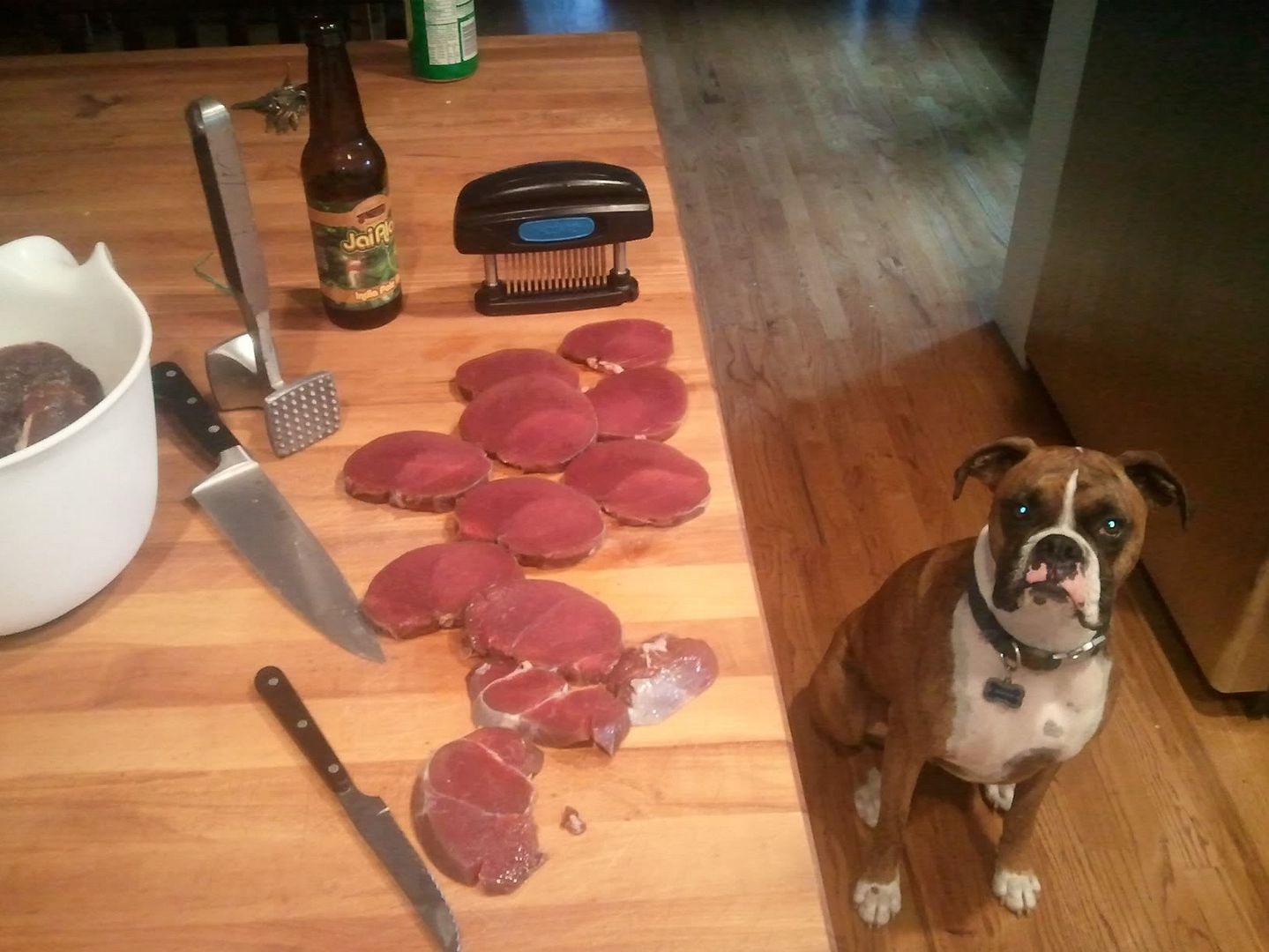 After tenderizing. I had way more than the two of us wer going to need, so some scraps did go to Jackson the dog. He loves him some deer meat.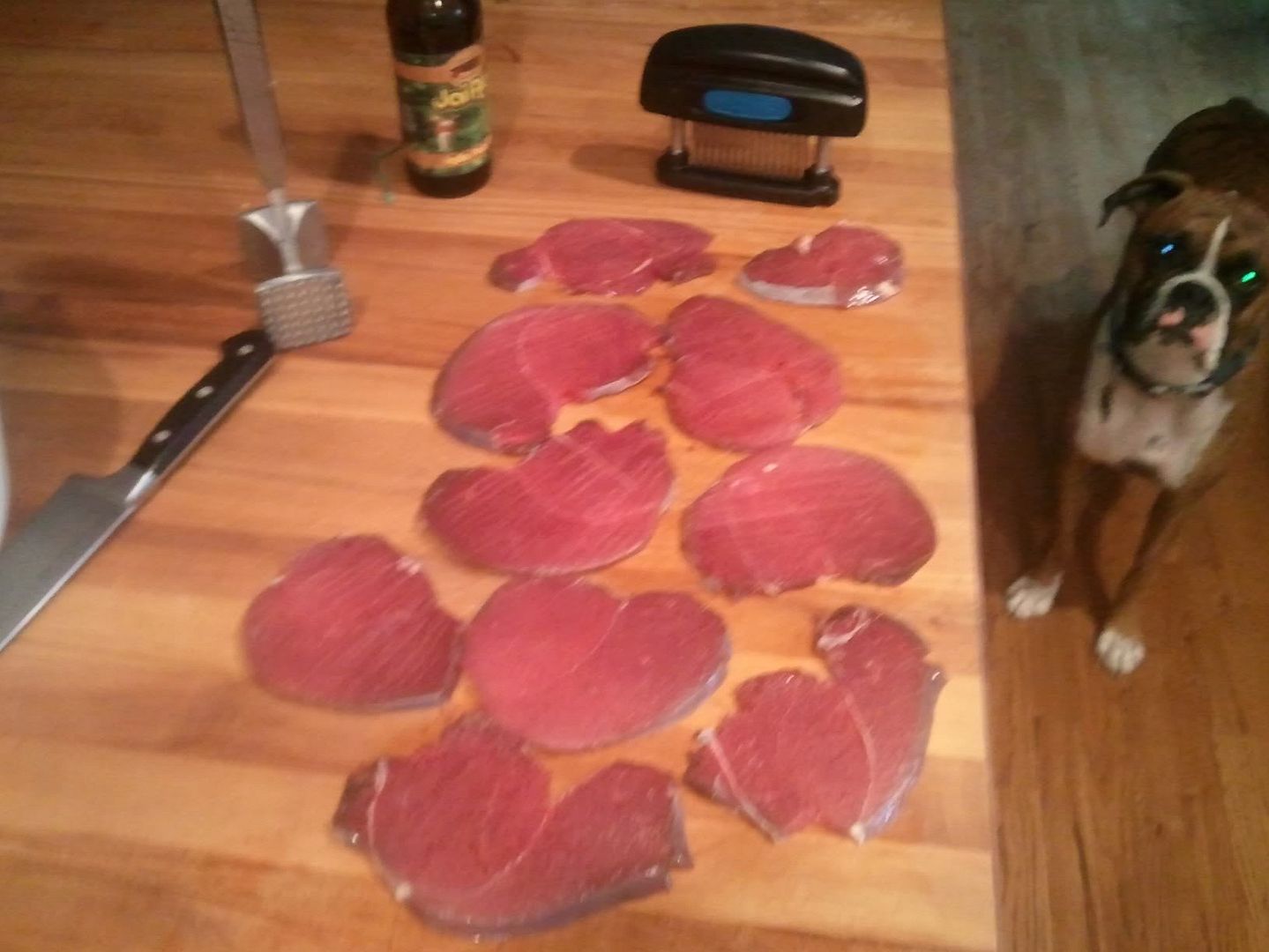 Some CRPs and garlic in EVOO before the onions were carmalized and before the sauce / herbs / touch of cream. I just have to have a very tiny touch of heat and a little garlic never hurt anybody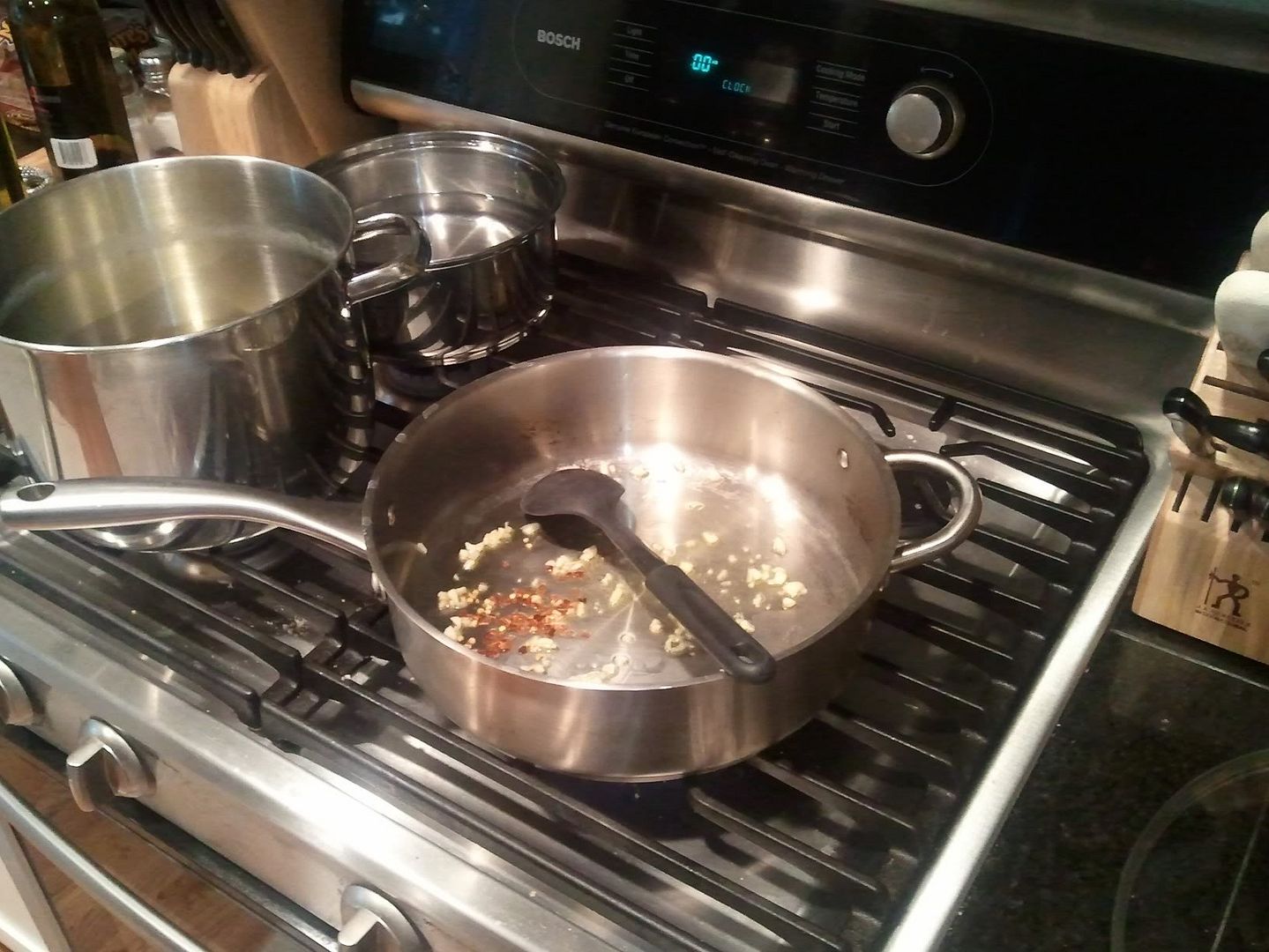 Sauce after a good simmer with all ingredients present. Almost time to get the grease hot!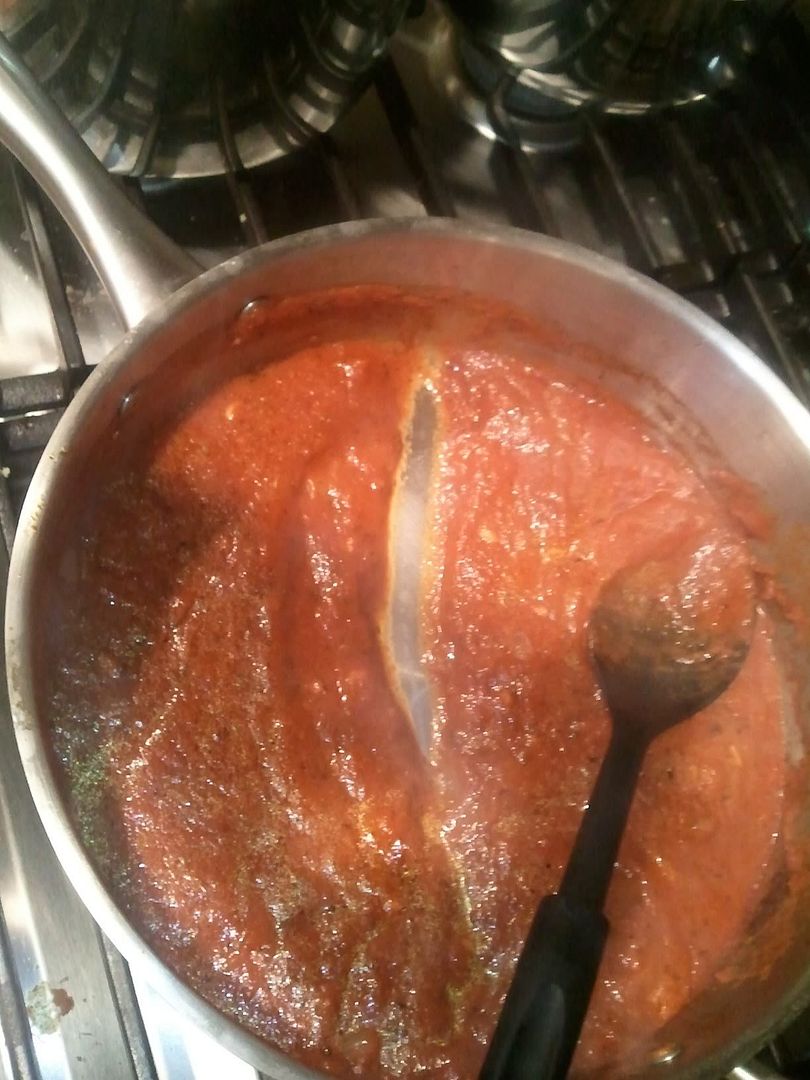 Okay... now it's really almost time to get the grease hot! If you notice, last night the dog was pulling what I coined,
"Occupy Kitchen."
He received a hand out on Monday, and last night he was in FULL ON BEGGING MODE. It got a little bit annoying.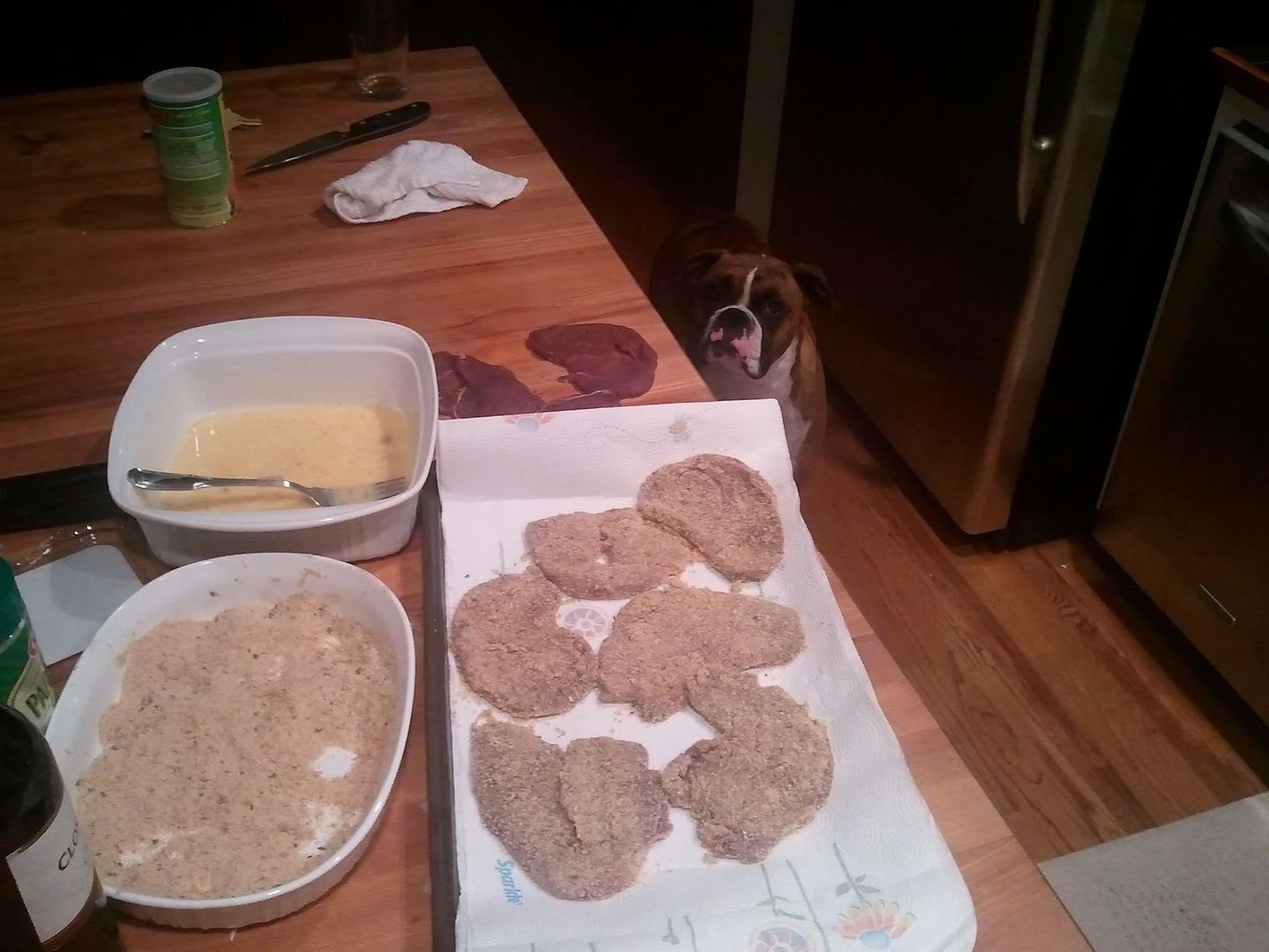 All fried up! I fried using some pretty high heat... goal was to brown the breading but not have the meat fried all the way through. Meat was pretty thin and I knew it would be in the oven for at least 10 min or so. Last thing i wanted to do was blast all of the juices out of the meat while deep frying.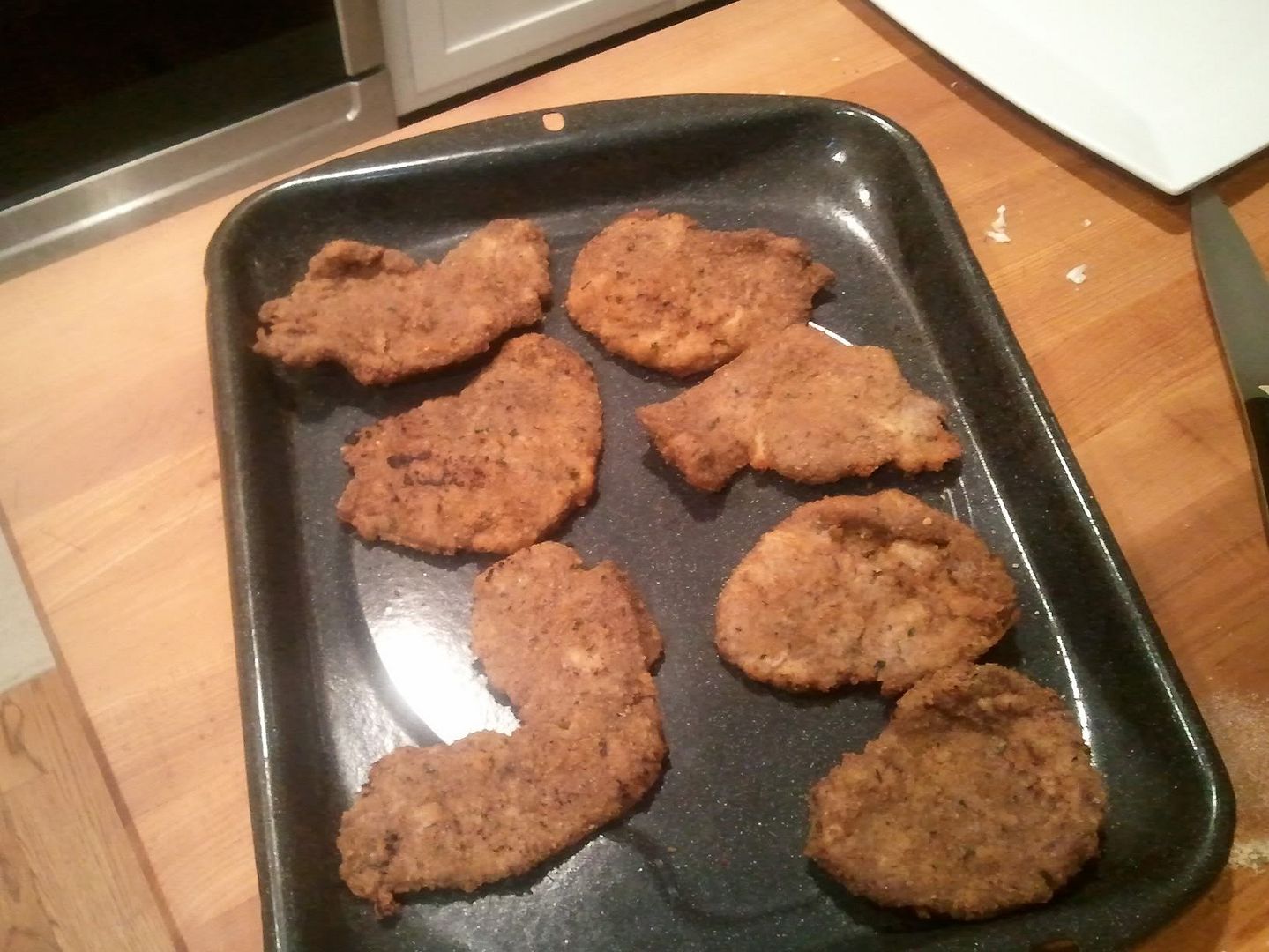 Sauce... the right consistency in my opinion. It stayed put and was thick enough to not turn breading into sludge. Wored well.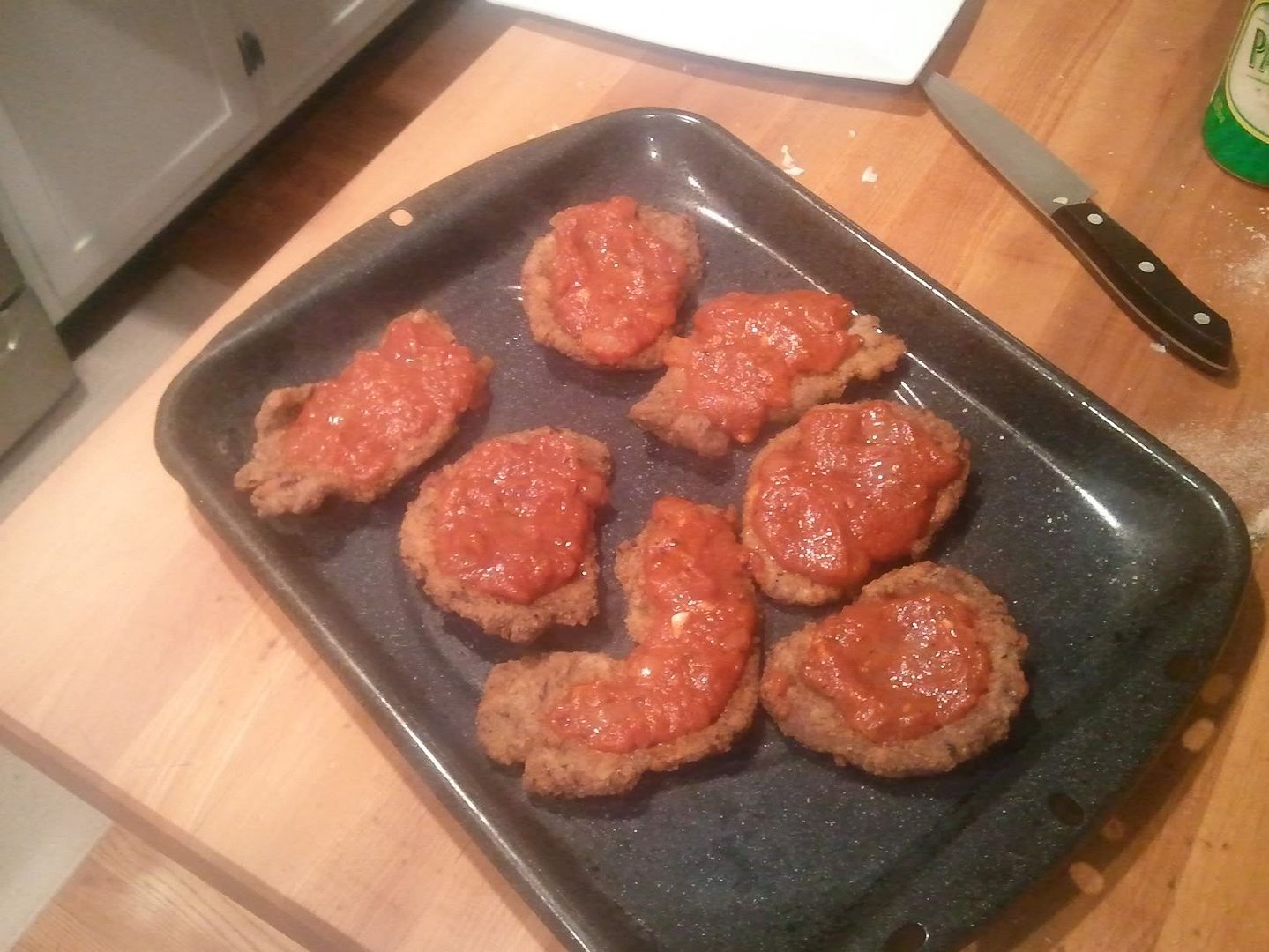 Out of the oven. It could have used a bit more bake time. If you notice, there is not much color on the cheese. I should have 1) sprinked with more parmesean because it will brown quicker. This would have added a more nutty flavor and put some addtional browns on the white cheese... and 2) left it in longer and maybe even under the broiler or a second. However, we were in a hurry. Fiance had to get up at 3:00am this morning for work. More on that later.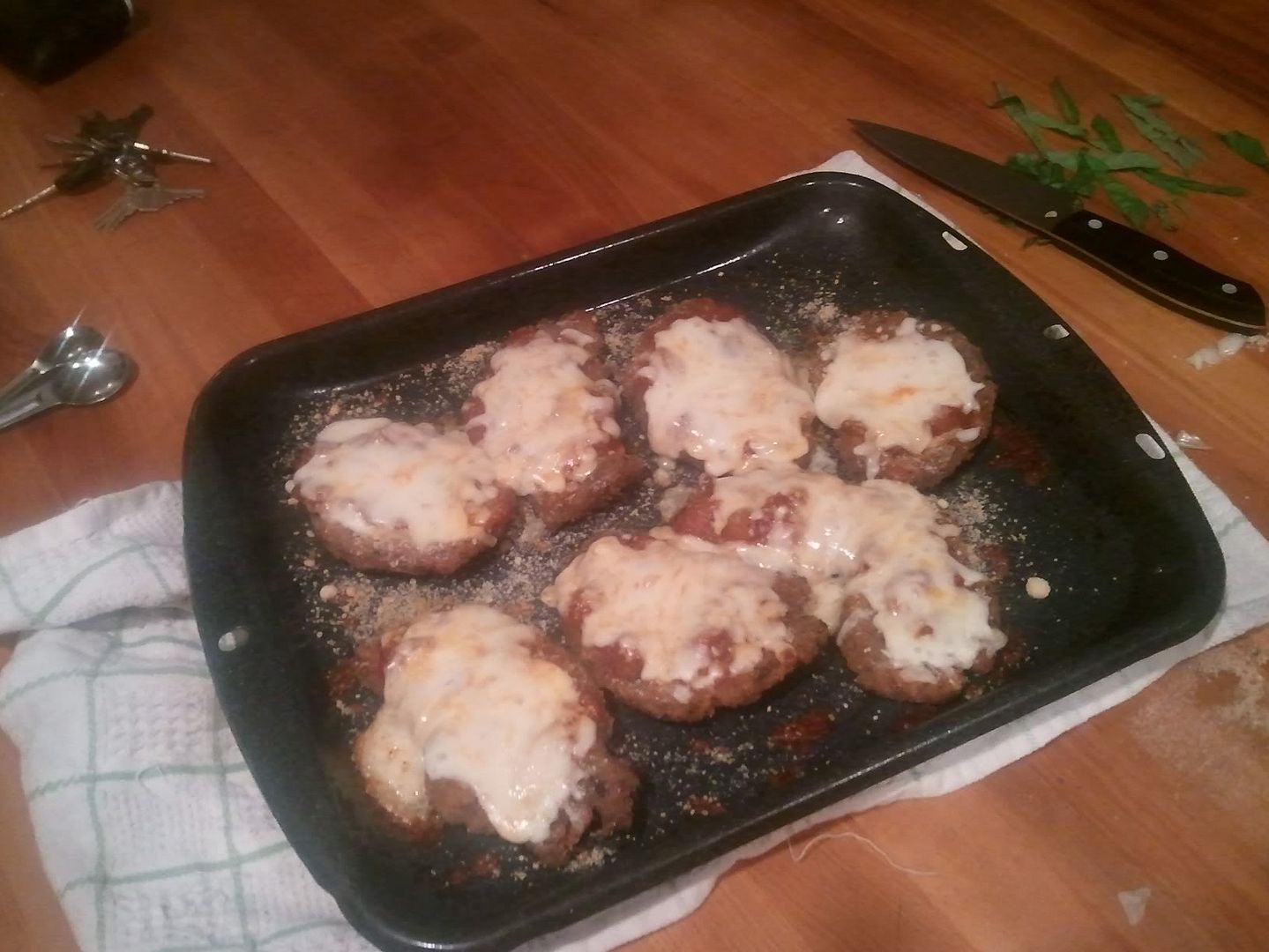 Remember the part above about being in a hurry? Well, I got everything plated and then went to garnish with fresh basil strips and parsley. WELL... she was NOT having that. It was time to eat. She had been pretty patient with the pictures alog the way. So, after all that and the picture I didn't get to make it look quite as professional as I would have liked was the final product! The garnish is kind of haphazard and not well thought out at all. My camera phone also wouldn't take a clear picture. Great pictures of raw deer meat, but hazy terrible picture of final produt. Came to find out that there was some kind of oil or grease on the lense. Oh well. YOu get the point.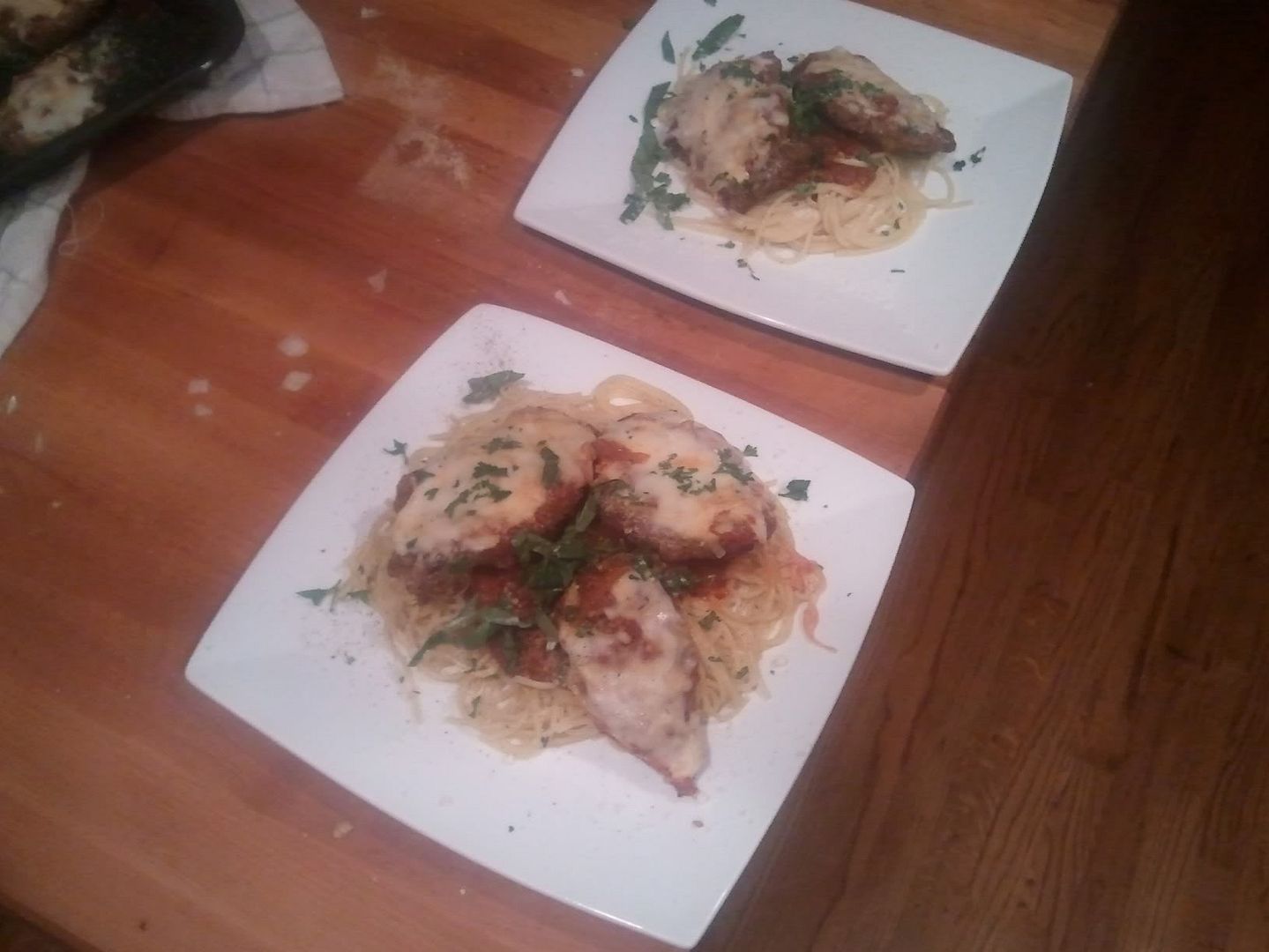 After we sat down I tried to get a better picture of my plate, but I too was hungry at this point. Took this hazy pic, and then tore into it!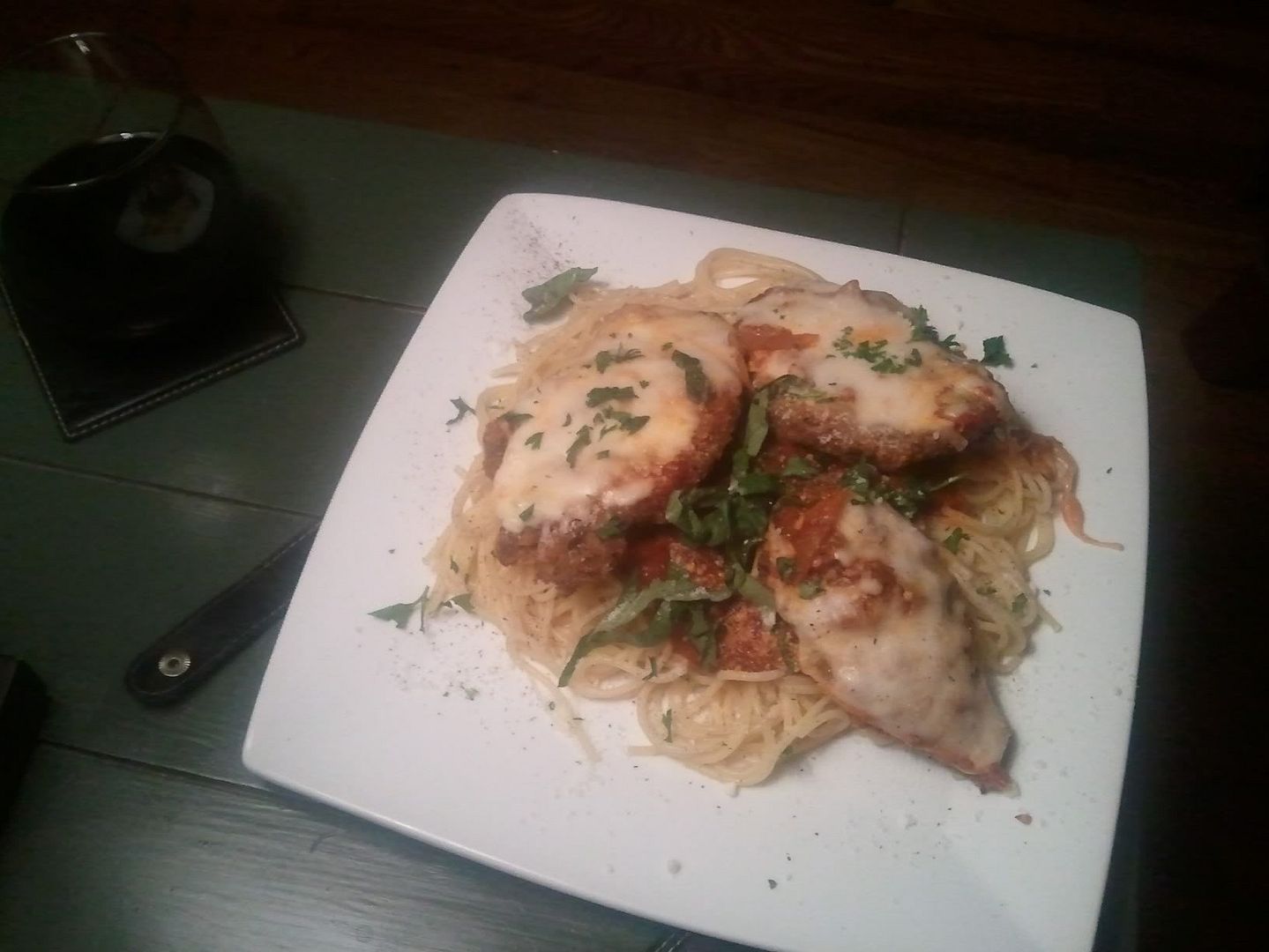 "Whatcha doin' in my waters?"