Home
›
South General Fishing & The Outdoors
Fishing report, 16 Nov, Everglades backcountry from Flamingo to Everglades City
lemaymiami
Captain
Posts: 3,402
Captain
Haven't posted a report in several weeks now so it's time for one.... These past few weeks have seen an unusual weather pattern for my area (from Flamingo all the way up to Everglades City). Usually we get our first cold night during the end of the third week in October (right around World Series time...) -this year it never happened. We'll still be in warm weather a week from now but it will gradually cool off a bit at night...
This entire weather routine is just one more sign that weather patterns are pretty much impossible to predict year to year when we actually live day to day....
At any rate there's still great quantities of bait along the gulf coast of the 'Glades but the fish we hunt don't seem to be holding to the patterns expected..(except for the sharks that are always hungry wherever you find them....). All of that will change with that first cold night whenever it finally arrives.... In the meantime we're finding redfish and trout every day. The big tarpon seem to show up around schools of mullet - but the big snook have been a bit hard to find. The big bonus these past weeks is that the tripletail are holding inshore well enough that we're finding them on structure almost daily now - most are well above the 15" mark and very willing to hit any small jig or fly that comes their way.... Here are some pics that tell the story...
[img][/img][img][/img]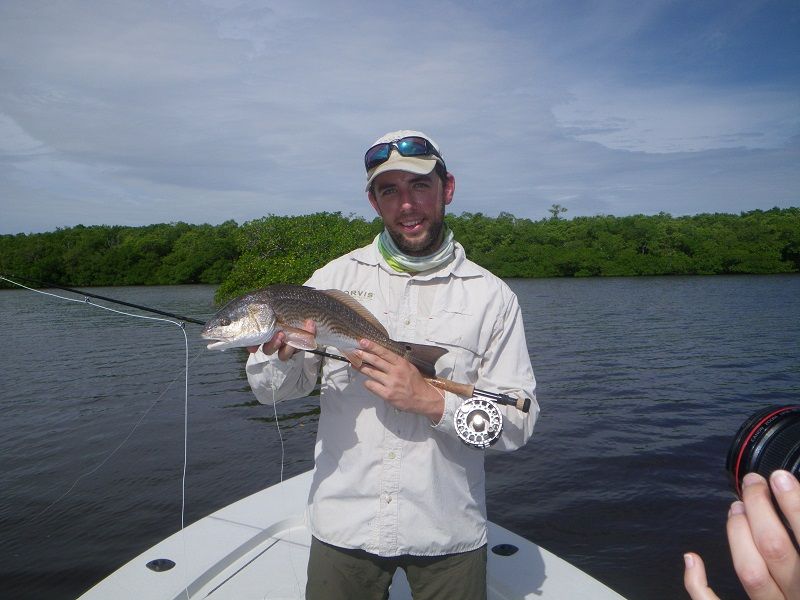 Here's first time visitor Toby Coe with his first redfish on fly, caught and released near the Huston River
[img][/img][img][/img]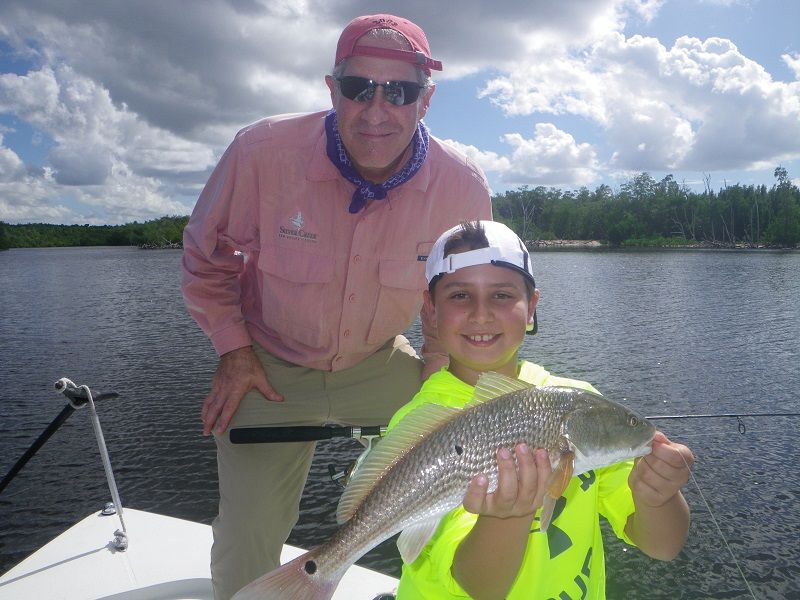 Young Chris with a nice red taken on a small jig in the Harney River on light spinning gear.... moments before he also released a nice flounder from the same shallow bar....
[img][/img][img][/img]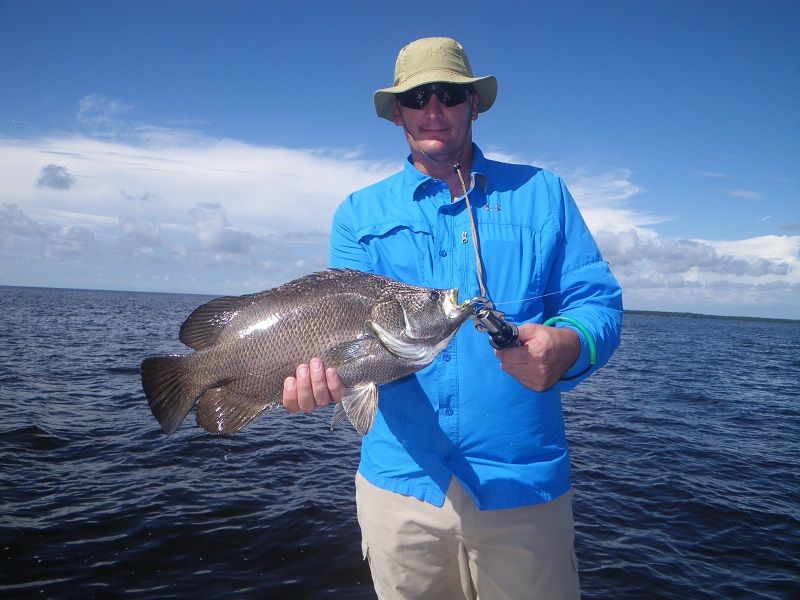 there were so many tripletail at this spot that a half dozen at a time would come up after any jig we tossed at them.... My two anglers that day limited on a pair each for the table... while releasing a half dozen more on the same small lures.
[img][/img][img][/img]
Later that day Jason also caught and released this nice gag grouper - once again on a small jig with a light rod... This part of the 'Glades is in Monroe county (where a keeper needs to be 24") so at 22" we carefully put it back for another day. Over on the Collier county side of the 'Glades (Chokoloskee/Everglades City) it would have been a keeper... This was our first grouper of the fall season and I'm expecting that fishery to get hot in the next few weeks all the way to the New Year...
[img][/img][img][/img]
The very next day we did the same thing - this time using flies and fishing out of Everglades City..
As we move into colder weather the triples will move offshore -everything else will do the opposite, moving up into the interior where we'll find them in Oyster and Whitewater bays on the Flamingo side and the upper bays in the Ten Thousand Islands area up above the Huston and Chatham river systems out of Everglades City. Too many choices!!
Be a hero, take a kid fishing...
Tight Lines
Bob LeMay
(954) 435-5666