Home
›
Southeast General Fishing & The Outdoors
Fun fishing Juno 5/31 and 30
e-money
Posts: 4,258
Captain
After a lot of days on other side I was STOKED to fun fish w my brother Brad!
Some of you know him and my family that own Gator Gun + Archery and his buddy Kyle in the house.
Brad just bought a SWEET 25' Bluewater w twin 200's and KICKING sound system!
Boat name is BOOM SAUCE and I see a bright future! LOL
We went out at 7 am yesterday, and trolled 2 hrs going 9 for 13 on schoolies to small gaffers.
Spread was a mix of squid, strip baits, small ballys and mini billy bait!
(Nothing over 10lbs and sorry did not take pics.) Did have a 25 lb class fish come up in spread jumping and missed the chugger and took off???)
Today I was pleased to run a trip for Graham on Wolfe Pack!
Trip was for his birthday and he is an avid skilled cappy who just wanted a hand while homies and GF on boat.
First bait out, hook a 15-20lb class cow. Get her to boat, she sees gaff, runs off 50 yards, now 3' out of gaff reach hook pulls. (waaah waaah)
Reset w live baits up N and had a ball. WHACKED the rainbow runners, bonitos, filefish and Blackfins!
Found a piar of green turtles mating w some schoolies and a gang of blackfins and tax men underneath...
[video=youtube_share;amT9nNJQcz0]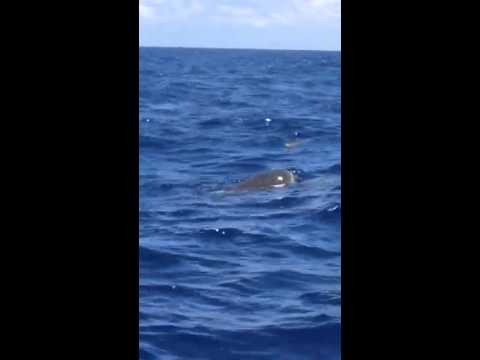 http://youtu.be/amT9nNJQcz0[/video]
Had a HUGE bull eat several tunas and had to move on. But not before heather sneaked in a nice 10-12lb blacken past shark.
We fed 15lb bonies to a HUGE Bull and his buddy, 2' from the boat. Whoa>
Tired and prepping for islands next week and peace out!
Bird is the work, blackened tuna tacos!
USCG Freelance Licensed Captain
20 years experience Offshore & Bahamas ( Sailfish, Dolphin, Wahoo, Swordfish & Bottom Fish.)
[url]
Http://www.e-moneyfishing.com[/url]
(I teach people how to be more effective AND catch MORE and BIGGER fish on their own boats!)
[email protected]
[SIGPIC][/SIGPIC]