Home
›
Off Topic
Gun > Machete
NACl H2O Luvr
Posts: 12,424
AG
Real Life home invasion caught on tape, see news report at link. Full video at the bottom ***Warning Graphic***
Content Taken from:
http://www.theindychannel.com/news/daily-extras/chilling-video-machete-wielding-man-shot-after-breaking-down-door-intending-to-murder
Chilling video: Machete-wielding man shot after breaking down door, intending to murder
POCATELLO, Idaho - New video released this week shows the scary, "Shining"-esque moment when an Idaho man hacked into an apartment with a machete.

As CNN and ABC affiliate ABC7 report, that man was shot soon after breaking in with the humongous weapon.

Police said in late February of 2014, Twain Thomas, 54, was threatening his fellow residents with a machete at a Pocatello, Idaho, apartment complex.

A neighbor, James Cvengros, heard the noise outside, set up a camera facing his front door, and then looked outside to see what was going on. He quickly closed the door and went back inside, but it seems he had caught Thomas' attention.

MORE | Watch: Passersby help officer in trouble | Incredible: Cop pulls man from fiery car

Seconds later, the video (see our attached clip) shows Thomas hacking through the door with the machete. Cvengros gave him several warnings that he was armed, and told him to leave, but Thomas kept going.

Once Thomas got into the apartment, Cvengros opened fire.

Cvengros will not be charged, as it was determined to be self-defense.

Thomas survived being shot, and was charged with several counts of aggravated assault and attempted murder. He was sentenced to 15 years in prison. His lawyers said he suffers from both PTSD and frontal-lobe damage to his brain from his time in the military.
[video=youtube_share;5bsAMSQ13bY]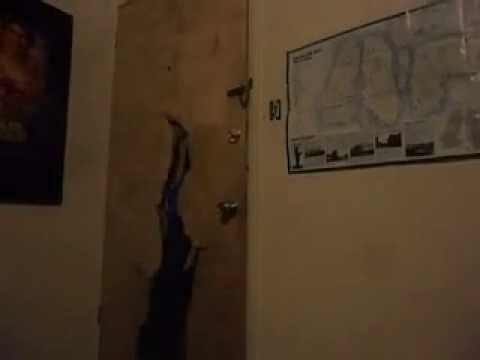 http://youtu.be/5bsAMSQ13bY[/video]