Home
›
Ten Thousand Islands General Fishing & The Outdoors
Everglades National Park fee increases
blewitupsir
Posts: 774
Officer
Good morning all,
I first want to apologize for being mia in the forum this summer and to now. It's been a whirlwind of a year, and I'm finally starting to catch my breath. Look forward to getting some reports back on and seeing reports from others.
Last night I attended an ENP meeting in key largo concerning proposed fee increases for visitors to the park. I went for two reasons, first off as an officer in the FGA to find out how this would affect our guide members and the cost of the increases. (Gents I be getting an email out on that later today), and second what were the details for my many recreational angler friends. Here's the breakdown
Park has not had an increase in fees since 1997. There are many items that are in dire need of repair due to lack of funding. 80%of fees collected at the ENP stay in the ENP, the remaining 20% is available to other parks for projects they may have. All fees collected must go to user and visitor items like boardwalks, repair of campsites, etc etc and cannot go to things like admin buildings and permanent employees.
Ok now to the cost, for those of you who enter the park on the flamingo side, they are proposing a 50 dollar annual fee to get your vehicle in the gate. Also a proposed 25 dollar 7 day entrance fee permit proposed as well. This gets you in the gate.
Then EVERY boat that enters the park from anywhere, flamingo, Everglades city, key west etc etc will be required one of two options, a 75 dollar annual boating permit or a 25 dollar 7 day pass. To get this permit, completion of an online boater education class will be required.
What you get for your fee is sort of unfortunate, in that while the park is one paradise, it's two different planets from flamingo to Everglades city IMO. The flamingo side will have use of the boat ramp included with their boat permit, the buildings over there will get the attention they need, there will be increased pumping of the ports lets, 3 additional rangers, one for each area of the park will be added. I asked if the docks at some of the backcountry campsites would be repaired and was told yes.....pending the small tooth survey that is ongoing.
I asked and suggested a few times having a meeting for the west side and they seemed receptive of this. But all this must be completed by 1/30/15. Somewhere on the forum is a link from a discussion that was going about this that would have the links and the address to mail public comment should anyone have a desire.
For any that are interested if I find out about a meeting planned for our area I will are sure to post the date and location. They did say this is a little ways out as they have found several gaps in the armor that must be fixed, but it was coming, so stand by.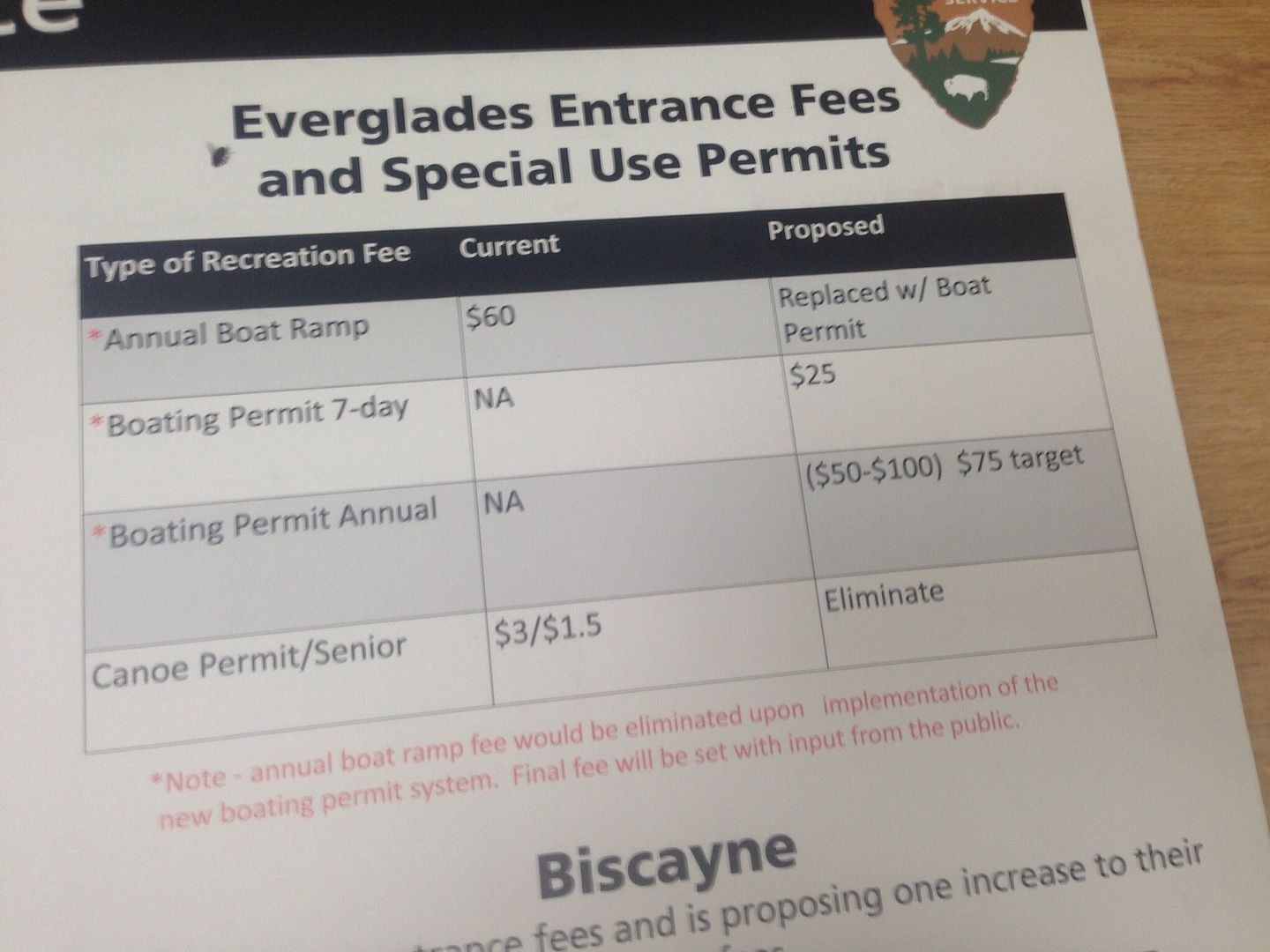 Y'all take care out there
Charlie
Fishing the Everglades hopefishing.com