Home
›
Ten Thousand Islands General Fishing & The Outdoors
Dec. Snook and Redfish insanity 12/11/14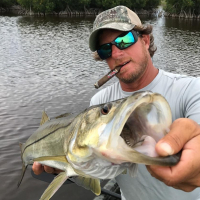 Joe Snook
Posts: 468
Deckhand
Maaan the fishing was so good a few days ago for my four trips I did that I couldnt sleep at night anticipating the fishing on my upcoming trip. Dont ask me how its been the past couple days cause I always take a week off in early Dec. Before the insanity hits. Some im on the east coast catching really really beautiful waves for as long as I can. Nothing clears my mind more.
Around Thanksgiving things went pretty slow for fishing a few days. I mean we caught fish but nothing like when the water started to warm back up and that full moon aproached at the same time. Ot was like the end of Nov. They starved themselves due to cold and once everything alligned they went on the feed. It was Snook and Redfish days like they were in Sept. Oct. And better than most. My anglers were catching 20-30 Snook a day (not huge but not tiny). The Reds were the same with only one day mostly rats, wich is good to see for the years to come. Jacks and Snapper were also there to get in the way but seriously ill never pass the chance to catch a big jack I absolutely Love catching them myself. Hey im not knocking cold fronts they brought Awesome waves at a perfect time but for fishing it sure is nice once it starts warming up.
Not that Thanksgiving was bad I had some real good apple pie
Have a merry Christmas and a happy New Year.
southwest florida fishing guide in the beautiful 10k islands, everglades and more
www.Joesnook.com