Home
›
Ten Thousand Islands General Fishing & The Outdoors
Offshore Snapper 06-18-11
ediemike
Posts: 46
Deckhand
On this trip were me, my dad, and three friends (Kyle, Chris, and Brian). The destination was a ledge area about 30 miles west where Chris and I have done very well with big mangrove snapper in the past. We settled on a date we could all make it for a good tide and as close to the full moon as possible. Two days after the full was the best we could do (June 18th).
We left the dock around 2pm. It turned out that getting bait was the toughest part of the night. The reports around here for bait have been the same for a couple of weeks: nothing here- which is strange, considering this time of year we should be able to walk across schools and not get our feet wet. So, about two hours (or more) later, we finally had a decent livewell full of nice 4" greenies and threads, with about a dozed "skipjacks" thrown in (not sure what the real name is- they're rounder-shaped with a yellow tail and two spines at the anal fin). I usually never allow them to stay on the boat, but we had five people fishing so others convinced me to change my mind. Big thanks to Chris for throwing the 12' net about 20 times, and to Kyle, who we found out is a silent professional at net throwing. He can throw that big old net in a perfect circle fifteen feet off the bow five feet above the surface while bouncing in two footers. He now has an open invite for any trip in the future. Of course, one throw was full of nothing but 20 or so spadefish, but that wasn't really his fault.
The ride out to the ledge took about an hour and twenty minutes, so everyone settled in and relaxed, except me- I drove. It took a while to figure out the anchor set as the wind was about 10 out of the south and the tide was setting across the wind (incoming east-bound current), although not too strong. Two anchor drops later and we were satisfied, if not happy. Our setup was pretty standard: chum bag kept constantly full, chum bombs going one every couple of minutes, and a variety of different baits to find the best one. Our bomb mix is chum, lots of oats, oil, and a little sand (no reefs to kill here, just rocks). Our bait selection included small frozen shiners (about 2"), baby octopus, live threads/greenies, and fresh cutbait (dead guys from the livewell). Our rigs varied from Penn standup gear (750ss w/30lb mono) to Saltiga custom rigs w/braid. We experimented a bit with different leader sizes and types. I know others will say that fluorocarbon is a must, but one of my biggest fish of the night was caught on a grouper rig with 80lb mono. 30lb mono and 30lb fluro worked just about as well. Of course, the visibility here isn't like the Keys, so that may make a difference.
(Looking back on the trip, I will humbly admit I used a Penn spinner standup rig the whole time and caught the most big fish. I had 30lb line set up with a sliding 4-ounce weight to a barrel swivel and about 3' of 30lb fluro, ending in a 6/0 circle hook. Others were using 2/0 and 4/0 circle hooks, but their hookups were coming off sometimes about 10' off the bottom. My only hookup losses came from poor knots (ouch) and cutoffs from sharks or mackerel.)
We started fishing immediately, mostly because we were bored, but the fishing started slow. The drift took us off the actual ledge, but we knew with time the fish would show up. We started with a couple of 14" mangroves and yellow tails, and then the sun went down. Of course, as most of you know, that made ALL the difference in the world. I hand-picked a 3" greenie, showed it to Kyle, and said, "This is where I catch a grouper sized snapper." I dropped that guy down and about 30 seconds later came up with this guy.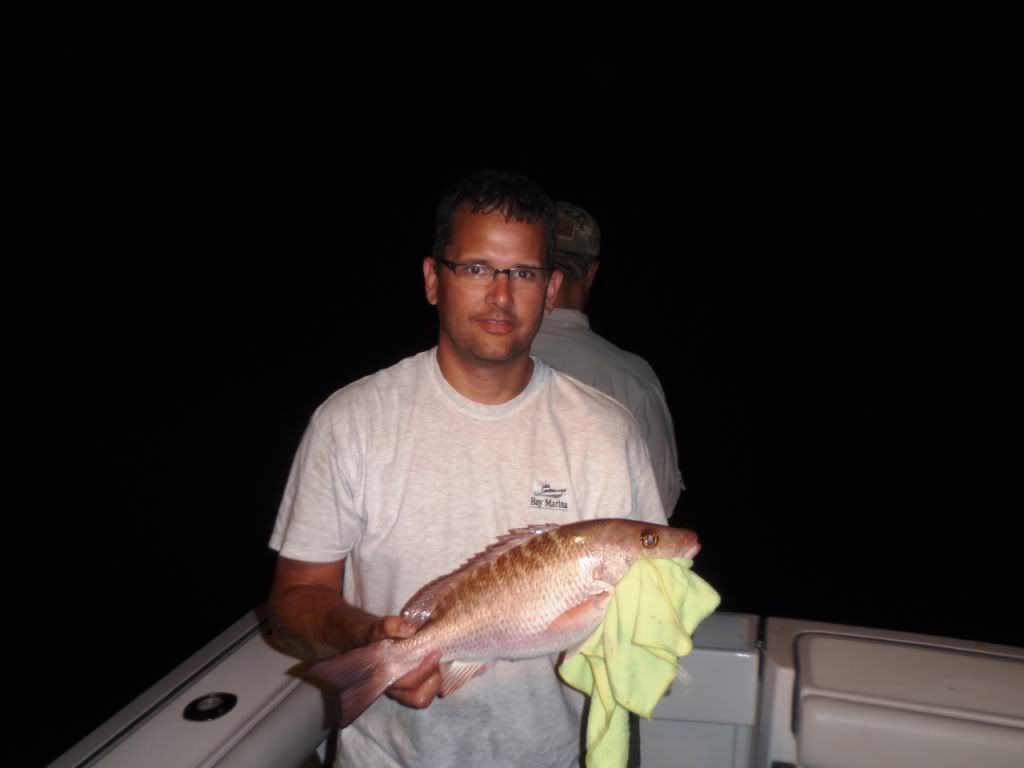 A few minutes later and I got another.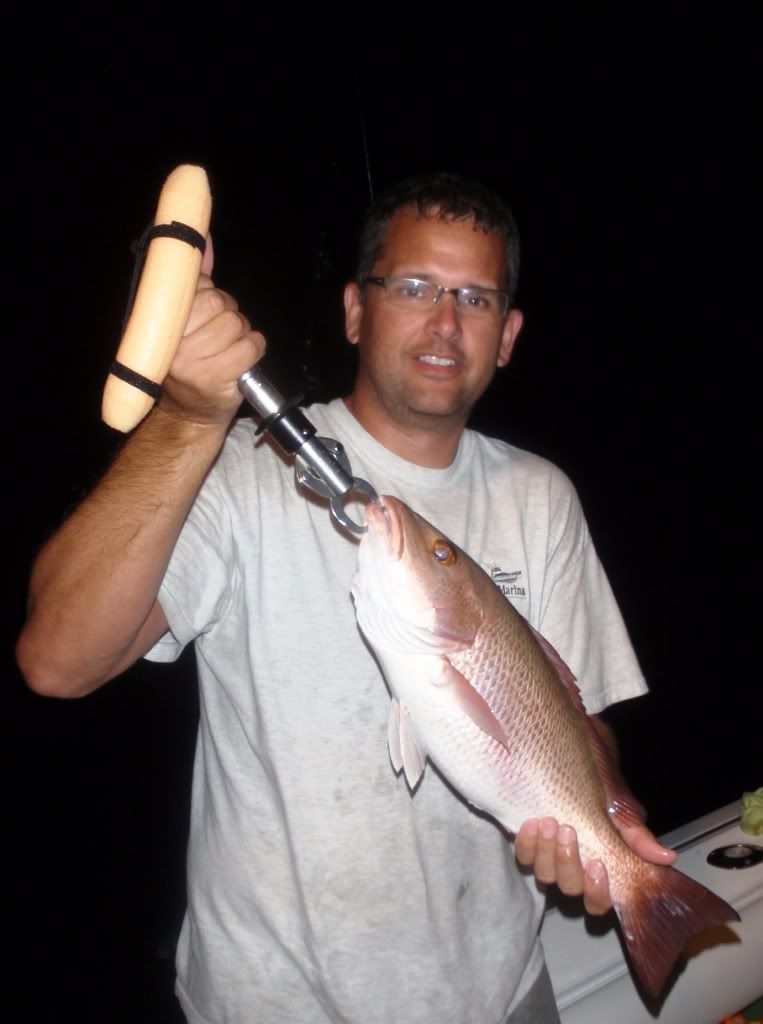 They started coming in pretty steadily after that in ones and twos. My dad caught his personal best (to date) mangrove at 22" here.
This photo shows a good comparison in the difference between an 18" snapper and a 22" snapper. I've found that snapper at this size tend to be like boats- just a little increase in length makes a vast difference overall.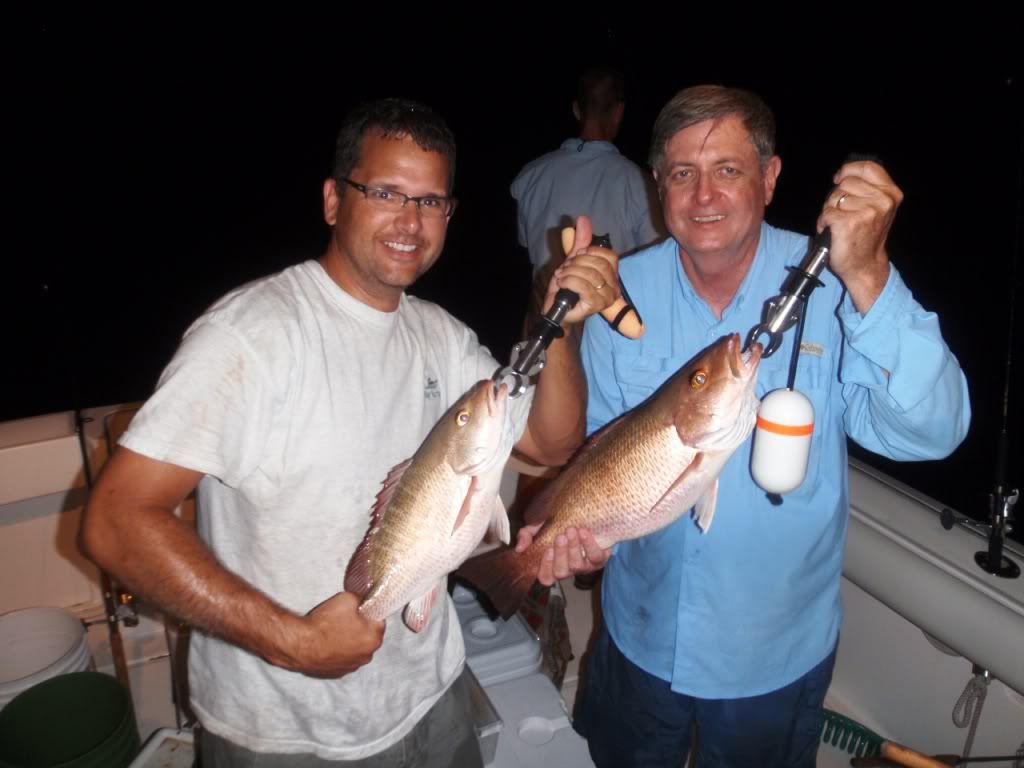 Here's Brian's personal best mangrove, too. Measured out at 22.5" (sorry, Pop).
Not to be outdone, I had to catch one a little bit bigger. Here's my personal best at 23.5"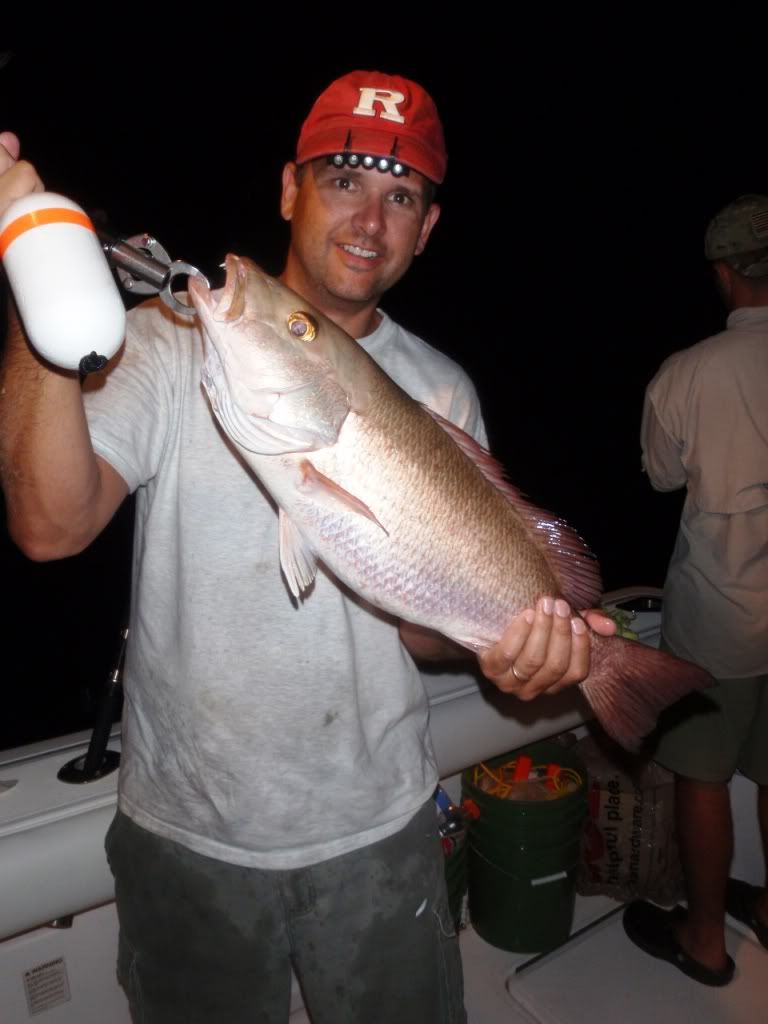 We didn't leave Kyle behind in the big fish category. He also got a personal best 22" mango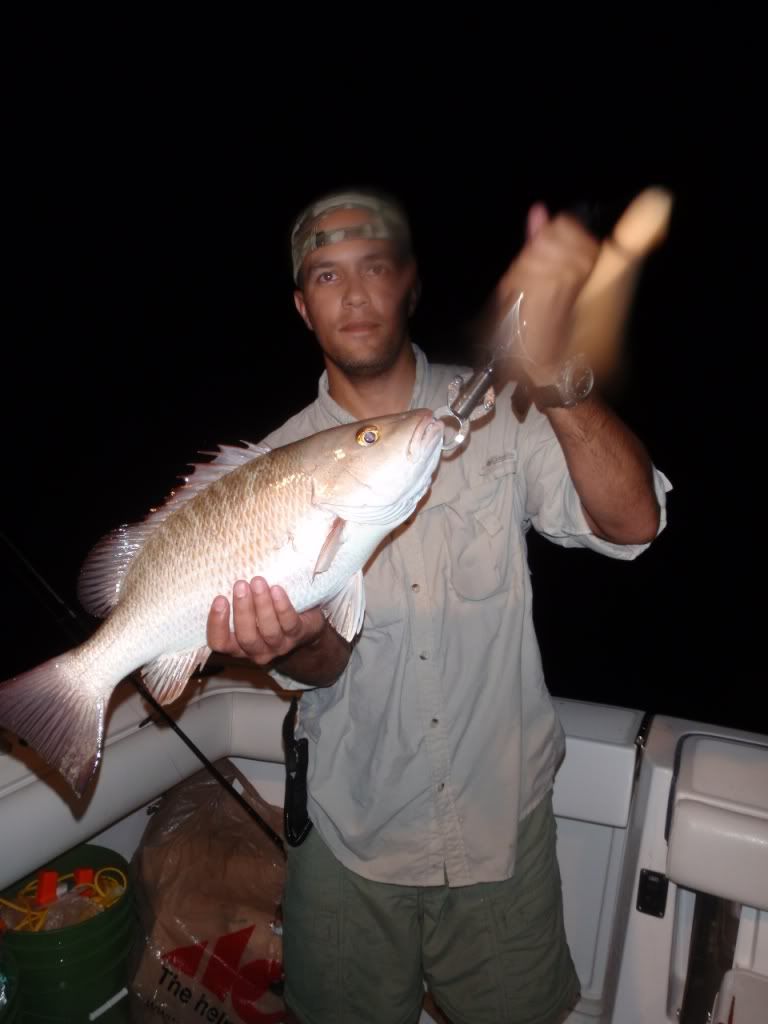 My dad also got into quite a battle with something that hit him like a ton of bricks. He was using one of the Penn standups with 30lb test and a 30lb fluro leader when he set the hook on something that took off along the bottom. The fish made a couple of runs along the bottom, but was very reluctant to come up. We thought a goliath maybe, but the speed wasn't right. Then we thought nurse shark, but it was too vigorous. We all were hoping for a big black grouper. So after about a 10 minute drag-out fight, up comes a 7'-8' lemon shark. It was a beautiful fish, but he did not want to come up that last foot or so. We tried for a couple of minutes just to get a photo, but it wasn't happening. Rather than wear the shark out to exhaustion (and probably death) we cut him loose. Good fight, but no decent photos. I have to give my dad credit for toughing it out with that gear, and getting a 175lb shark to the boat with a 30lb leader. I was tired just watching him.
The bait was going quickly. When I finally stopped fishing to look, we only had a half-dozen or so baits left. As I mentioned above, some of our baits were those little "skipjacks," which I have found never catch anything. However, this trip proved me wrong and Chris right (happy, Chris?). One of the big mangos was caught on a "skipjack." I don't know if that's because they actually like them or that they were so turned on that they'd hit a hot dog on a trot line. The tradeoff from using all that bait was a very full cooler. Keep in mind, this is a 128 quart cooler.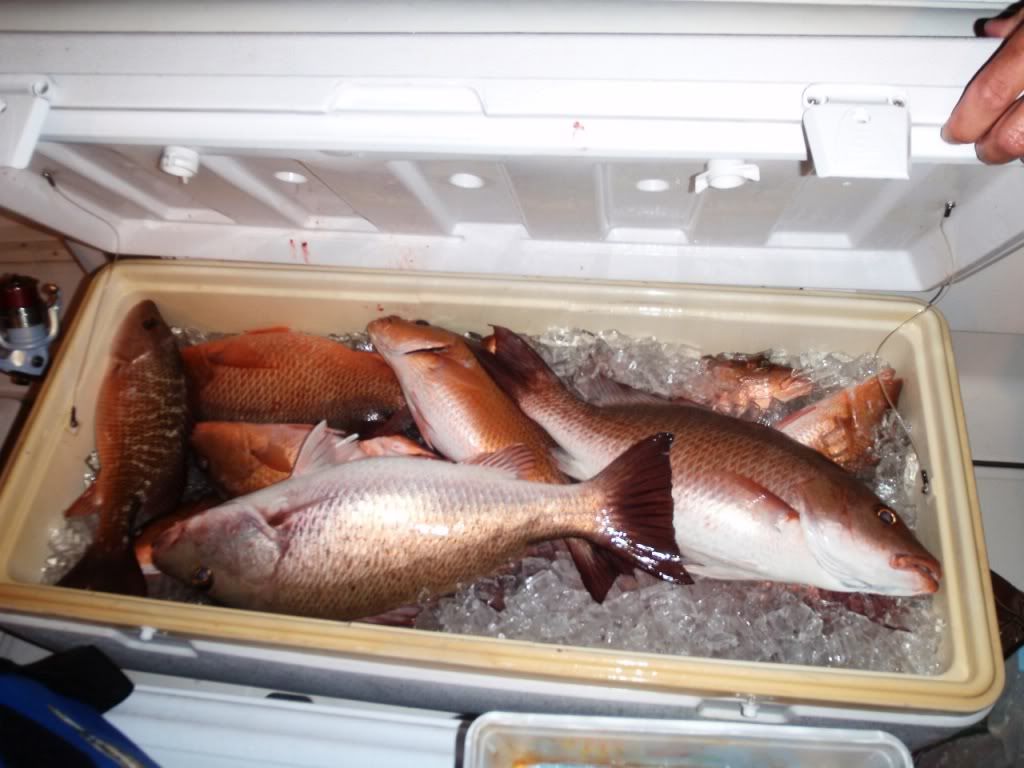 When the bait was gone, we (obviously) stopped fishing. The hands-down bait of choice was 4" greenies, with fresh cutbait a distant second. Third would be the octopus, which yielded some triggerfish and smaller (14") snapper. The big guys almost all hit the greenies. The frozen shiners weren't really put to the test, but they made a decent showing in catching lots of rat grouper (red and gag). There were some cobia swimming around a lot, as were some of the biggest squid I've seen from a boat (about 2'). The cobes wouldn't hit anything, though a small one did gum a sardine a few times at the transom and spit it out every time. The spreader lights brought in some cool stuff, including very fast threadfin-like baits, flying fish (asleep maybe?), and some crabs.
We picked up anchor and headed east for the trip home. Everyone was nodding off as the water was slick-calm. I was watching some storms in the area, but our track showed clear all the way in. About 15 miles from shore the wind picked up (between two storms) and everyone woke up. Once back at the dock, we cleaned the boat and gear, but decided to fillet the fish in the morning as it was 2:30am by that point. Chris and I lucked out and got to clean all the fish. This is what the snapper table looked like.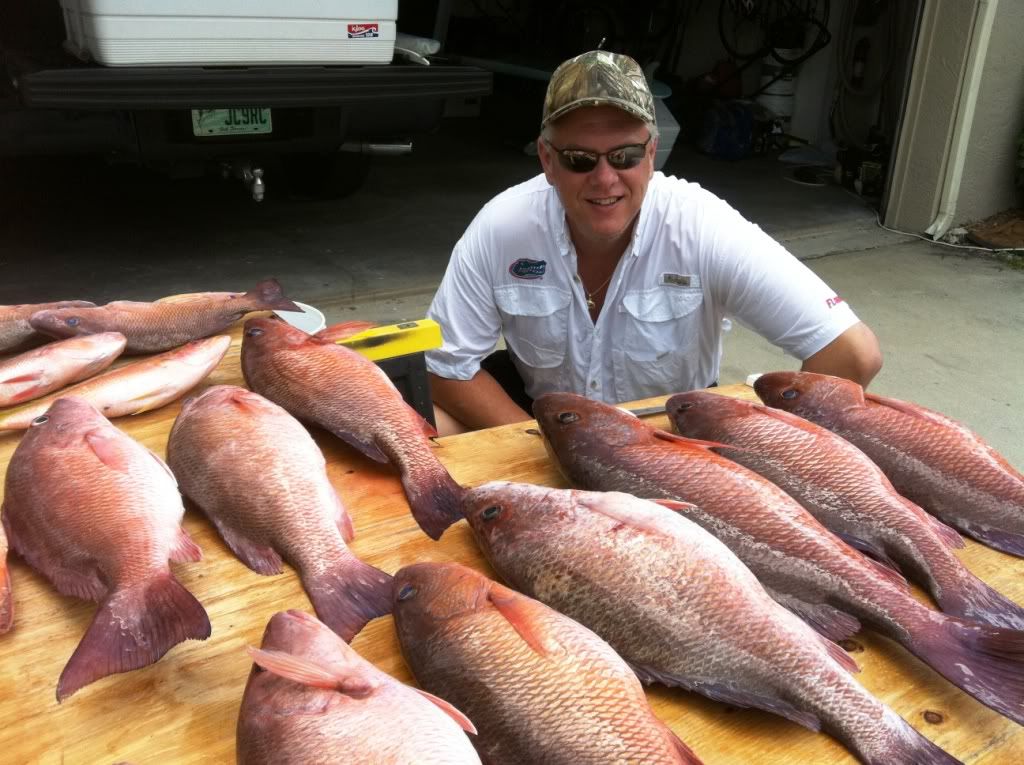 I learned a new fillet technique from Chris and was consistently yielding efficient cuts like this one: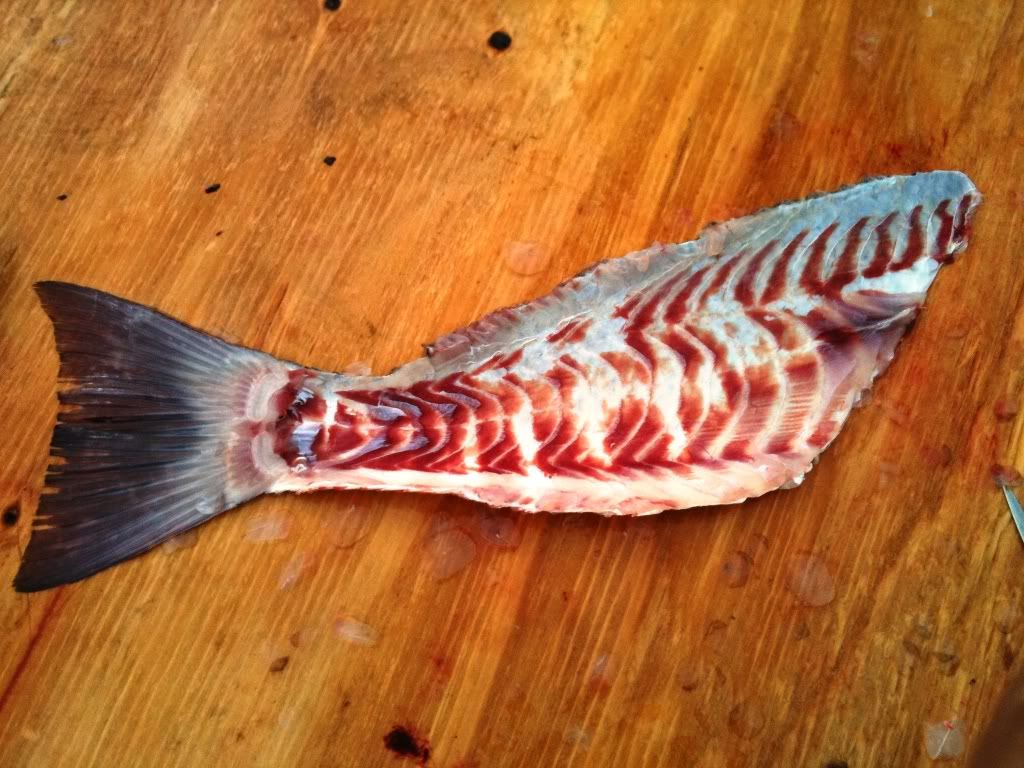 The fish left behind had the mirror-image tail as the skin above. I felt pretty good about my knife finesse, although I'm sure some of you all have the skills to do that every time! The final count was 20 mangrove snapper (14" to 23.5"), 2 yellow tails (14"), a lane (bite sized), a big Spanish mackerel, and two banded rudderfish. Chris kept the rudderfish to experiment. Neither of us has eaten it before, although the fillets were nice and white.
So, after that report, I have some questions for the forum:
Does anyone know of a good alternative to sand in making chum bombs? I'd rather be friendlier to the bottom.
What do you all call those little "skipjacks" with the double barbs and yellow tails? And has anyone else had any luck with them?
Any thoughts on mono vs. fluro for night snapper fishing?
Does anyone out there eat rudderfish? How about almaco jacks?
Ever netted live squid over the side? Good bait, or inky mess? I was afraid to try.
And one last important question: spreader lights on for night fishing, or off?
Thanks for reading, all. Any answers to my questions would be appreciated!