Home
›
Classifieds: General
Icom M34 Handheld Waterproof VHF Radio! CHEAP!
floridanick
Posts: 174
Officer
Bought this for a Kayak but since sold the Kayak, tried selling for $100 with no luck a while back willing to accept any reasonable offer! I can take pics of the unit and txt or email you it when I get home around 7pm. Please let me know thanks!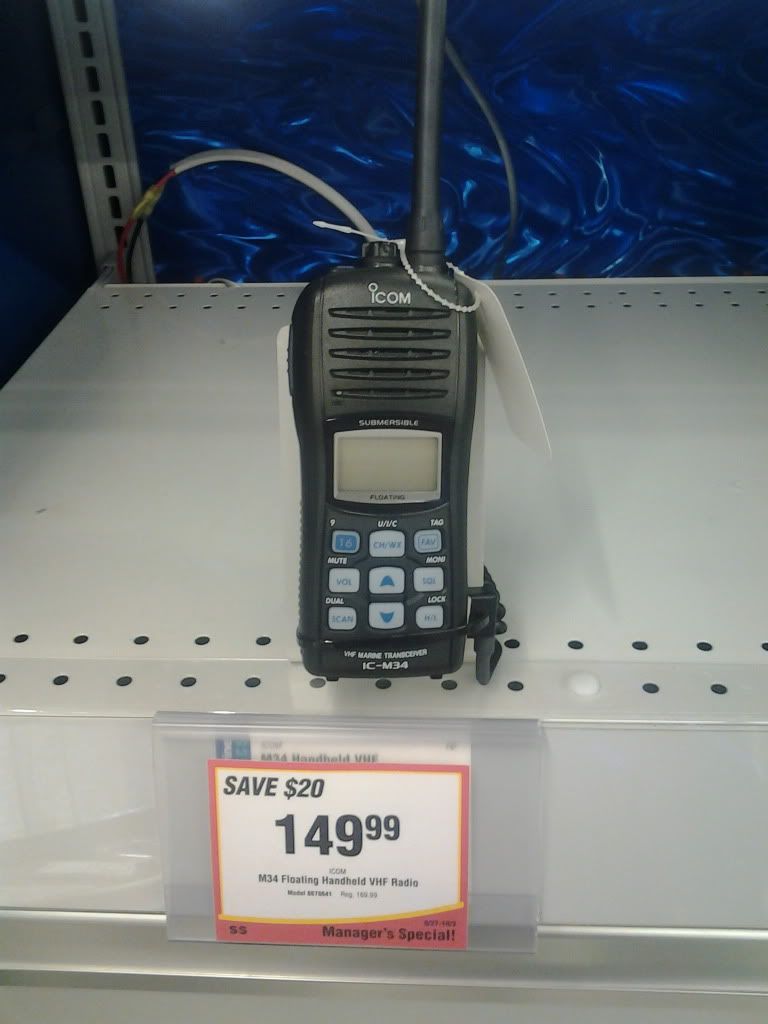 754-214-3988
General
Frequency Range
Tx
Rx
156.025–157.425 MHz
156.050–163.275 MHz
Usable channels INT, USA, CAN, WX channels
Type of emission 16K0G3E (FM)
Current drain (at 7.2V DC)
Tx (at 5W output)
Rx (at AF max.)
1.5A
200mA
Operating temperature range
-20°C to +60°C; -4°F to +140°F
Antenna Impedance 50Ω (SMA)
Dimensions (W×H×D)
(Projections not included) 62 × 141.5 × 43 mm;
2 7⁄16 × 5 9⁄16 (H) × 1 11⁄16 in
Weight (approx.) 305g; 10.8oz (With BP-252, FA-SC58V and MB-109)
Transmitter
Output power (Hi/Mid/Low)
5W (High),1W (Low)
2W (High, with alkaline cells)
Max. frequency deviation ± 5 kHz
Frequency error ±10ppm
Audio harmonic distortion Less than 10% (at 60% mod.)
Spurious emissions –68dBc
Adjacent channel power 70dB
Audio harmonic distortion 10% (at 60% dev.)
Residual modulation 40dB
Receiver
Receive system
Double-conversion
superheterodyne
Sensitivity (at 12dB SINAD) 0.25µV typical
Squelch sensitivity
0.35µV typ. (at threshold)
Adjacent Channel Selectivity 70dB typical
Spurious response 70dB typical
Intermodulation Rejection 70dB typical
Hum and noise ratio 40dB typical
Audio output power 0.35W typical (at 10% distortion with an 8Ω load)
Measurement made in accordance with TIA/EIA-603. All stated specifications are subject to change without notice or obligation.
Supplied Accessories
Li-Ion battery pack, BP-252
Battery charger, BC-173
AC adapter, BC-174A/E*
Belt clip, MB-109
Antenna, FA-SC58V
Hand strap