Home
›
Southeast General Fishing & The Outdoors
FPI Offshore Report 10/30
BacDoc
Posts: 704
Officer
Have not been out or over a month mostly due to some epic surf we got from September thru October, so I had no clue as to what was happening offshore. Not many FPI reports lately but looked like some nice dolphin action south of us. On the boat was my usual crew of Big Wave Dave and Barrell and one of my former students when I taught JR high in Sebastian, Rob, who usually runs his boat out of Sebastian. Hadn't seen him since he was 15 yrs old and I was a young teacher at 24.
Bought some pilchards from the bait guy and headed out to flat calm seas. Water temps were 76 out of the inlet and 77 on the offshore bar. Tried live baiting some scattered weeds and rips between 65' - 150' without much luck and only managed some small phins and sharks.
Tide on the offshore bar was slack and 3oz could hold bottom in 90'. Normally when the current is this lite the bottom bite sucks but a friend of mine ran out to 400' this am and reported nothing. He's a forum guy, good angler and he usually puts phins in the boat. He called me on the VHF and said nothing happening so we decided to stay and give the bottom a shot.
Anyway, my new Garmin with CHIRP is going off in HD and I can see triggers, snapper and some grouper along with a few marks higher off the bottom that I couldn't identify. Appeared to be in the 3-5lb range and oval school as opposed to the snapper arches and pyramids.
To make a long story short - we sucked! if we caught most of the fish we hooked and fought right up to the gunnel I would still be cleaning fish today. We did manage to boat some by sheer luck because our fishing skills were way off today. I had a trophy Mango, 10lbs or more right to the gunnel and Rob asks me if he should get the net. I say no, I got this and as I put down the rod and and grab the end of my 15' mono leader to bring the fish over the side he gets a second wind and breaks off.:banghead
We did boat some Muttons, Mangos, yellow tails, triggers and a few schoolie dolphin. Those strange marks on the Garmin were Rainbow Runners and we got a couple of those too. In the mix were some sharks with this nurse we figured about 120lbs or more.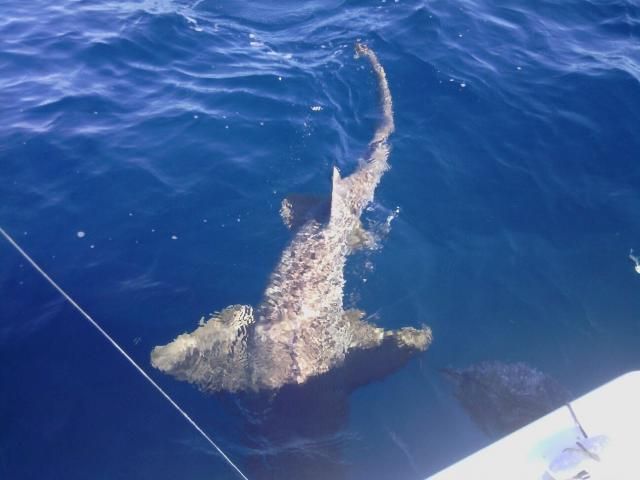 Most snapper we managed to boat were in the same size range and we couldn't boat a grouper or a genuine that this spot is famous for. Here's Rob with a Mutton.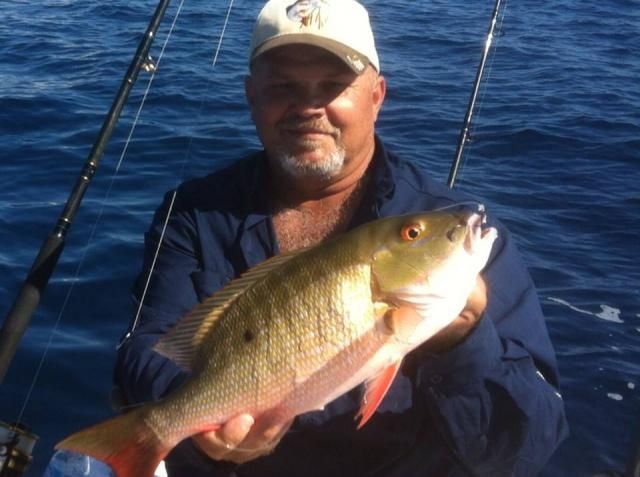 And one of the Rainbow Runners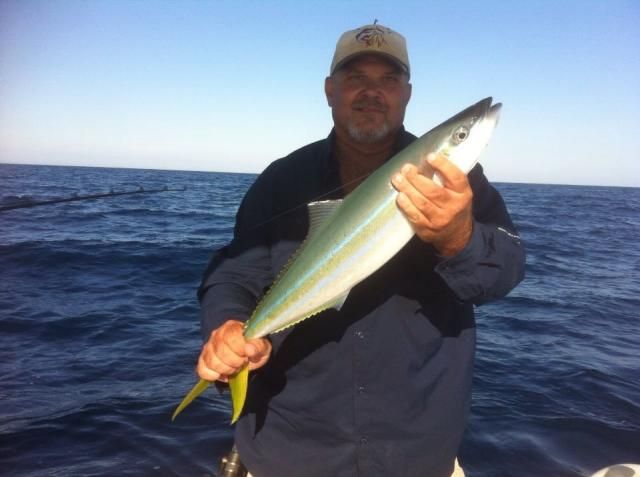 We did manage to get enough for dinner.