Home
›
South General Fishing & The Outdoors
Flamingo fishing report, 25 September
lemaymiami
Posts: 3,837
Captain
On Saturday it was back to Flamingo with a father and son team from Tequesta, up towards Stuart. Steve Shapiro was on a mission to get his son, 14 year old Jared, his first big tarpon. This turned out to be one of those "be careful what you wish for" deals...
We got an early start, well before daylight, since there was a tournament on that day (the Herman Lucerne) and I was a bit worried that many spots would have too much attention. We were in luck since our chosen spot was vacant, except for bait and the big fish nearby. In just a few minutes we had a well full of ladyfish and it was time to get down to business. Jared was quickly hooked up on a big fish on a stout spinning rod with 20lb line. It made one great jump on the hookup and then stayed down and just put Jared to the test. That fish stayed in deep river waters the entire time and made the young angler work as he battled back and forth the hard way. In 45 minutes the big fish never jumped again, and only began to roll occasionally at the surface towards the end of the fight... This pic tells the tale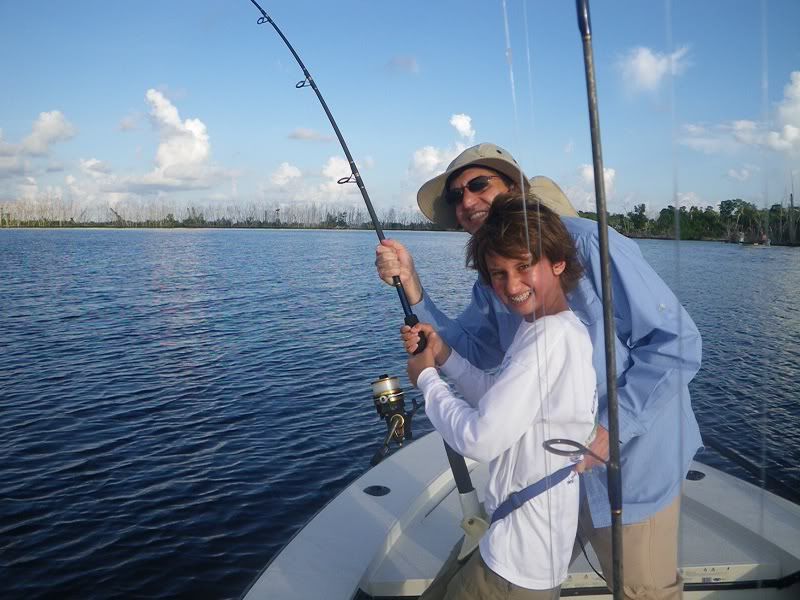 Even with lots of help from his Dad it was a struggle. Three times I was able to grab the leader and every time had to let go. The last time the fish finally released itself - still with only that one jump. I was told many years ago "If you find a big tarpon that won't jump... break him off and find a fish you CAN beat" . Fortunately no one told that to Jared. He'll remember that fish for years.... I estimated it right at 100lbs and hope never to see another that fights like that.
Our next stop was a big snook spot that's been hot lately and it was on fire. Before setting out snook bait we set out a tarpon rig on a float nearby in case there was another big tarpon in a bit deeper water. The moment the ladyfish landed it began jumping frantically like a mullet.... that was an indicator of a big pod of snook. Our next two baits were trashed the moment they hit the water and it was game on. Jared quickly hooked one and began treating it like that big tarpon. As a result he was able to pull it away from downed trees and land it in short order...
[img][/img][img][/img]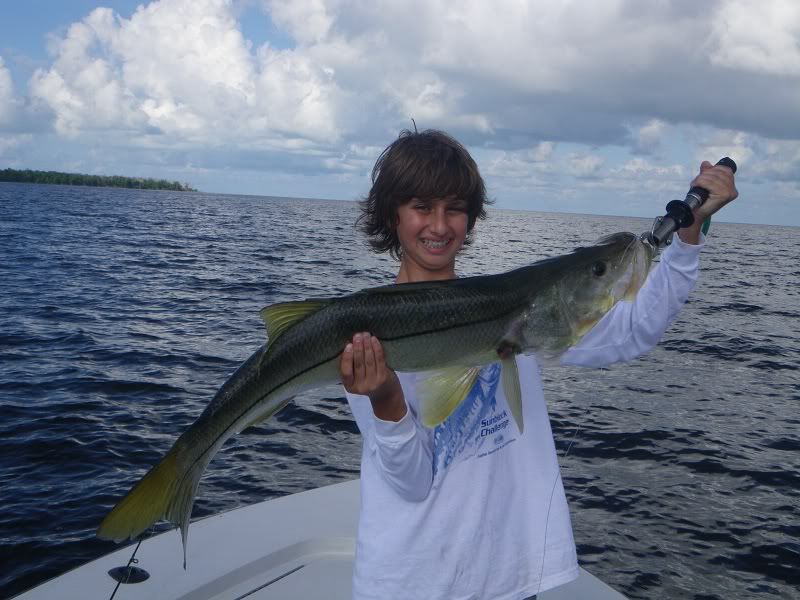 In the next few minutes we quickly hooked two more (and lost several others). Jared caught and released his second fish, and his Dad got one as well. Here's a pic of Jared's second snook...
[img][/img][img][/img]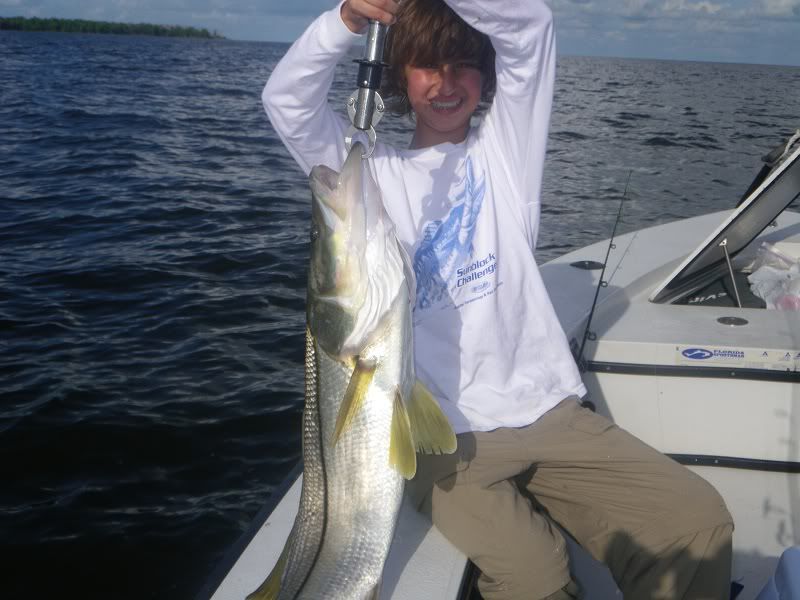 All of the fish were above slot limit size and attacking live ladyfish in the 12 to 15 inch size like they were mullet. We lost a few more fish, then both father and son hooked up at the same time. Things got a bit crazy but here's the pic of a nice pair of large snook, just before the release...
[img][/img][img][/img]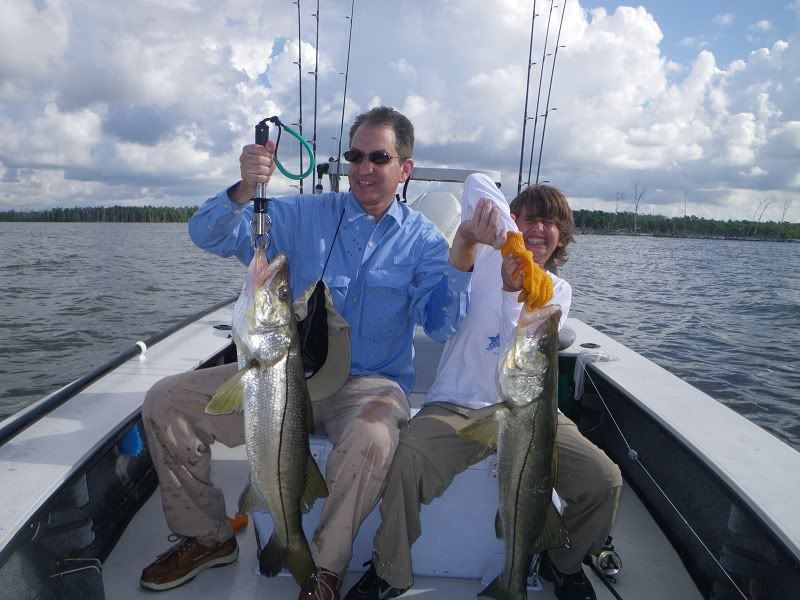 A few minutes later the bite shut down and we were back on the hunt but only after Jared hooked and fought to the boat a tarpon smaller than the snook.... By this time Jared, who had also caught a small redfish was looking for a trout to make up a grand slam of tarpon, snook, redfish, and trout. We went back into Whitewater Bay and made that a reality with a few very dark colored trout, some nearing 20"...
It was quite a day but both anglers still wanted to take home a redfish or two so we made one last stop in Whitewater and picked up the two slot fish. Here's a pic of Jared's biggest red. I think he slept well that night.
[img][/img][img][/img]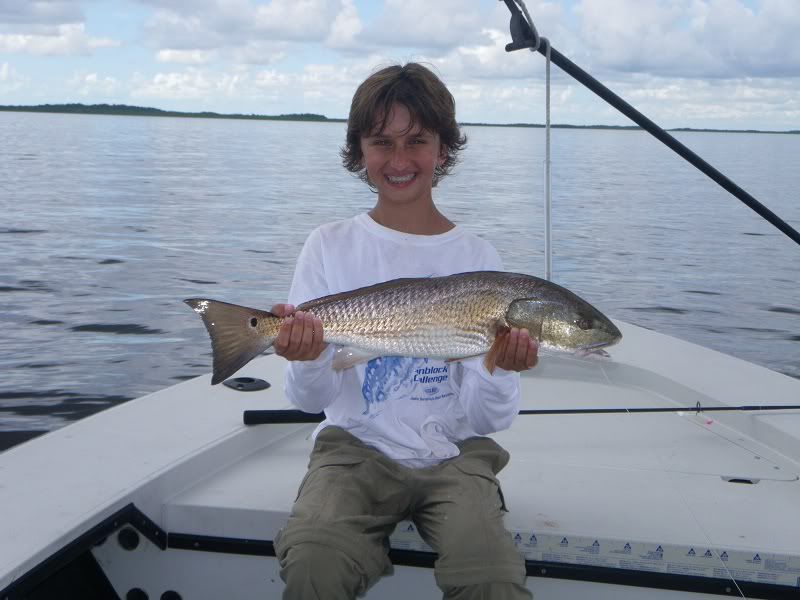 Like I said in my last fishing report, the action will just keep getting better until sometime in mid October.... hard to see how that could happen, the way things have been going.
Tight Lines
Bob LeMay
(954) 435-5666