Home
›
Tropics
Two Weeks at Green Turtle
Forgot to put this up in this section, for those of you who don't venture out:
I don't even know where to begin, those of you who know us have seen our Abaco reports in years gone by but we have not been able to get back there for the last five years. The boys were 3/6 on their first trip to MOW, they flew over and I had a friend run our Intrepid over with me, I believe GaryM did the return with me back then a few times. We rented houses on MOW and then Guana, but when we bought the bigger boat we stayed on that. The trips were a week or so at a time and then I would stretch them till they were two weeks. There is a huge difference in vacation from one week to two. I find you really can relax after the second week. Those length of trips are not easy to do, especially in sales.:grin We have stayed in just about every marina in the Abaco's on the last three trips finally settling on Green Turtle Club and Seaspray on Elbow as our absolute favorites.
We had been talking since last summer how badly we wanted to get back and decided no matter what happens, we were going. The first two weeks in July always work the best for my schedule, the weather is usually pretty settled then and it is before hurricanes usually start rolling through. I did not document every day so I will do my best to walk you through our trip.
Loaded down, wondering if the boat would plane with the dingy, freezer, every rod holder filled and enough food/drink for two weeks.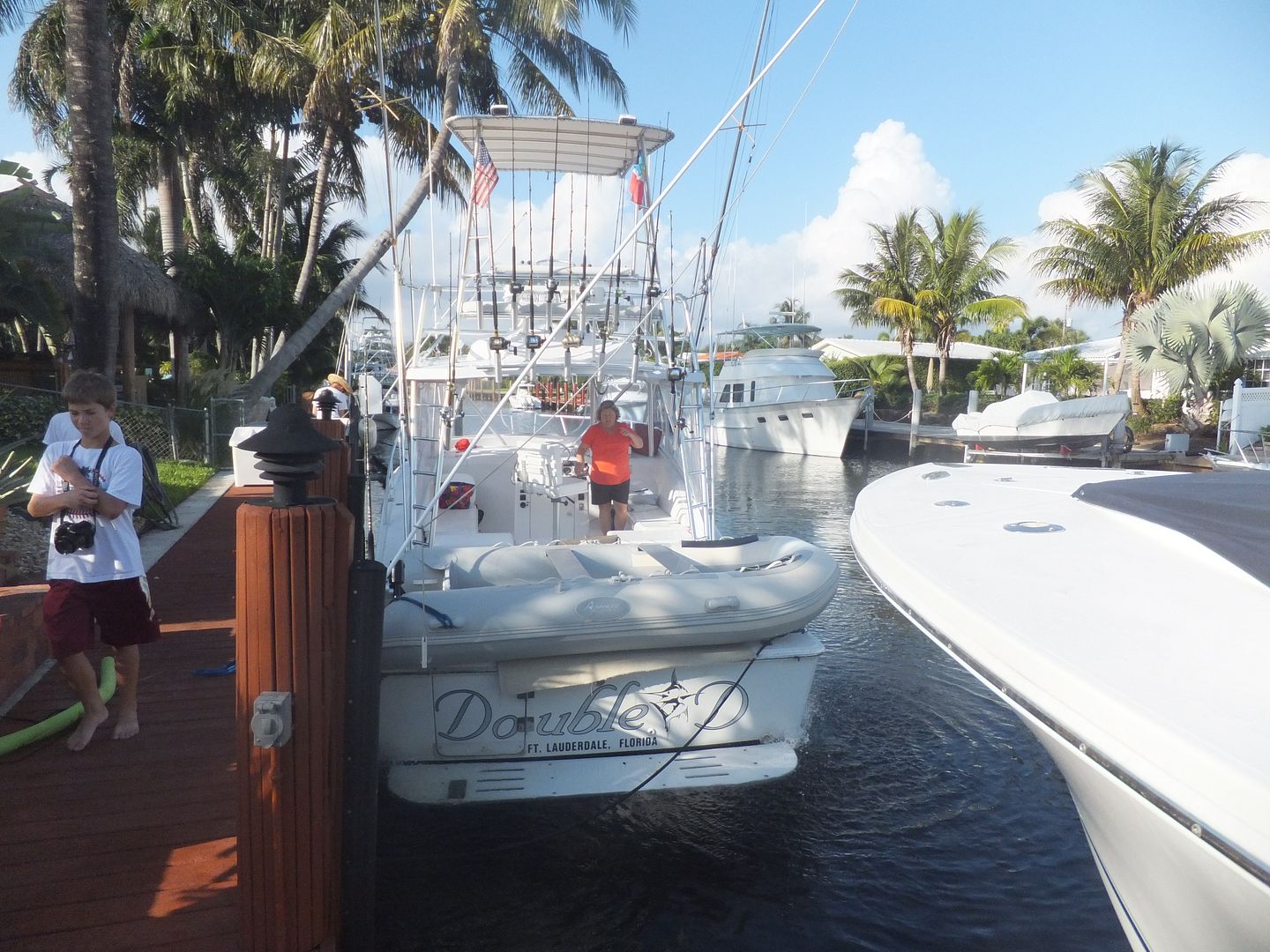 we left on 6/28 and had a fantastic crossing to WE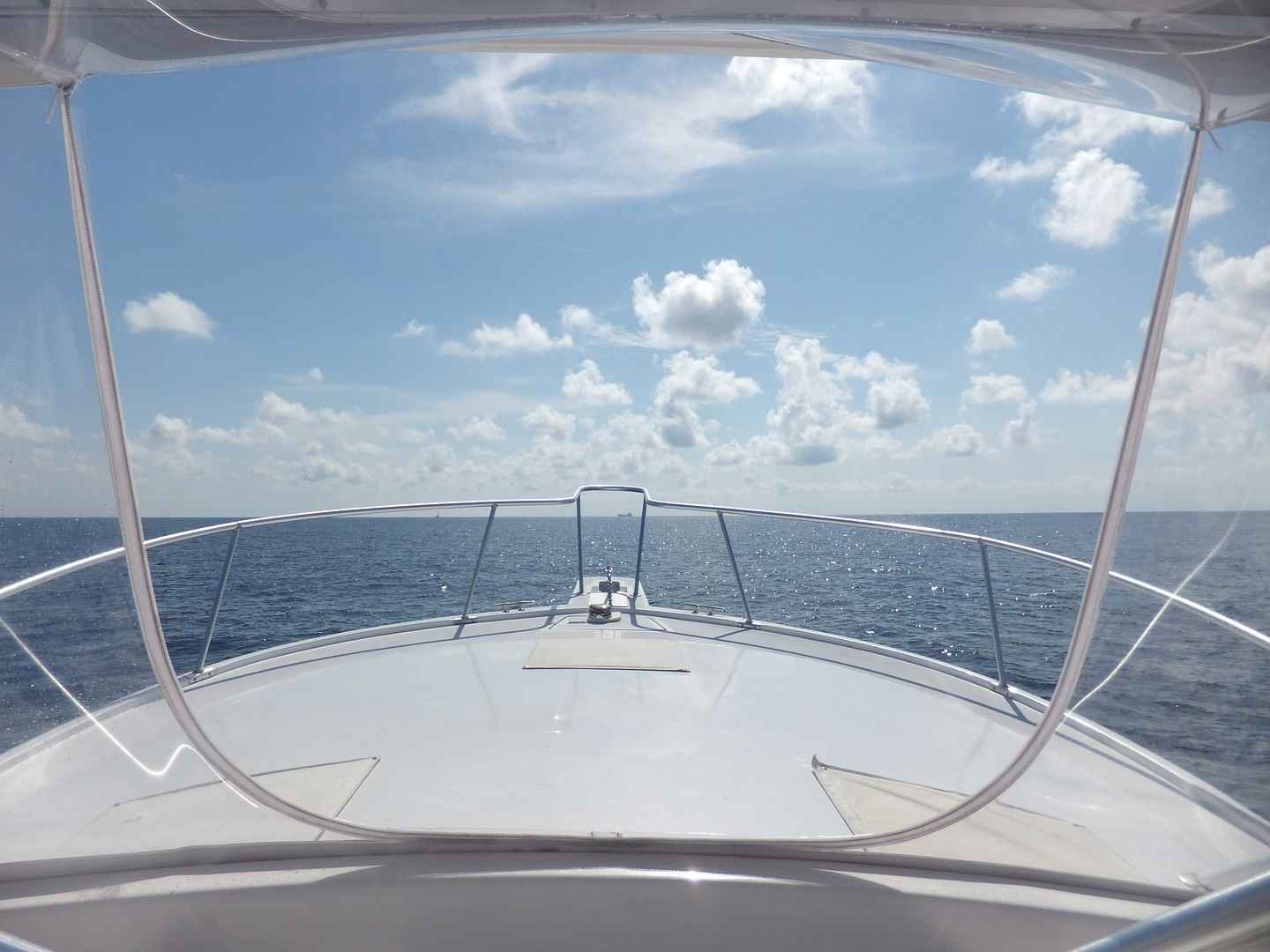 There it is, haven't been here in a while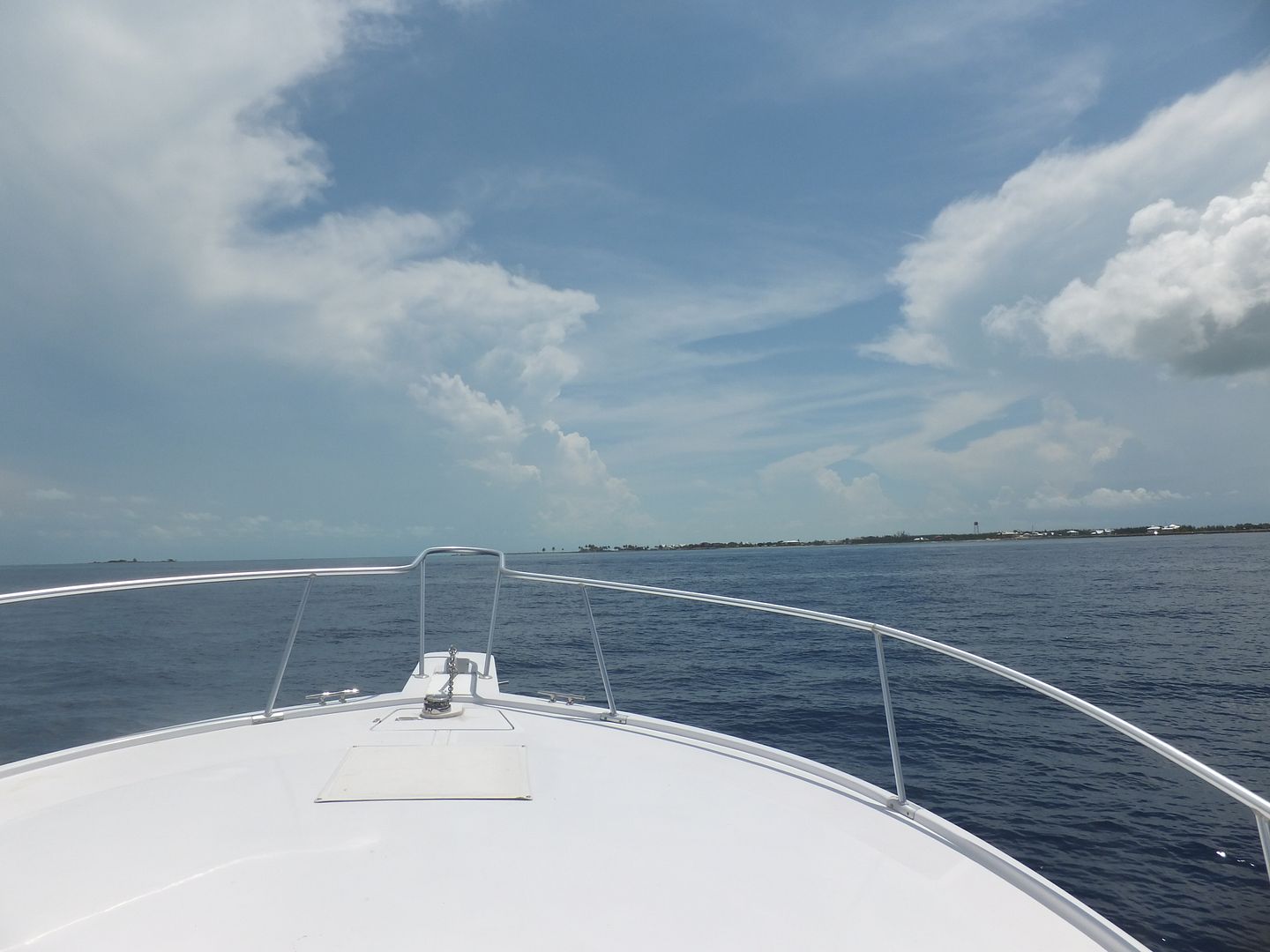 the word was out, hot bite of 6-8" lanes in the channel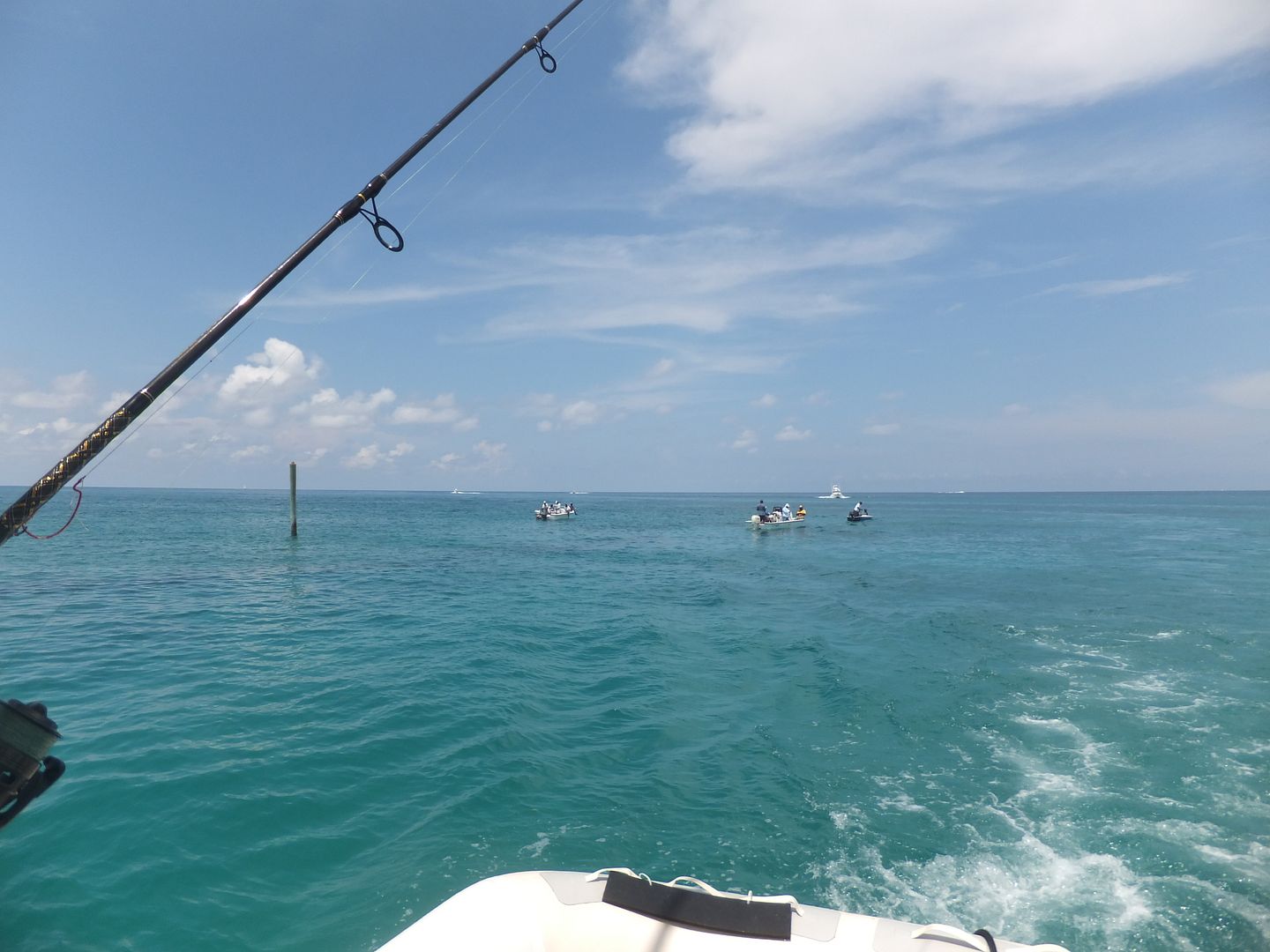 two hours and 45 minutes from Hillsboro, customs was a breeze, never been easier and topped off with the cheapest fuel in the islands, diesel 5.25. Went through Indian Rock Channel without an issue, I always get nervous when I go through there, I know the depth finder says 6-7' but the water is so clear you would swear it's more like 3'. Rounding Mangrove, a nice storm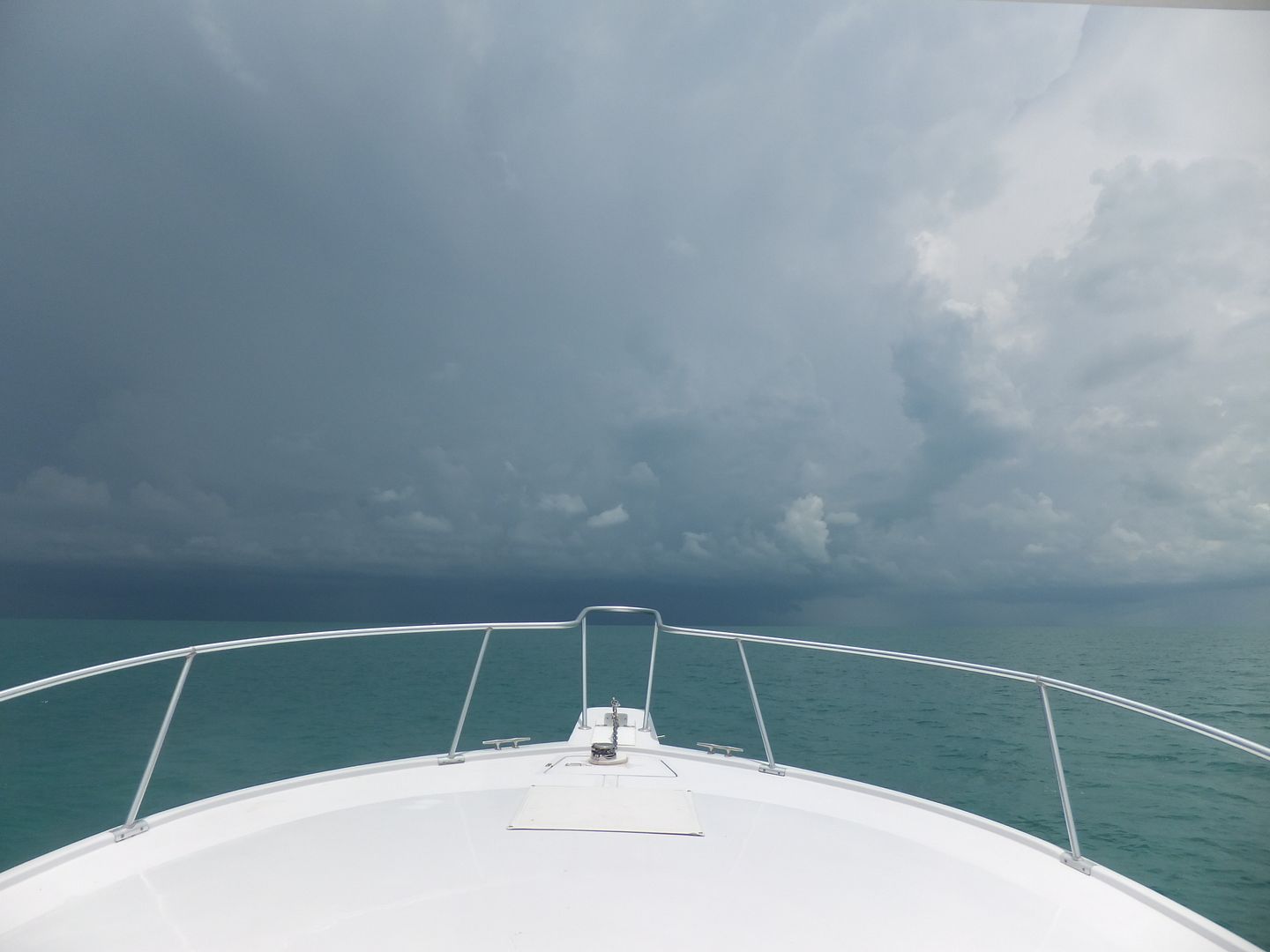 passing Veteran Rock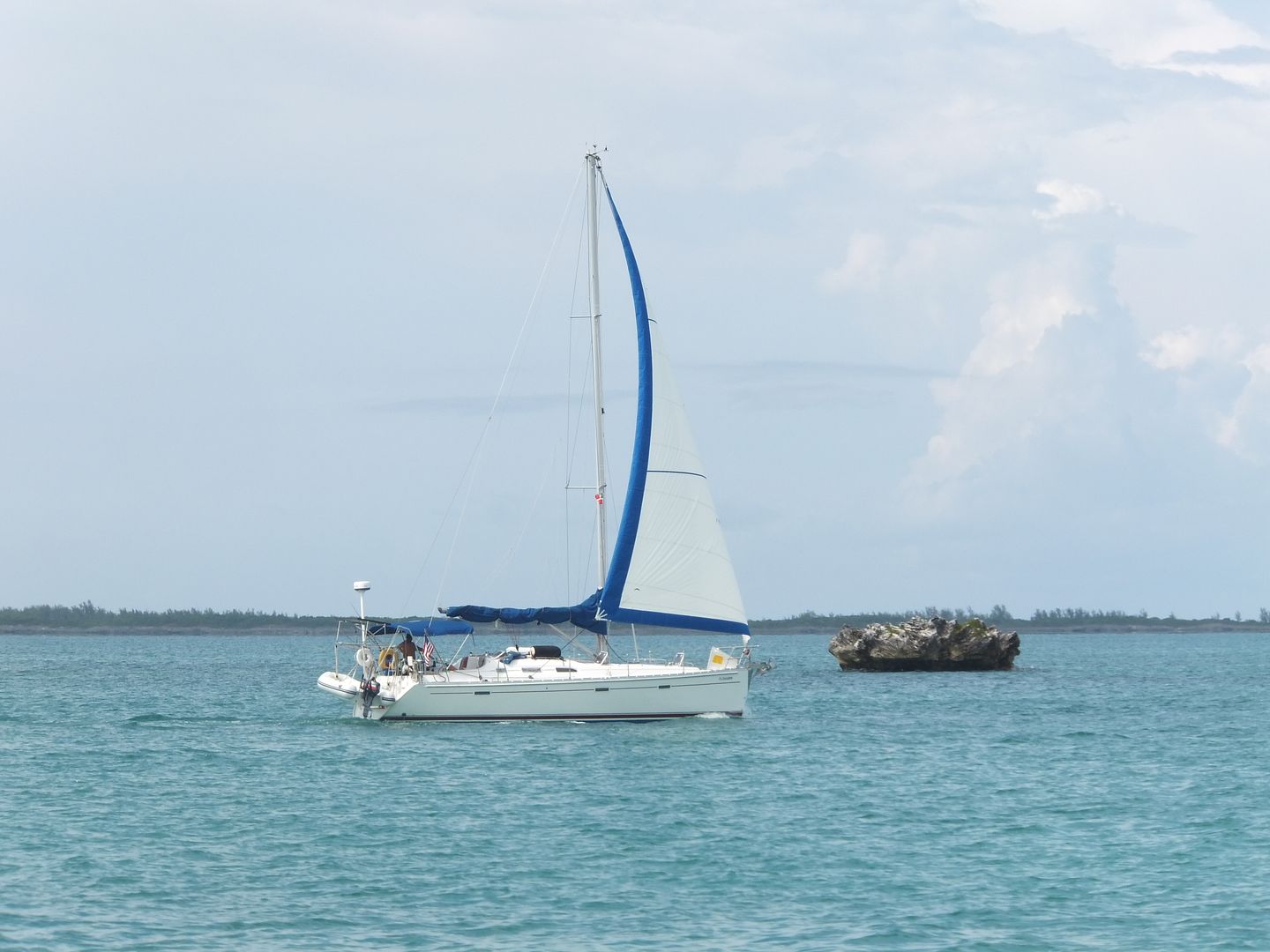 Almost there!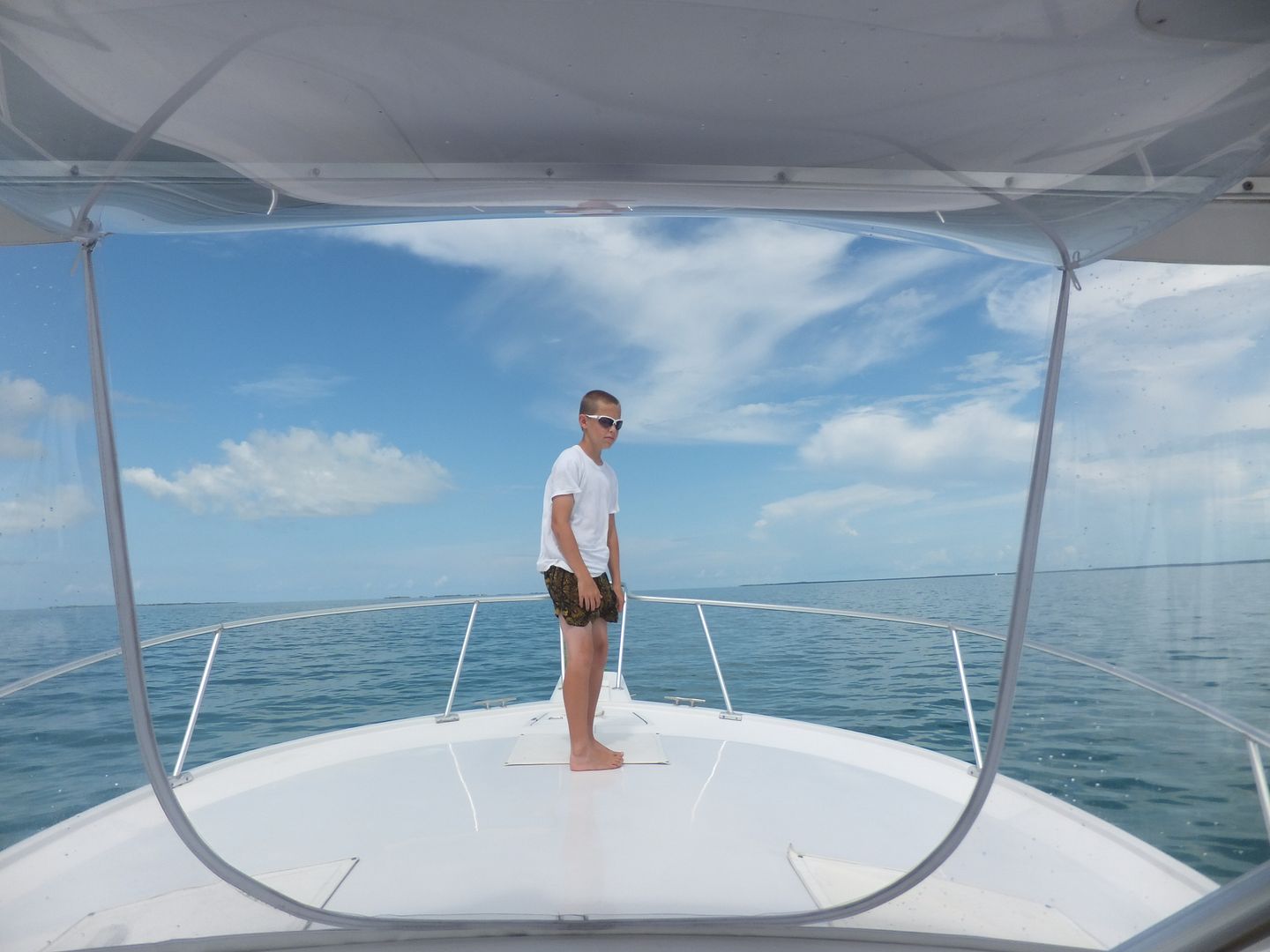 Finally made it, four hours from WE for a total of 6 hrs, 45 min. 167 nmiles. We arrived on Saturday afternoon and got settled into the only slip available which was a little tight. Nextlevel was there with his crew as well as C Skip R and we got there in the middle of the Lionfish tournament weigh in. I recognized Wesley on the dock right away, he remembered our last trip and couldn't believe how big they have gotten. Jack is 13, Gregg is 16 almost 17.
Our days would be filled with spearing, bottom fishing, deep dropping, eat, drink, sleep and repeat. Tropical Storm Aurthur moved in the next couple of days and the rain poured down non stop. Overcast, windy and rainy. This was no way to start the trip. The DVD player in the boat died so the boys were getting antsy. I finally was able to borrow one from Giselle, our golf cart provider. She took the one out of her house without a thought. That kind of attitude was displayed from just about every local we came across. They could not have been nicer and went out of their way to help in any way they could.
first day out front of Manjack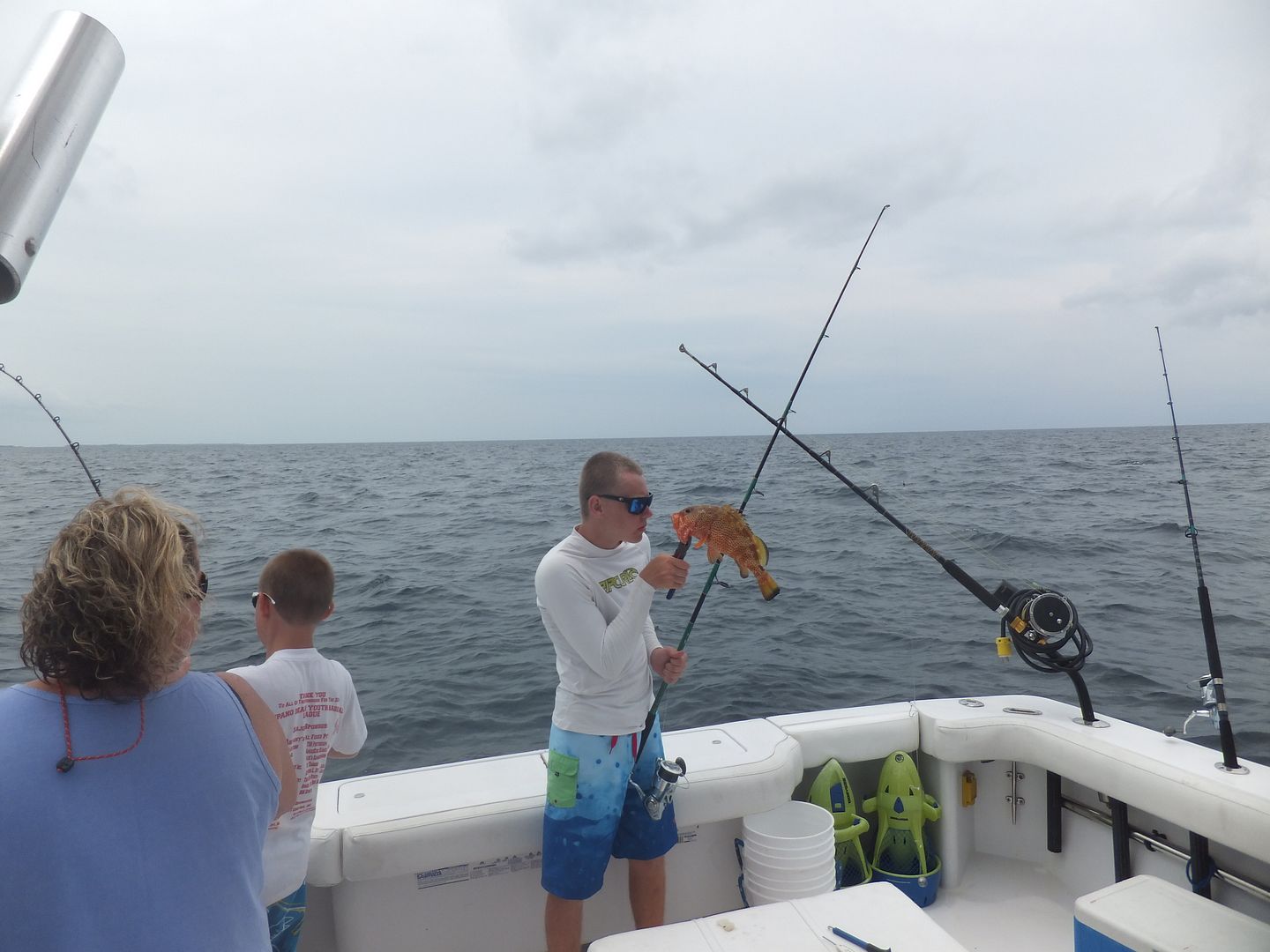 nice yellowfin
Rain was still coming down but the boys couldn't stay at the dock anymore so out we went, that day I think we were the only boat that left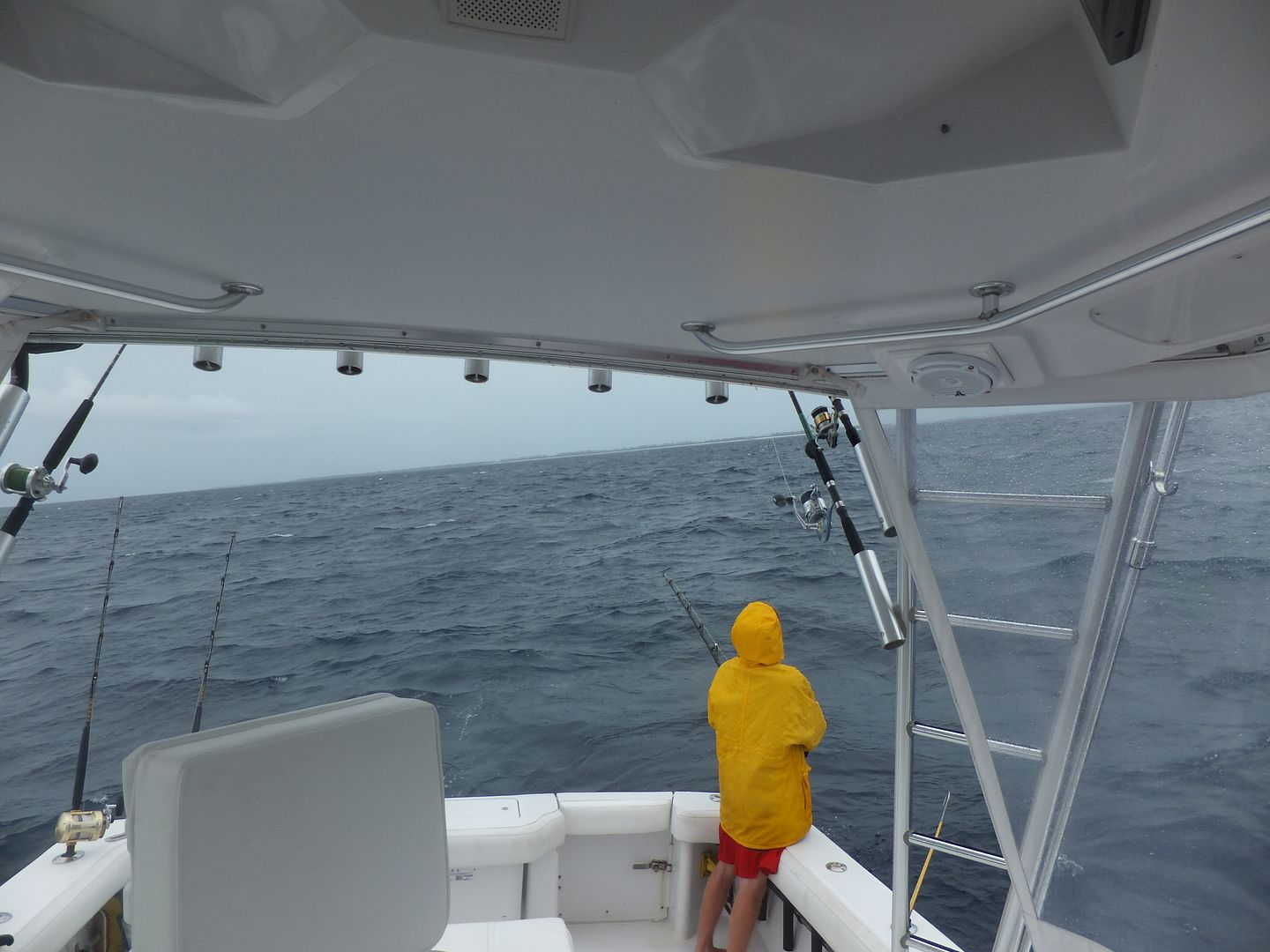 There were some pretty nice rides in the marina, this guy played a little golf in his day, he is definately got the boating thing down!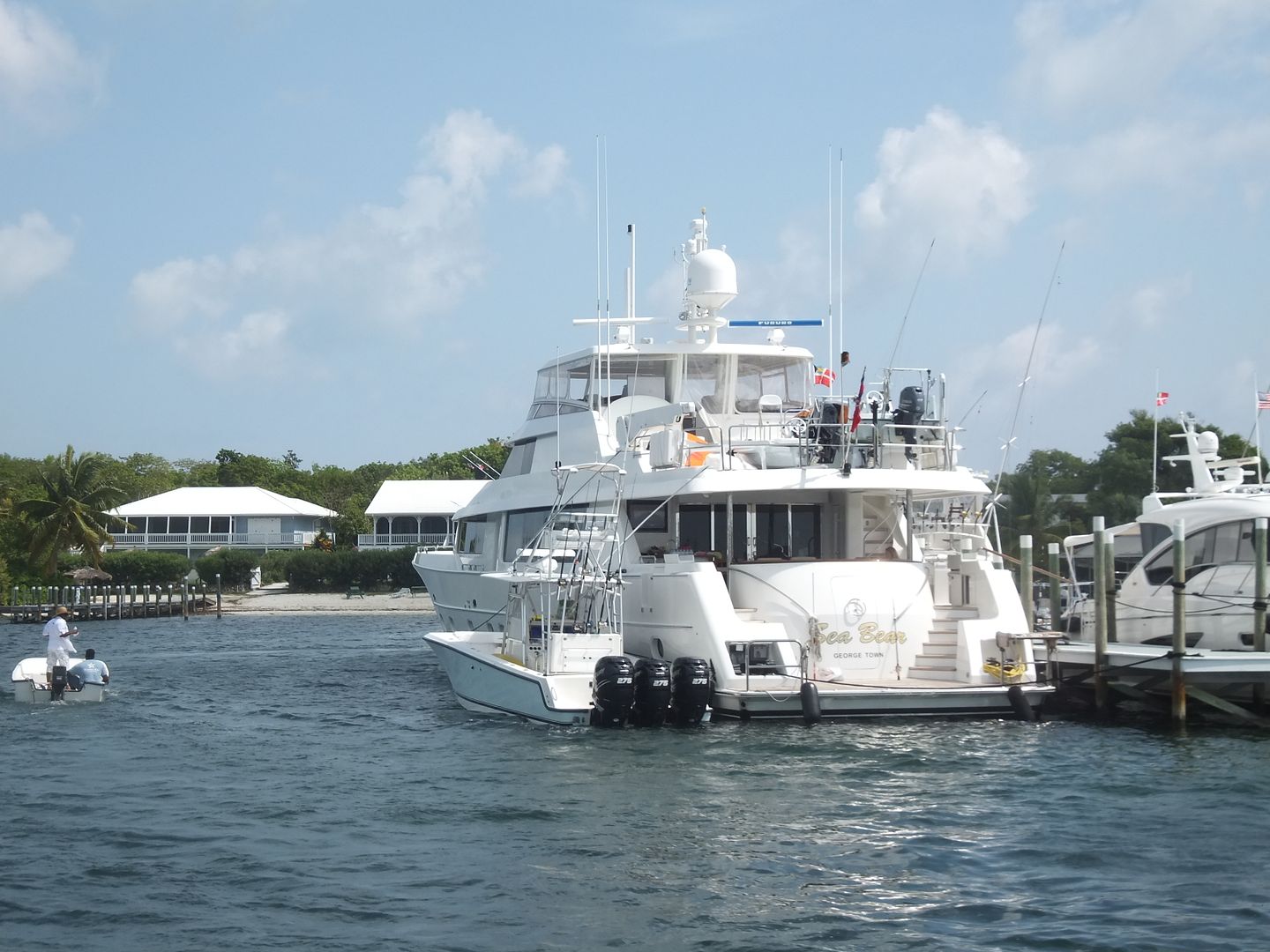 The first breakdown of the trip was the hinge on the toilet seat. I tried to fix it with zip ties but that lasted a day so it was off to Marsh. We took the ferry over to Treasure and rented a car from Cornish Car rental. $60 for the day, ferry was $19 roundtrip. This was still alot less expensive than taking the big boat and it was an adventure as it turned out.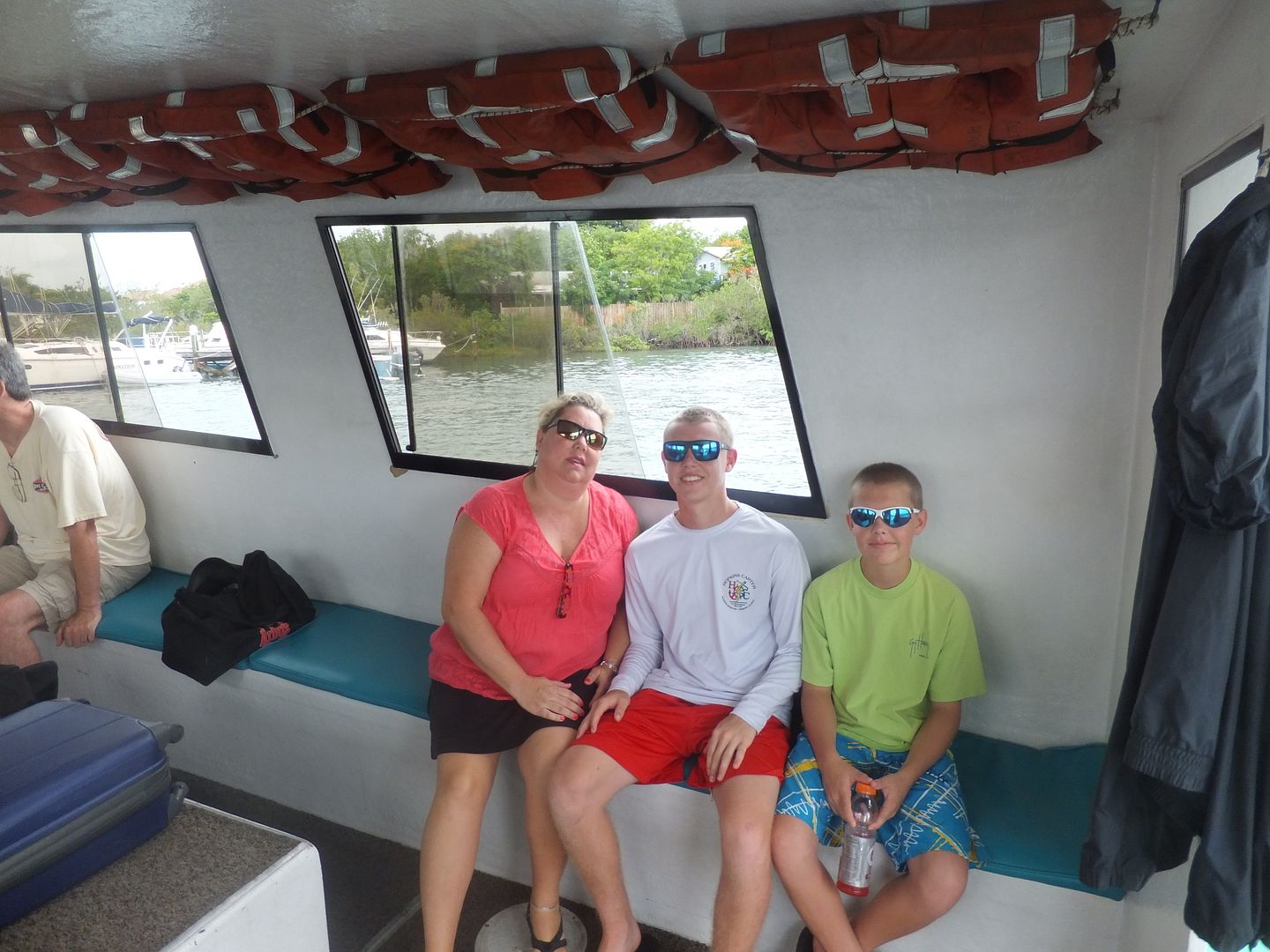 As you might know, they drive on the left side of the road in the Bahamas, sounds easy enough, I only made a right turn onto incoming traffic once! We found our parts, bought some supplies and were about to wrap up our trip to Marsh when the car wouldn't start. We were across the street from National Marine, local Mercury dealer and the owner, I believe Donny came out, in the rain, and messed with our car for almost an hour trying several things to no avail. We finally got Cornish to come give us another car. Donny wouldn't take a penny from me, even though I insisted. The new car was a sport utility with the steering wheel on the right, that was interesting. As he's leaving he says, " don't leave the keys in it, the power door locks are messed up". Hmmm, ok. We get in and go to start the car and the power door locks are locking/unlocking by themselves. They continue doing this the entire time we are driving with an occasional stop. In order to get out, you had to time opening the door when the lock was open. Had a great lunch at the Golden Grouper and back to GTC.
We have gone to the Stranded Naked Party for several years and were looking forward to it again. It sounds like this wild, out of control thing but really it is nothing like that. Stranded Naked is a line of swimwear, our neighbor in Pompano's dad is owner. If you want to wait in line, the food and drinks are really good and free. The kids have a blast, they can roam without the "rents" getting in their space and you never know who you will run into. We divided and conquered, each picking a line. While we were in the food line, I started talking with the people in front of us. Turns out, were were related! Their sister married one of my wifes cousins or something like that. It was a great time and the usual afternoon thunderstorm never came.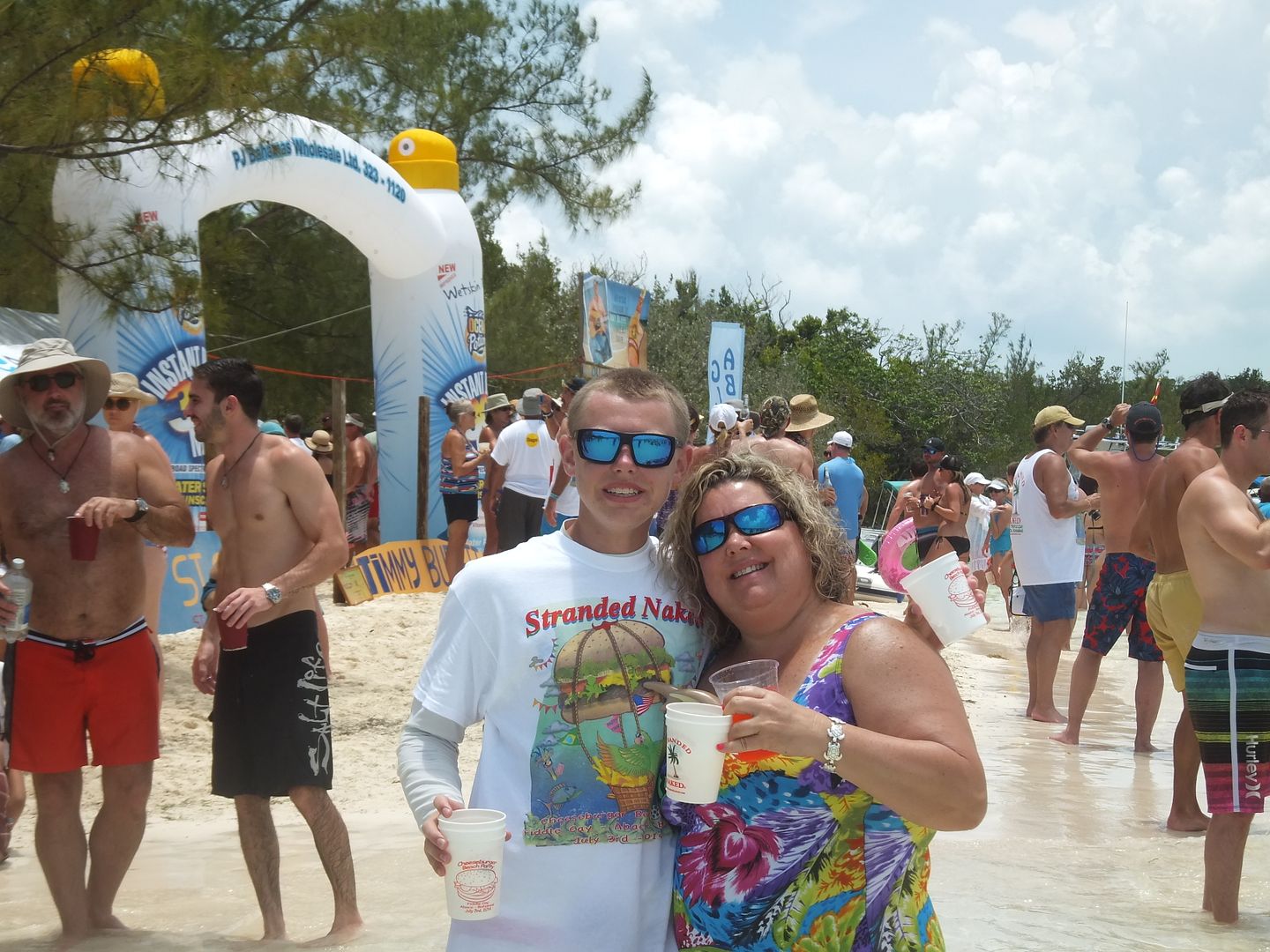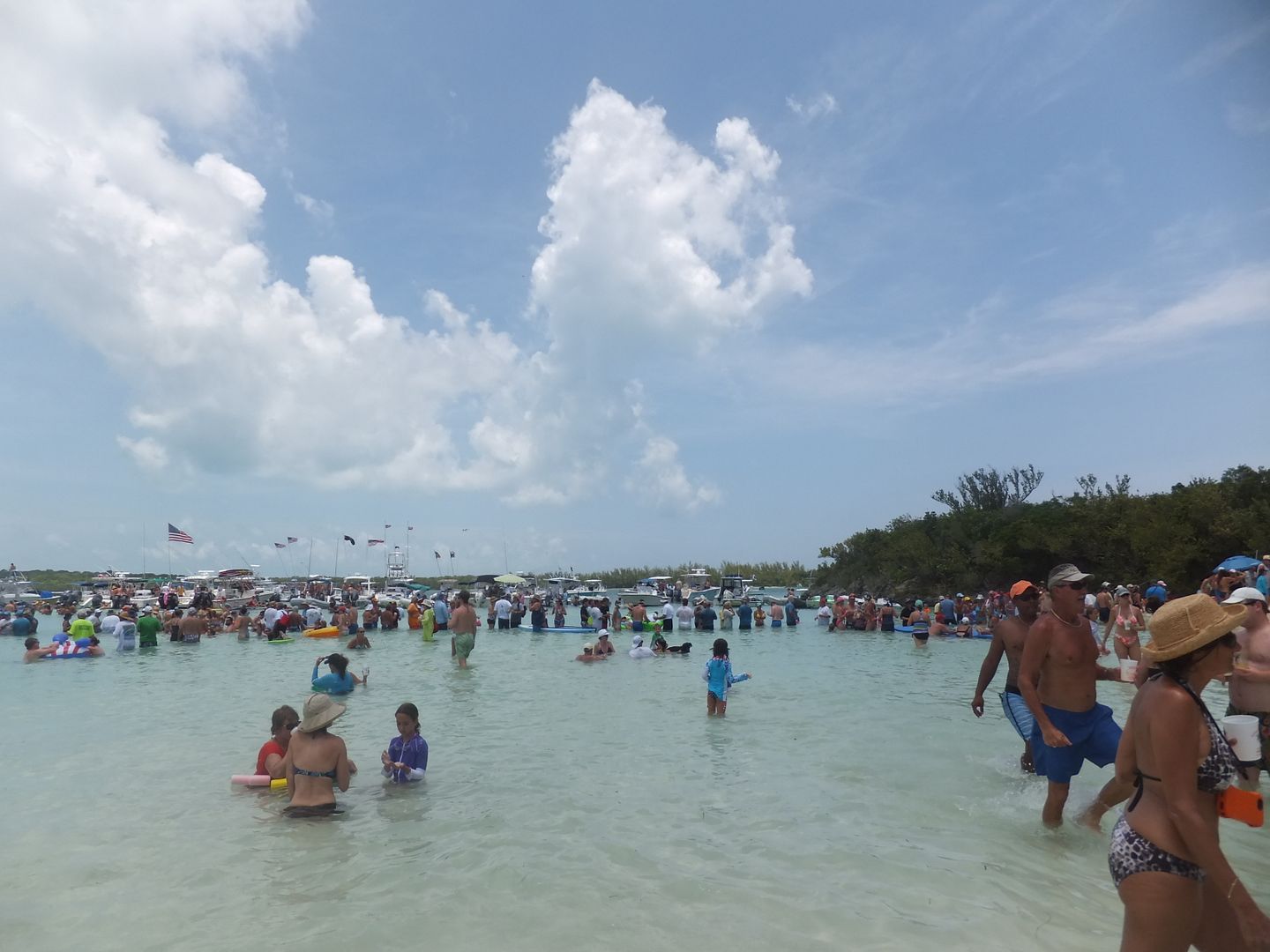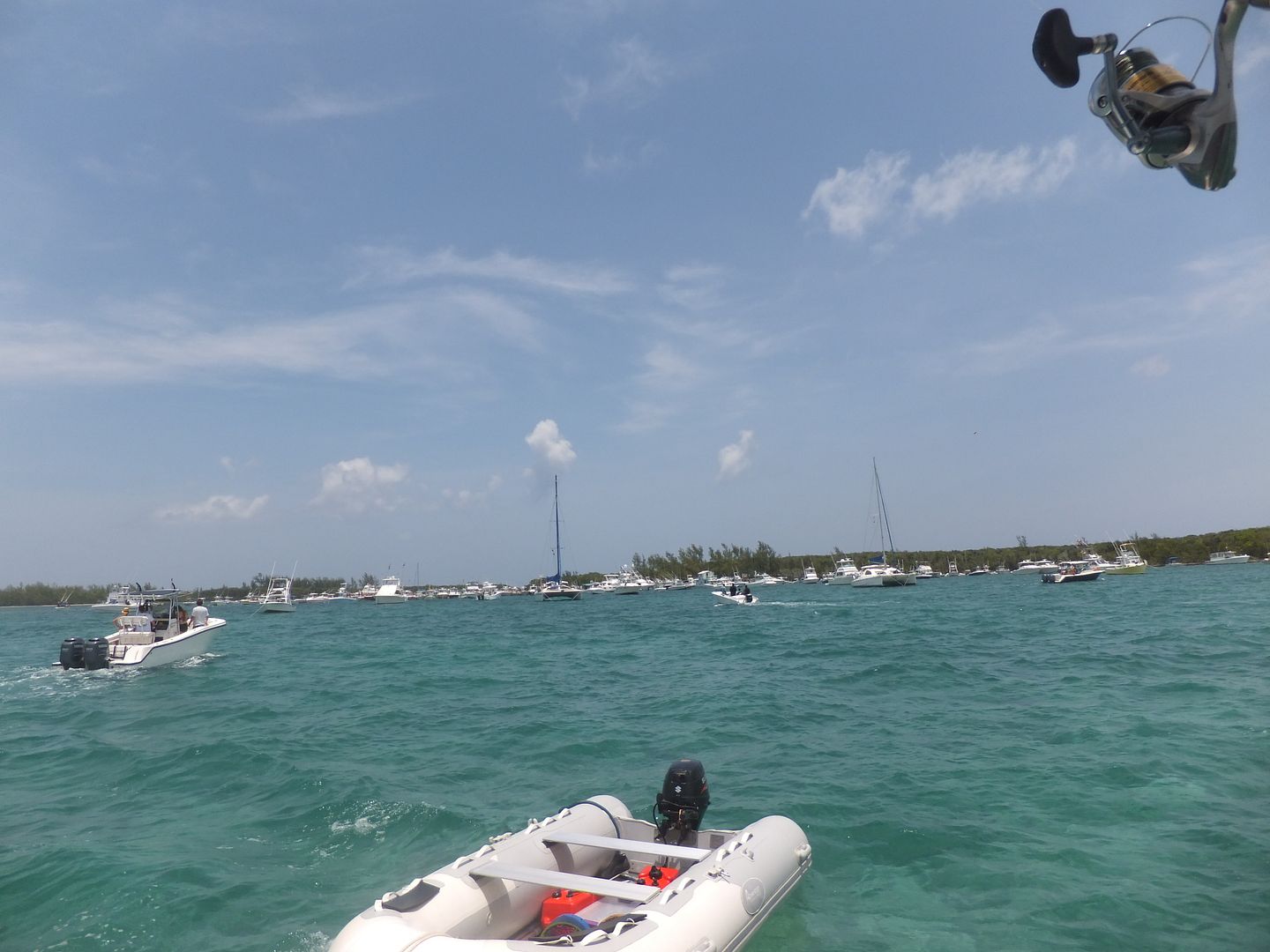 we took the dingy out front of Fiddle Cay and did a little spearing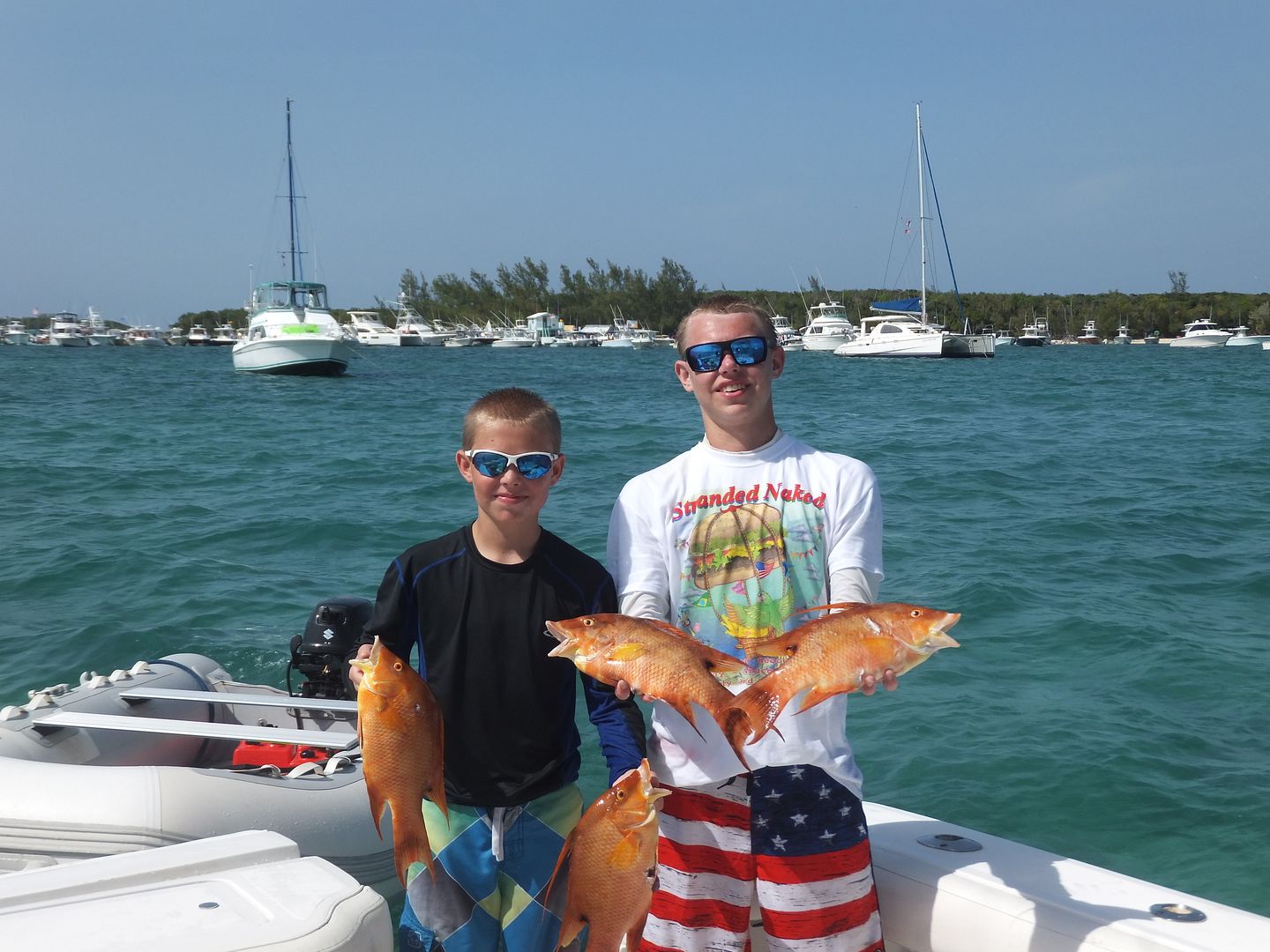 The boys were fishing constantly off the dock and did pretty well, although this one was a few hundred yards off in the dingy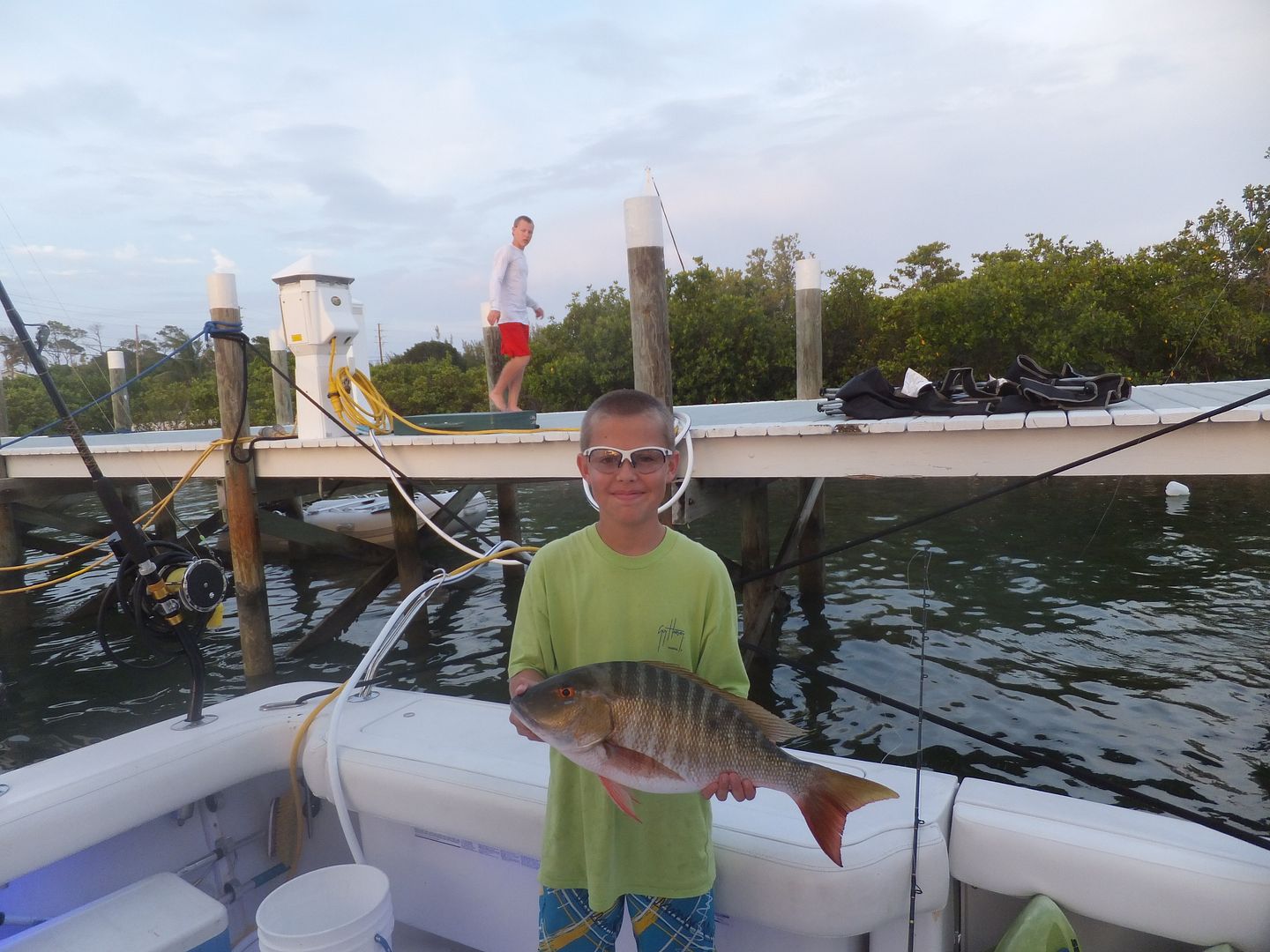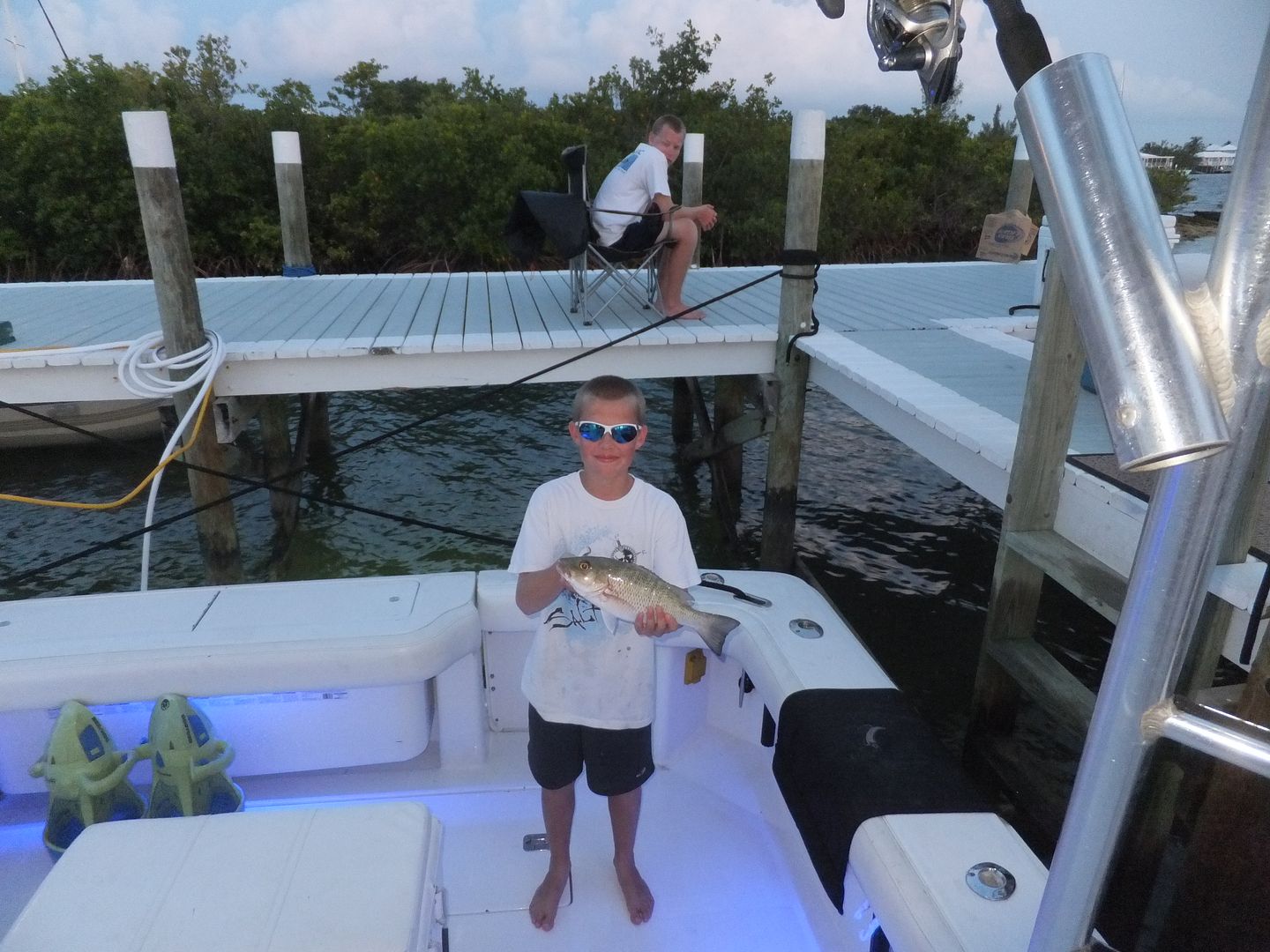 This is Regatta time in the Abaco's, here is the Green Turtle race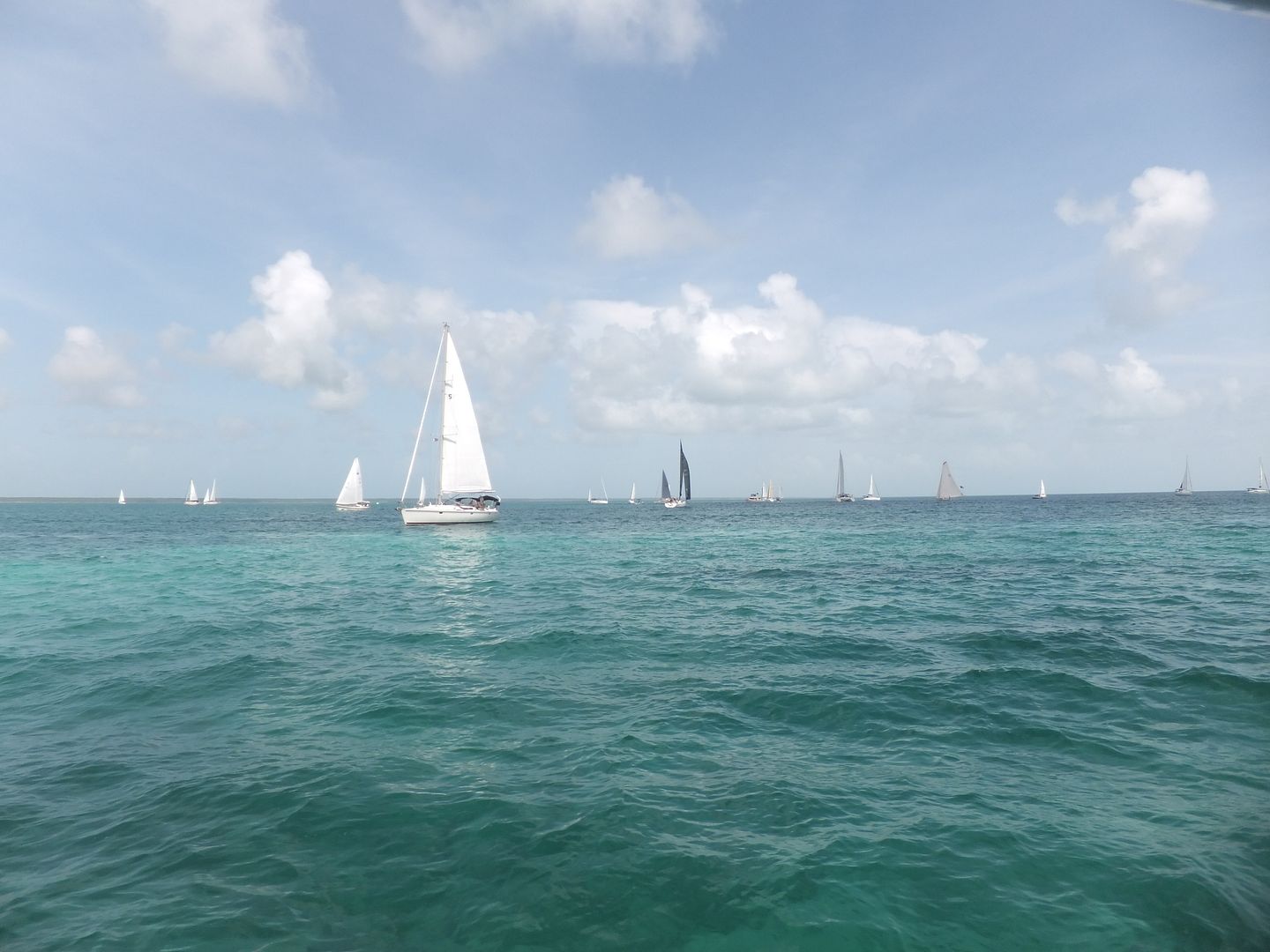 The north end of Guana off Bakers Bay has a very nice beach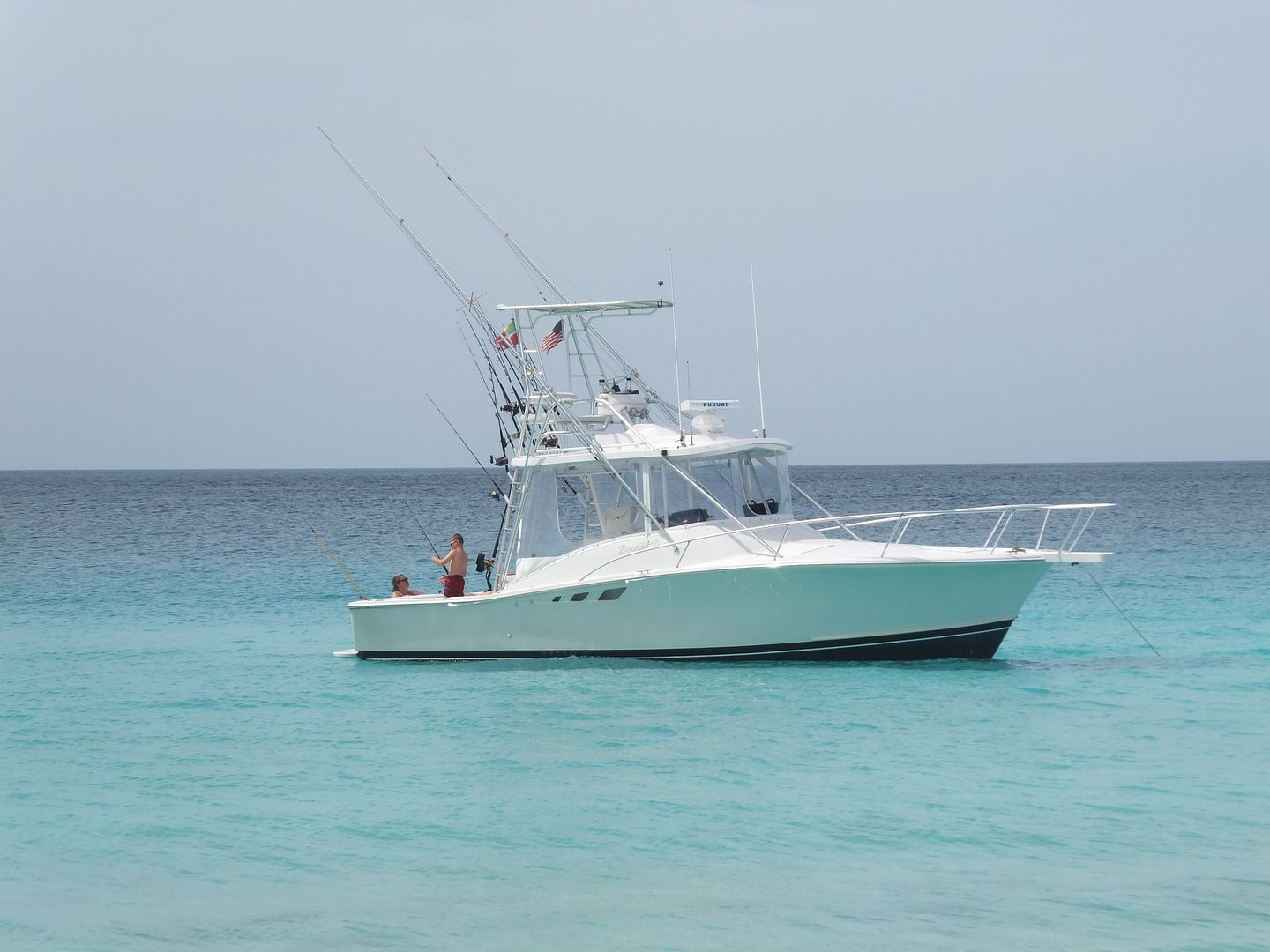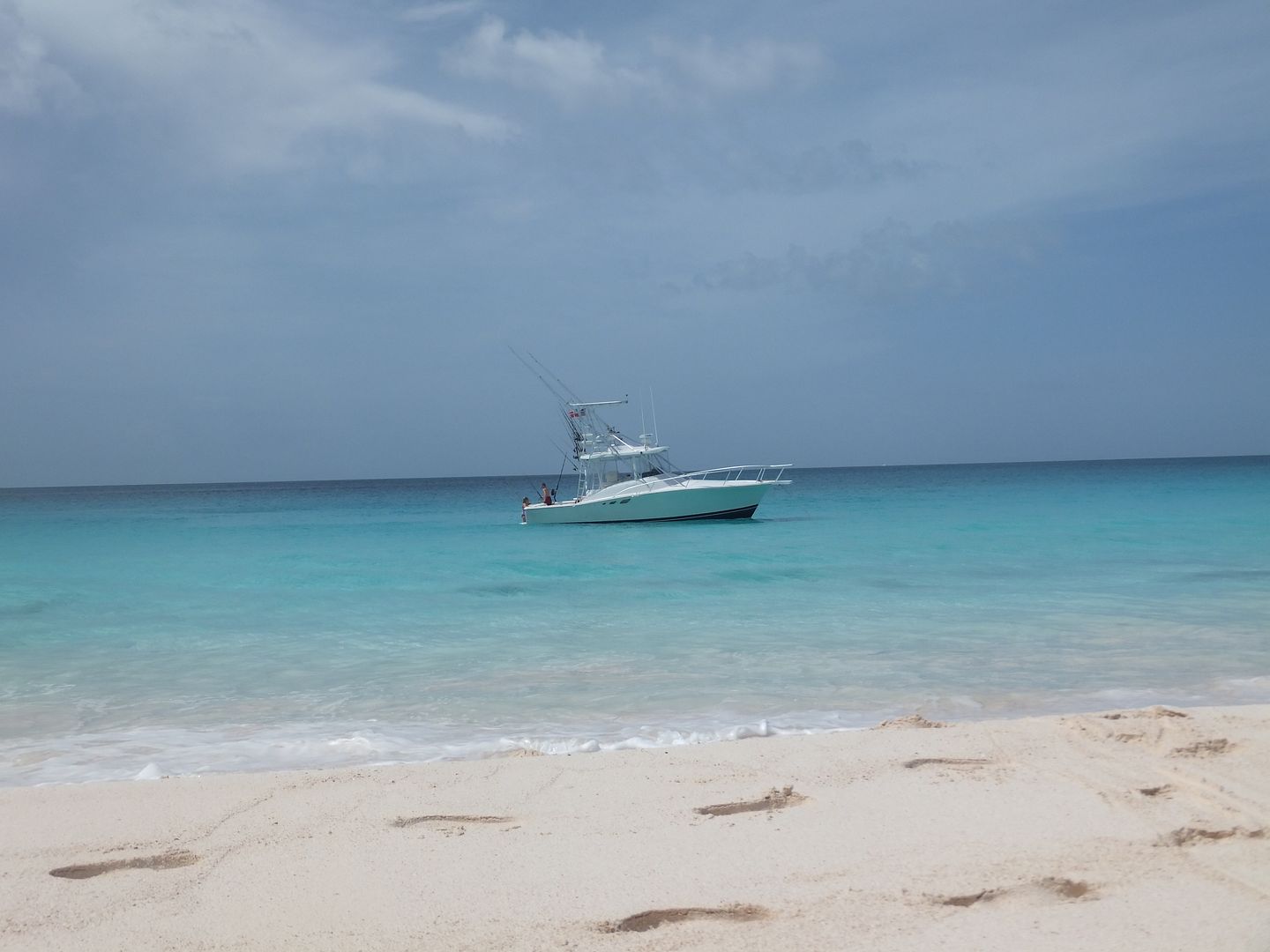 So Nextlevel was kind enough to give us some numbers to a queen spot, one day we were out there and this Seavee comes trolling right up to us and passes less than 100' away, I see him reach over and hit his GPS. Really?? Over here?? Turns out I saw him docked at the big house on the point of White Sound as you come into the harbor on the left. I never ran into him, probably for the better.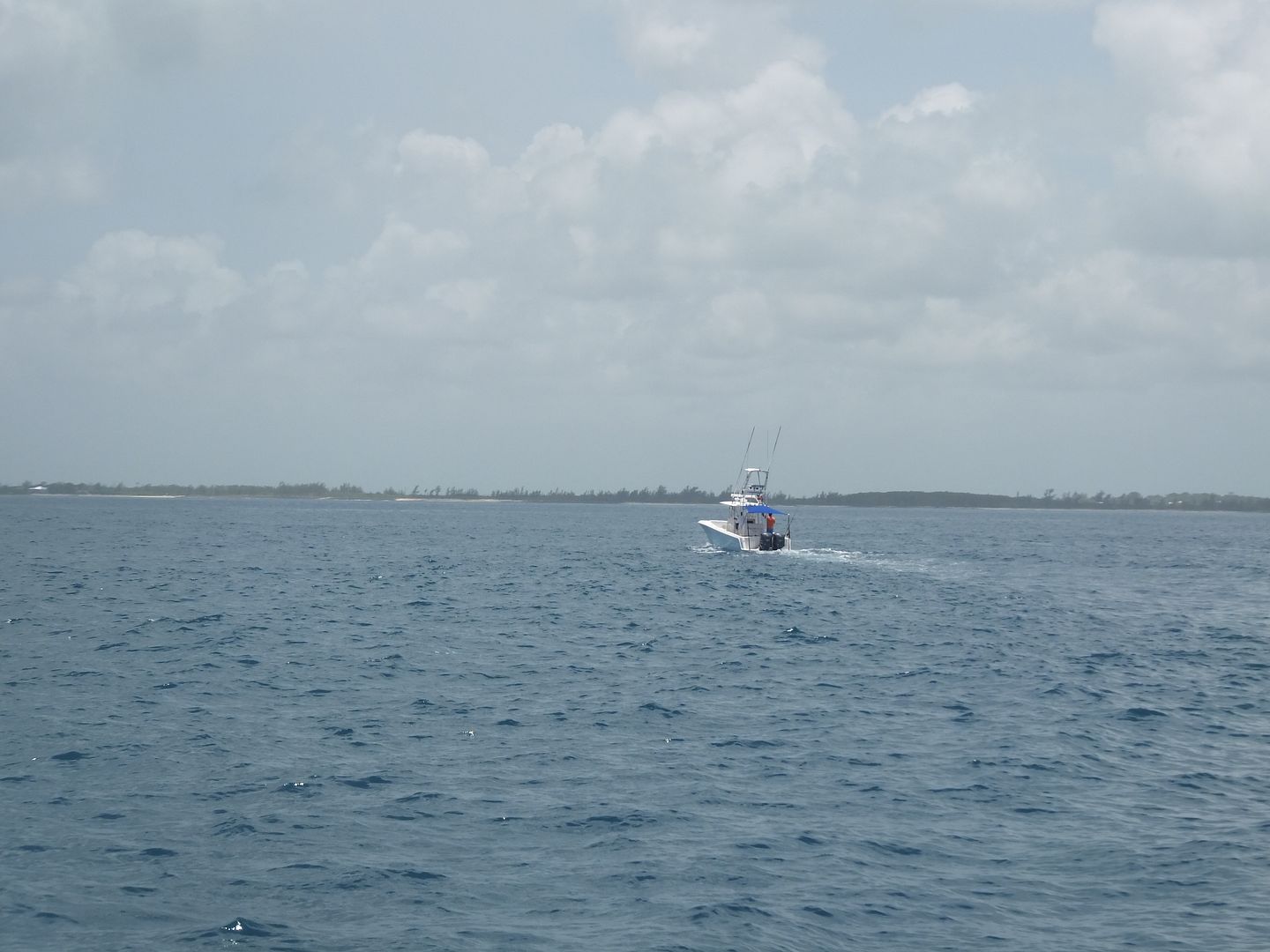 This was the only one we got at this spot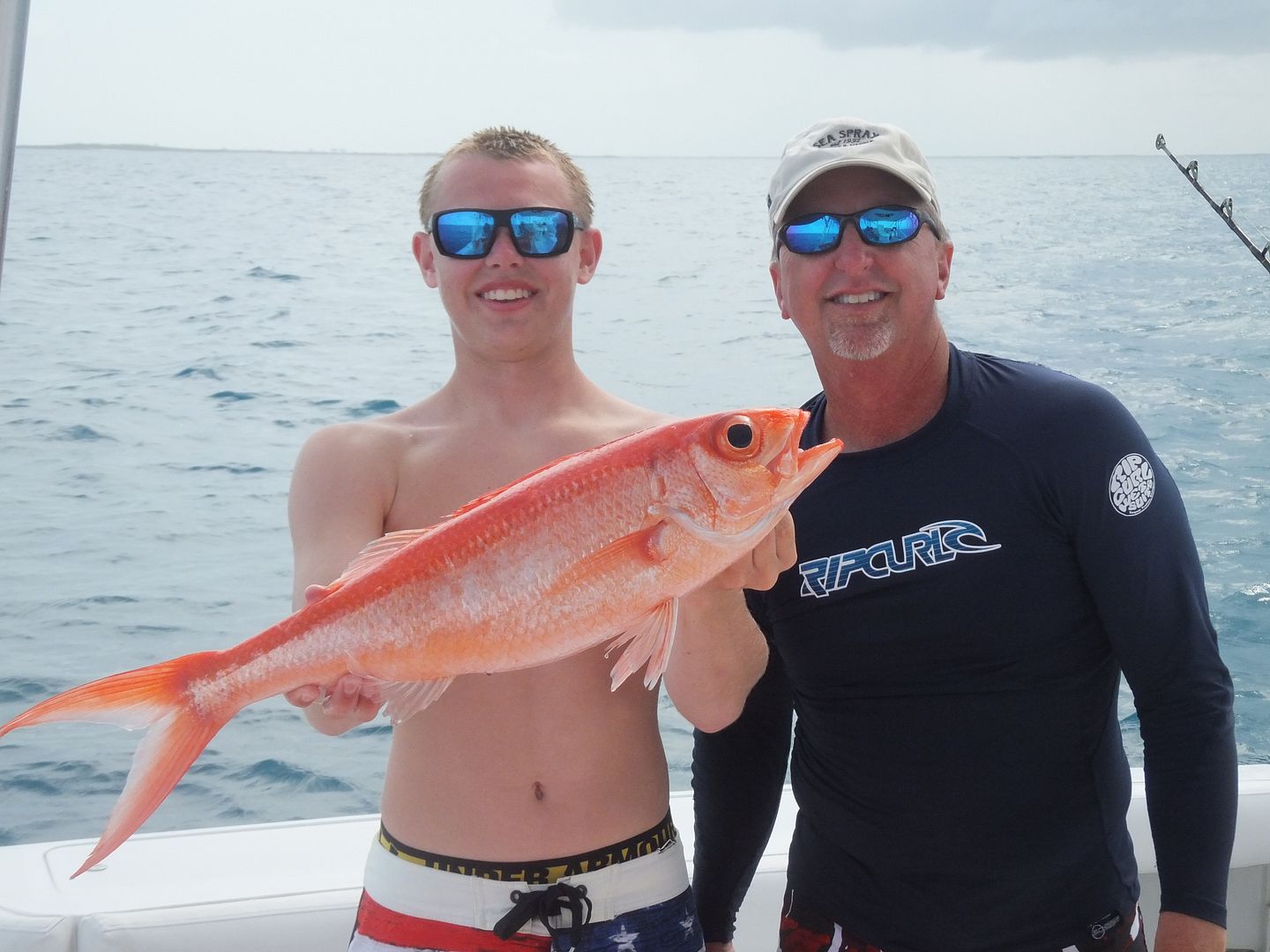 One day bottom fishing, one of the boys left a rod leaning against the gunnel with a bait in the water, all of a sudden Christi shouts the rod just went over! I look over the side and it is sinking out of sight, I jumped in and swam down about 10' and grabbed it. Despite a good rinse, it wouldn't work the rest of the trip.
double header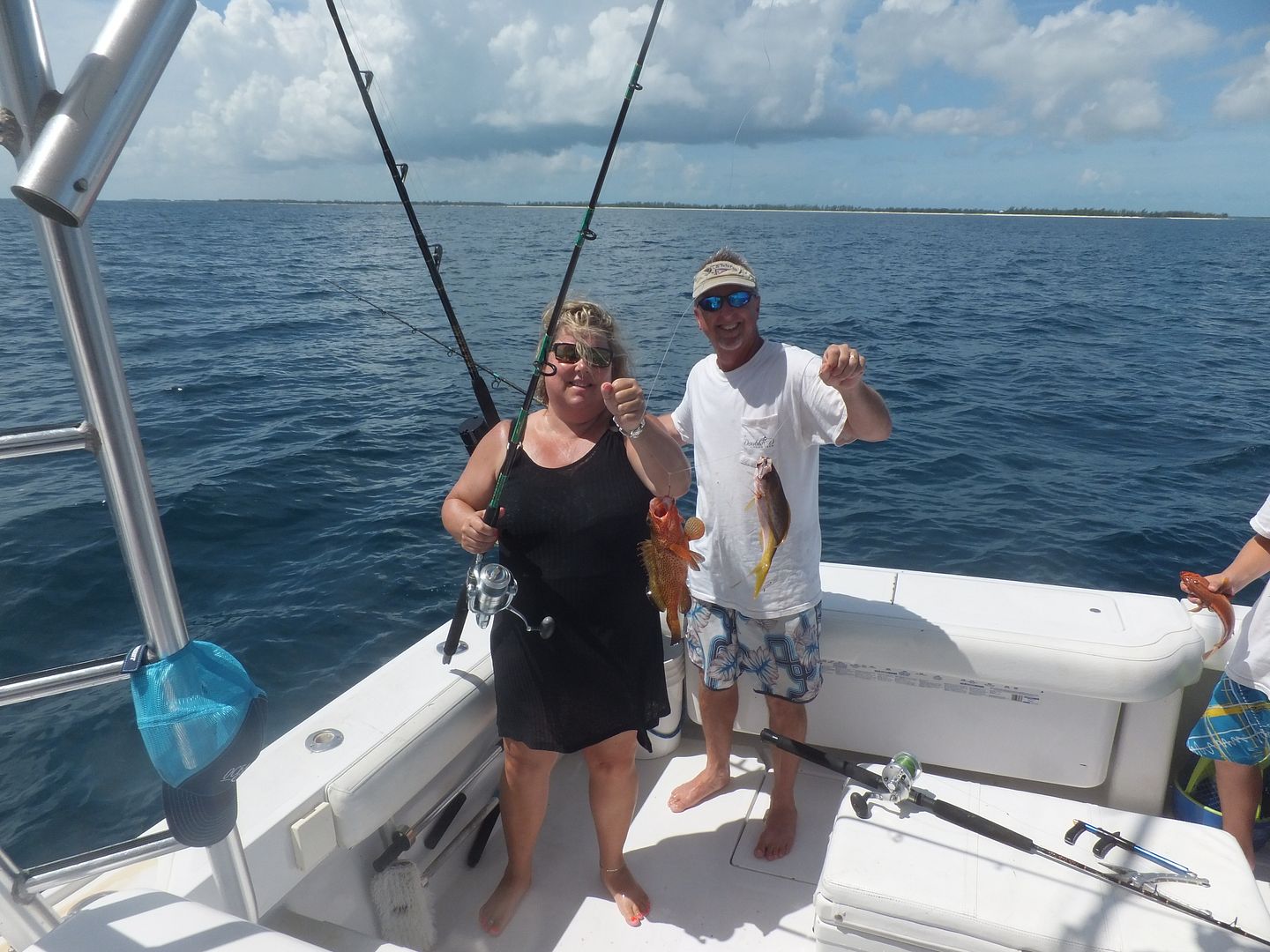 not quite big enough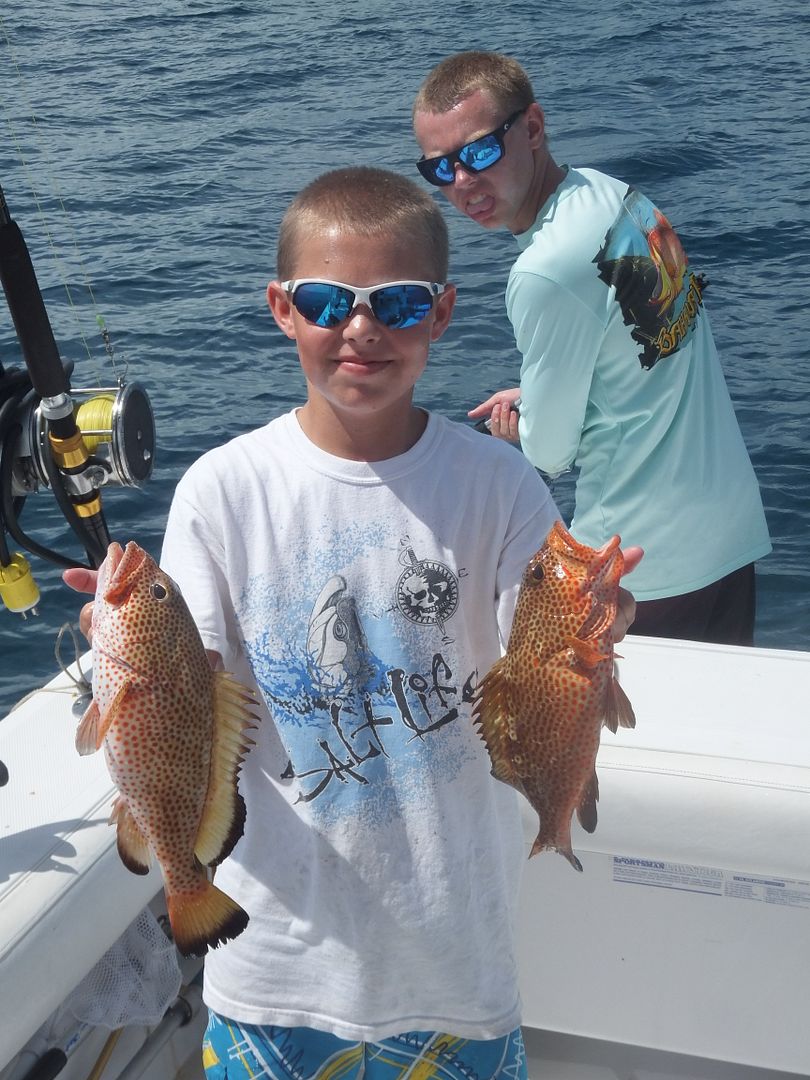 a nice surprise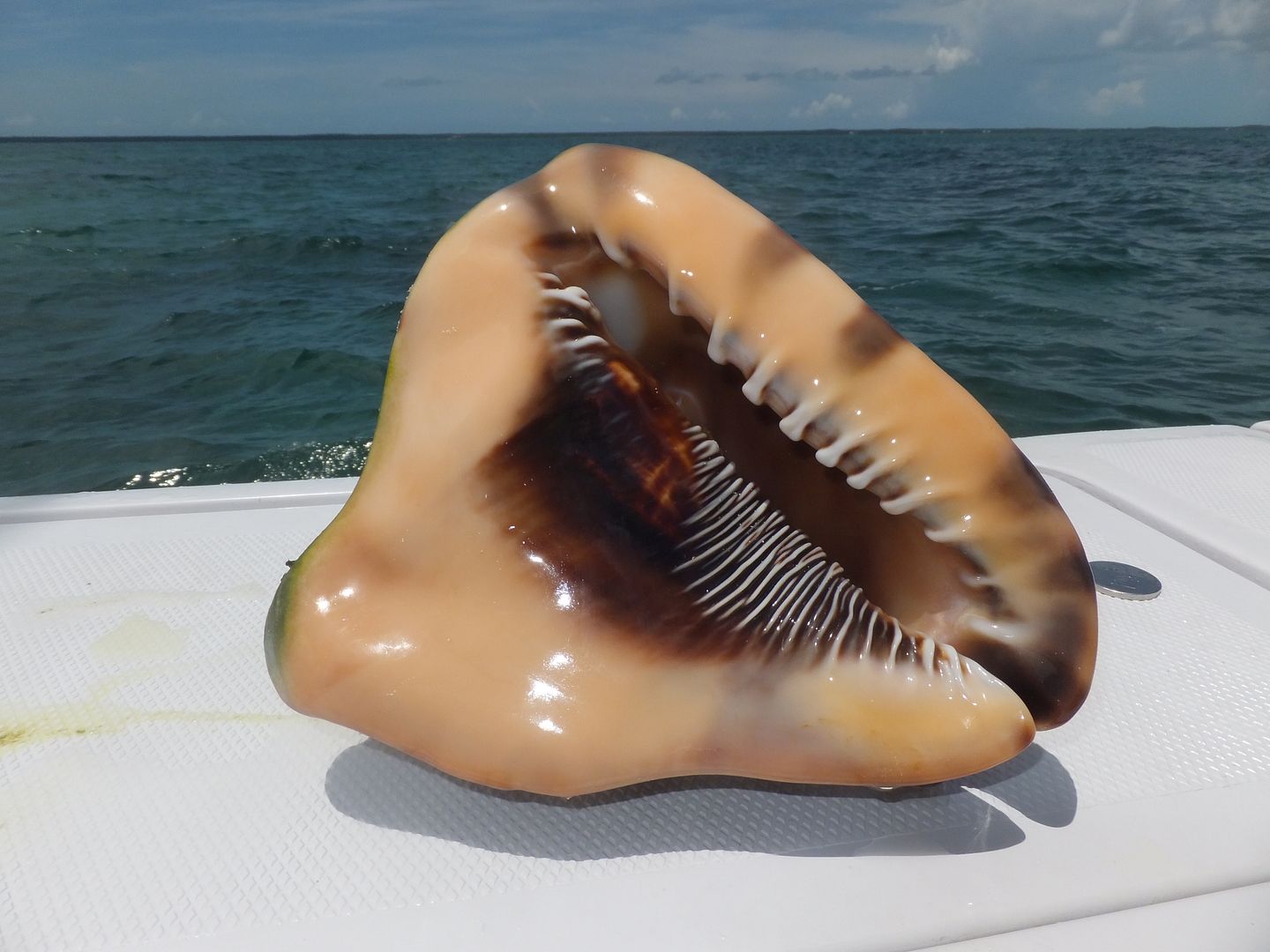 One of our favorite anchorages, North end of Manjack. The boys gave several of the sharks there lip piercings.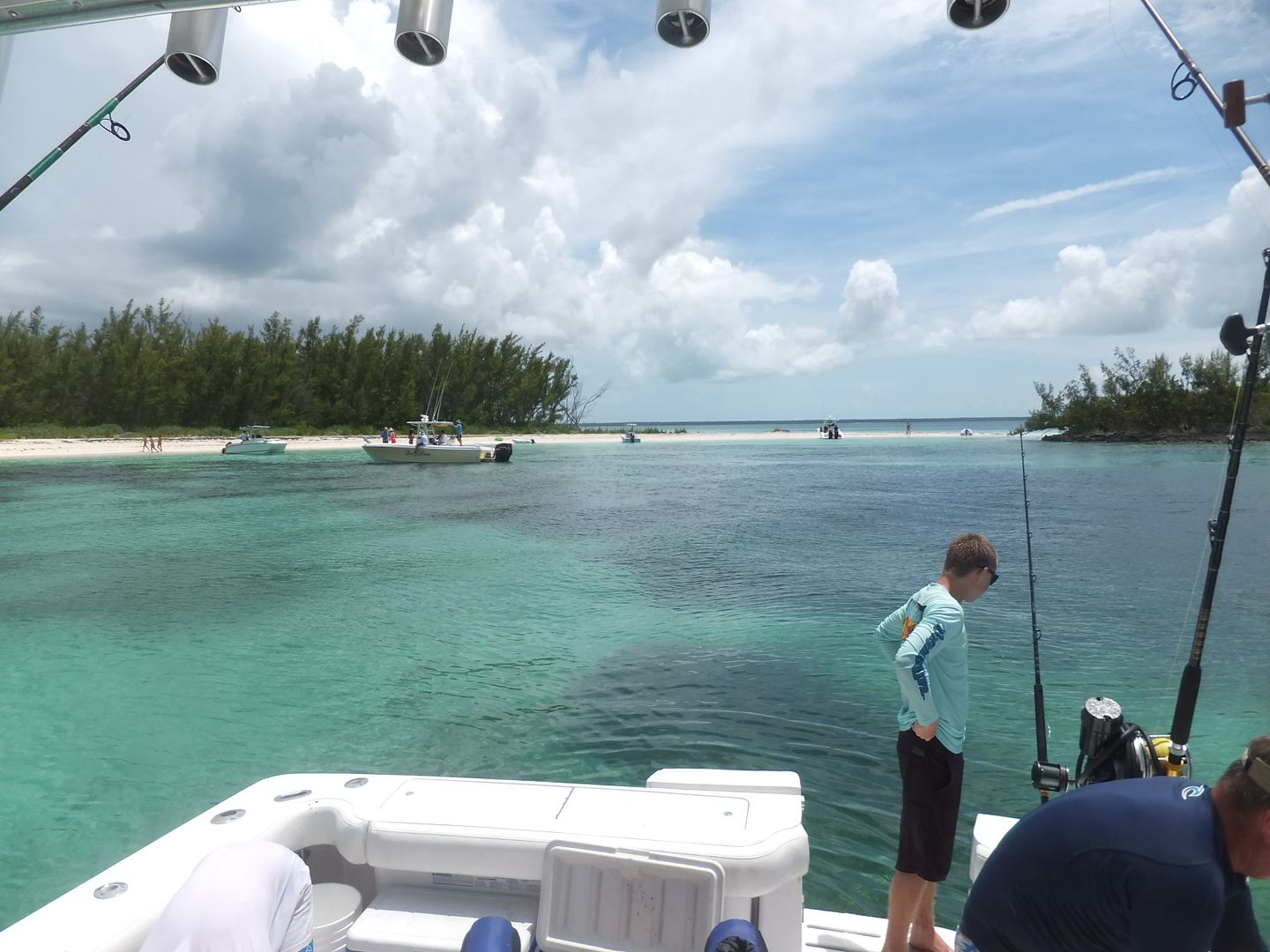 Jack really wanted to shoot a grouper this trip and he delivered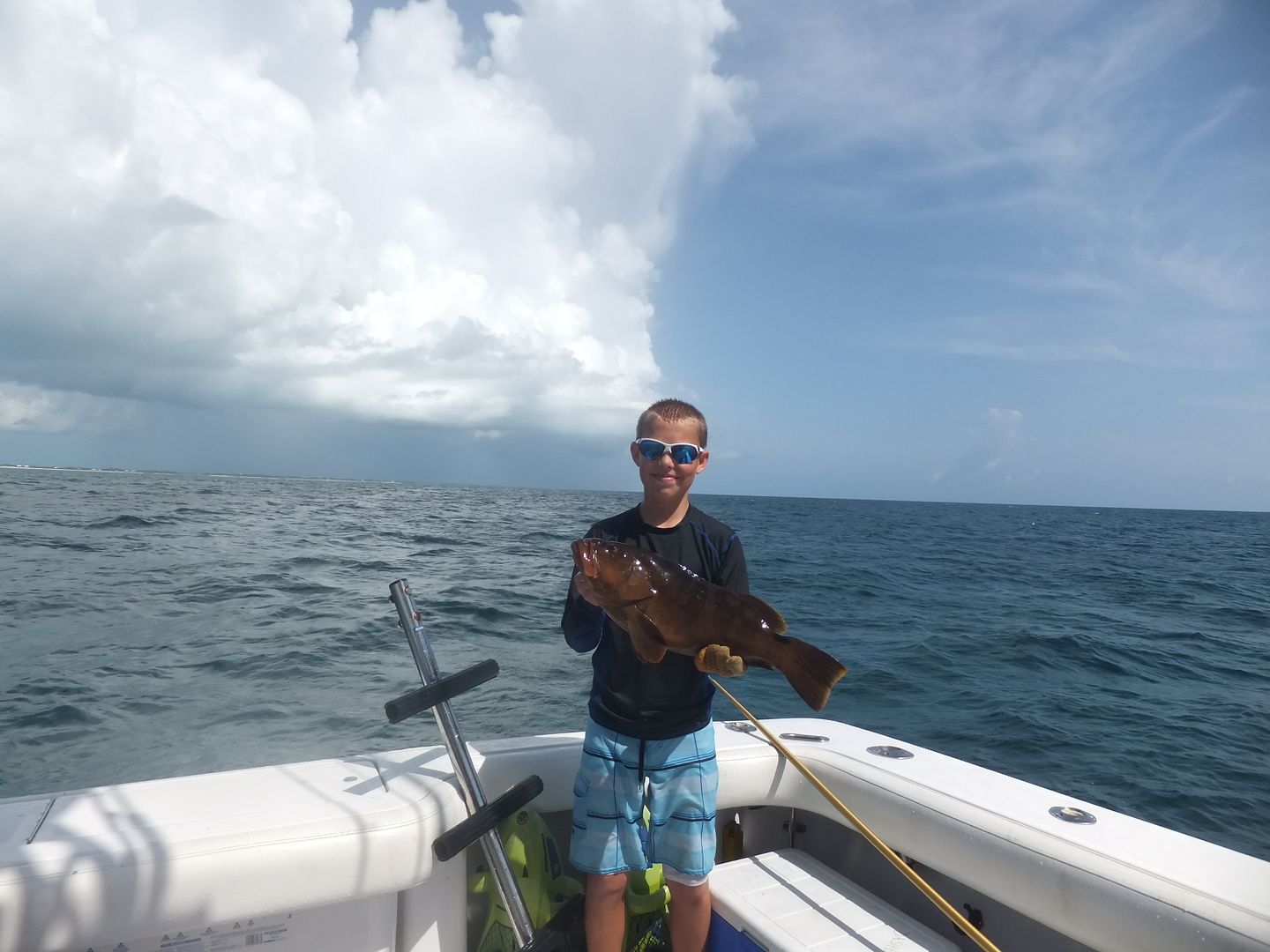 He talked me into a hawaiin sling in Marsh, that thing is alot harder than it looks as I have about 35 years experience with a pole spear but I managed this nice dog snapper with it, good thing I stoned him as I'm sure he would have disappeared into a cave if I hadn't
We found a good yellow eye spot through blind luck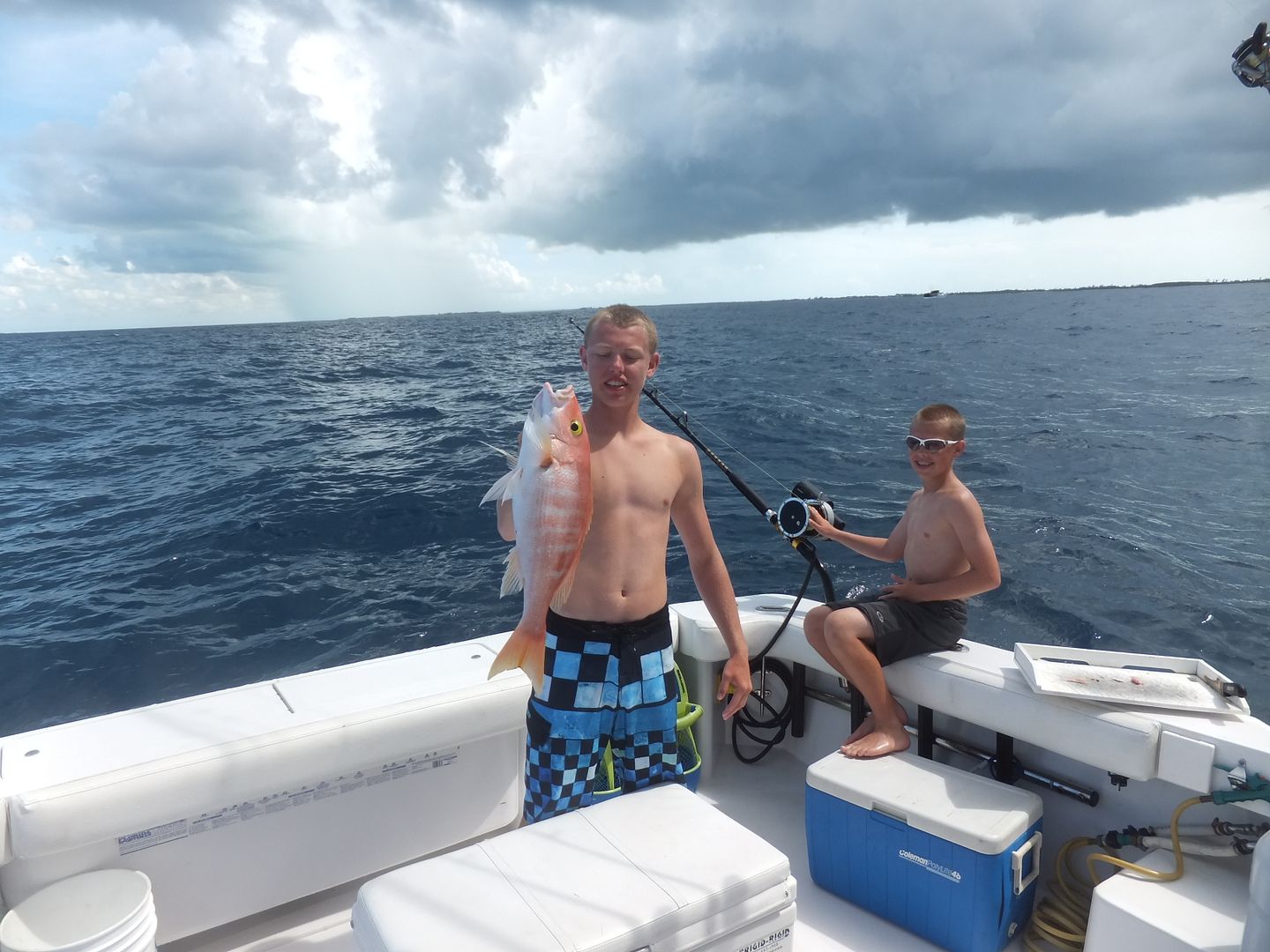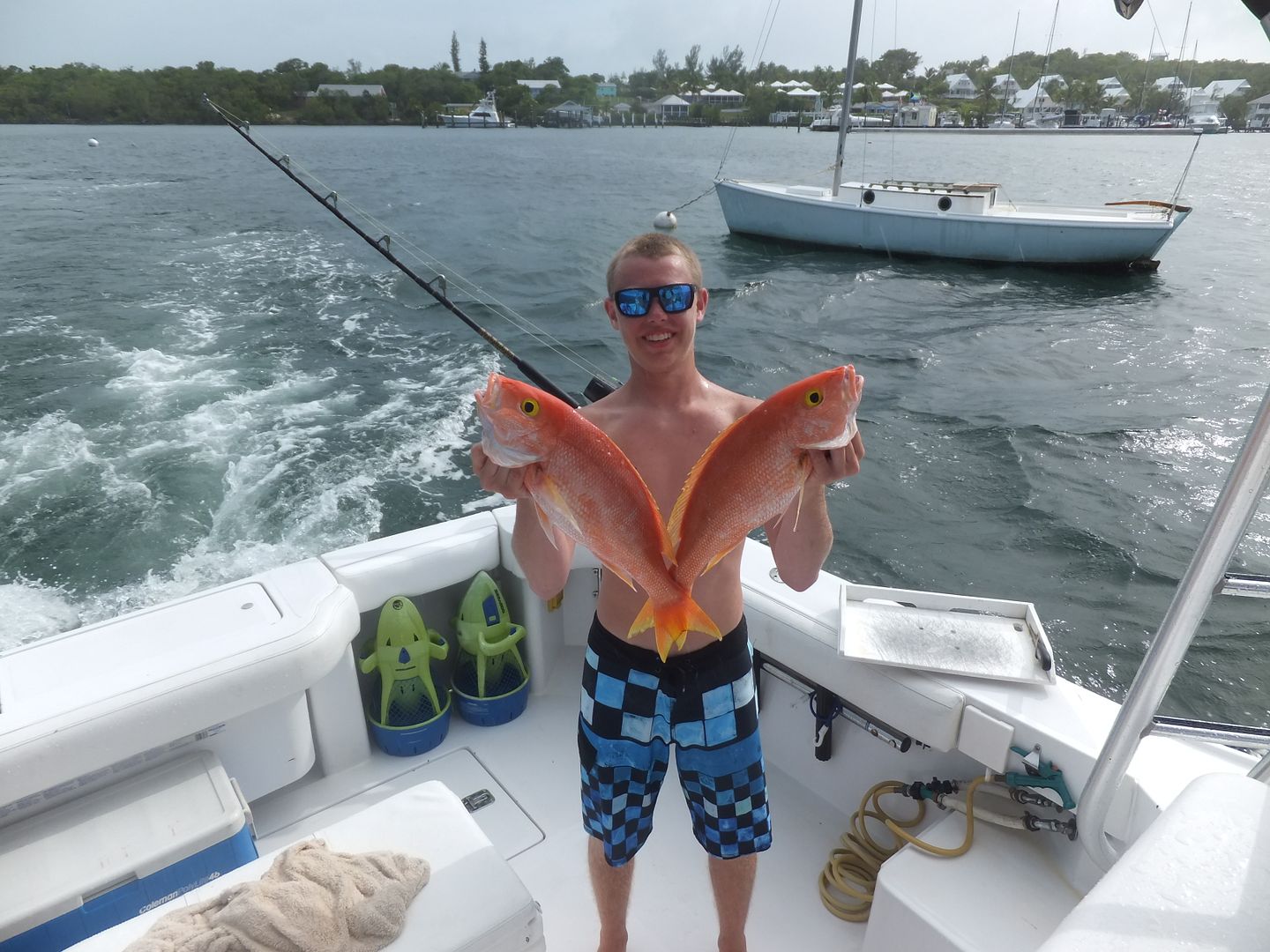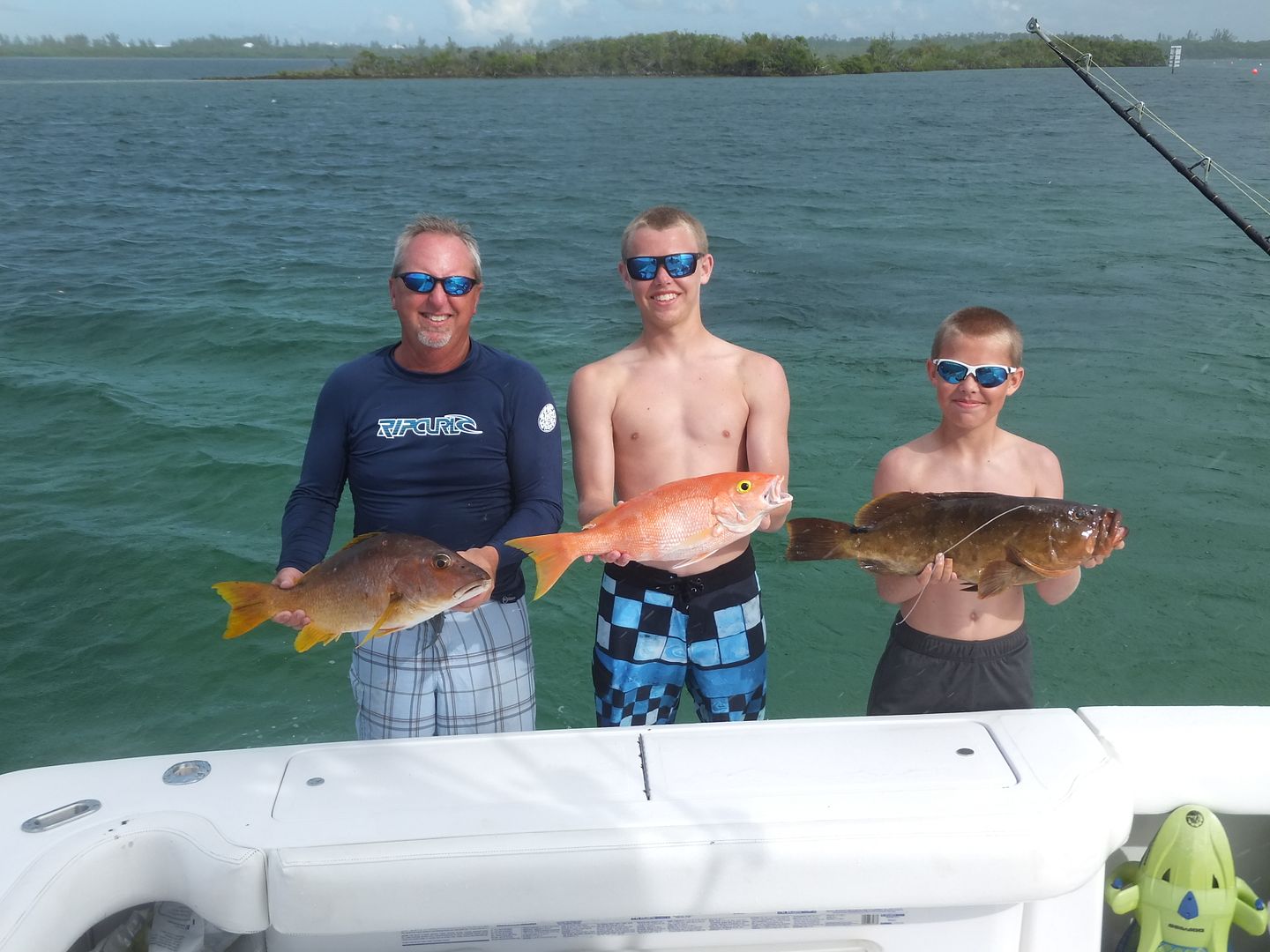 our dollar from last trips got covered over so we had to start a new one, on the ceiling to the right of the bar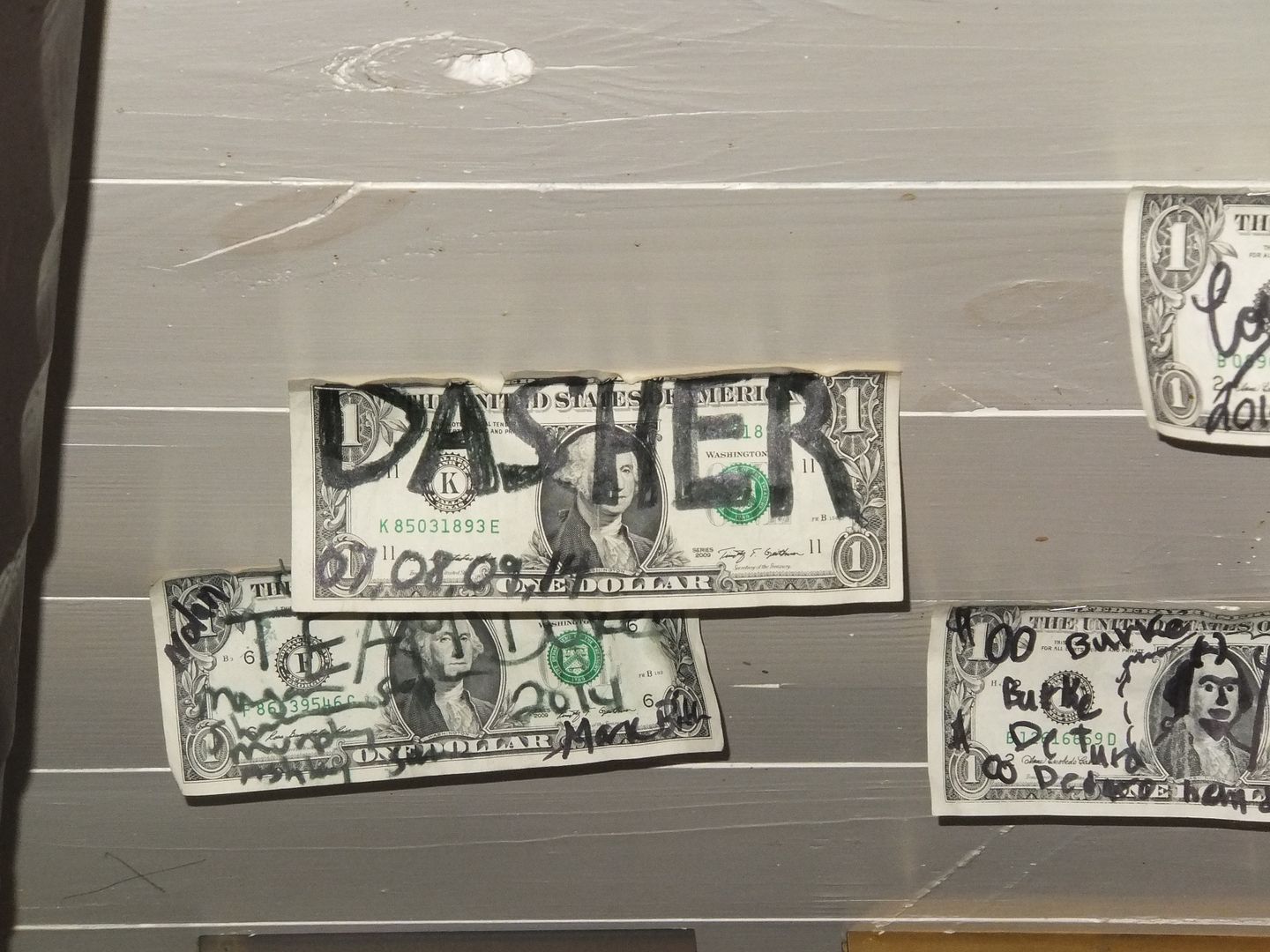 The great Miss Debbie, she also remembered the boys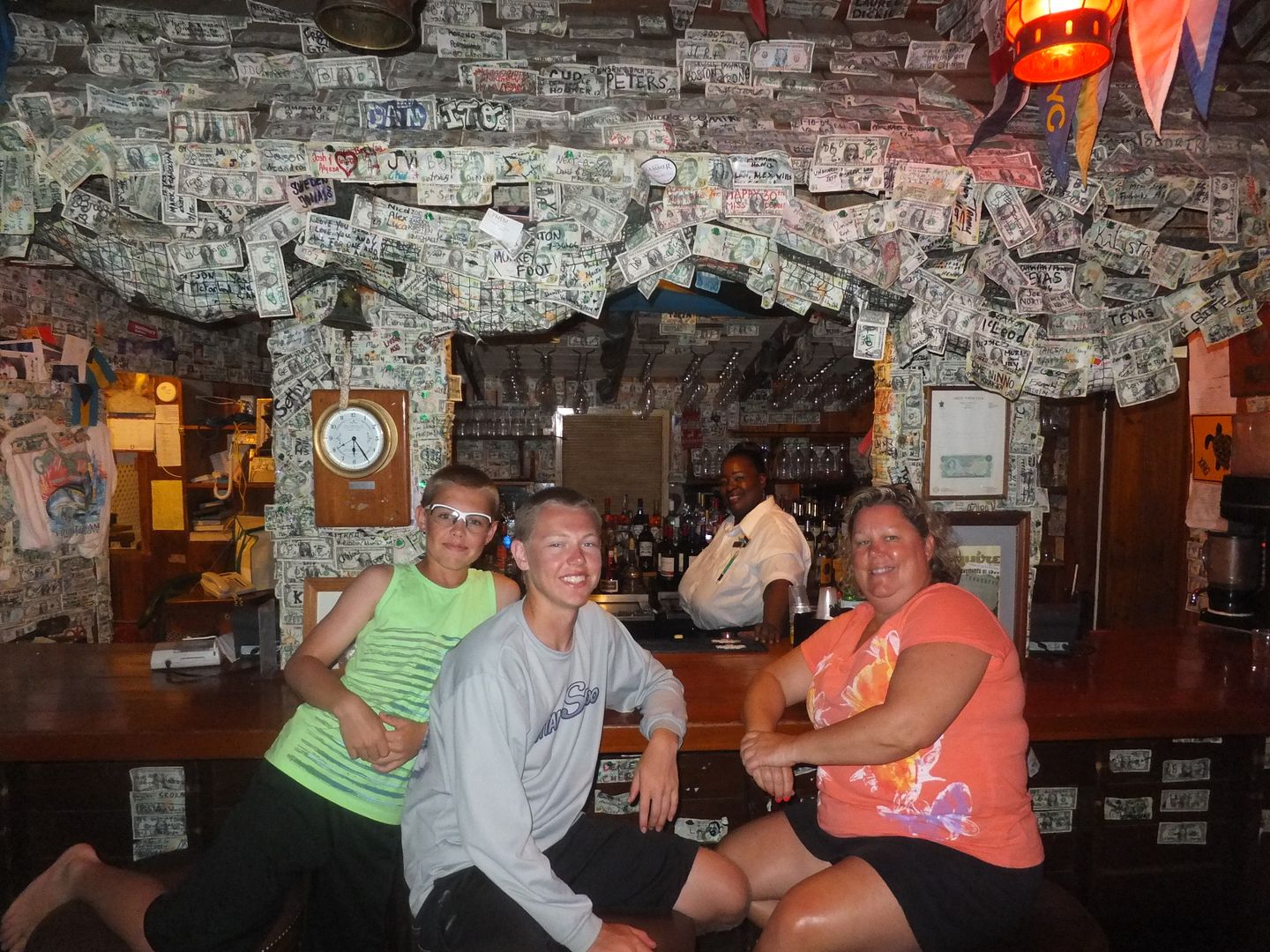 Some nice conch, had to work alot harder than I expected for the good ones. Yes, we were picking the best shells and released the rest.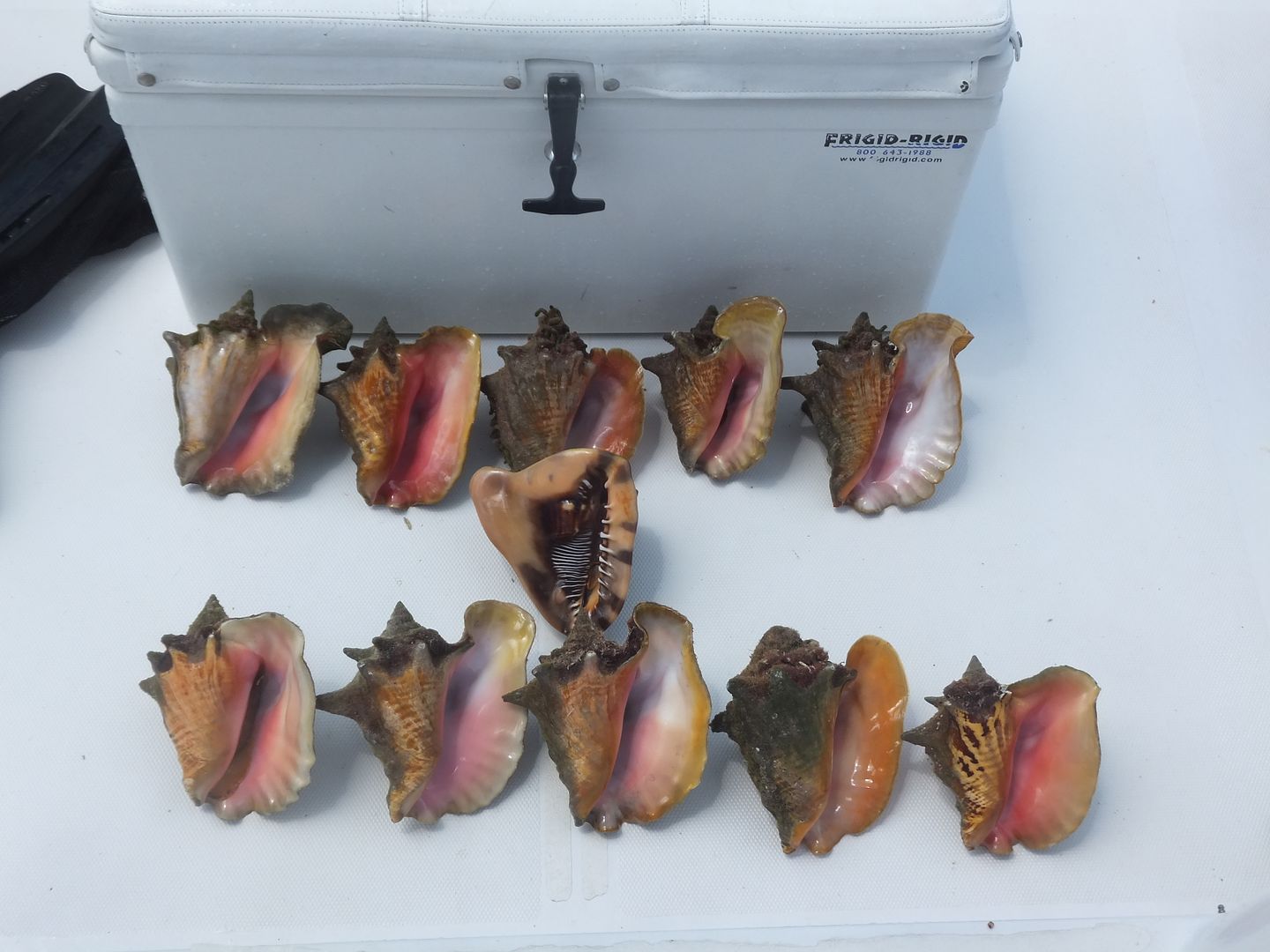 Jack, fishing every minute, rain or shine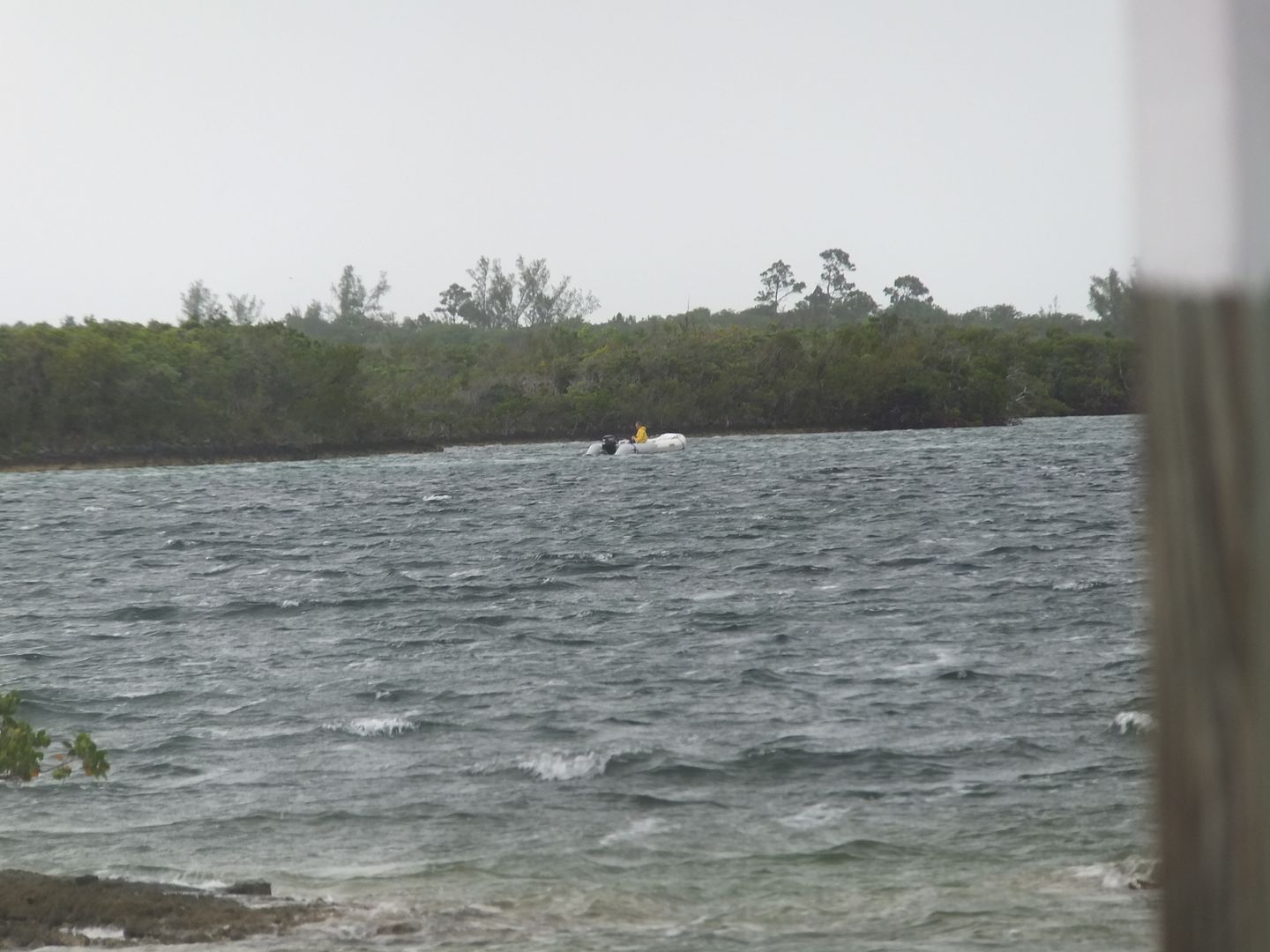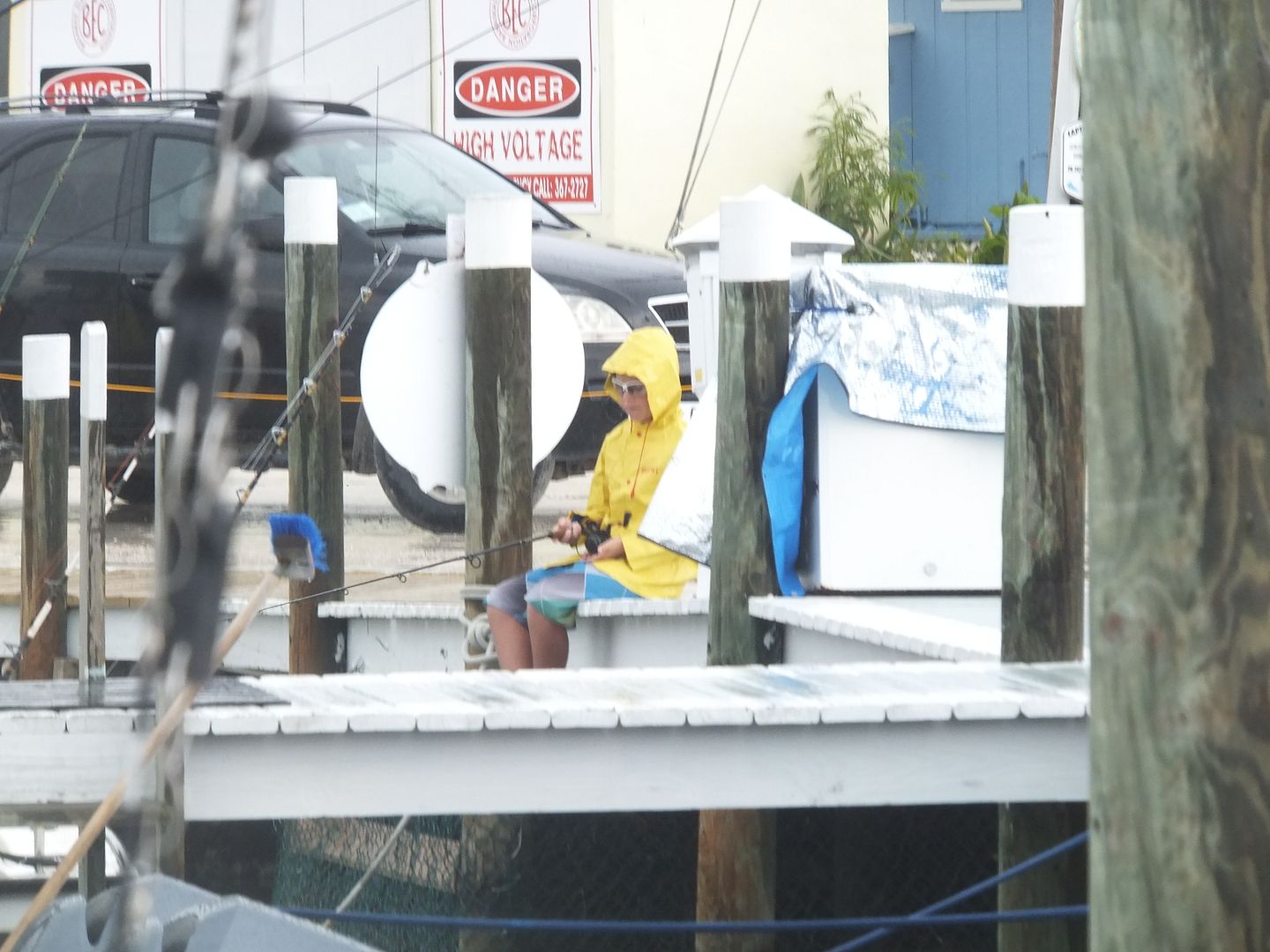 a nice days catch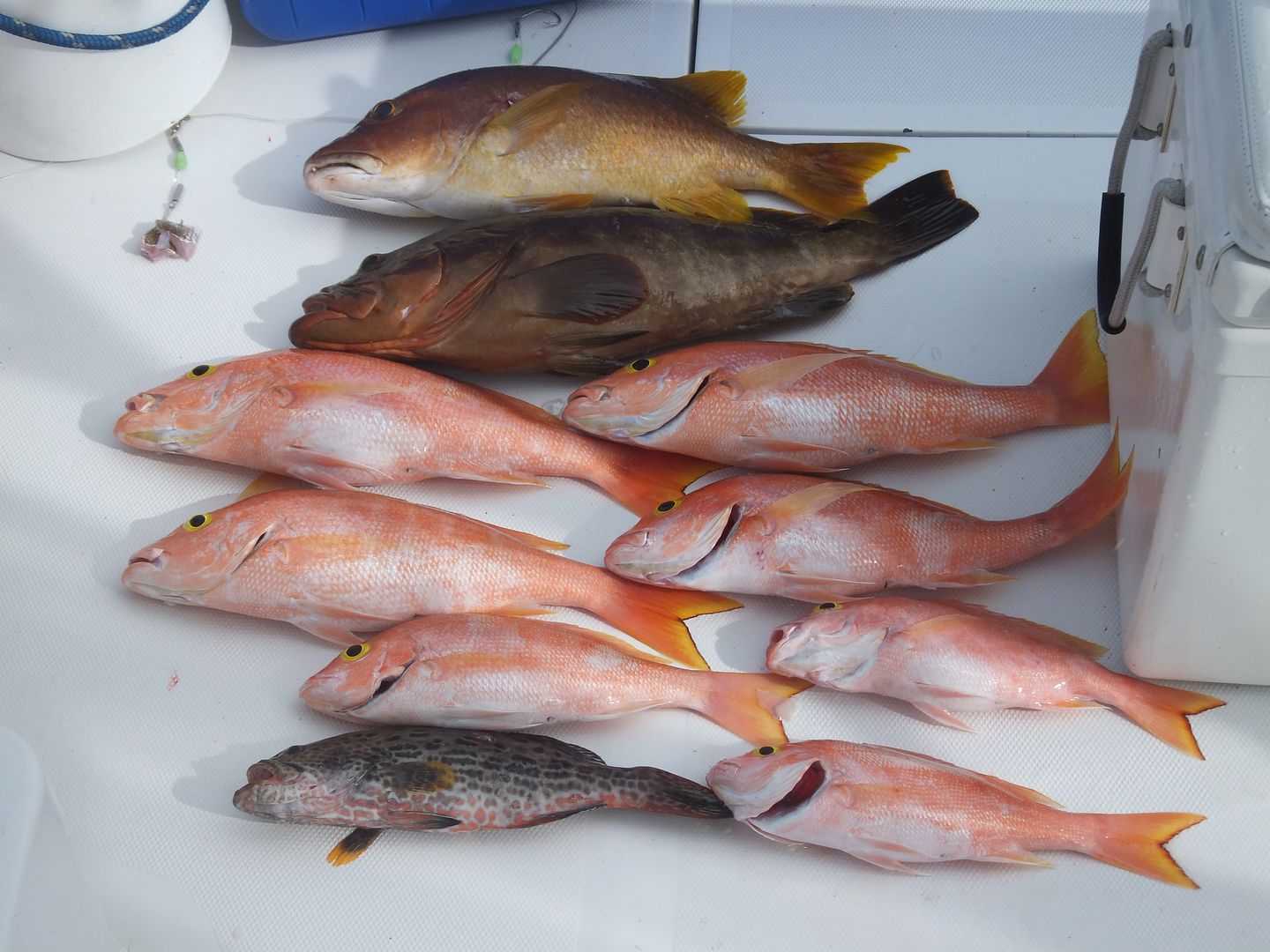 there always seems to be some incident on every trip, this one was all mine. We worked our way out front of Ambrigis Cay on the inside of the outer reef. We were anchored up in about 25' right next to a patch reef that comes almost to the surface. We all were diving when a 5' reef shark showed up. Usually, they just keep going but this one kept coming around. He wouldn't leave so we finally headed back to the boat as I wasn't going to spear a fish with him around. By the time we got back to the boat, the sun had disappeared and the sky was dark. I picked up the anchor and slowly motored away from the reef into what I thought was deep water where I just came from. Suddenly I felt and heard an awful thump or two. Looked over the side and we were onto of a reef!! Drifted off of it and jumped in to assess the damage. Port prop was ruined so we slowly motored back to GTC. Within an hour of being back, Phil, the local prop guy was on it swapping my spares. You do have spares, don't you?? He only wanted $125 to change props, I gladly gave him $150. I've been taking my own boat to the islands for almost 20 years and never hit bottom once. Just goes to show, you can't be too careful and good light really makes a huge difference.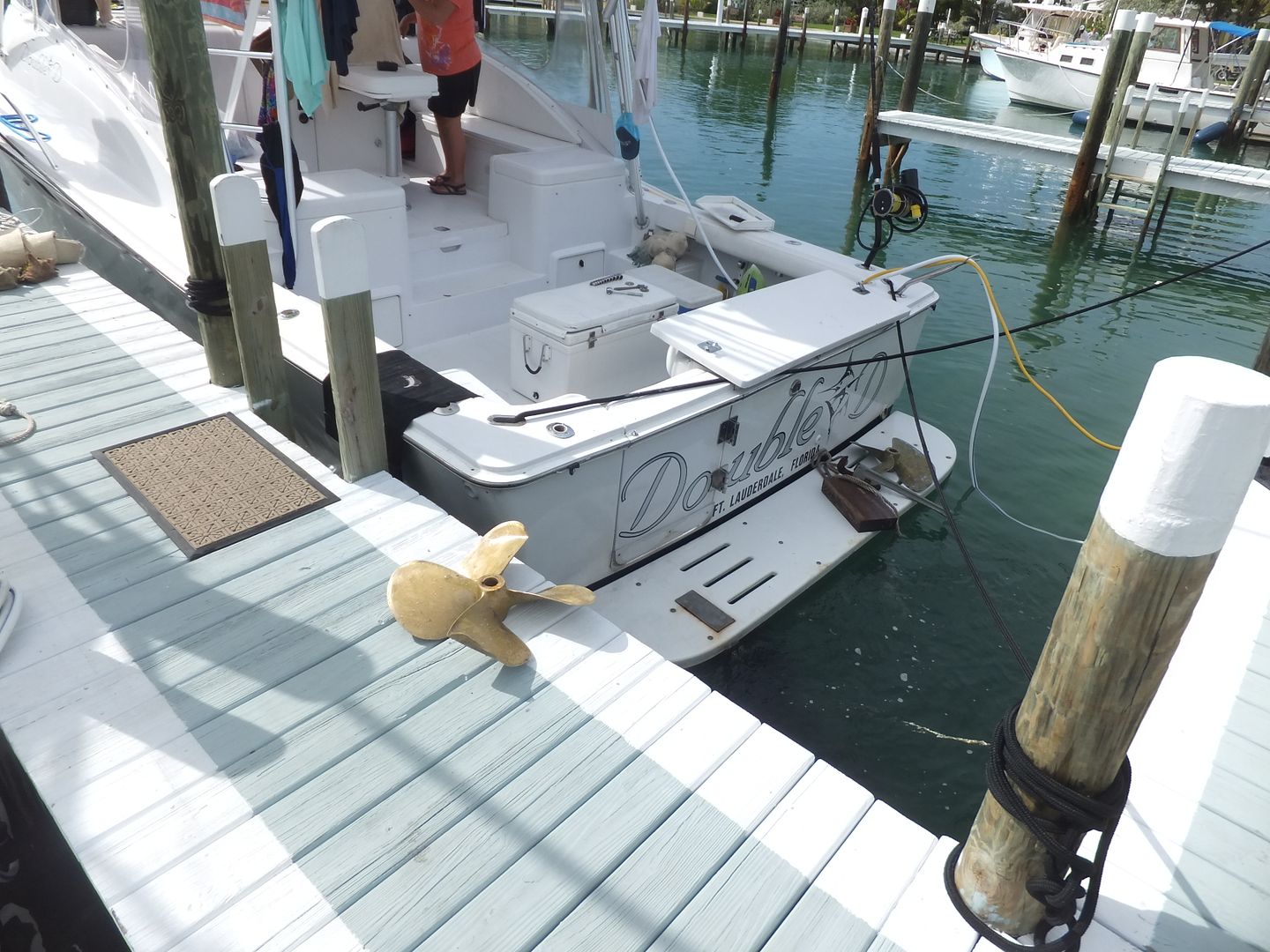 We were regulars at this place, almost every night we would head into town. The four of us got ice cream for less than $12, not everything is more expensive over there.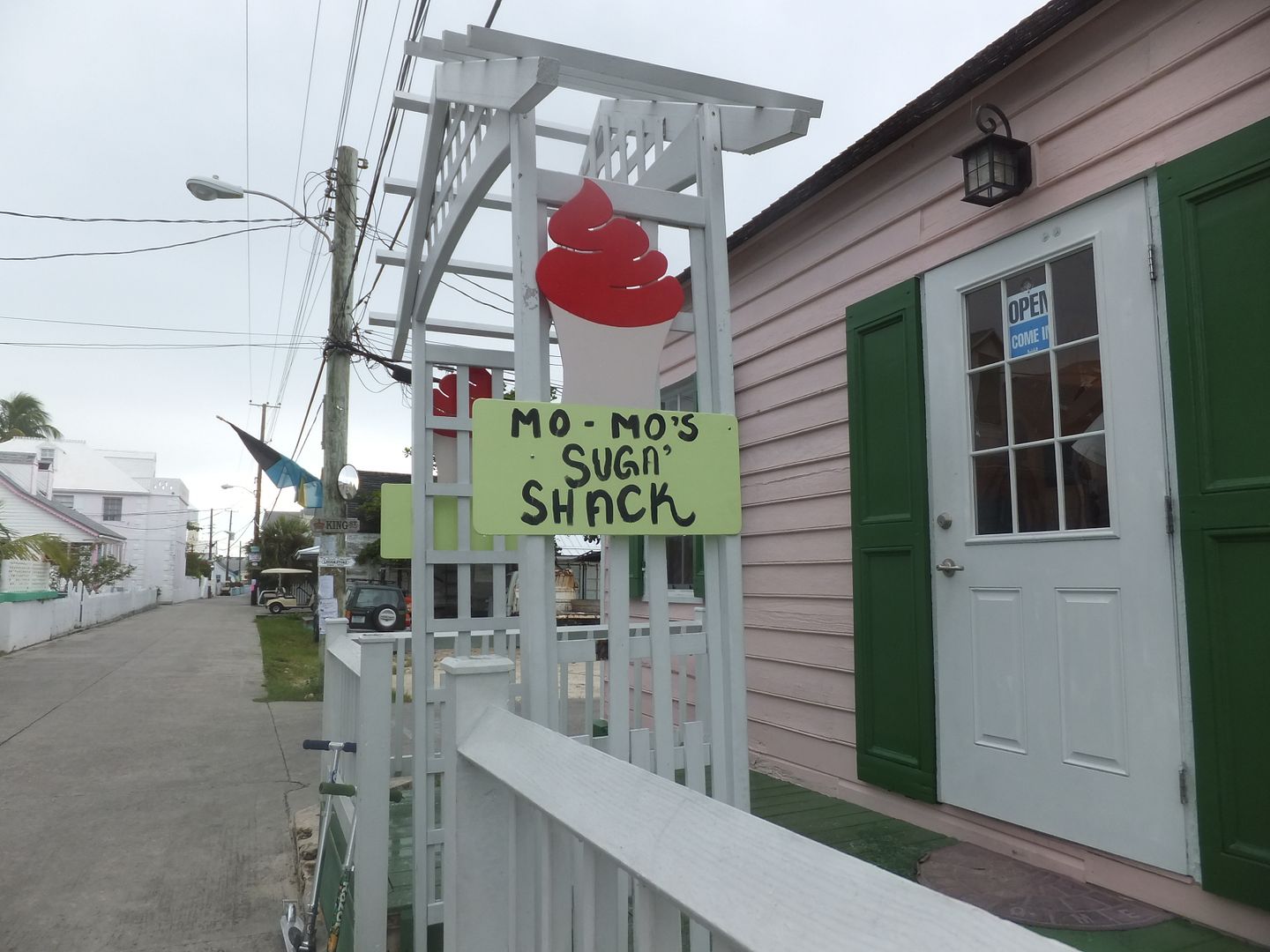 After a week or so, Paulboat and crew pulled in. It was alot of fun knowing so many people over there, almost all from the forum.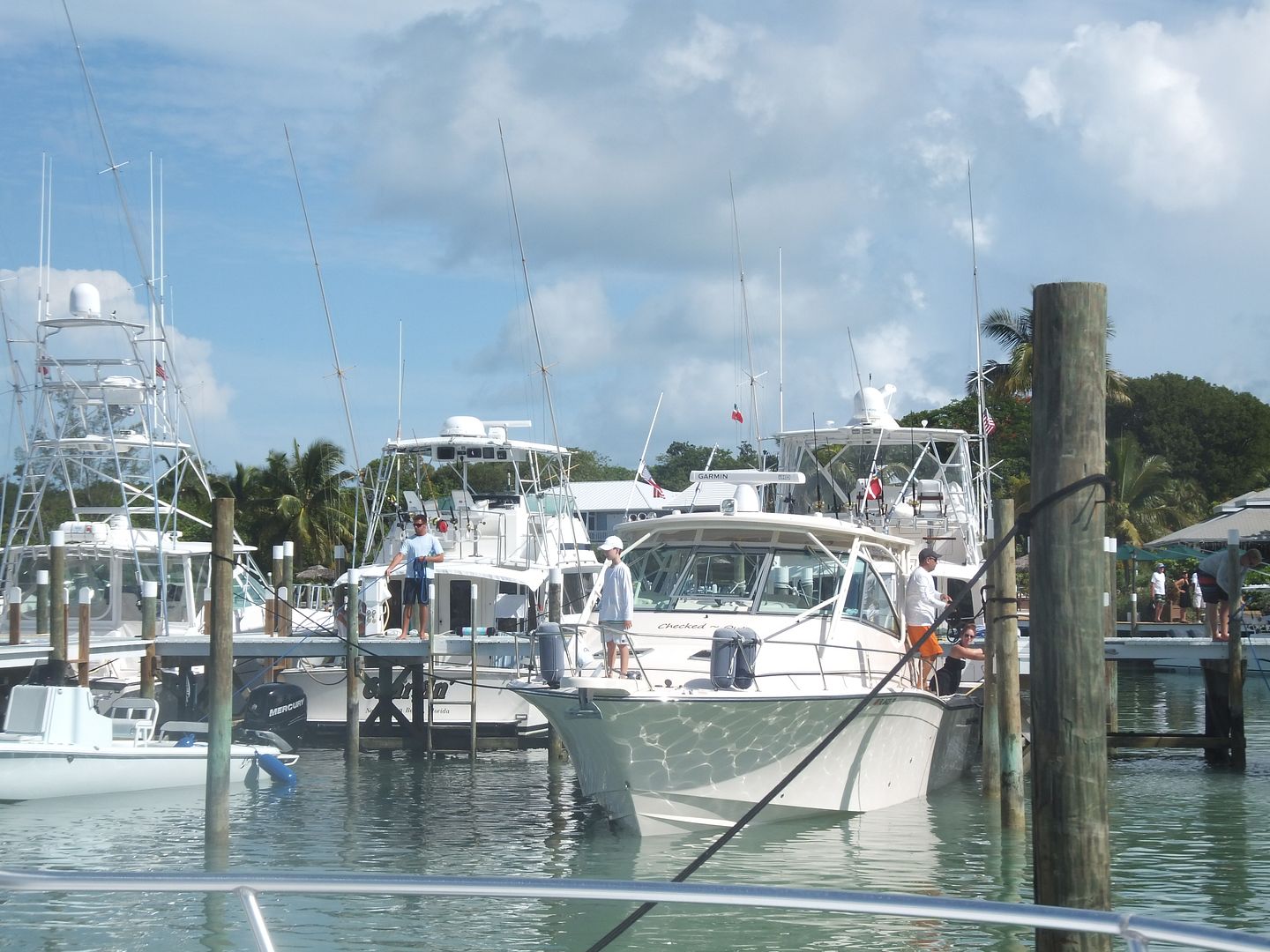 got a hot tip on a mutton spot but when we got there it was pouring, tide was against the wind so we were soaking conch off the bow. Muttons gave us no love that day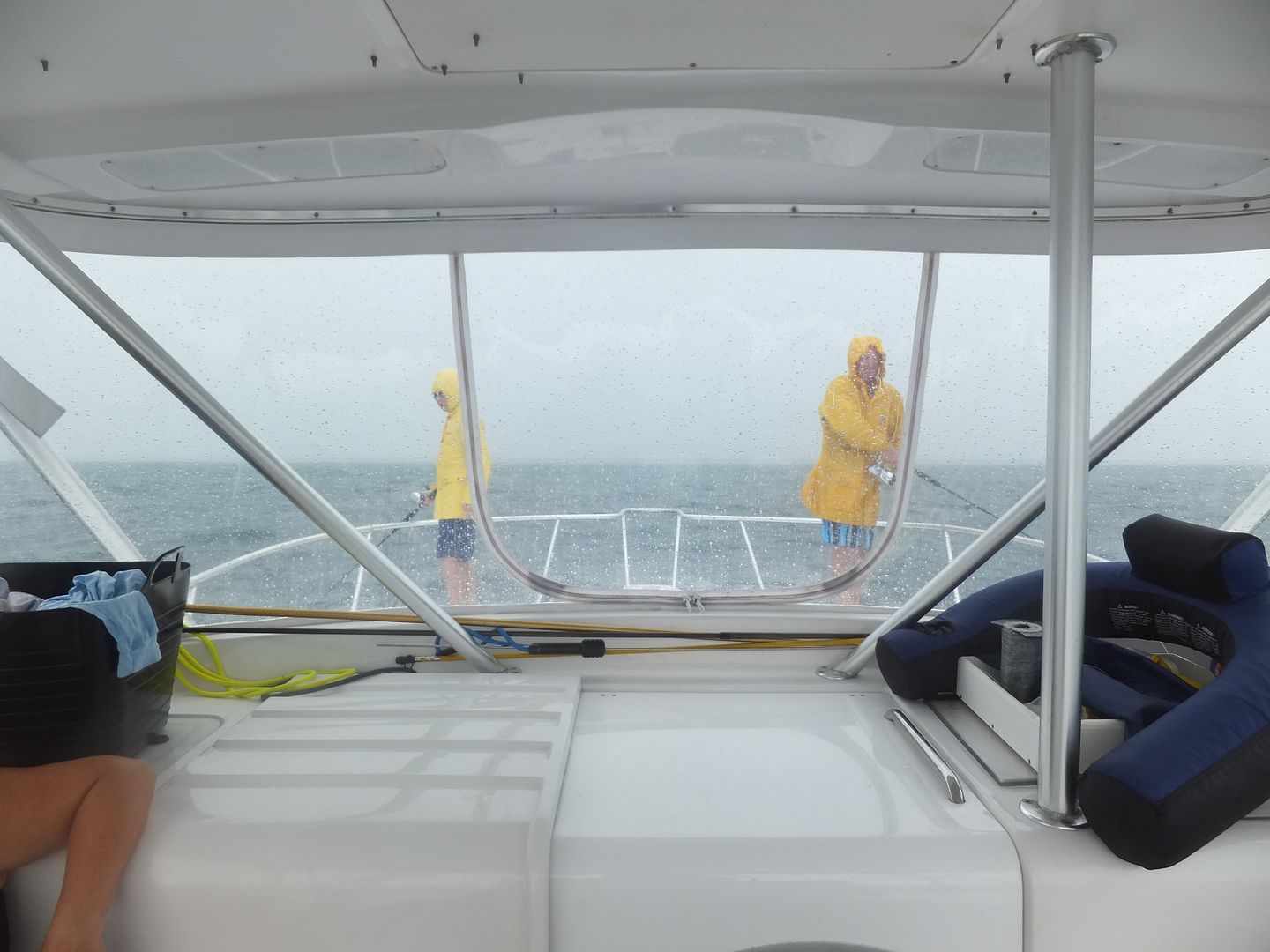 but the sharks did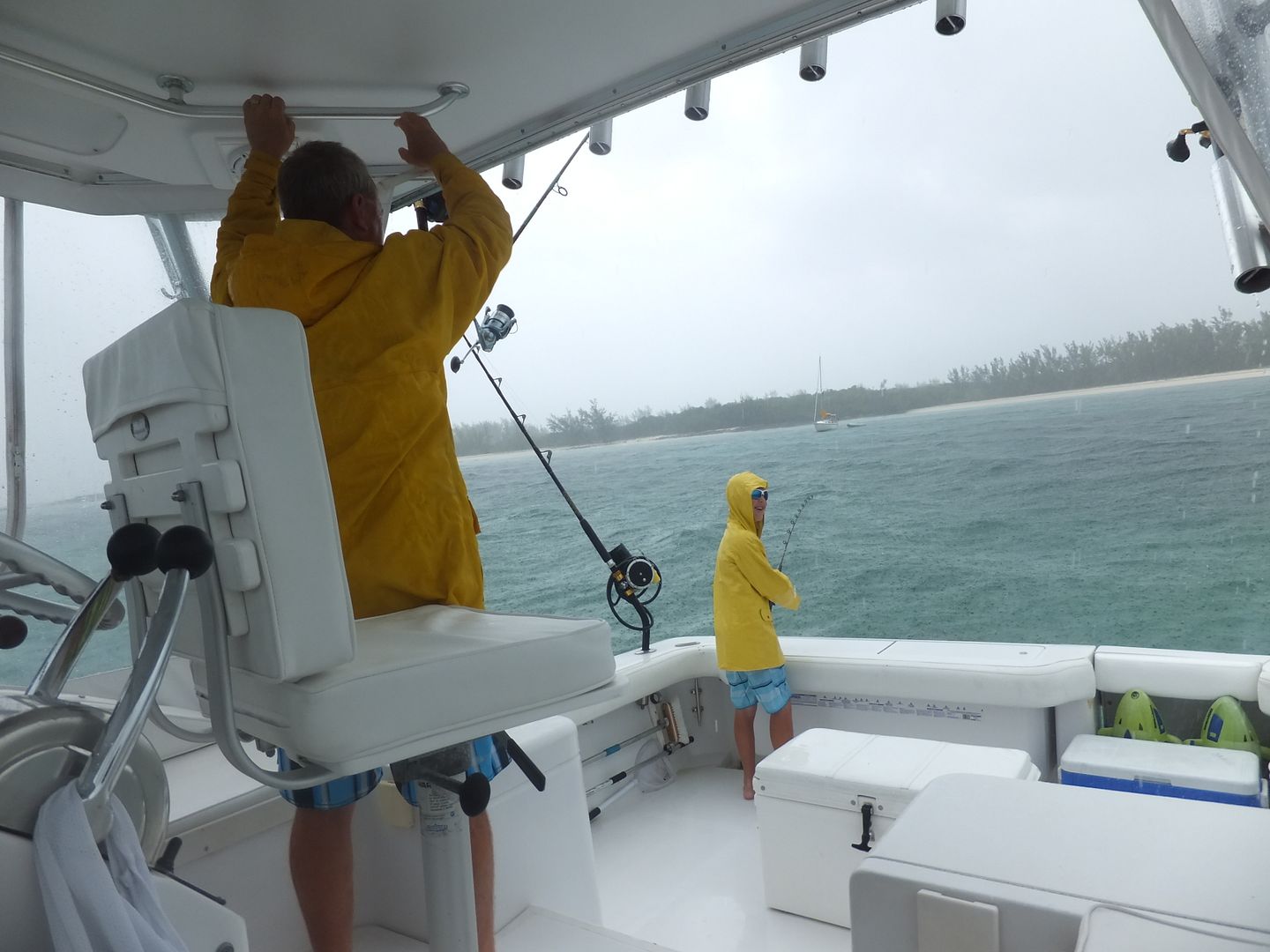 Green Turtle pigs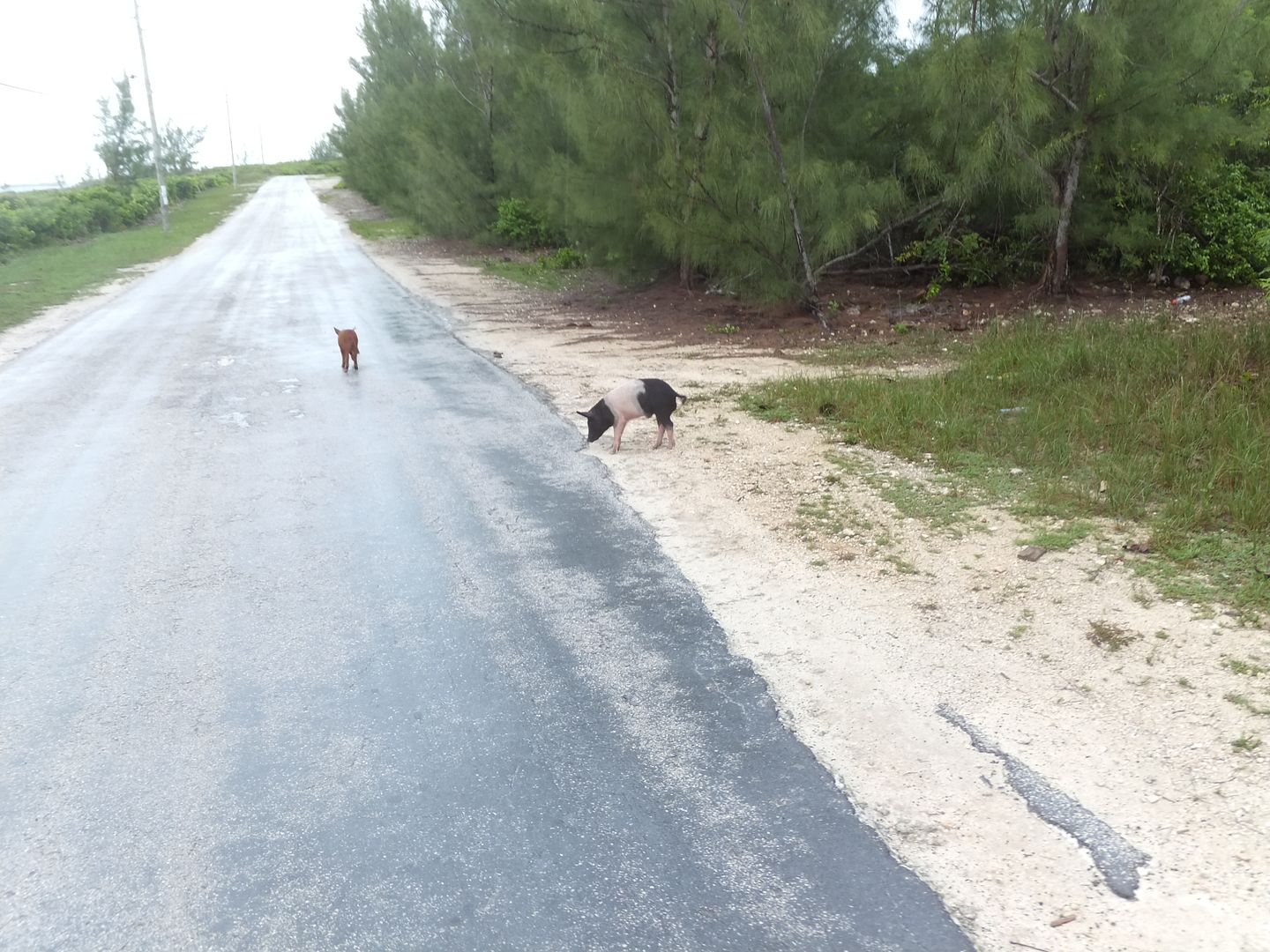 look into town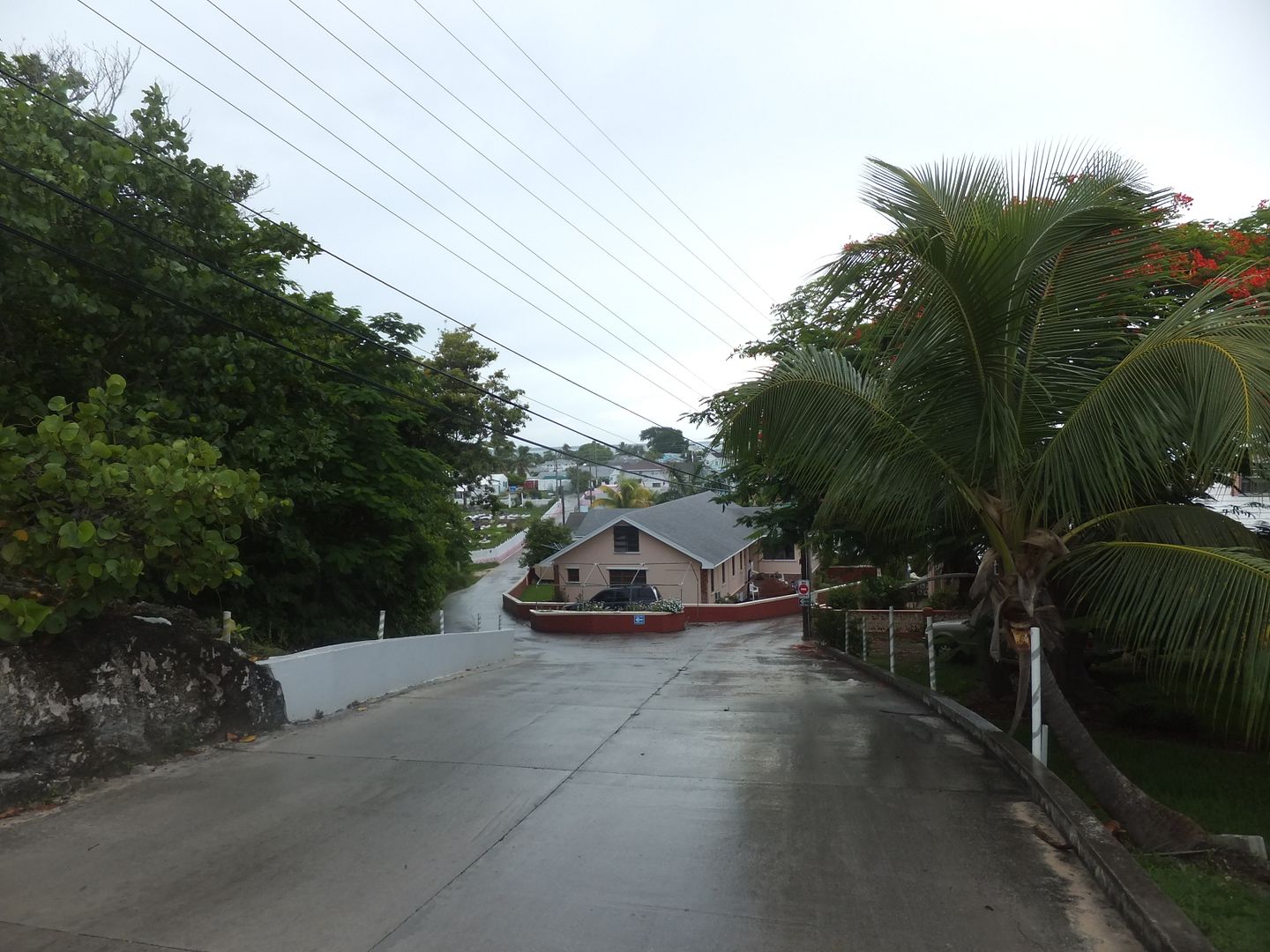 We cooked just about every night and ate fish every day except when we ate conch. Grilled grouper with Poblano peppers and onions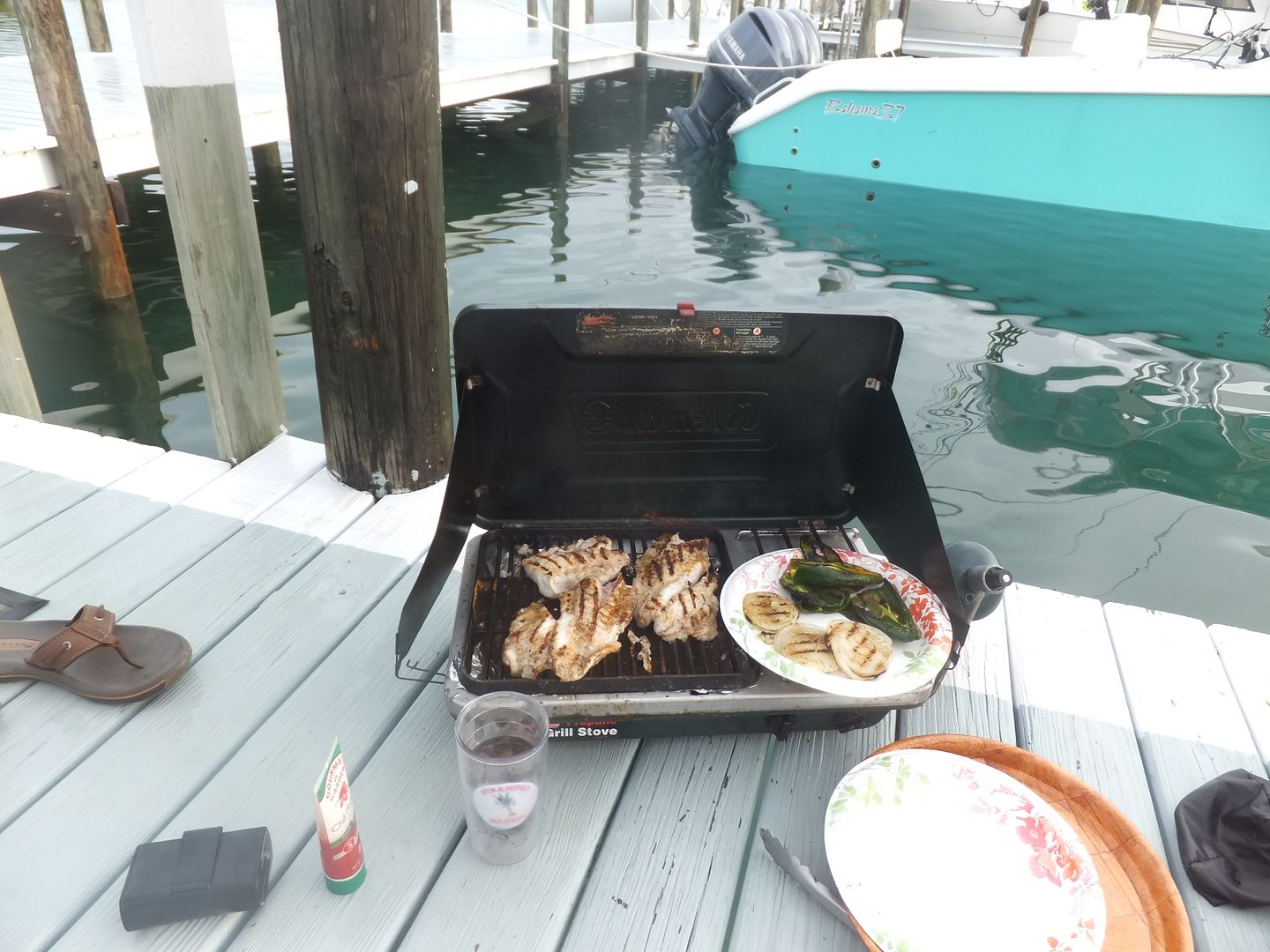 running shot of the Checked Out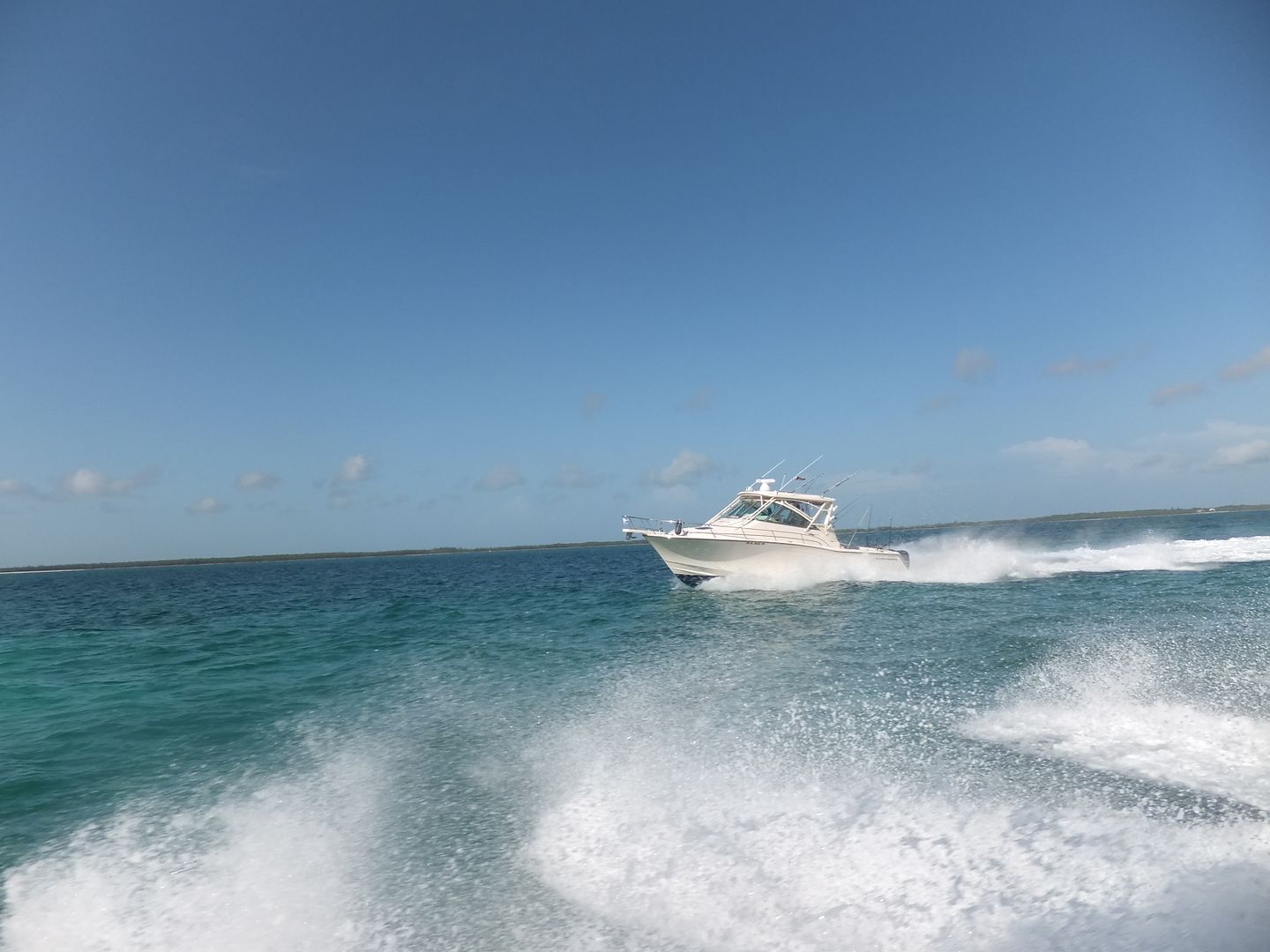 typical catch from the boys, they both got pretty good, Gregg getting to 25' and Jack to 20' consistently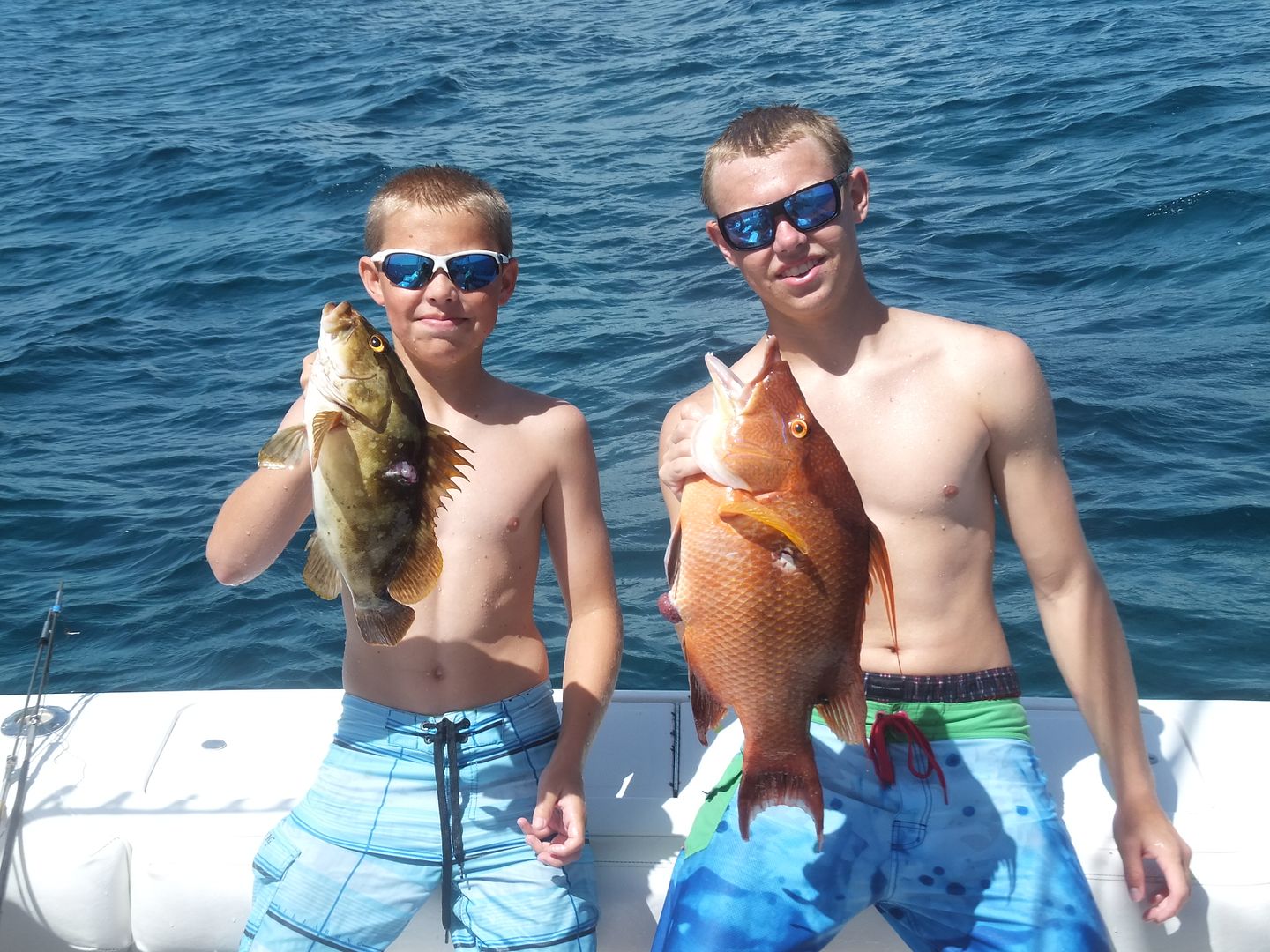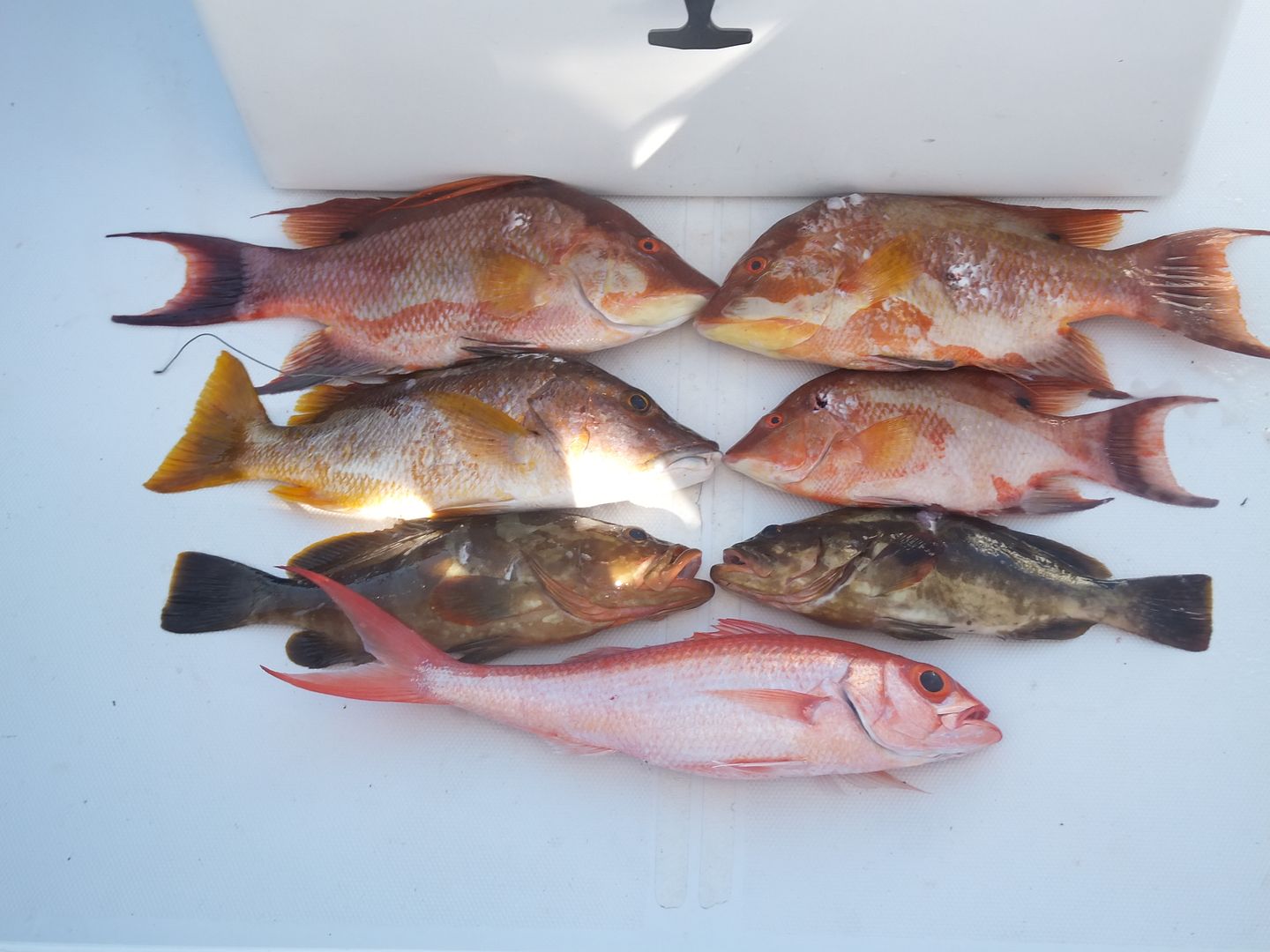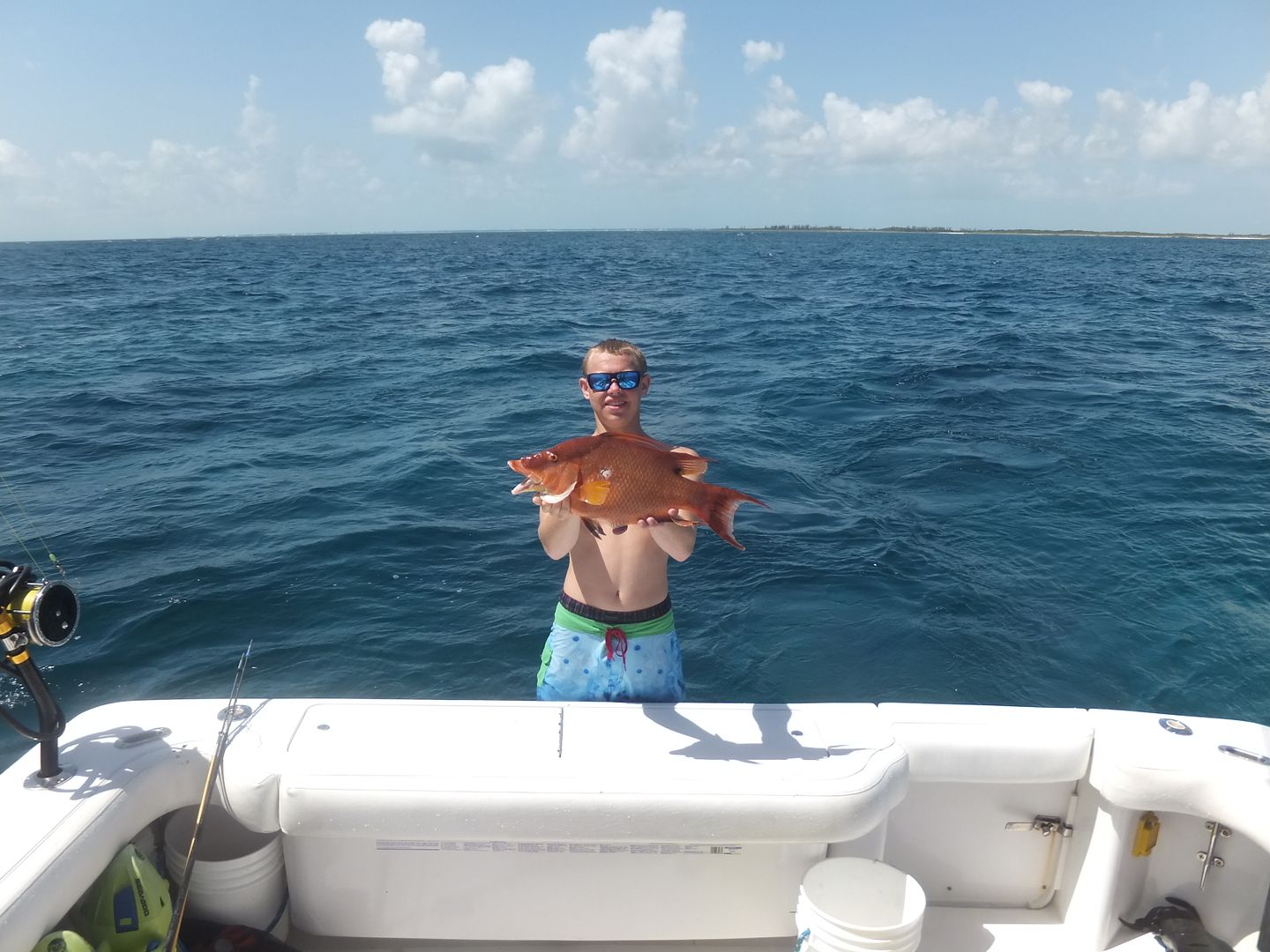 a grouper coughed up his breakfast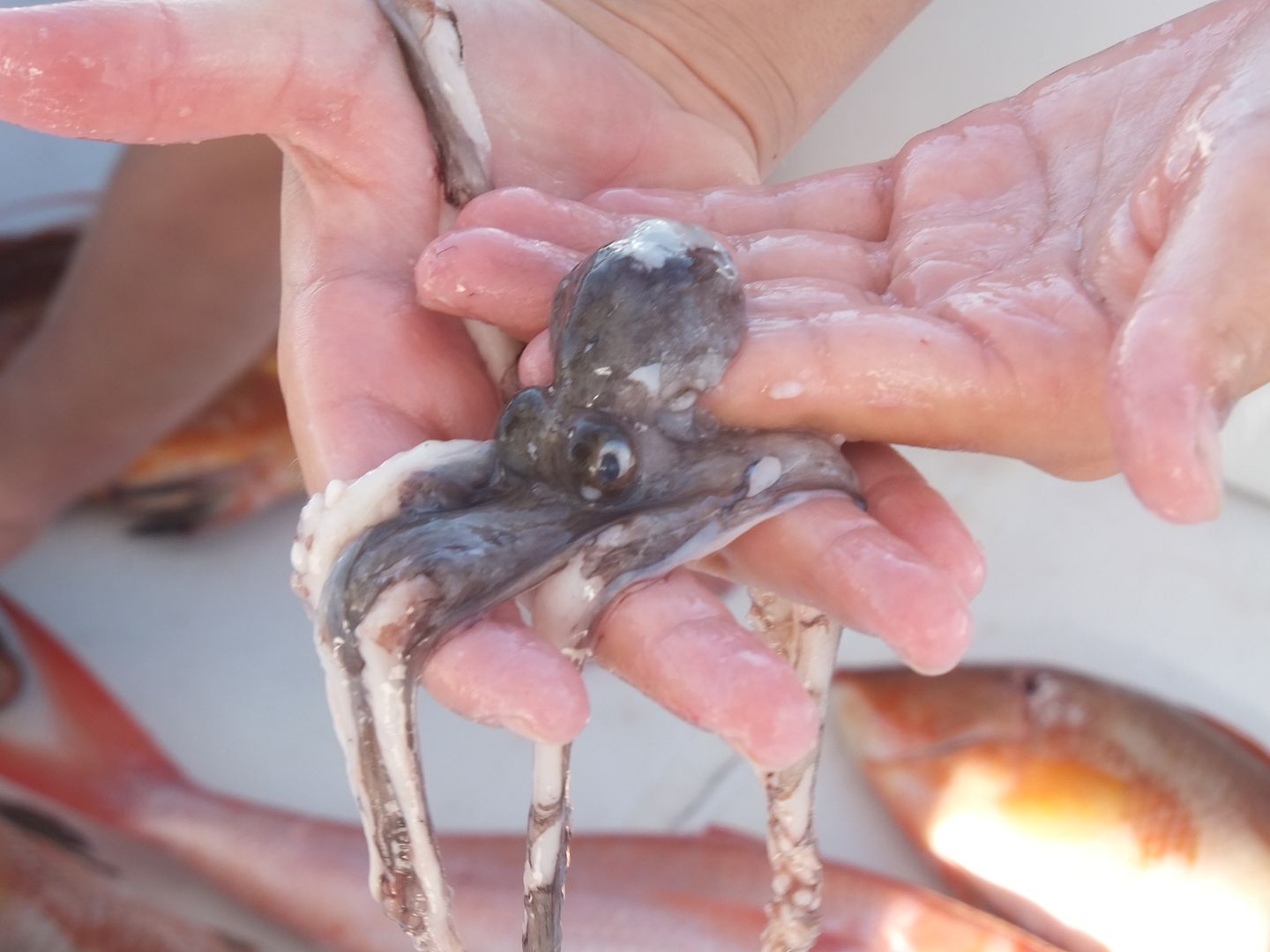 one day we swung for the fences and soaked some big baits at a grouper spot off Guana, only amberjack and sharks unfortunately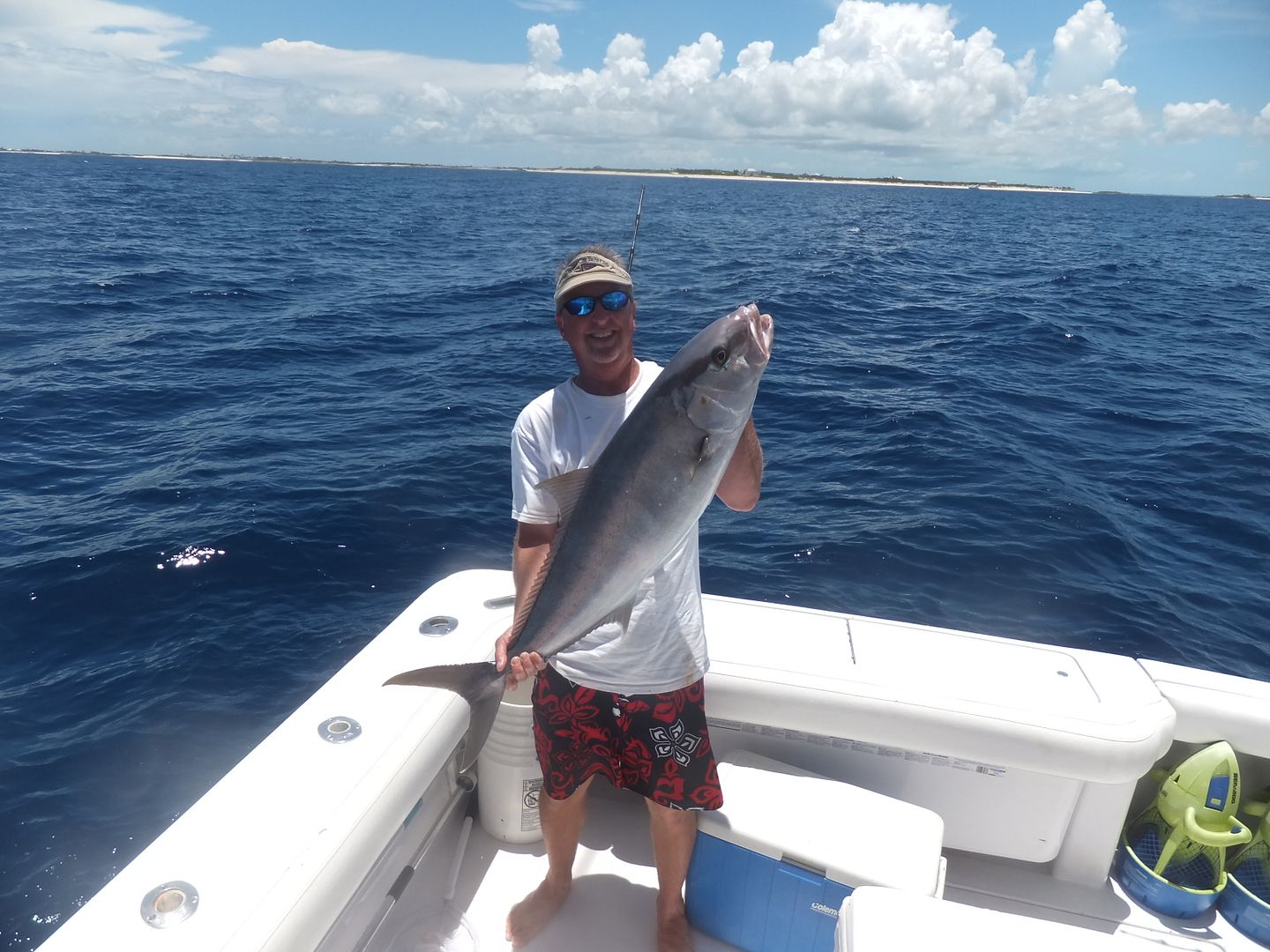 we got chased by storms in the afternoon alot, this one had some lightning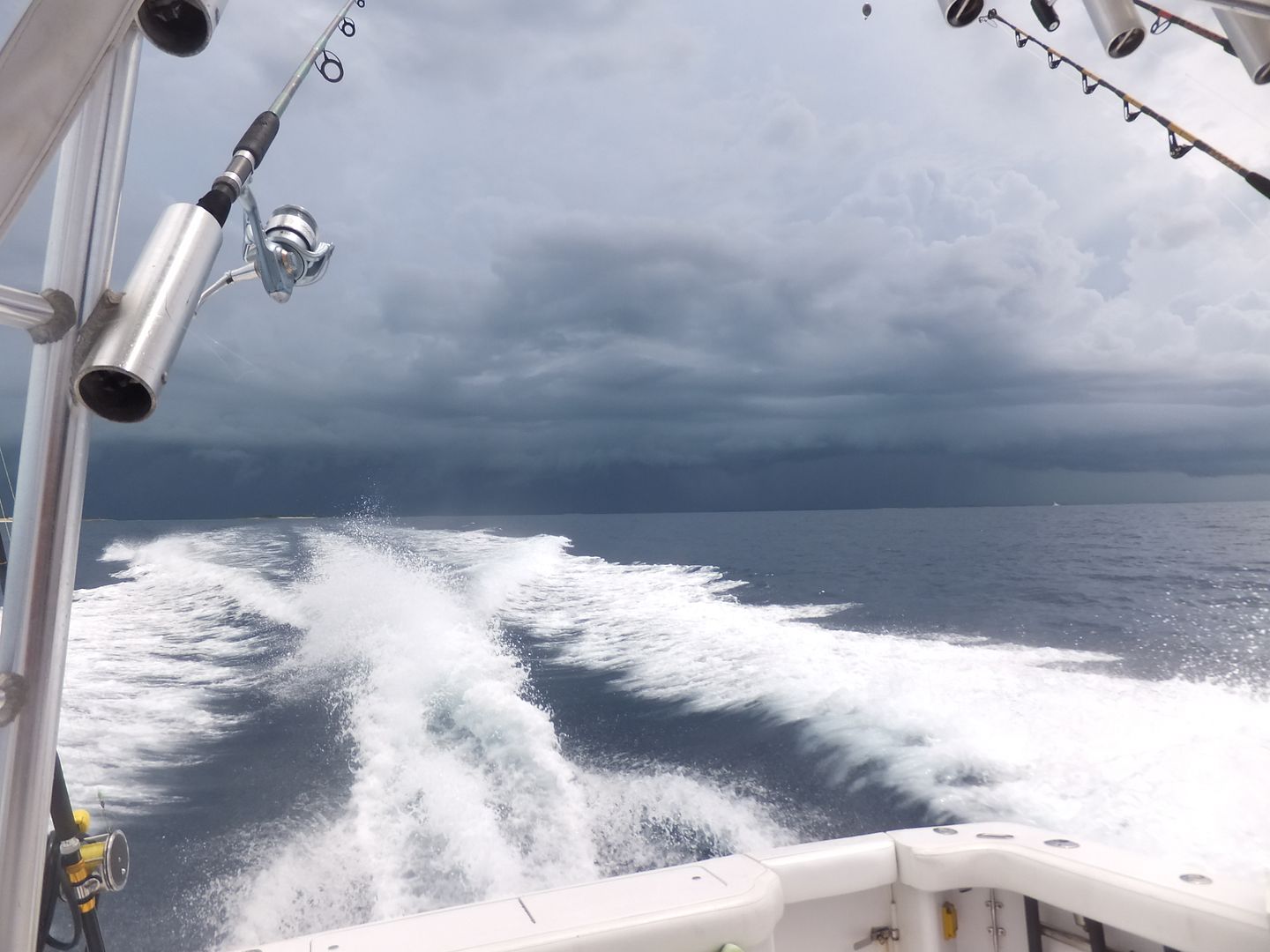 Off Guana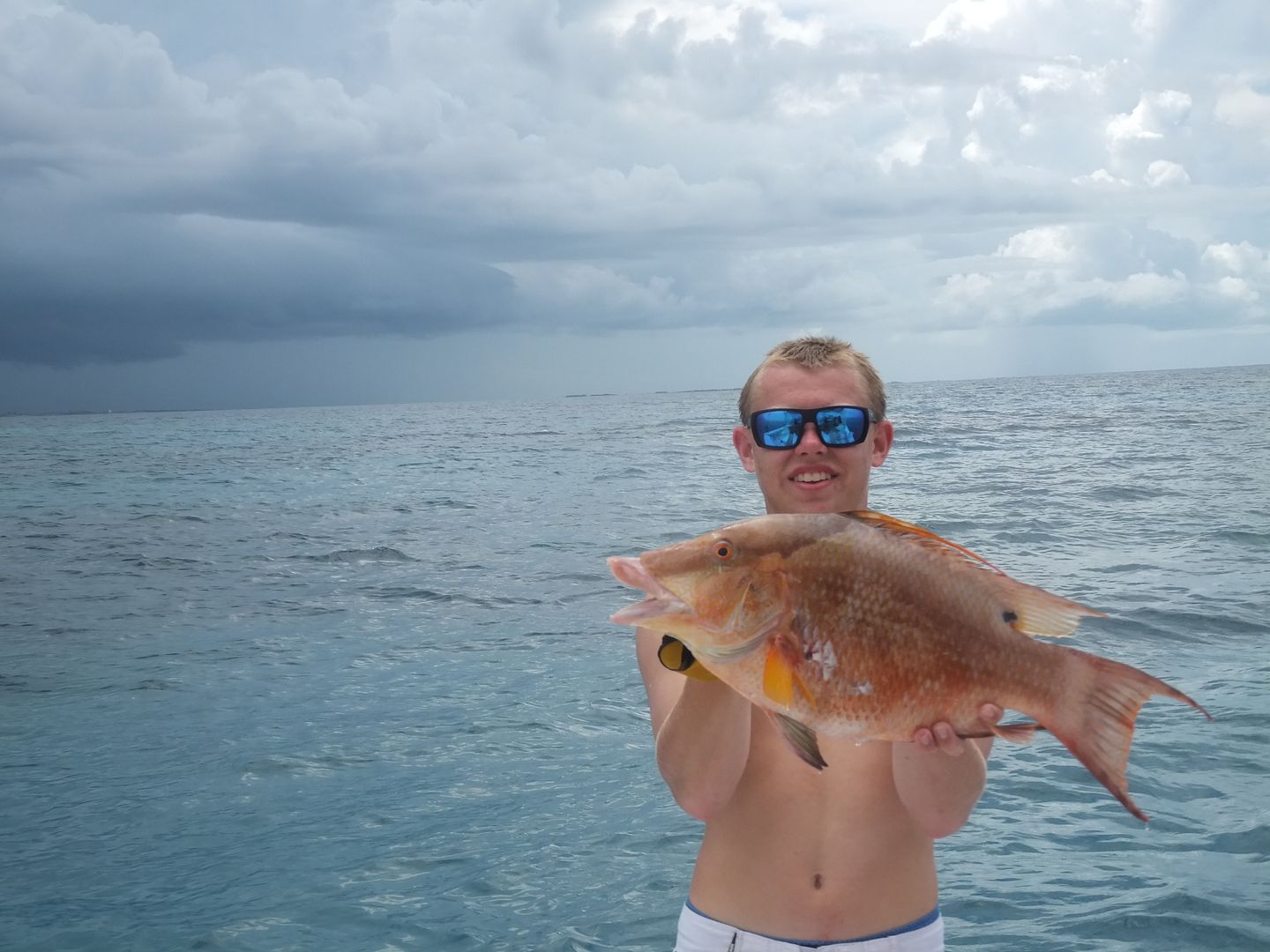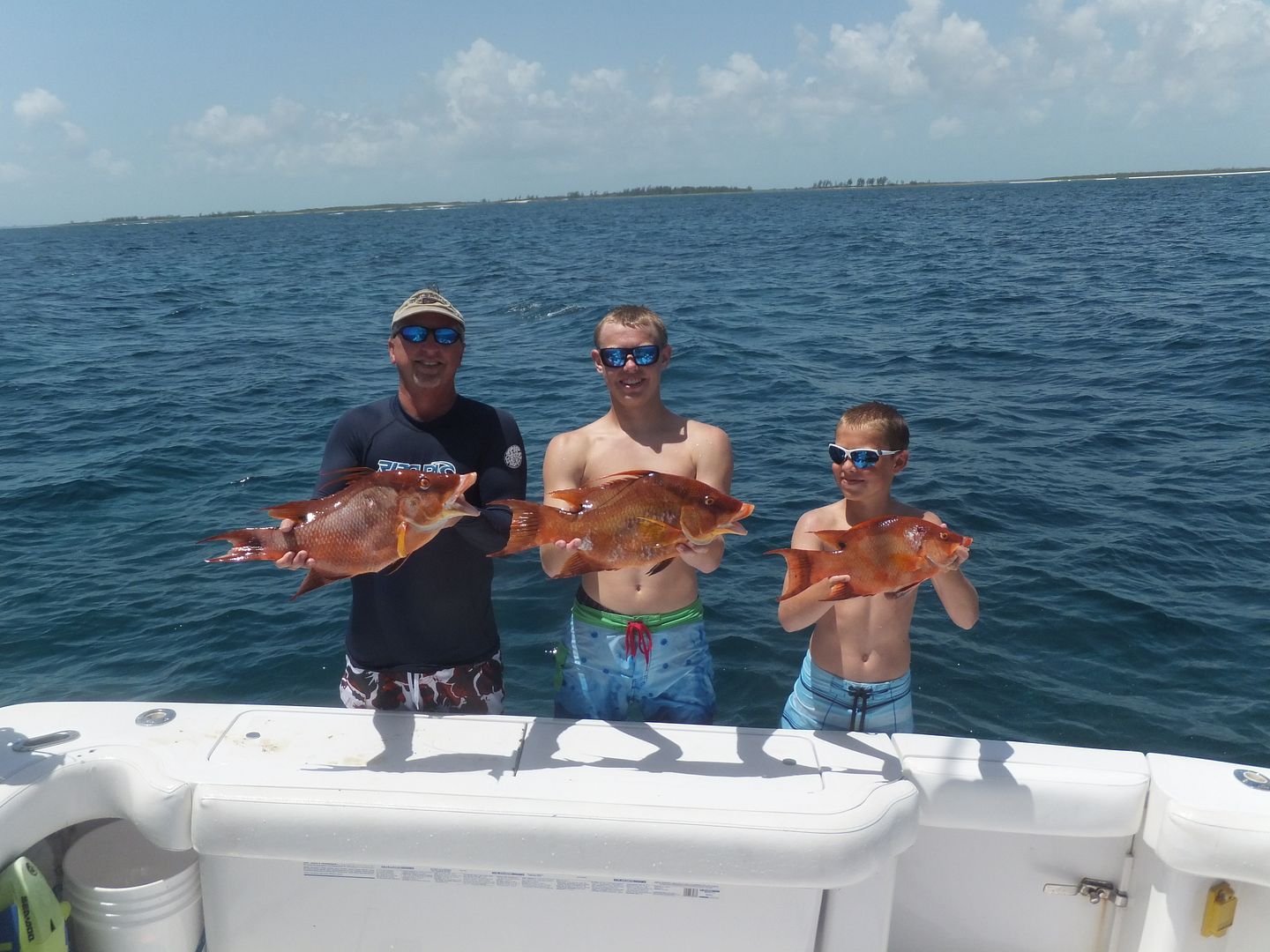 for the end of the trip we went up and spent a night at Spanish. I love this place, great marina/pool/bar, fishing and diving is very good and the owners ranch in Texas is named Double D ranch, how bad can it be? Momma isn't a fan, it's a little sharky
caught this guy deep dropping, yes, he was delicious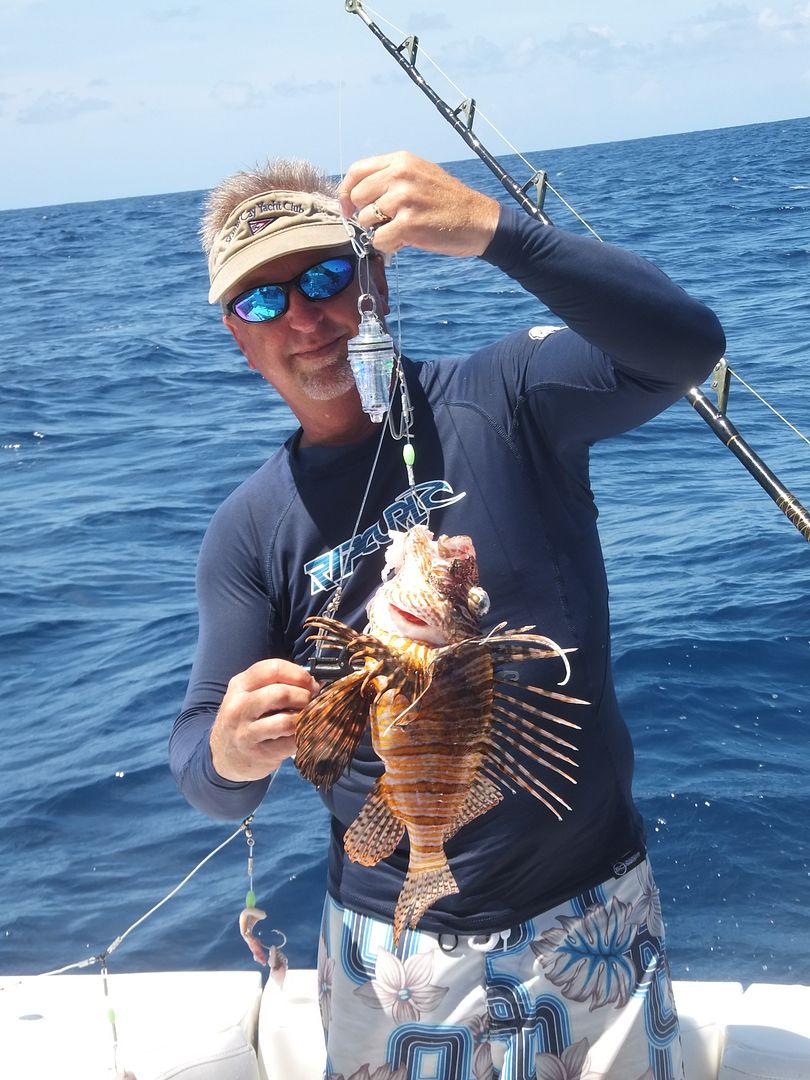 The house drink, can't remember the name was $17, didn't find that out until checkout!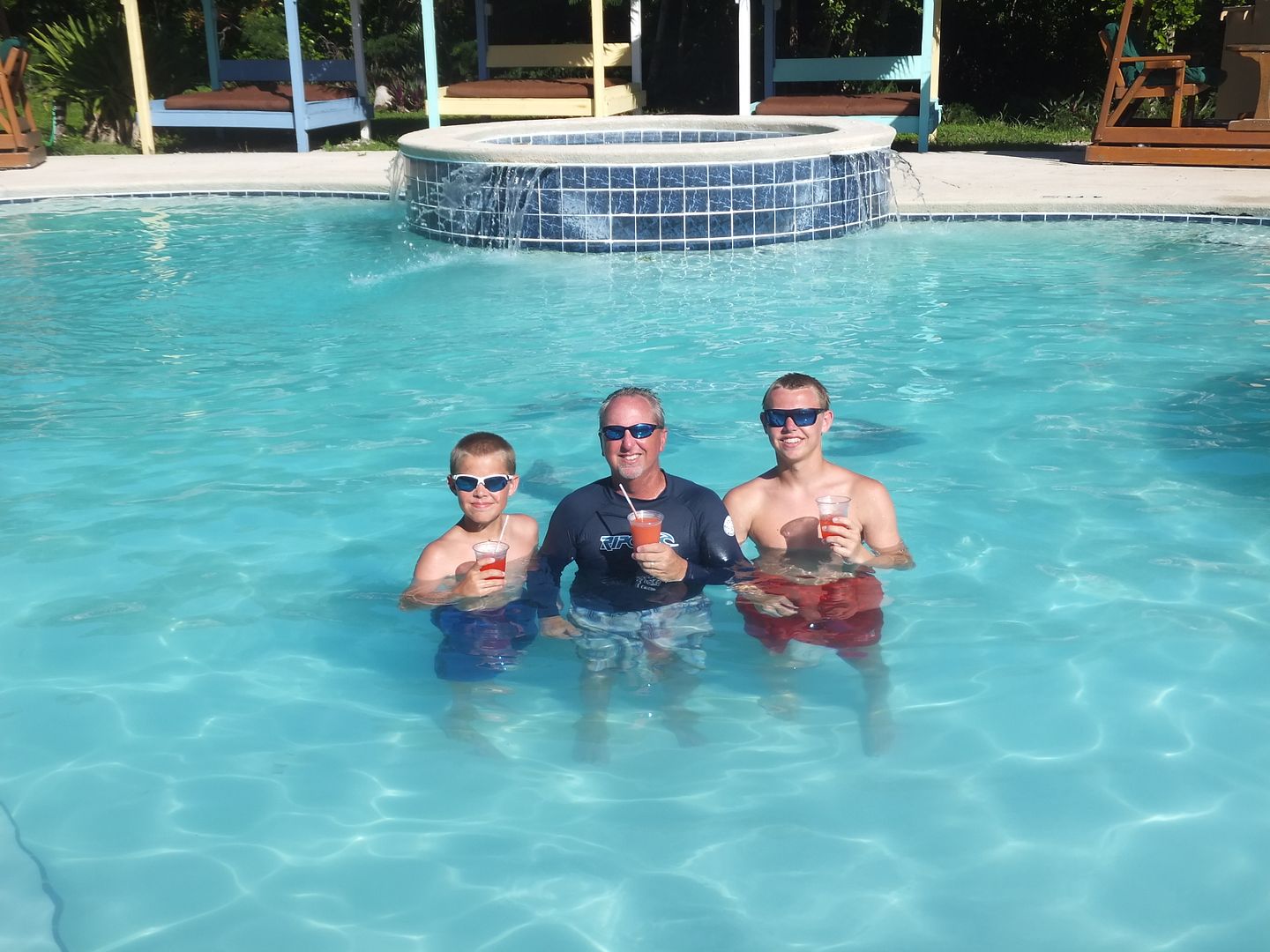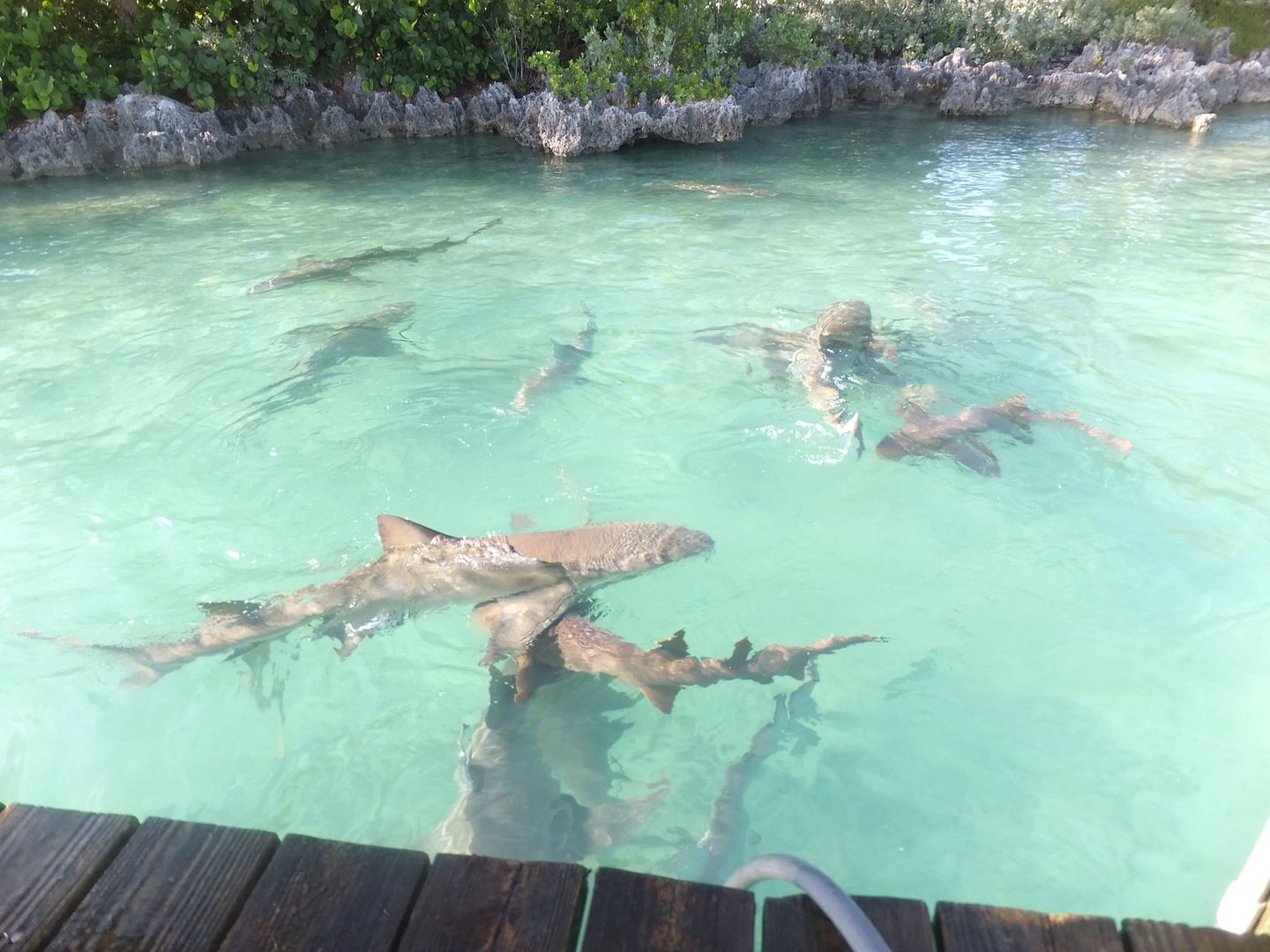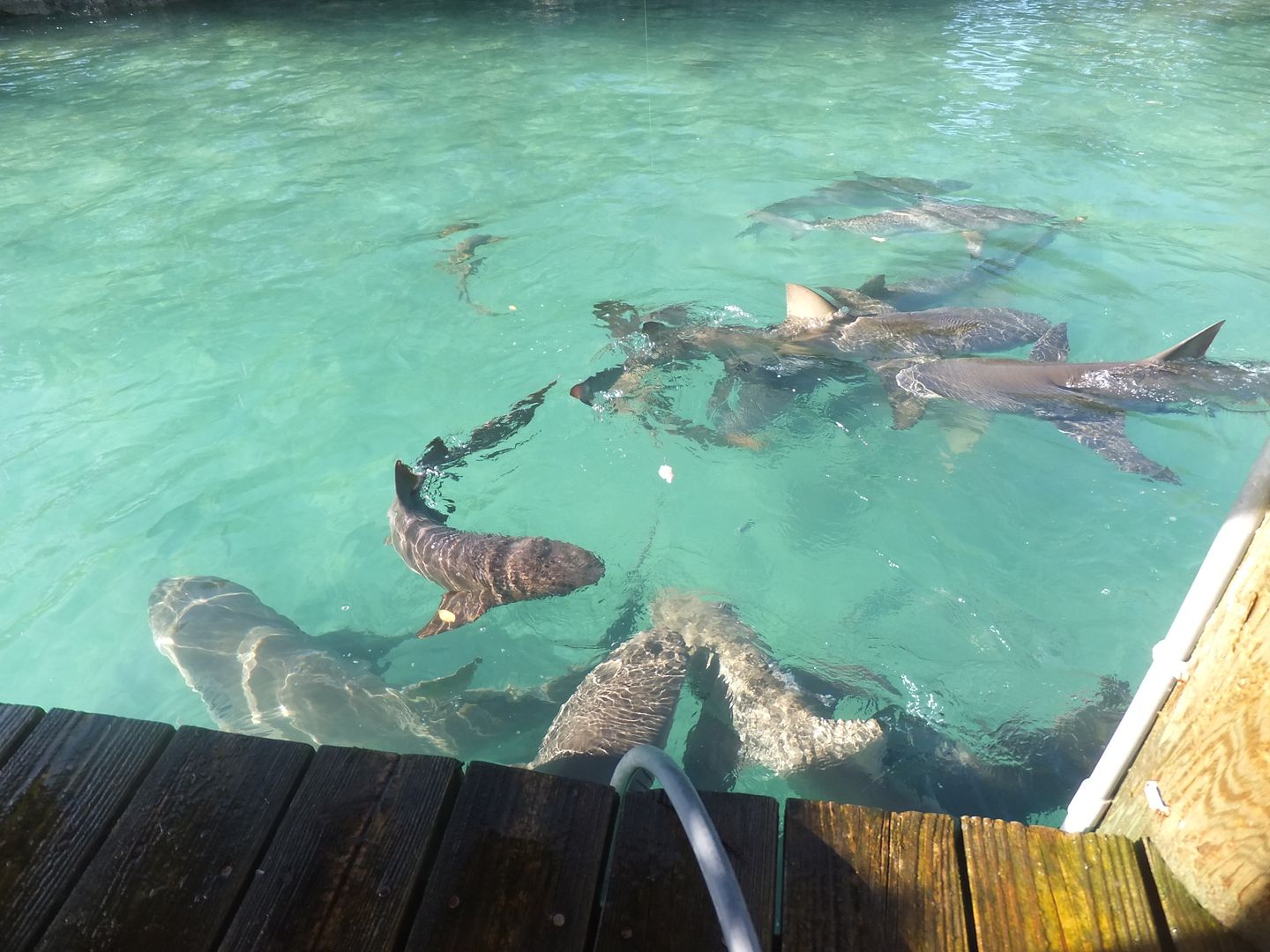 yes, that's a piece of bait in the upper left corner, lot's of muttons and large mangroves but the sharks were a bit of a pain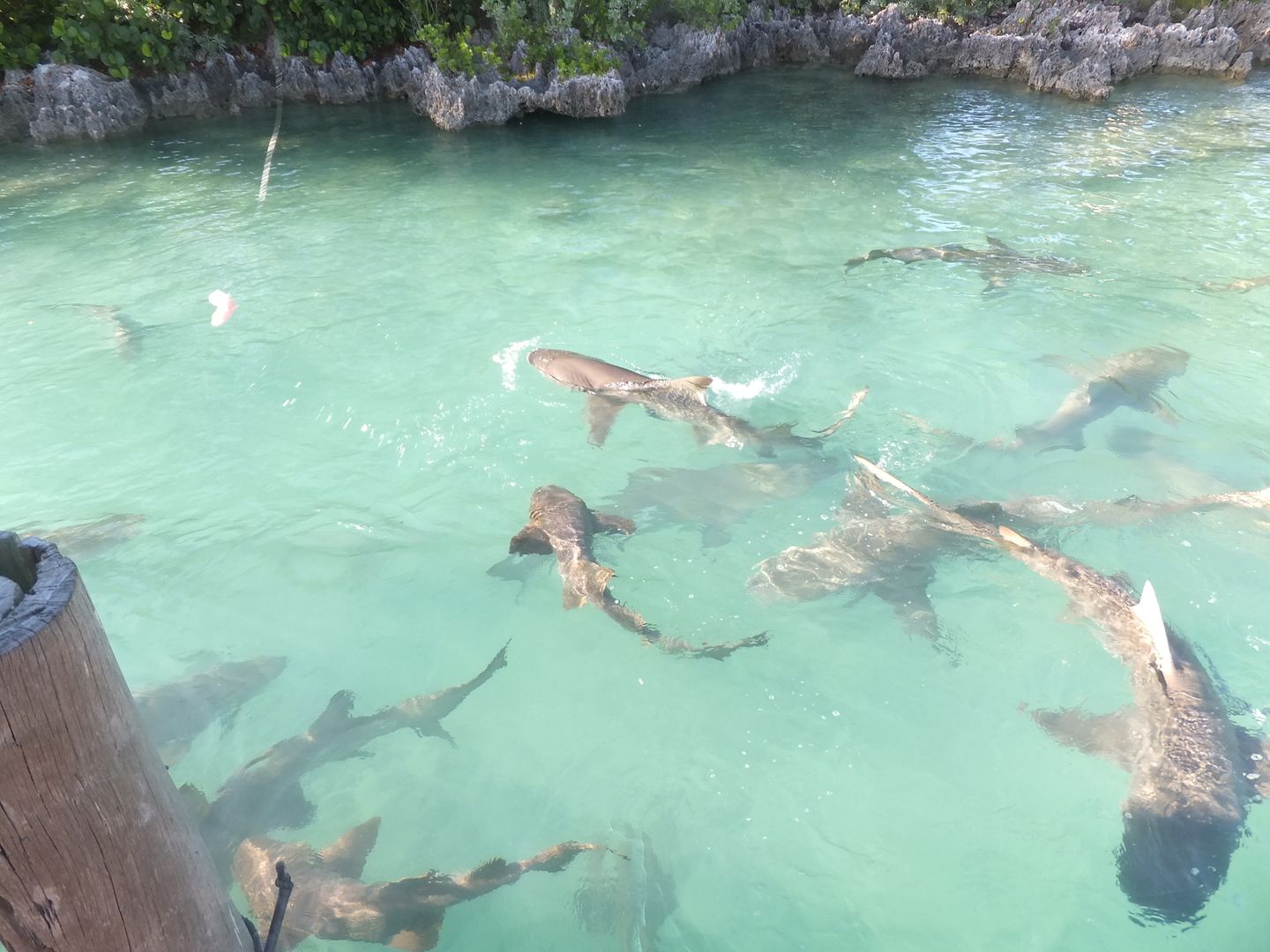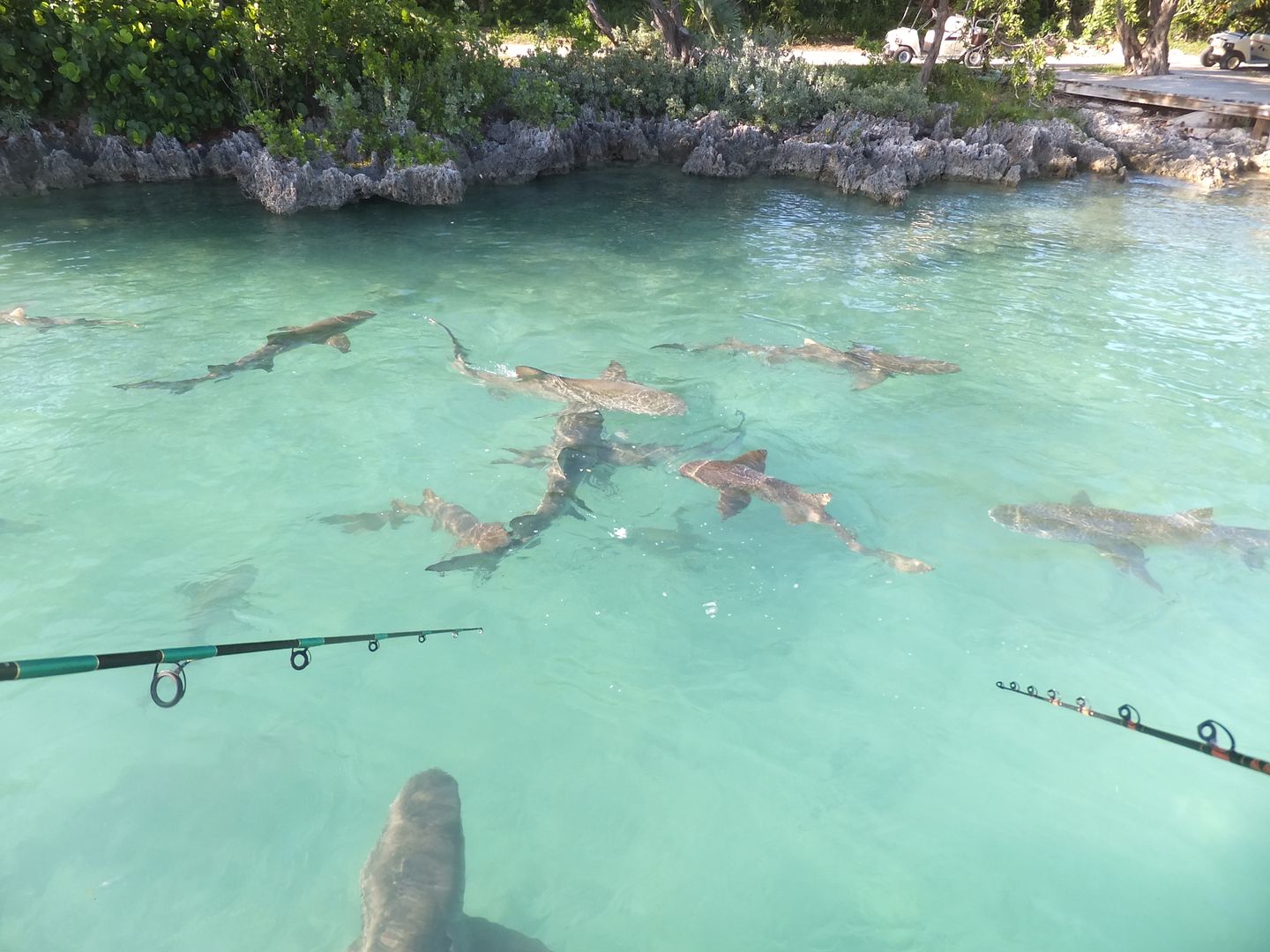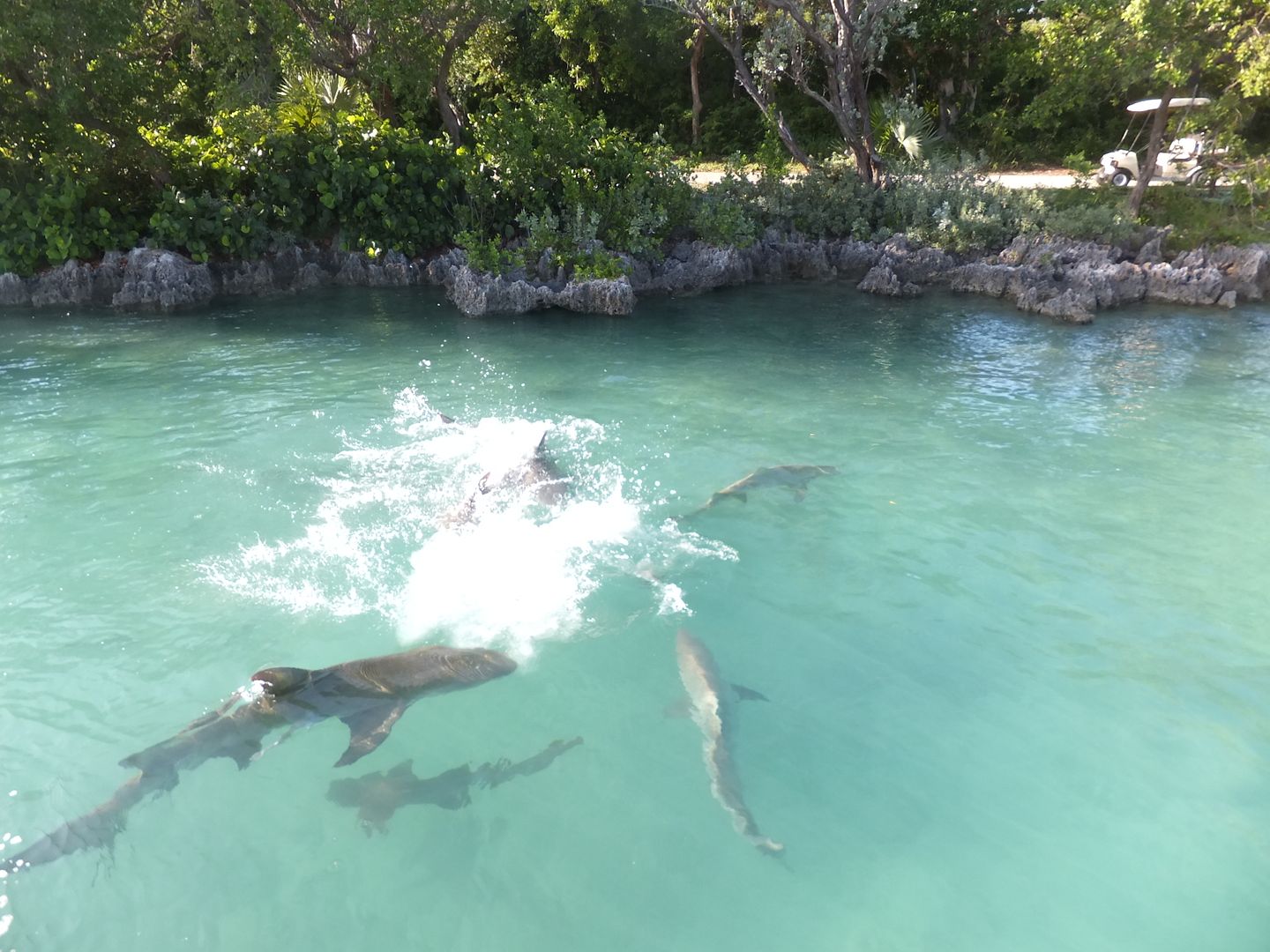 apparently Spanish is a little lax on who they allow in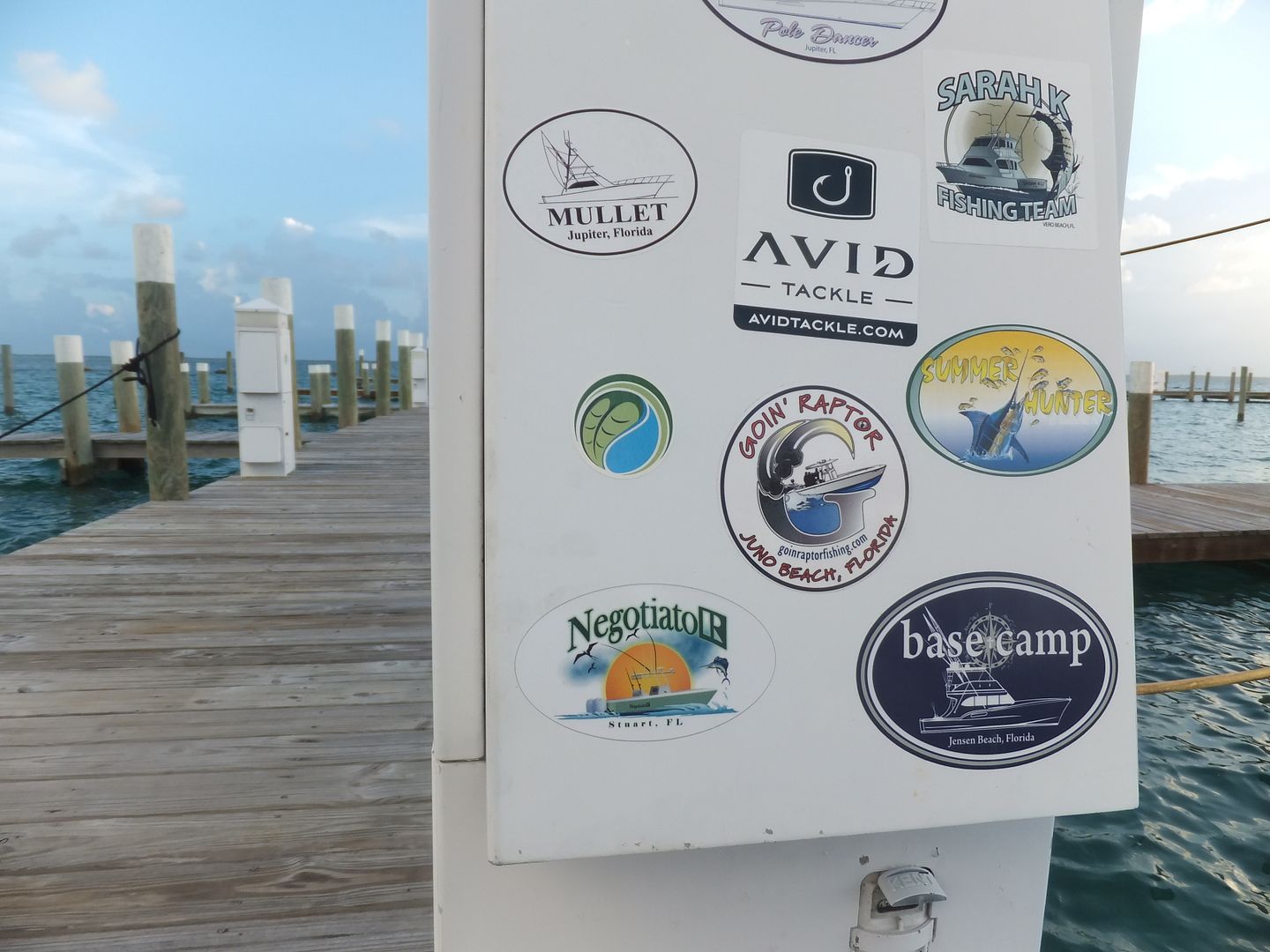 we left our mark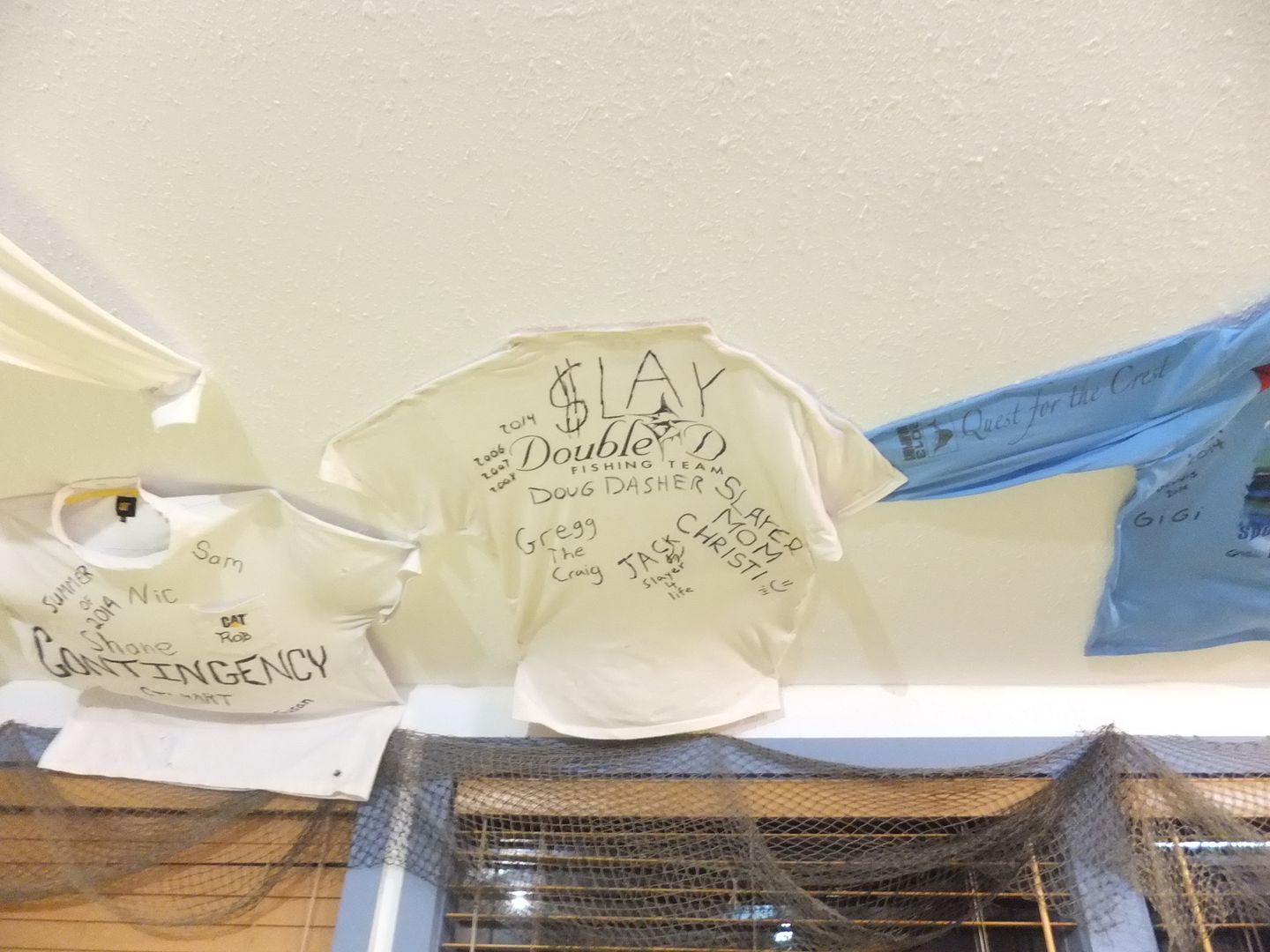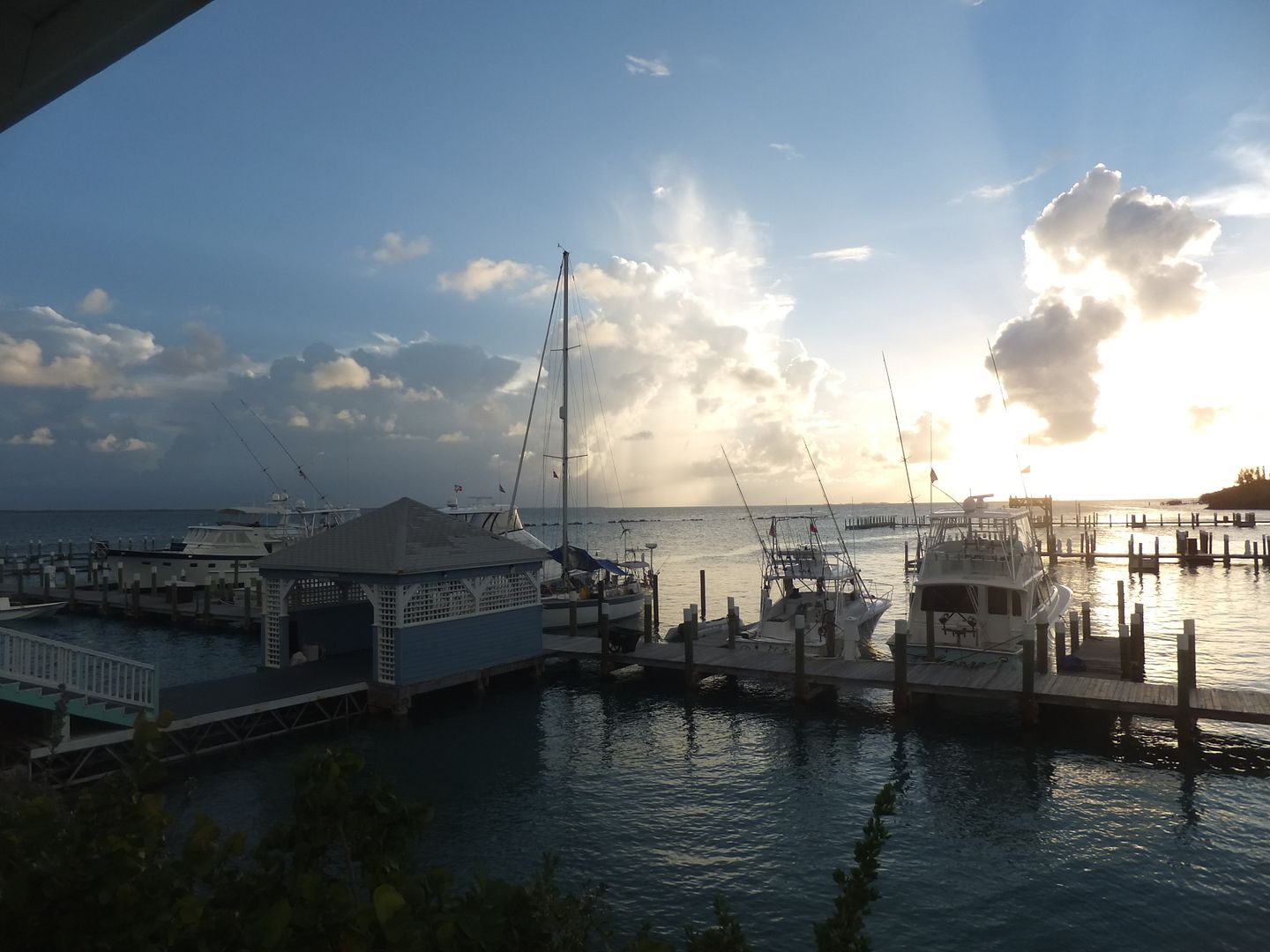 After a night in Spanish, we headed up to spear away from the crowd and stopped at Moraine Cay, a private island in the middle between Walkers and Spanish. Shot some nice fish there and found some huge conch, then on to WE for the final night.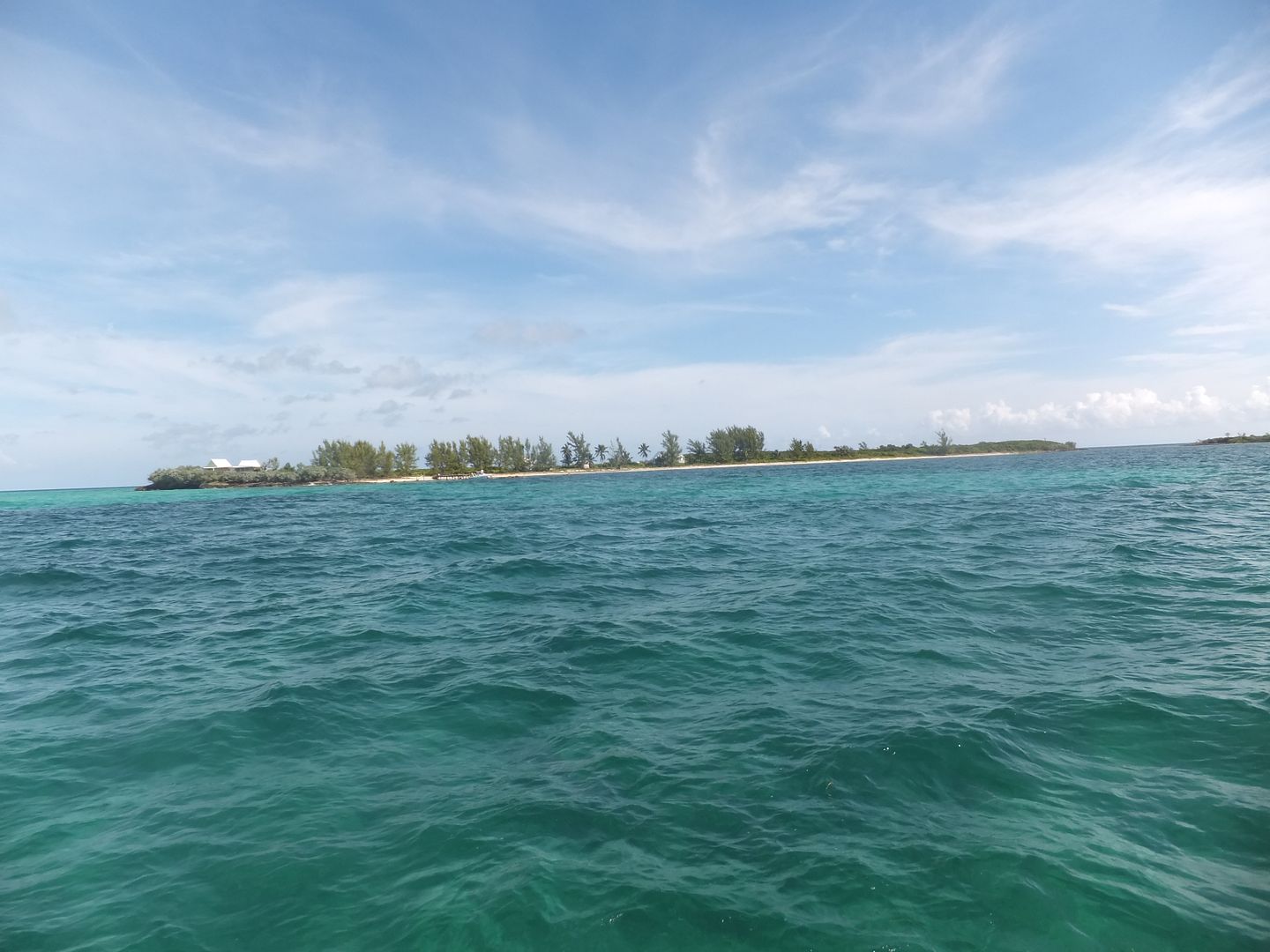 We pulled into WE and took our fish to the restaurant and treated ourselves to a little service. They did an exceptional job and the service was outstanding! Timing was just like here, waitress and hostess couldn't have been nicer and the food was great. It was a great ending to an unforgettable trip. Got up the next morning and came home, great crossing, 1-2' and no rain. We covered 585 n miles, were gone 17 days and I never wore anything but flip flops the entire trip. The rum was great, caught plenty of nice fish and met some great people, renewed some old friendships as well. It was the best trip we have taken by far. The Abaco's isn't for everyone, there are lots of great spots in the Bahamas but for us right now, we have grown attatched. The people really make it a special place. Till next summer.