Home
›
Southwest General Fishing & The Outdoors
Offshore July 18th and 19th African Pompanos , Grouper ,Snappa and Cobia .
Luna Sea
Posts: 562
Officer
I decided to make a last minute offshore trip this weekend with my old friend Erick [ PigskinCapt ] on the Sea Trek . We headed pretty far south for the first drop . The shark was crazy , I caught at least 20 trying to get to the Snappa. We did manage to pull up a mixed bag of Yellow tail , Grovers , Grouper . My new fishing friend Jerry pulled up a nice Cobia through the shark
Erick kept trying more drops to get away from the shark and I kept catching more shark , they where relentless . We made a pretty good run to deeper water to get away from the shark and made a drop about 5AM . Wham on come up a 60lb Amber Jack I get him aboard the boat and then find out they are still out of season . I pulled up another 5 Big 50 to 60lb Amber Jacks . It seemed I pulled up a Amber Jack and then Jerry would pull up a grouper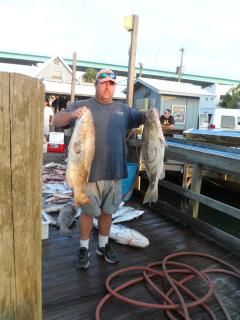 I decided to start using whole squid to get pass the Amber Jack . Wham here comes the African Pompano they started coming aboard all over the boat . Here is Forum Member Canfish with some of his Pomps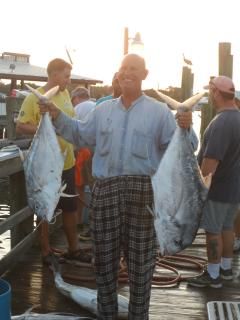 I just met Canfish for the first time and he really Can Fish . I thought I had one of the bigger Pompanos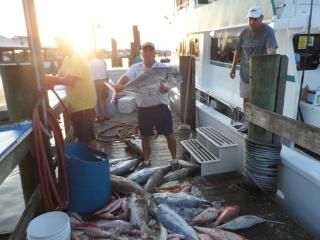 but they kept coming up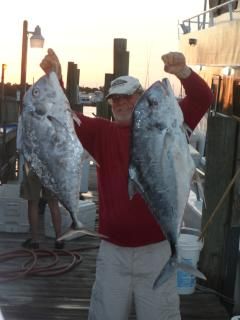 .
Then Capt Ed came up with this monster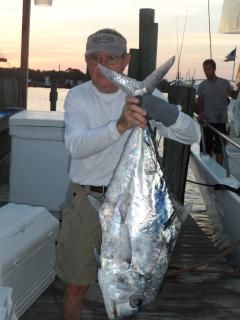 .
Well after the Sharks and Amber Jacks here come the Monster Cudda's , it was tough getting the Snappa through them . We did manage to get a decent load of Yellow Tails and Grover though . There was 5 Forum members aboard as well 5 Captains . I made some new friends and fished with some old friends on this trip . Here is CranknYank and PigskinCapt
Spending a few days offshore was so refreshing and I went back to my Roots .