Home
›
Panhandle General Fishing & The Outdoors
Panama City offshore... Friday 6/20 and Saturday 6/21: A tournament win!
Panhandler80
Posts: 8,874
Moderator
Initial plan: To take my buddy and his son from GA out on Saturday for an offshore overnight trip. Seeing as gags, snapper, trigger and jacks are closed I was not real thrilled about the weekend of choice, but it was the only one that worked for their schedule.
Fast forward a couple weeks: It comes to my attention that the St. Andrews Bay Yacht Club tournament (to benefit Holy Nativity Episcopal School) is Friday / Saturday. I figured if we can't catch a lot of the species out there then we might as well fish the tournament in order to keep things interesting. So, I call my guy and his son was able to move a couple college exams and we made decision to fish tournament. It's a fun event, 100% recreational participants only, and for a good cause. Very relaxed deal and something I haven't fished in probably 7 or 8 years.
I started baiting traps on Wednesday. Took off a few hours early on Thursday and by 5:30 I was at the captains meeting and boat was fully iced, fueled, electronics on, rods picked out, all cut bait on board. Captains meeting was a good time and the guys from GA made it down in time to partake in the pre-tournament festivities.
After that we came back to the house, enjoyed some good steaks and hit the hay. To nobody's surprise 2:30 am came quickly. Good news is that we were able to pull away from the dock pretty quickly.
Conditions were perfect and remained that way for most of the trip (more on that later).
Headed out…. And yeah, there was quite a bit of this going on. Yours truly was behind the wheel for darn near 36 hours and I'm still exhausted.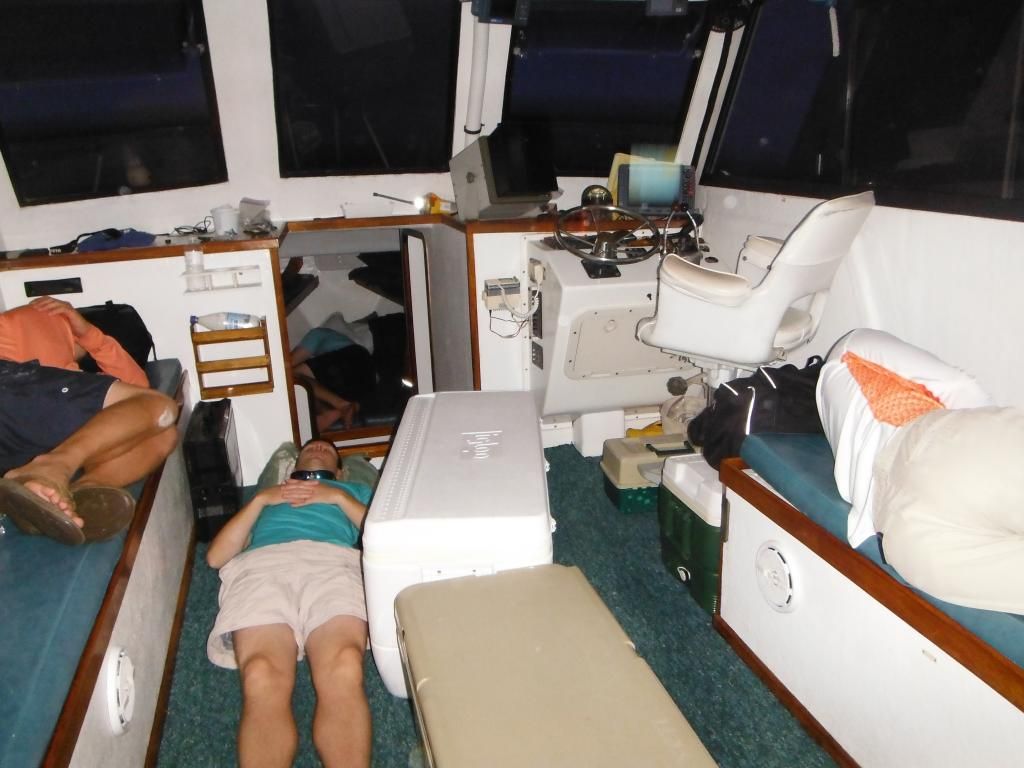 Talk about slick… We were about 10nm or so out when things started to turn light.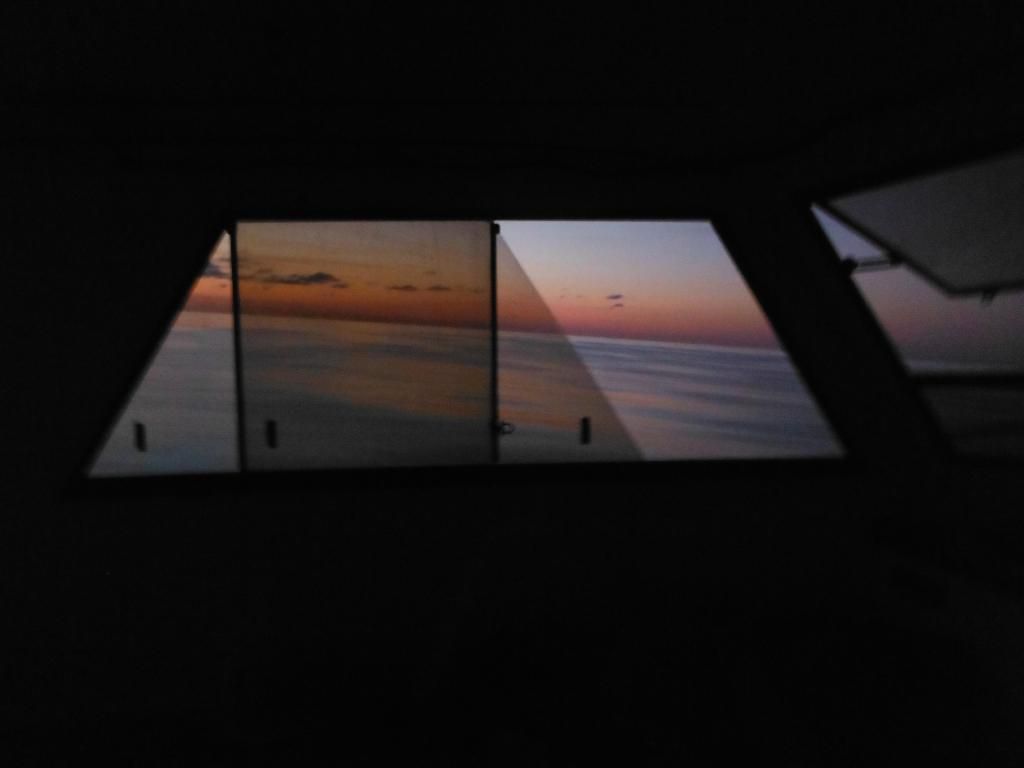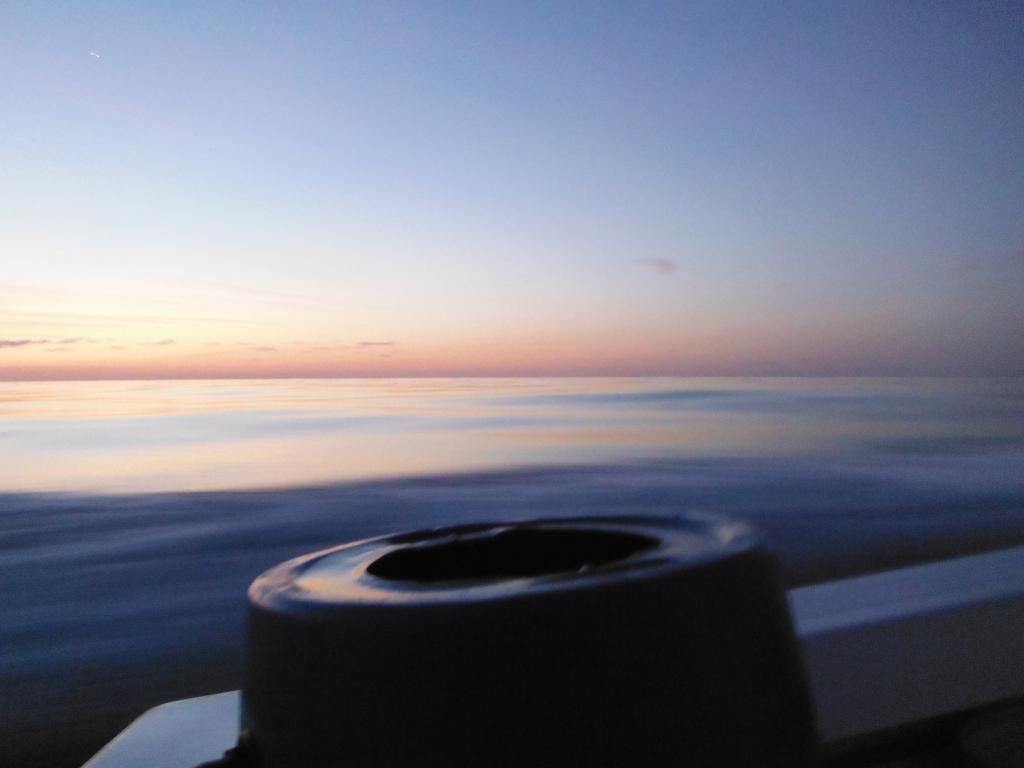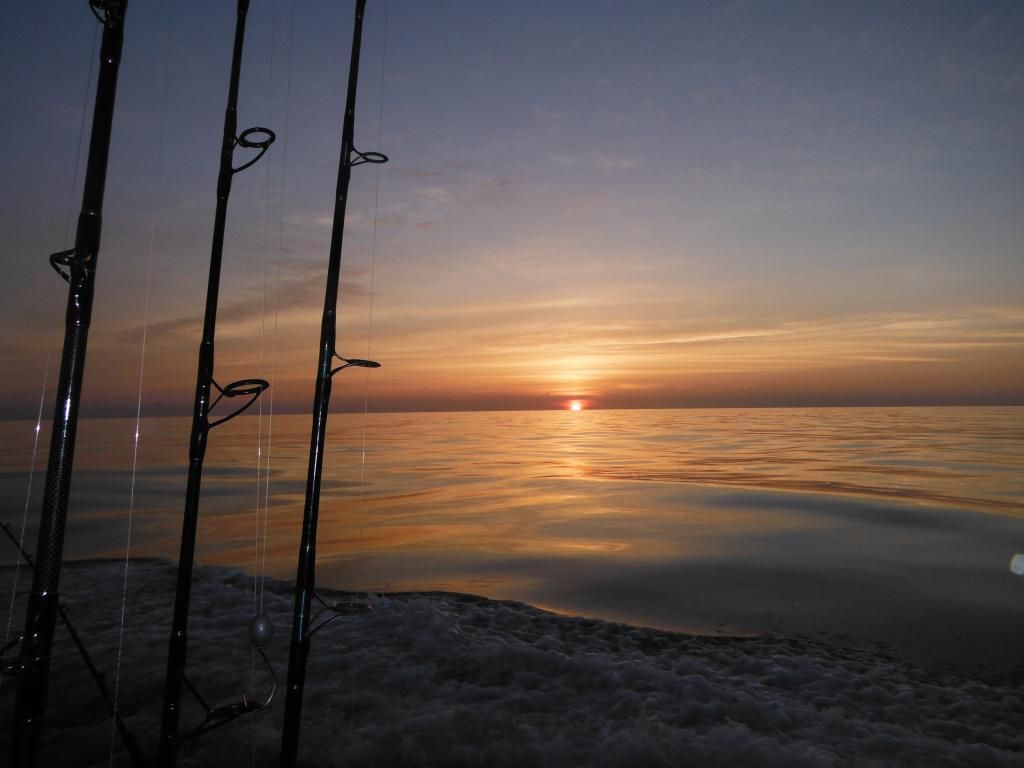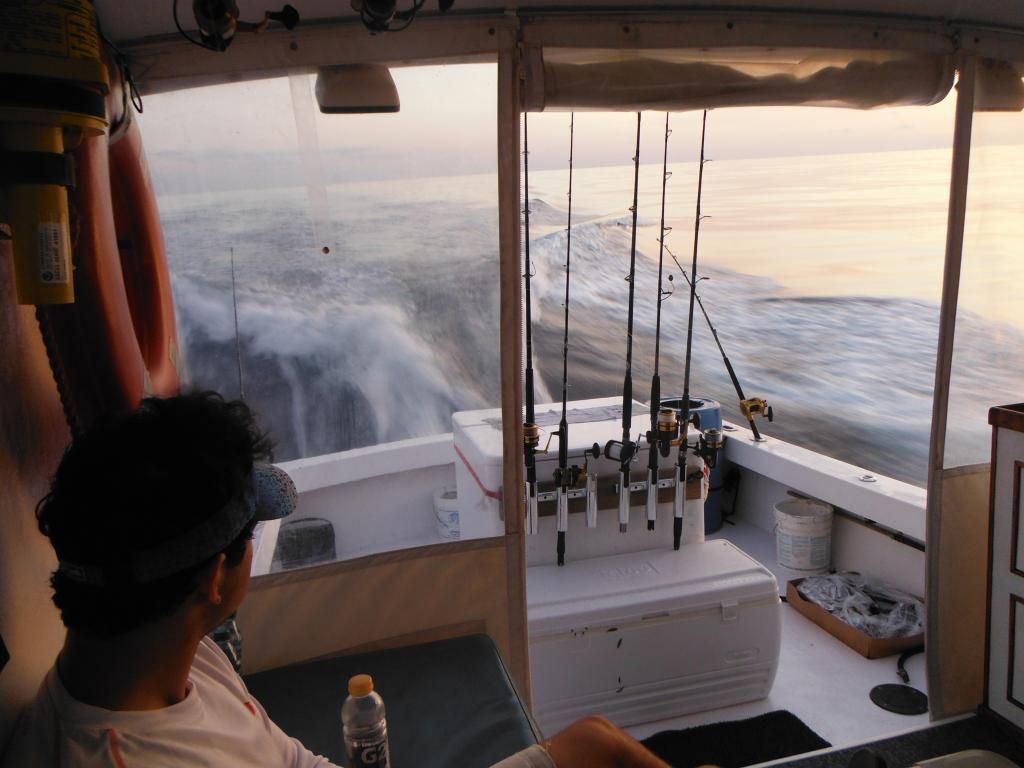 Not long after the picture above one of the high speeders went off and we boated a wahoo… a wahoo that would end up taking first place in the tournament.
We get to our first area that was about 40NM from pass and pretty much due S. We fished through there for a little bit and boated 8 or 9 red grouper. Only problem was that we chewed through all my spots in that area quickly. You either caught one or two in a hurry, or it was 100% dead. I had considered fishing this area on Day 2 only for this very reason. At 13 knots and 42nm, we needed to be headed home by noon or so on Sat for weigh-in. Would have been a perfect area for just some AM fishing. Not only this, but it's a somewhat isolated area. I elected to fish it first because I figured everybody in the tournament would be catching red grouper so I needed to perform there. If we struck out at Area 1, then I still had entire trip to adjust. Not only this, but coming home would be in 100% day light and coming home from Area 1 would mean pulling over a lot of sand. I would rather work my way W and S from Area 1, and then troll in from 20-30 degrees. So… after catching those grouper I made an 10 mile run to try for some scamps and beeliners.
We tossed out the high speeders and headed that way. Put wahoo number 2 in the boat… which took 2nd place. We also came across some dolphin and spent some time playing with them. Nothing real big, but I've seen tiny dolphin win categories during these little local rodeo tournaments out of PC / Mexico beach. Sure enough, our biggest little dolphin took 3rd. Anyway, we got to my area and did okay on beeliners and scamps. Ended up taking 1st place and 2nd place scamp and I think a 3rd place beeliner. I think we picked up 6 or 7 scamp there and a handful of decent beeliners. Hated doing it, but that 10 mile run was directly over where I wanted to spend the night. So I had to backtrack 5 miles only to do it turn around the next day and back track again to get back into scamp grounds with hopes of a blackfin and some dolphin. Didn't want to do it, but that spend the night spot is just too good.
So, left the scamps chewing and got situated for sunset at spend the night bottom. Got the lights in the water and started flat lining. AJs were absolutely insane at dusk. We couldn't flatline anything without them busting us. Did have some fun with the poppers. Was hoping they would sound once it got dark and right at dark they did just that and then the kings went NUTS!!! Baits were instantly inhaled and we got to see lots of sky rocketing. We pretty quickly boated our 12 kings. All were spoken for by friends and family back at the hill, plus we wanted the meat for the aggregate category of weighed fish. I caught the biggest one at 32 pounds. The rest were mid to high 20s and I figured we had 1, 2 and 3 place kings, but only the big one placed.
After having all of them iced, I went to netting squid. Water was green and they were probably as thick as I've ever seen them. Not only this, but they were definitely as brazen as I've ever seen them. I brought a long handled dip net and in maybe an hour I'd netted at least 15 pounds of them.
See…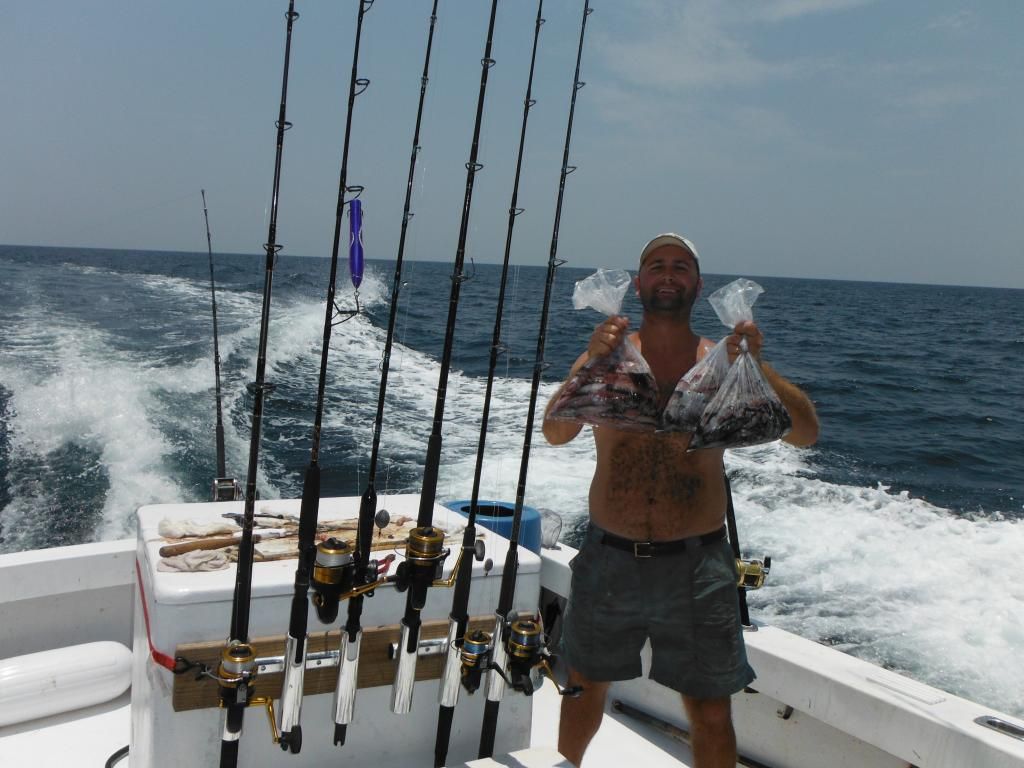 After the squid slaughter we shifted our focus on black snappers an beeliners. Did pretty good on that front. We caught about 10 or 12 black snappers and a few more beeliners. Think we placed 3rd black back at the dock.
The next morning pictured below. We went ahead and tagged a few fish and then got them properly re-iced.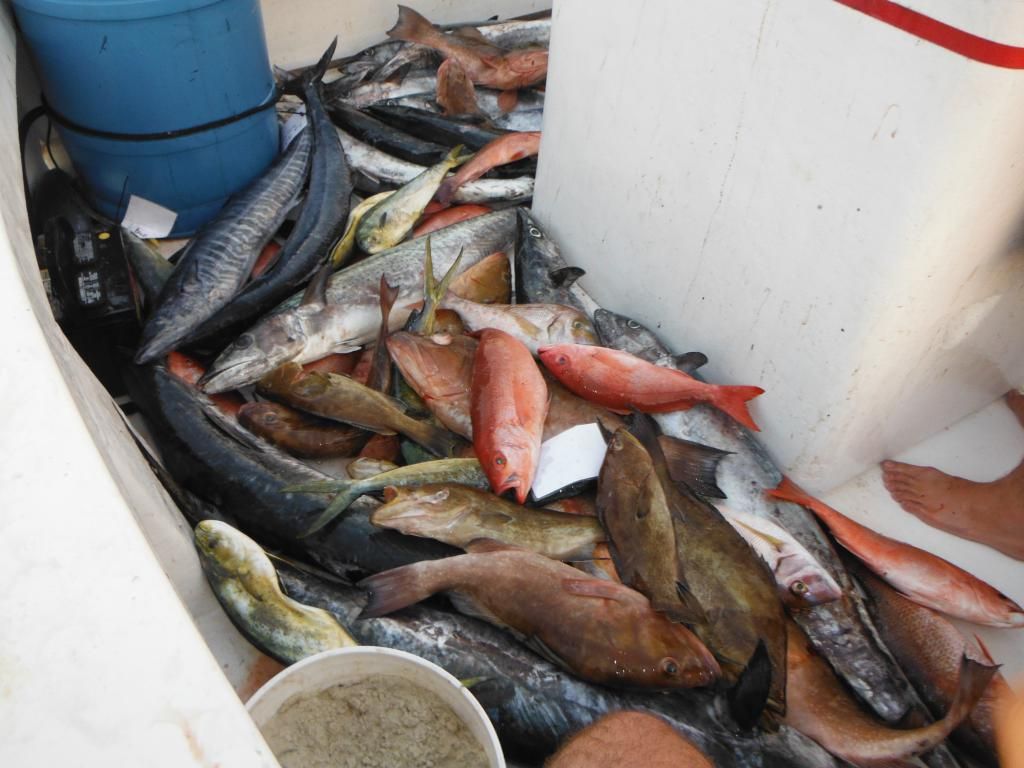 Got up the next morning and played with jacks and kings a little more. Then decided to run to an area and try for some bigger beeliners and more scamp. We got there and boated one red grouper and a couple more scamps, but then had an issue with this booger… 36 mile radar and no other storms other than the one over the 25sq mile area I wanted to fish. Decided to head back towards the house and fish some wrecks instead of bottom for some beeliners and then do a little state water snapper fishing (red snapper was a category). I thought I'd watched this cell on the radar long enough to figure out which way it was moving, but I had misjudged it. The freakin' thing rode my tail at exactly 4 miles for about 15 miles and finally fizzled out. Had we headed for the offshore side of it, we'd have been in blue skies. Oh well.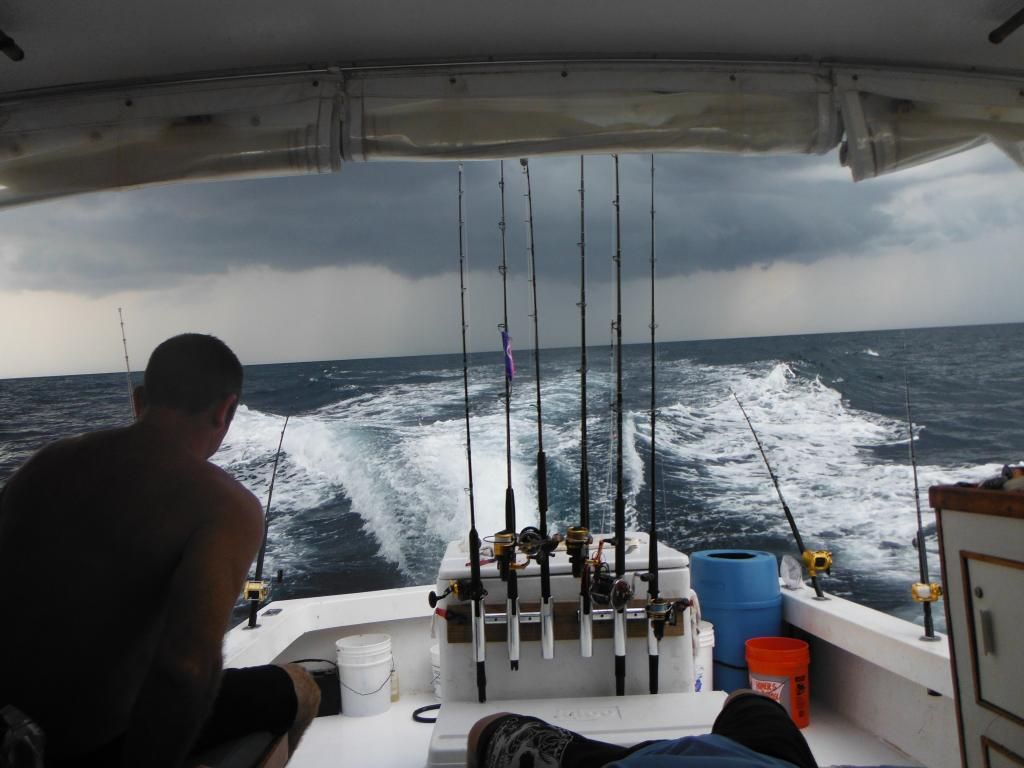 Fished a few wrecks for beeliners and black snappers, but didn't have a whole lot of success. Also had a couple grouper rods on bottom just in case there might have been a red grouper on the bottom, or a big black snapper. All that we had to show for that effort was 4 or 5 complete tear downs from big gags and one sturdy red grouper that ended up taking 1st place. Good thing gags weren't a category because those fish embarrassed a couple of my anglers pretty well. Speaking of gags, though, we were able to pretty much steer clear of them. Sharks and dolphin weren't bad either… which was nice for change!
Head to state waters for a little bit of snapper fishing and maybe another couple red grouper.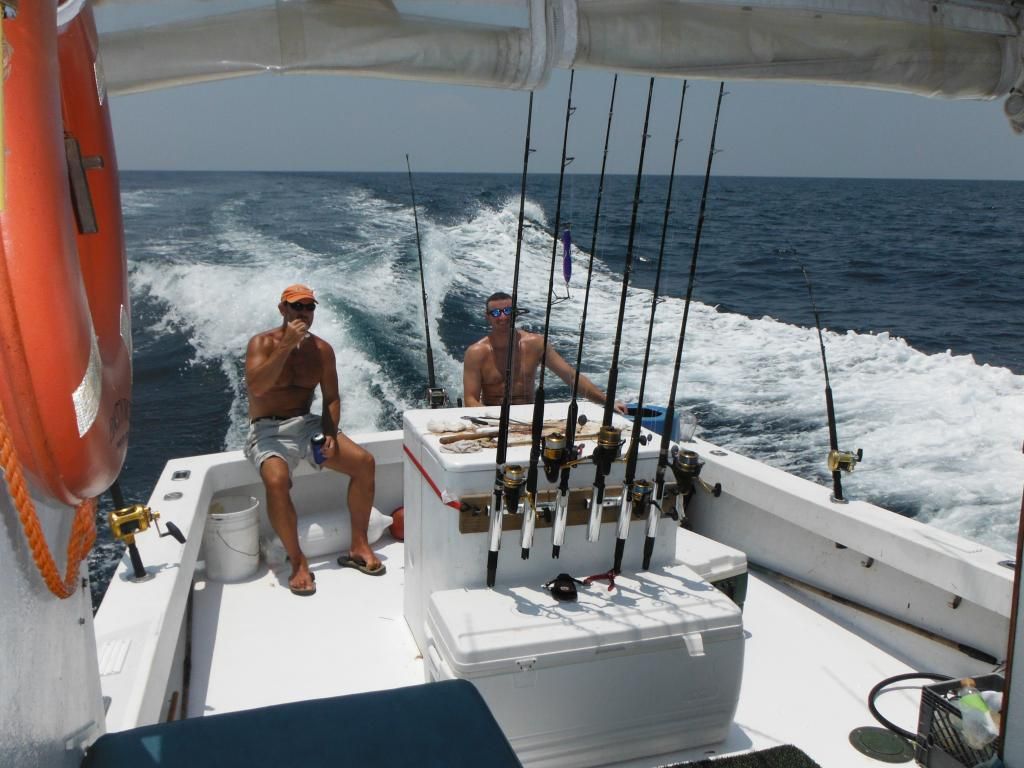 Struggled on snapper. Only caught two. Weighed the bigger one, but he didn't place.
Back at the dock and ready for mixed drink!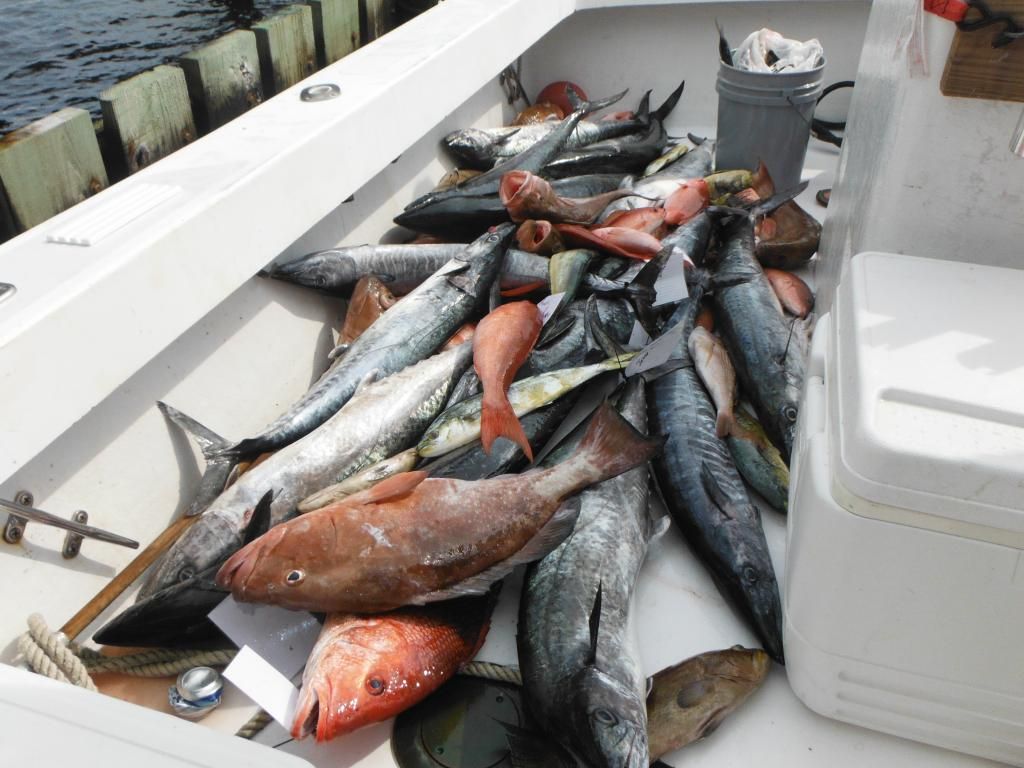 My bronze lobster now has a bronze buddy to hang out with. Grand price trophy pictured below. Neat piece in my opinion.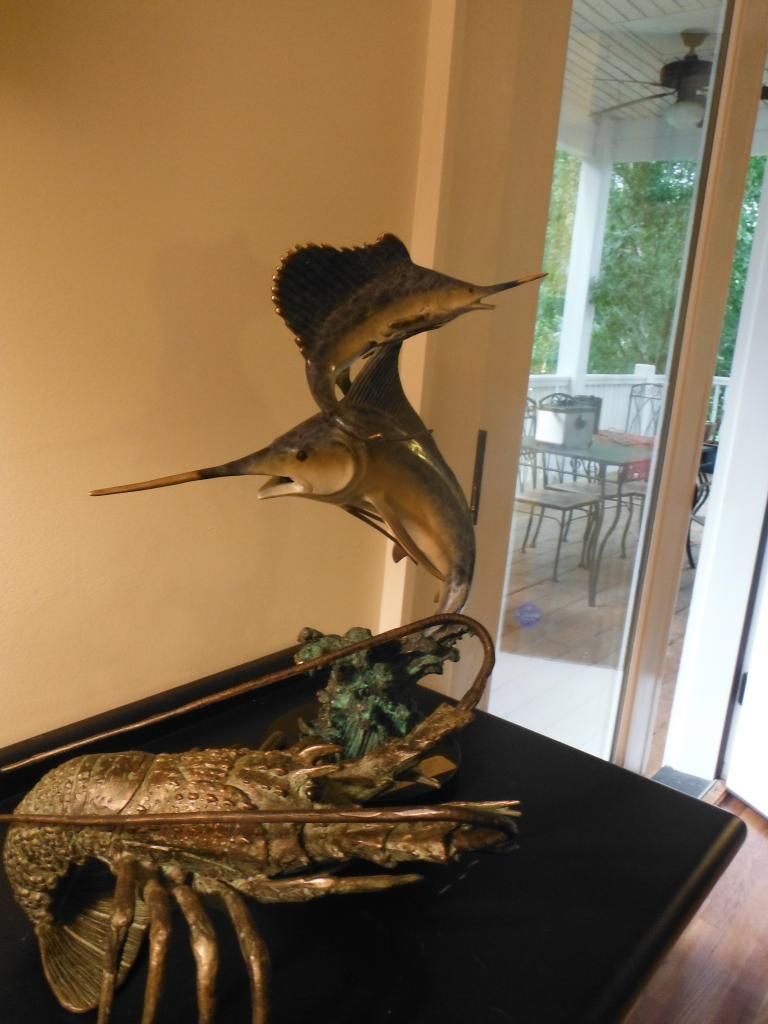 Speaking of prizes, we all got to fish for free and everybody who caught a first place fish got to pick out a new rod. Actually, we all could have made $216, but I'm going to keep $1200 which pays for fuel, entry fee and bait. The rest will go back to the school.
Next chapter… A little squid and homemade eggroll action last night! Tonight is some lime / turmeric / cilantro / garlic baked scamp!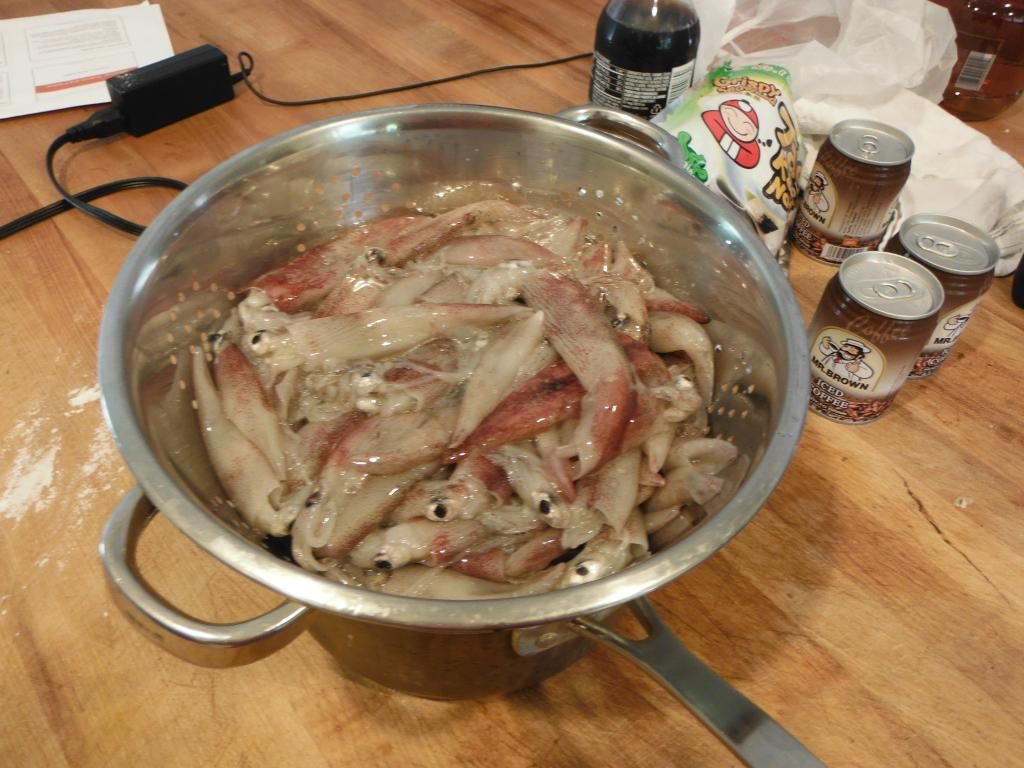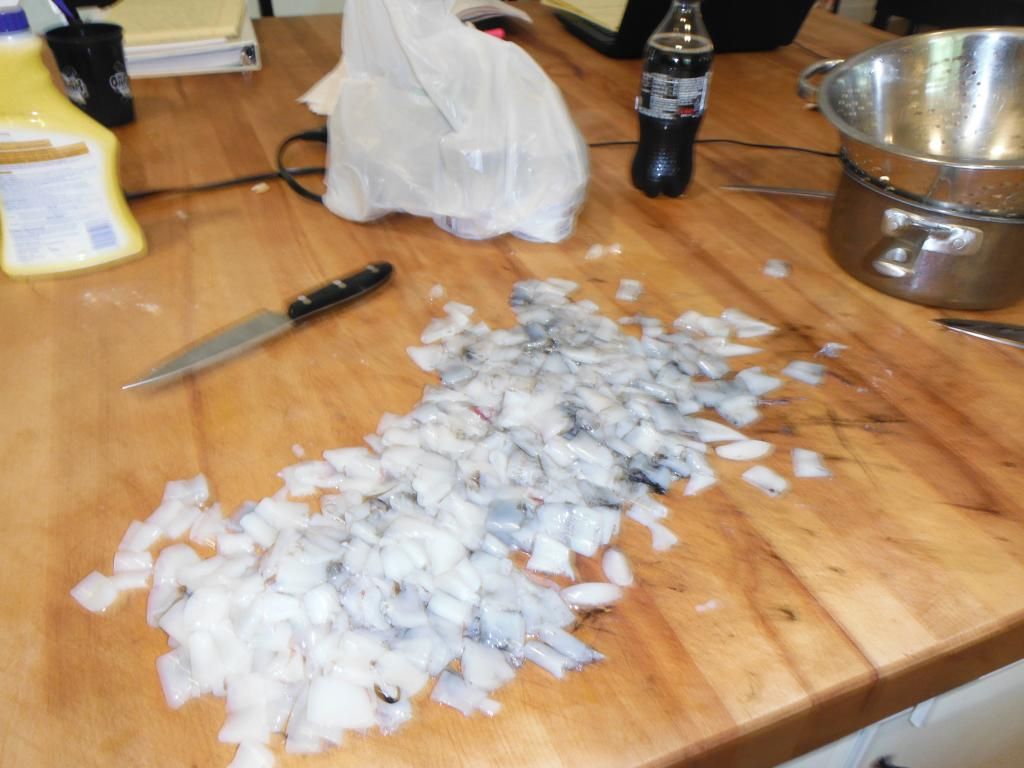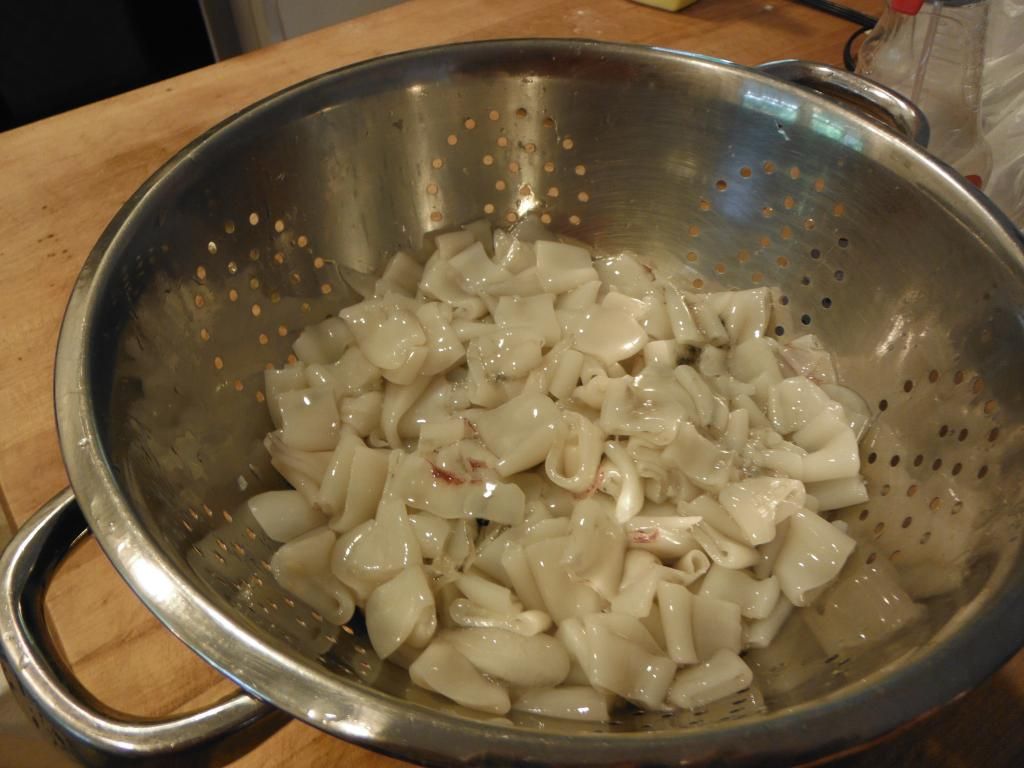 Dinner is served! I overloaded the fryer a little bit, hence the less-than-golden color on the squid. I was faced with a difficult decision: Keep in fryer longer and get them golden, or pull them early and keep them tender. I chose the latter. They weren't perfect, but it all got eaten.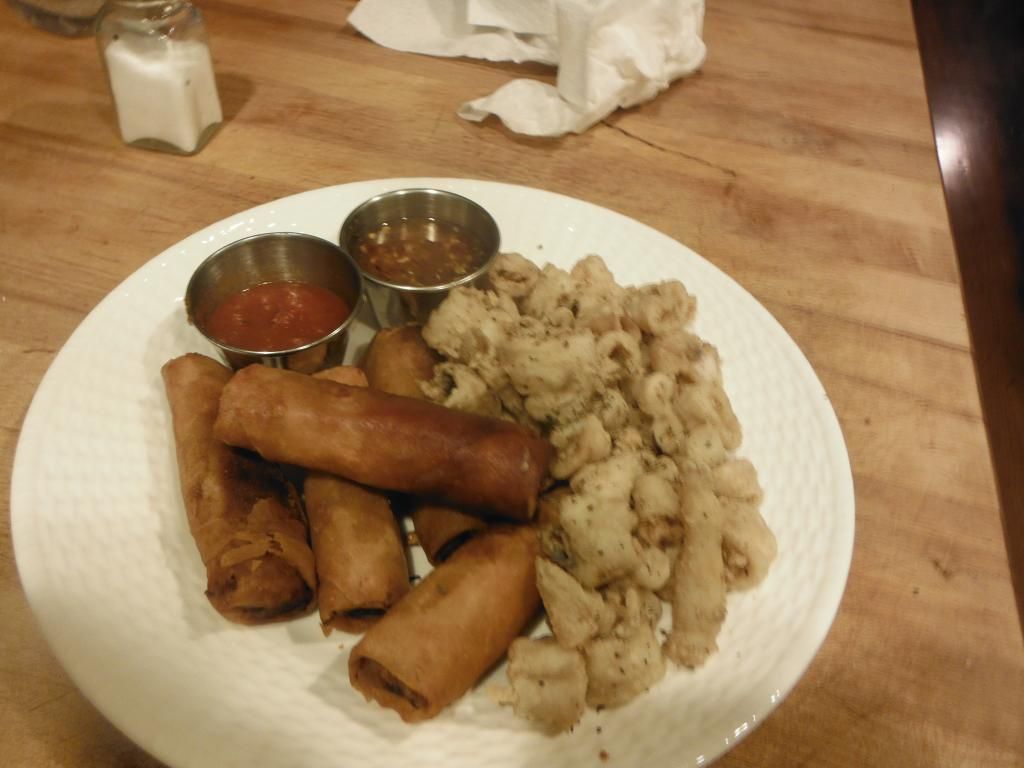 A good trip, but an exhausting one… will likely be taking next weekend off.
PH80
"Whatcha doin' in my waters?"