Home
›
Southwest General Fishing & The Outdoors
Lots of Tarpon + Bonus Inshore Cobia X2
Captain Ross
Posts: 289
Officer
It was a great week to be fishing in Southwest Florida. As usual, I only had time to focus on the night bite, but that is my favorite time to fish anyway :wink
Check out the full report @ www.theintrepidangler.com
Late April Tarpon & Cobia Fishing Report
Please take a look at this post if you'd like to know more about the rods, reels and knots used to land big tarpon.
Top 6 Tips for Big Tarpon
To find the perfect spinning rod for tarpon.
Reach out to Sewell Custom Rods of Fort Myers.
Early in the week I went out for a solo trip on the Hobie Pro Angler 14'. I stood in my driveway at 9:15pm for a good 15 minutes teetering on the edge of not going. There was a stiff 15 knot wind blowing and all the flags were standing straight up. I had a Confucius moment and thought "man who sits on couch catches no fish." This was enough motivation for me to make the trek out and see what the water looked like.
As I splashed the Hobie, I could tell it was going to be borderline too rough to fish, but the wind and tide were going the same direction and it was several hours until tide change. After a short pedal and on my second cast with the new
Ultra Violet infused HDUV 9" Jigging Hogy
, I launched a solid 80lb tarpon into the sky. This fish made 5 or 6 jumps and ended up throwing the Barbarian Jig before I could grab the leader. Fortunately, this would be the only fish I lost tonight.
After loosing that fish, I switched over to a black HDUV Jiggin' Hogy and made another cast or two. I hadn't seen a single tarpon work on top, but I continued to work the jigging soft bait in the mid water column. I would let the bait sink down 8' - 10' I would jig it back towards me with the tide, it wouldn't take more than 3 or 4 twitches for a tarpon to jump on the bait. Boom! Second **** on, this one about 100lbs. After 15 minutes, I got her yak side for a leader grab and popped out the jig. The leader was in perfect shape, so I tossed the bait out again. Literally, next cast was a larger fish, close to 120lb.
Sorry for the blurry iPhone pics. It's difficult to take pics of a jumping tarpon, by yourself, at night.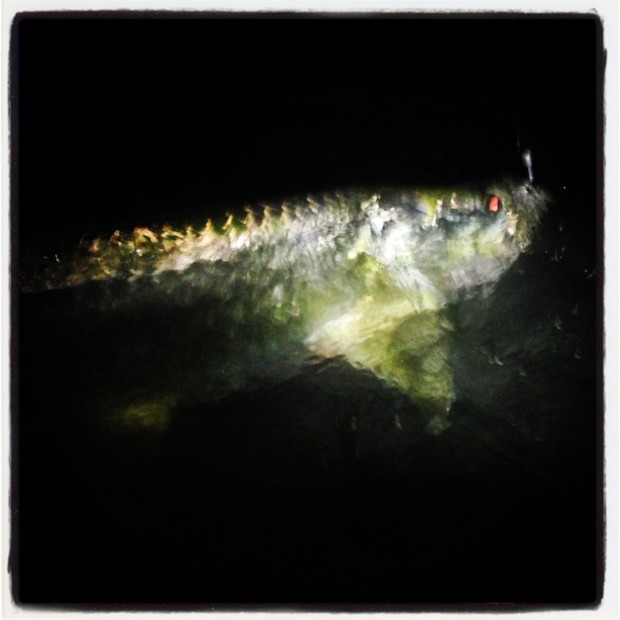 After spending close to an hour battling two adult tarpon, I took a break to relax a moment. I decided to try for a snook near the bottom and bounced the jig down deep. I felt a familiar thump and set the hook. This fish shot out and sideways, not like a snook, or a tarpon. I thought it may be a small shark, but wasn't sure. A few minutes later, a 37" Cobia pops into view. After a bit of crafty maneuvering, I was able to use a pair of fish grips to grab the fish, pull it in, cut the gills, and pin it under the Hobie's seat. Ahh, sweet. Meat for the grill!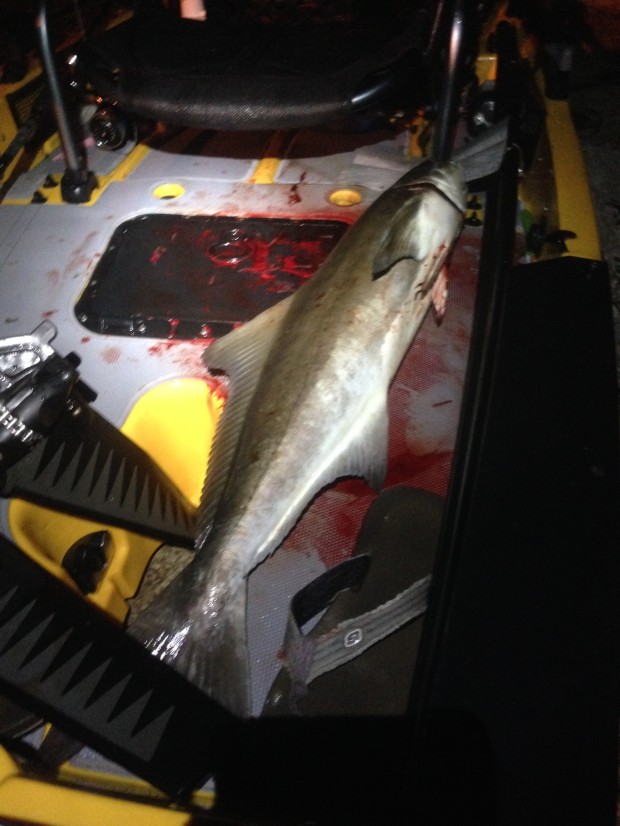 Needless to say, I was super pumped and quite happy that I followed through and got on the water. I re-rigged for tarpon, made a few casts and hooked the biggest fish of the night. A stud 130lb Ocean **** shot up and starting going nuts from left to right. Mind you, I'm in a 14' Kayak while this is going on. It's manageable, but still pretty **** exciting to try and keep control of the fish. After a solid 30 minutes, I had traveled nearly 6/10ths of a mile from hookup to leader and photo. ****, I paddled back to the launch and called it a night at 12:15am.
- - -
Skip ahead to Wednesday night, I was hoping to recreate this madness with some long time friends. Unfortunately, the fish weren't cooperating as well. We managed to put one big tarpon in the air with a live lady fish, but it came unbuttoned shortly after. The big surprise and bonus of the week, was a second cobia! But this was a grande model, at least considering it was caught inshore. A big ol' 50" Cobia smashed a live threadfin fished on the bottom. It was Sierra's first cobia and a dandy way to start off. Time to fire up the grill again.