Home
›
General Hunting
This past weekend
Ol Mucky
Posts: 5,520
Admiral
Went to see if I could get a deer on the last weekend.
Didn't shoot any, but I did have some great visuals.
This flock of of 15 or so birds showed up with some deer. They all hung out near an old plot (green on the right, you can see one of the deer on it)
Kewl thing was the dominant Tom. Big fella,stayed pretty much in full strut mode for 20 minutes. He'd chase another Tom around (impressive bird itself), that Tom would chase a subordinate Jake, that Jake chased a lesser Jake. Pretty kewl. The whole time the dominant fella kept order. Then a coyote showed up, and got within 10 yards of the Tom and 2 hens, all of us were watching the coyote........he just walked away.
Naturally the Tom stayed furthest from me and behind a tree, but if you look in this pick, he's straight back, last bird on the right.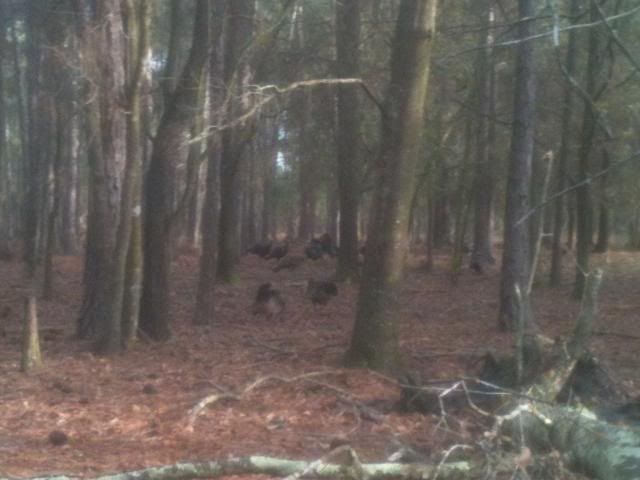 Here he is when the coyote ran off
sorry about the quality of the pics, its a 3g iphone....sux.
Sunday I switched stands to another part of the property, hoping to get a deer, but knowing EVERY night at 6 the hogs were showing up 6 am and 6p without fail.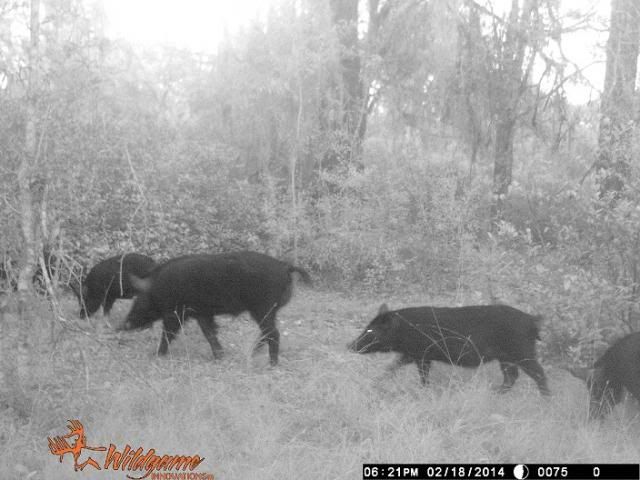 No deer, but at 6 oclock, I hear them in the brush. coming out. But they didn't like something, me being upwind, or the corn I put out, whatever it was. 2 would pop out of the brush then go back in, I couldn't get my sight on them with the branches in the way. 2' either direction was all I needed :banghead
Just not my weekend.
Junk happens.
Either way, May 8th is coming...maybe I can get my daughter on one of those two birds (I think both are registry, no doubt the dom bird was, the other was darn close though)
I have a much bigger and more powerful button