Home
›
South General Fishing & The Outdoors
Thanks to Autumn
The BEAST
Posts: 77
Deckhand
I got a call from Autumn who was in Miami for some business meetings/vacation. She was going to be in meetings all day while here and wanted her husband to do something fun so she sent us an email. We booked Brian for a ¾ day. Brian arrived on time and we loaded him aboard. Within minutes we shoved off and made our way out to the bait patches.
The bait was easy and the 3 of us caught plenty of "hookers" and then I tossed the net on the stupid ones hanging close to the boat. With 2 live wells at capacity, we headed offshore to start the day. The blue water had some chop but it was more than comfortable fishing.
We hadn't been at it very long when the down rod popped off. Brian jumped on the rod and worked the fish up from below to find a 15# Barracuda. Devon reset the lines and the game began. A bust on the short flat line and Brian is into another fish, This was a Tuna type but it didn't take long for Devon and I to discern by the fight that it was a Bonito. Brian brought the fish to the boat and Devon brought it aboard for a quick photo op.
This scenario played out several more times with us hooking up 3 more fish, 2 of which were Boneheads, and the other which had come loose was a suspected Blackfin. The action went into a slight lull so Devon showed Brian how to work one of our smaller speed jigs. Brian's first drop resulted in a hit and he brought up a pretty, little Mutton Snapper. Unfortunately it was a bit short so we released it to grow up. The top action fired up again and we got into yet another Bonito and then a nice "lifter" Dolphin.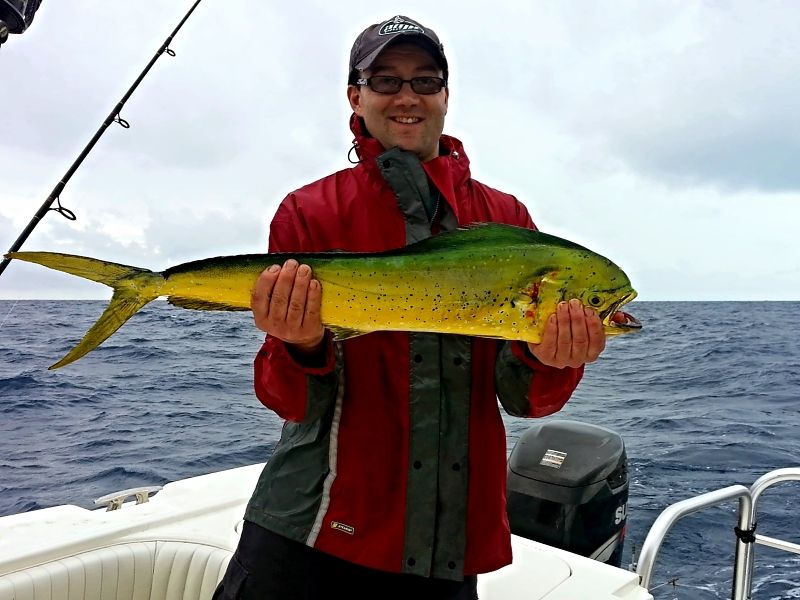 Wow! This looks like it is going to be a busy day. We worked the area a bit longer and then I headed for a good mackerel spot I know. Within minutes of arriving in that area the down rod pops off and the reel is screaming. Brian jumped on it and we were thinking "smoker' King. Brian begins whipping up on the fish and soon we see color. Dang! It's an extremely large Caribbean Spotted Mackerel, but darn impressive!
After releasing the 'Cuda we reset all the lines and got after 'em again. Brian was enamored with the speed jig and began working it some more. We passed over a huge bait ball marking on the sounder. Brian gets a tap on the jig. That bite turned out to be a strong grand pappy Blue Runner. Good Lord they can gain some impressive size out in the blue water around good bottom structure. A half dozen or so drops of the jig and he has another fish on. This one seems to be another big Runner. Nope. This fish is a small Cero Mackerel. I put this picture in the report, not because of it's impressive size (chuckling) but because it was a pretty fish. They are the only Mackerel type fish that we have here in S. Florida that I actually love to eat. They are delicious the way I cook 'em up.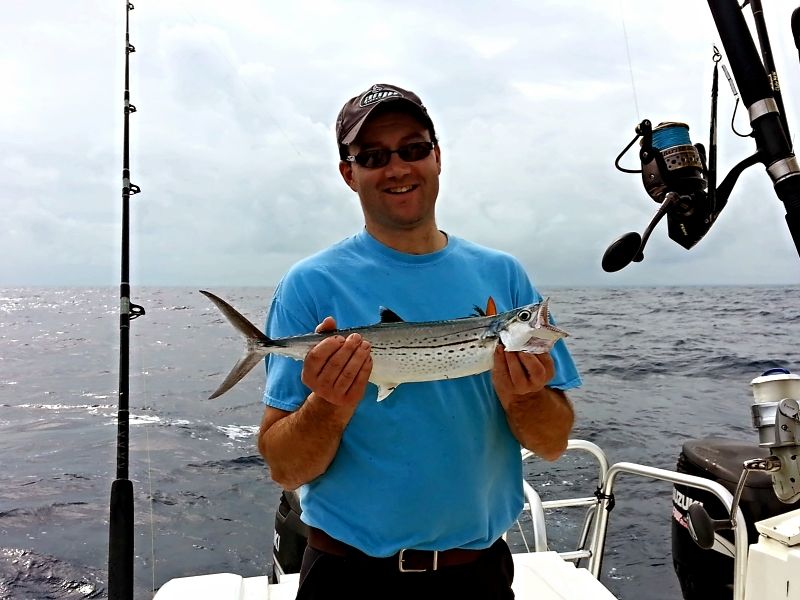 By now we are into overtime and I asked Brian if he was ready to call it a day. He looked at me and asked if he could extend the trip to a full day. No, we hate fishing and want to go home… OF COURSE! We were hoping to end the day with a bang (sailfish). We're in a good spot for the "witching hour" when, Ba-Boom, the down rod sounds off and it is a strong fish. Brian fights this fish for some time and we are thinking, shark. The fight dragged on for many long agonizing minutes and he just can't stop the fish from reaching the bottom structure. The line goes limp. Oh well, that does happen when fishing light tackle. We got back into gear and mere minutes pass when he gets into a Blackfin. No sooner do we get that fish to the boat when one of the other lines takes a hit. Yes sir! I think we have his brother! Sure enough. Brian is getting a workout but happier than a clam on muddy bottom. He brings the fish to boatside where Blackie meets Devon and the steel. Nice!
This action packed day has our hopes high for the grand prize in the waning minutes. We chummed out the remaining baits and hung in the area. Nothing. Suddenly there is a "freebie" bait making a run for it and a "snooter" hot on its tail. By the time I made the turn around and got close to where we spotted it, the event was over. We hung out until the last minute but came up empty in the Sailfish Dept. We buttoned down the gear and I turned The BEAST toward the west and spurred those 600 ponies. A good time was had by all, thanks to Autumn!
Capt. Jim
The BEAST
305-233-9996
[email protected]
www.beastcharters.com