Home
›
Ten Thousand Islands General Fishing & The Outdoors
Naples Take A Soldier Fishing Tourney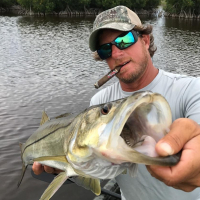 Joe Snook
Posts: 468
Deckhand
This tournament was last weekend and holy cow WHAT AN AWESOME EVENT!
I saw it going on last year at the Calusa marina in goodland. I was irritated at myself for not staying in the loop close enough to know it was going on so I coulda been a part of it. So I asked around and gave a coordinator my phone number so he could give me a heads up for next years event (2013).
What it is is they sign up captains that are willing to take out 2 soldiers out fishing to compete in a fishing tournament. Basicly fishing for bragging rights for there is no cash prize. Let me tell you what you dont need to win cash or weigh in the biggest bag to feel great about your day and giving a little enjoyment for a day to people that risk so much for us so we can sustain our lives in the greatest country in the world.
This year it was held at the Bayfront in Naples. The place was packed with people and the event was first class all the way. The Captains were treated very well with huge captains bags filled with all good free things. The captains meeting was in a banquet hall with an open bar and an Awesome buffet. Thats the night they pair the captains with the soldiers.
Sat. Morning was the tourney when you pick up your soldiers, cases of water, cases of beer n ice and killer lunches. After everyone is aboard we packed up under the 41 bridge waited for the national anthem to end then it was GAME ON!!
Shotgun Start! we were out looking for two big slot reds and two biggest trout to weigh in.
Im glad it turned out to be such great fishing action for them catching all sorts of fish including a 7' lemon shark that broke off boatside.
It was so rewarding to see these guys so appreciative for taking them out to do something im able to do so often and make a living doing only because theres guys and girls out there like them willing to risk their lives to allow me the Freedom and Rights to do so.
This tourney is put on by countless dedicated hardworking souls and trully put on an event that was way beyond my expectations of what I saw from last year. It grows because of these great people and the captains that are willing to give there time. So to all of you working charter captains out there inshore and offshore I encourage you to check out their site and sign up for next year. There were 70 captains this year from all over and I suspect there will be many more next year.
www.naplestakeasoldierfishing.com
the awards ceremony was held at a country club in Naples in a beautiful banquet hall with Awesome food and an open bar. I was not one of the guys recieving an award but seeing those troops so stoked about finally getting to go out n do some serious fishing was all the captains reward, you cant lose.
Sent from my SPH-D710BST using Tapatalk 4
southwest florida fishing guide in the beautiful 10k islands, everglades and more
www.Joesnook.com