Home
›
Southeast General Fishing & The Outdoors
Jupiter...Nice Day Fishing 8/29
RockNReeler
Posts: 1,067
Officer
Headed out early with Rondo aboard the RocknReeler and we're greeted with clear skies, clean water, and calm seas.
Heard there was some nice live bait just off the Juno roofs on the bridge dump. Picked up a nice assortment of live baits, although you had to wade through the Hornbellies and Blue Runners to get the sardines. Ran all the way out to 700ft looking for weed mats, rips, floating debris...Nada, the ocean surface had nothing. Ran back in and saw some fish popping on the surface in 160 ft. Dropped chum bag, put out some livies, and also dropped down some bottom stuff. Caught a nice trigger, released a Queen Trigger, then had a Dolphin swim up to our boat.
Threw some chunks, dropped in a new livie, which he took right off my hook. Dropped in another, rod bends...big fight....but alas, it was only a Bonita that got the bait. Now we have sharks all around the boat, so we move inside to see if we can find some snapper and such.
Fish the reef in 70 feet, and although the bite was not terrific, we did manage a number of nice fish for the cooler.
Most were holding just inside the west edge of the reef. Here's a nice fat Porgie I pulled in on cut squid.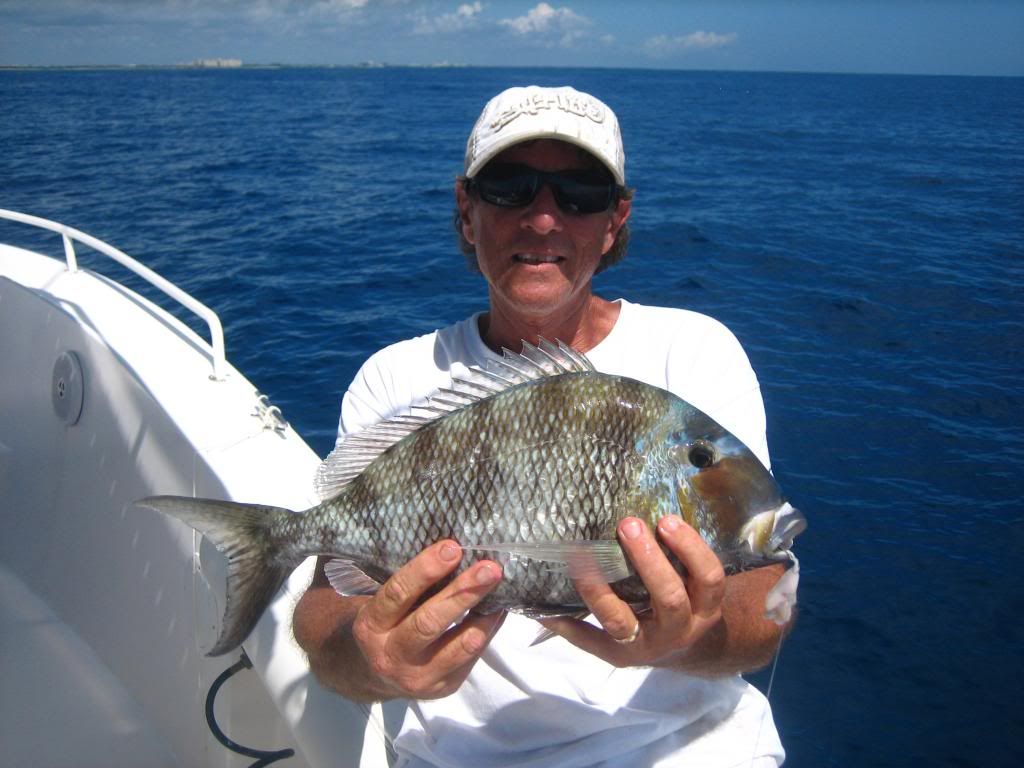 Had a nice mixed bag when we finished, just before noon:
5 Yellowtail
2 Mangrove
3 Porgies
2 Triggers
1 Rainbow Runner
and a "Tally Fish" Rondo pulled in on a flat line. Never caught one before, but we took it to the Dock and the charter guys said they "taste like lobster". Rondo said the skin tough to get through, but the filets looked nice. Will have to ask him how it tasted.
Was a beautiful day on the water, everyone should have been out there who wasn't at work!