Home
›
General Freshwater Fishing
Tiger Lake (Lake Wales) - March 23-30 - Not the Gulf
Kids Ate My Bait
Posts: 1,038
Officer
Spent spring break week in Lake Wales with the family. We stayed on Tiger Lake, and it looked promising. The kids had fun, but daddy was not pleased with the fishing. The locals were out in force in their usually spots, but I was never able to dial the fish in. We also contended with the hurricane that blew in the first 4 days of the week, so I really never got out until Wednesday. We fished the pads on the north side of the lake, along with the grass beds, and some in the canal connecting Tiger and Kissimmee.
Wednesday
Day one we were basically feeling out the lake. The go-to color was allegedly pumpkinseed red. I had plenty of those, top water jitterbugs, frogs and twitch baits - all of which went untouched. I also fished the channel than runs between Tiger and Lake Kissimmee, but nothing but nibbles on the spec rigs we were using. For the day both boats had no fish, two bites and plenty of time killed.
Thursday
Armed with live bait (shiners and minnows) we set off the get our fill of specs and bass. There was [plenty of activity by the locals, so I knew they were there. With no luck on the pads and grass beds, we moved out to FWC's artificial piles (fallen trees) in the middle of the lake. On the second cast, I / **** scored with this nice little spec, at 14", caught on a live minnow under a cork.
Quick pic and back to fishing.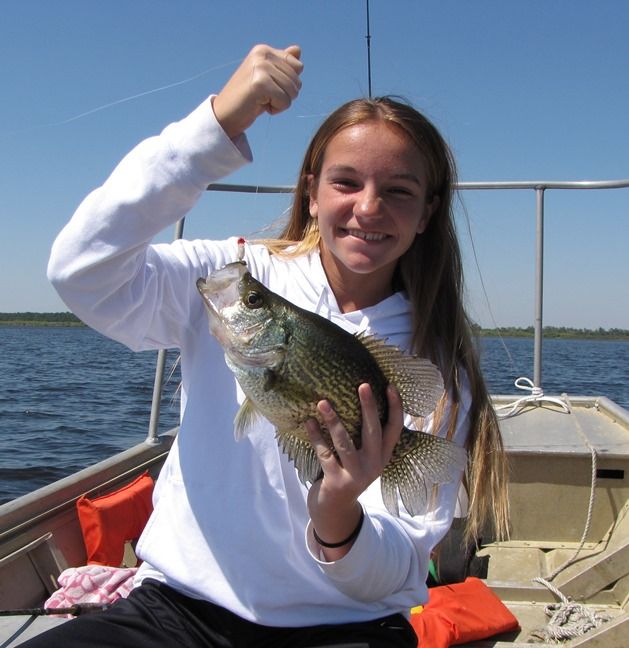 Our other boat missed a nice bass on a shiner, and the day ended with one other spec being caught by myself at the same location. The second was about 15" and caught on a white feather jig tipped with a dead minnow (saltwater fisherman in me coming out).
Friday
Braving the cold, I ventured out for a solo trip before the vacationers woke up. Had a nice calm morning, cool, with the moon setting to the west.
Managed nothing but sunburn, and no fish. Tried the grass/pads and artificial piles, using both artificial and live/dead baits, and the only one out and moving was this guy….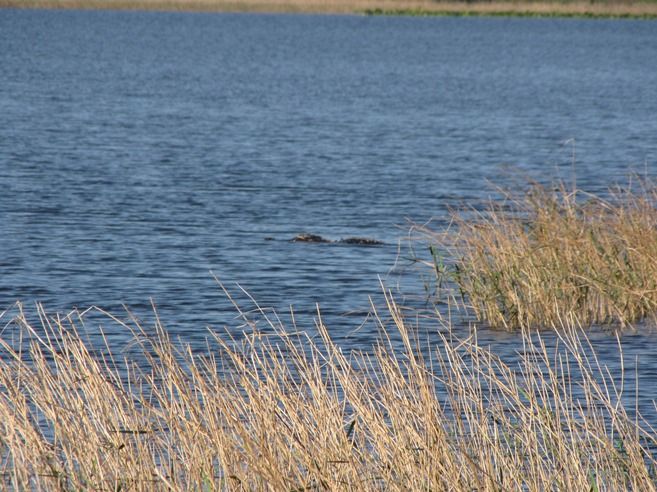 About a 10' gator from what I could tell. Went back to the house for breakfast, and came back out later in the day with the kids. Still no luck, and then finally Shorty picked up a 16" bass on a live shiner under a CT. That was it for the week.
The rest of the time, the kids did this……
We had a good time, just wish the fish would have cooperated. Maybe next time…..I can get Mamacita to go to the keys for spring break.:grin
I definitely need to work on my freshwater skills, because it certainly was not the gulf out there.
Be safe -
KAMB
Don't blink - they grow up fast