Home
›
Ten Thousand Islands General Fishing & The Outdoors
Biggest red landed on my boat so far Its HUUGE! 12/24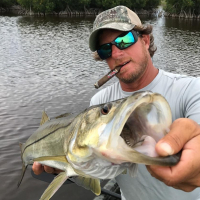 Joe Snook
Posts: 463
Deckhand
Had a great group of 4 from Ohio today. I played this one by ear. I had solid plan but I couldnt shake the feeling that something good was going on out a few miles out. So out we went to let the tide come in abit. On the way out to my numbers I was hoping for birds and there they were. But! Instead of macks there were these big fish feeding up top. Sharks? Cobia? Nope apparently it was Huuge reds and Robert whooped this slob good.
uploadfromtaptalk1356398023955.jpg
30# plus this fish was faat
uploadfromtaptalk1356398133267.jpg
after this one they left. These guys wanted some good meat so we stayed out and managed about 15 trips with 3 fat keepers.
uploadfromtaptalk1356398537208.jpg
uploadfromtaptalk1356398603370.jpg
his wasnt legal hers was but it was his and her first fish ever and the whole pic. Thing after that got old once everyone caught the bug of runin these suckers down. Finally hit the number and manged a few pomps. I was runnin around feelin like it was my first day fishing ever, totally Stoked lovin every second. Im at a christmas party but wanted to share this trip. Merry Christmas everyone and God bless.. sambuca time!! MERRY CHRISTMAS!! Tear Em Up!
Sent from my SPH-M820-BST using Tapatalk 2
southwest florida fishing guide in the beautiful 10k islands, everglades and more
www.Joesnook.com