Home
›
Big Bend General Fishing & The Outdoors
CR 11/21 - Under Aged Trout
Kids Ate My Bait
Posts: 1,038
Officer
I'm in the middle of trying to get the boat back together. I had planned on spending today doing just that. Yesterday Cuz called and asked if I wanted to go fishing….so I will work on the boat Friday.
We hit the water around 0830 to chilly weather and stiff winds. We tried some mangroves and flats, hitting both periodically looking for something to bite. Not a lot of bait out there, that we saw, and only a few reds were zipping by as we made our passes near the tree lines. We fished until around 1400 hours and managed (2) trout for the cooler, along with a lot of under-aged, 14.5" trout. There is an abundance of 14.5" trout out there right now. If you would like to catch some 14.5" trout please go to CR and give it a shot. Unless your name is Kyle or Don, you will find plenty of 14.5" trout…all day….everywhere….but I digress.
Cuz managed about a 15" red, and we saw a few in the slot but they were too busy running from us as we trolled into certain coves. In addition to the 20+ trout and red, we had a couple of ladyfish, lizards and quite a few ambitious pinfish. The action was not as good as the other day when we went out, but at least we got out, and had a good time. No idea what the water temp was…felt cold as I got sprayed going out and coming in. All fish were on Gulps, hard twitches and other softs under CT's.
Only live-action pic of the day, 18.5". Sorry for the odd position….I was in a hurry to get back in the water before Cuz caught his daddy.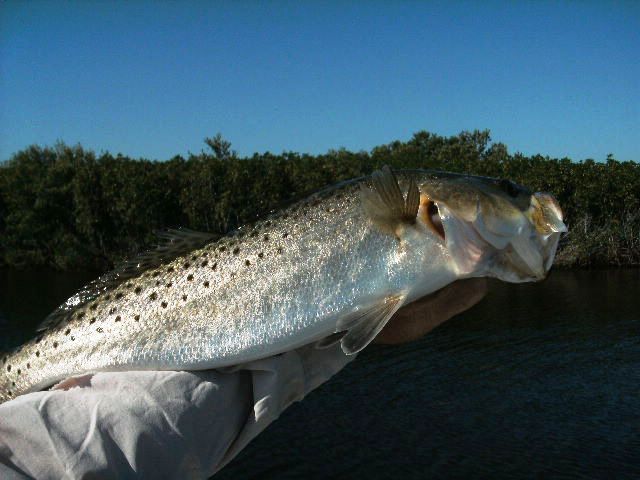 Sorry no cooler shot. Cuz left before I got back in the boat to snap it. I'll describe it to you - it looked like two trout laying in ice - the longer one was mine :grin
Be safe - KAMB
Don't blink - they grow up fast