Home
›
Southeast General Fishing & The Outdoors
7/24 Boynton Kayak...The Leviathan!
DaddyCantFish
Posts: 34
Deckhand
[IMG]
https://fbcdn-sphotos-a.akamaihd.net/hphotos-ak-ash4/283277_2205150298598_1542612503_2380556_4935946_n
. jpg[/IMG]
[video]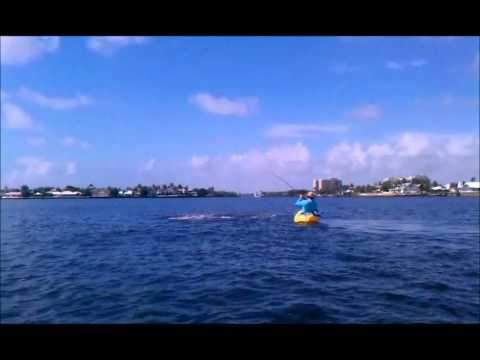 Took me a few days for this post to properly submit the video. We had to do this fish justice!
We had been fishing this spot for 3 days racking up Kayak Wars points catching the spinner sharks sitting tight inside the inlet.
We wouldn't normally keep hammering them, but each day they became more awnrey and kept tail walking with spinning jumps. Not to mention they are worth more points than a snook.
Finally Sunday, do or die, 11 am slack low tide and last piece of Jack crevalle. I was moored next to James getting a water. He says I'm Bit. "well hurry up with that shark". 2 sec later, 20 ft in front of us, this 8 +ft tarpon launches on us!!!! Hello!!!!!
Video is pretty straight forward, we tried to land her, but she stuck to the channel and swam far away from any sand bar or beach. Unfortunately she could have been worth 300 points plus a kayak man Gold award. I tried to leader her 2 times and she wouldnt budge. Oh well, i was the video man and the image of her breaking water is burned in my mind forever