Home
›
Panhandle General Fishing & The Outdoors
Young archery 6 point last Saturday...
Panhandler80
Posts: 8,806
Moderator
Well, I hunted the SE corner of my property where my neighbor had put a camera up. See other thread for details on THAT! Anyway, I used my climber in a tree that I have wanted to hunt for a few years but never found the motiviation because I always had deer at my ladder and tripod on the W side of the property.
Climbed up and got my climber situated better than I ever have before. 100% totally comfortable and I sat dead still from minute one until the kill. Sometimes I think my climber is good and an hour or so into it I grow uncomfortable and either wiggle around through prime time or have to re situate. Not yesterday.
Sun gets low and with probably two hours of day light left I hear a crash off to my left. I'm looking SW expecing deer to come from about 4:00 with a SW wind. Not ideal, but I''ll hunt almost a 90 degree wind on a well defined trail if need be. Well, with two hours to go it's nothing but CRASH, CRASH, CRASH. Mind you, I'm up in the NW FL, so bucks are still bachelored up. That being said, all the crashing can't be chasing. Granted it the woods to my left and back left are THICK. Thick as in bust out your limb loppers if you want to walk through it. Thick as in I'd already told myself that if I did arrow one, he'll likely get hung up in that stuff if he's shot. Net-like woods. Anyway, it is thick, but the crashing took literallly two hours and came from mulitiple places. I figured it pretty much had to be one of the momma bears I have on film. One has two cubs, other has three.
So, for literallly about 90 minutes I hear the crashing get closer and closer. Finally I decide to turn on my little point and shoot camera and I'm really thinking that I'll video some bears. Kind of cool... I guess. Right then I see a white flicker back in the planted pines that aren't all that thick. DEER! Wait... if that's a deer, then all of the other crunching and crashing i"m hearing... those are deer too! Oh boy.
Here was my set up...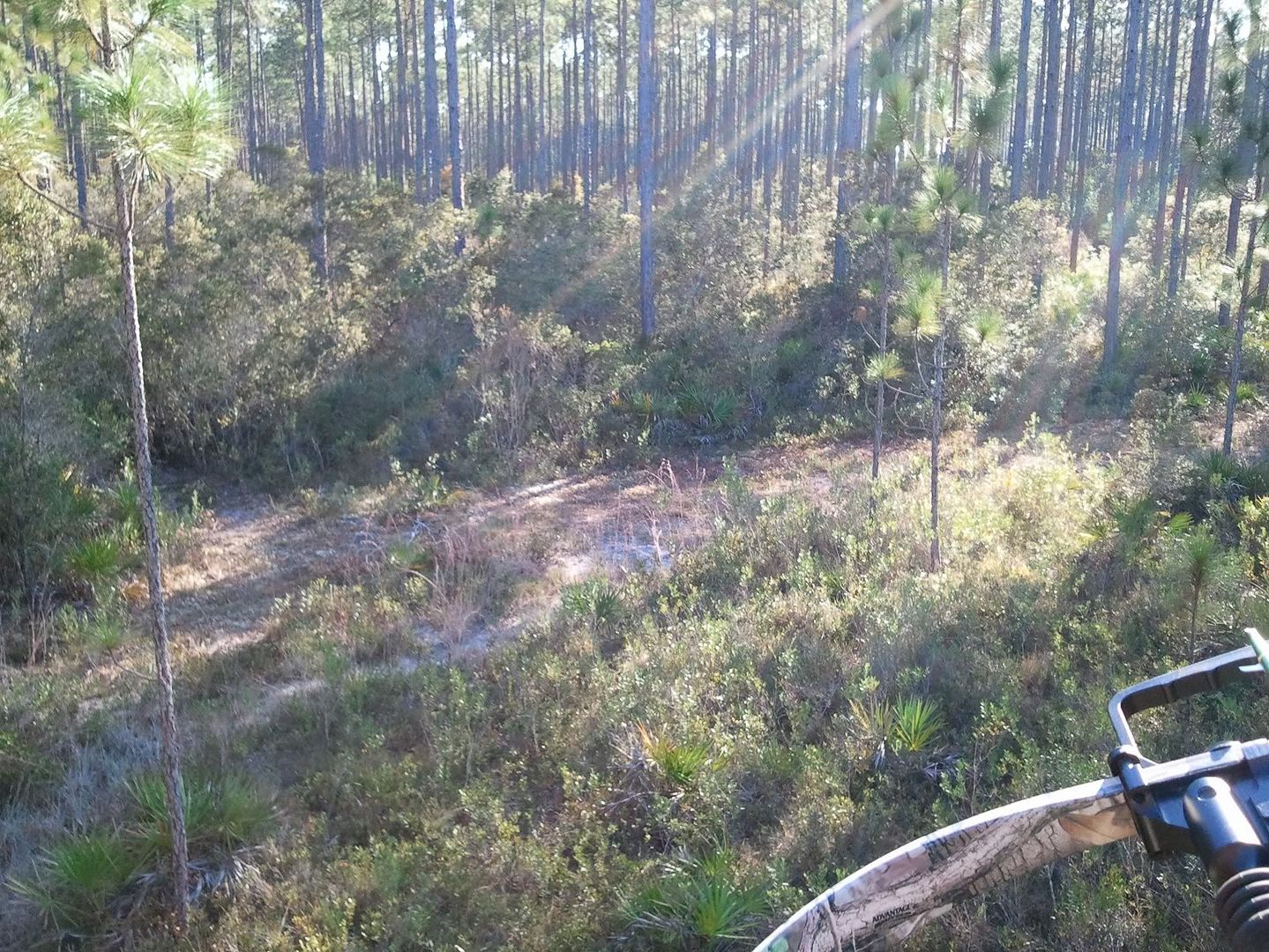 Forward and left of this pic above is the super super thick stuff.
Well, I get the crossbow ready and hit the record button. This is my first attempt at trying to film what I'm doing and it was fun. Although, I definitely made some mistakes. LIke... film the critter for a while first. Oh, and after the shot stay on him.
Anyway, I see a deer and he has horns. He comes to the clearing and just stops for a soild 2 minutes or so. Behind him I hear crunch, crunch, crash, snap, crunch from two different places. No telling how many deer or WHAT deer were with this little bachelor group. Anyway, my deer pauses at the clearing for a couple minutes and then a little spike walked up behind him (while more crucning still going on back in the thick stuff). Once the spike showed up the young 6 came on out.
It was as this point that I gripped the stock of the cross bow and waited for a good moment to raise. The both fed and I raised up. The 6 point lifted his head when I lifted, but I did not think it was because of my move. Sure enough, he dropped his head again on the recently mowed trail and went to chewing. SWHACK!
Here's the vid. I'm not sure what happend to the audio, or why it looks GREAT on my computer, but sorry on youtbue and photobucket. Oh well. There should be a slow motion clip after the real time shot.
NOW.. Am I happy? Yes. Am I kicking myself a little bit for not waiting for the other deer to come in? Yes. Am I thrilled that my shot spined him? No. Will I take luck any day of the week? Yes.
I walked off the trail they came out of and it was 32 paces to the tree I climed. Apparently I climed a little higher than I thought because I put my 30 yard pin just a touch low and I spined him. I practice from my porch at 30 yards and do the same thing.... like I said, I must have been way higher than I though.
So, I spined a deer. Oh well... at least he died right there. Which brings me to my next point. The Swhacker is the stuff. Not sure why it never took off under the old Sonoran name or whatever it was, but let me tell you... if you want to shoot a mechanical, this thing is bad! I usually shoot on average two different brands per year and the results are usually the same. Good shot = dead deer with easy recovery. Bad shot = 50 /50 and a lot of work. Well, last year when I shot the biggest deer I have ever seen from the stand in Florida and lost him I swore off Rage, which is what I was using at the time. Granted I had some great results with Rage, but when I got forward on a huge deer and only got 3" of penetration and lost him after hours of trailing and the even more just looking.... after that I decided I'd try something else. Heck, even on good clean shots the blades were always a bit bent up and they always seemed flimsy even new.
Okay, so this year I decided to give Swhackers a try. Until I find a reason to change, I'm DONE changing things up. Lots of good reviews and although I only have one shot on game under my belt with them, I am IMPRESSED.
So, back to the deer... Yes, I shot a young deer with great genes. Yes, one of the two or three deer that were behind this guy might have been a monster. Oh well. I cna't kick myself aobut that or the bad shot. Thrilled to have a little basket rack in the cabinet and lots of good meat.
I'd say he went maybe 120 pounds.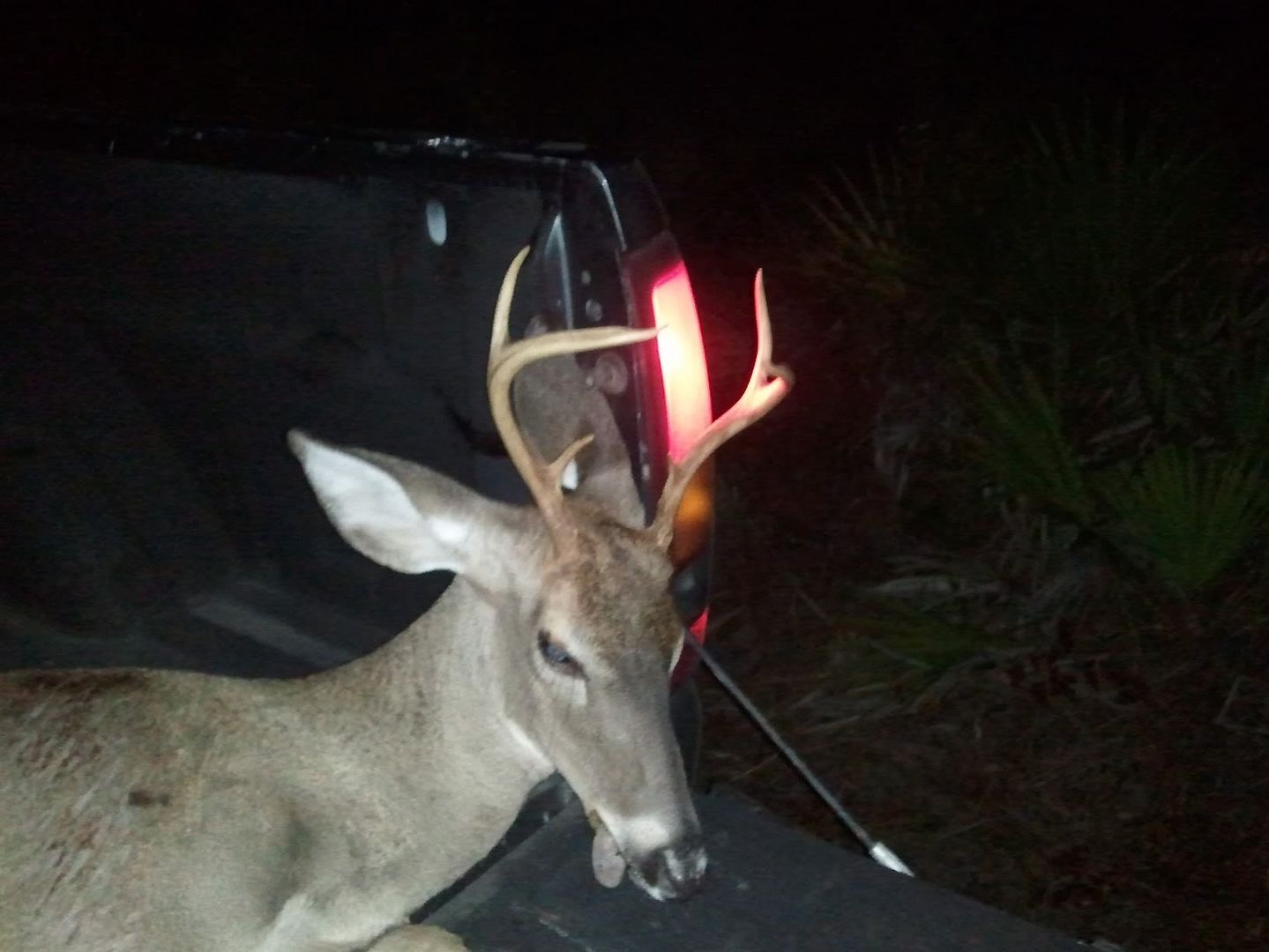 Pic from the truck box looking down into full size truck bed. A bit of a porker for a young deer ain't he?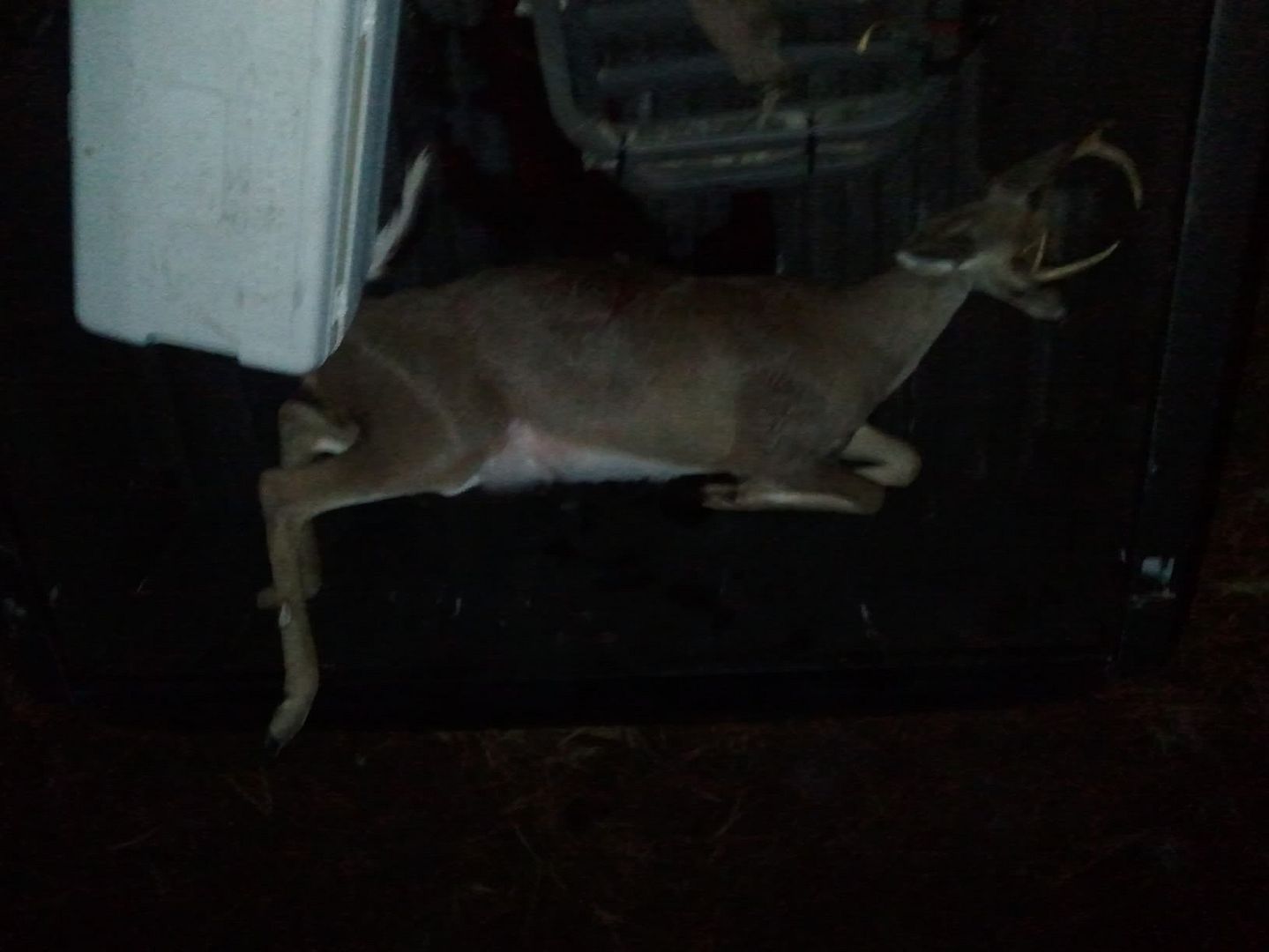 NOW... what I think is the most impressive thing yet...
Not bad considering I went through the backbone.
I spined a doe three or four years ago (my only othe spine shot) with a NAP Spitfire and it did not even make it through the spine. I had to finish her off by hand with a knife after she wheeled behind a palmetto bush on her front two with the back half dragging.
Anyway, so I spined this deer with the Swhacker and he dropped and died maybe 20 seconds later.
Check this out...
Like I said, I was a bit high. Used the wrong pin. Thought 30 yards was appropriate given the distance and height, but cleary I was higher than I thought. Anyway, the broadhead darn near cut the guy in half. Pretty cool to see almost a completley severed spine and the broadhead comes on through the other side.
Check this out too... talk about sturdy...
Hey, man's gotta eat, right?
"Whatcha doin' in my waters?"