Home
›
East Central General Fishing & The Outdoors
FSFA Tournament. A Blockbuster day
SC53
Posts: 619
Officer
Team Cool Beans had one of it's best tournaments to date this year.
Capt. Tim, Mike, Jack & myself arrived at the boat the earliest we ever had and left the dock under the cloak of darkness. Mike & Tim had procurred bait the day earlier so we headed towards the promised land with high hopes. Jack was fighting a pounding headache but he said the show must go on.
Once we hit the 100' mark and the sun just clearing the horizon to the east, we put out the trolling rods to see if we could get a jump on the slam. While we did have one good hit, it turned out to be a bonehead.
We worked our way out to 27 as that was our intended starting point. Once there, we were greeted to a 1/2 knot current and beautiful blue water.
The first drop and Jack is bowed up on his favorite butterfly only to get rocked up and eventually have to break it off on the ledge :cryin
Another drift and Mike puts a nice gag in the boat and we had one of the slam but needed to up it's weight. While they put it on ice, I am reaching in my bag, the boat rocks and I sink a kingfish treble hook past the barb into my hand :1bang
A quick snatch from a length of mono from the Capt. and I am free and ready to get at it.
Jack has rerigged by now with my favorite Blockbuster jig and on his first or second pump gets hammered. It's an epic battle but he eventually prevails and the one we needed comes to the surface, a 33.3# blackbelly (remember that weight)
I get in the act next with a gag that weighed 27.7#.
Mike, aka "Toad King", hooks up and brings his "favorite" new grouper to the boat.
We leave this spot and head to the next one.
I decide to get on the toad train myself and bring this one up.
Mike get's hammered on the next drift and up pops this beauty of a trashcan in the low 20's.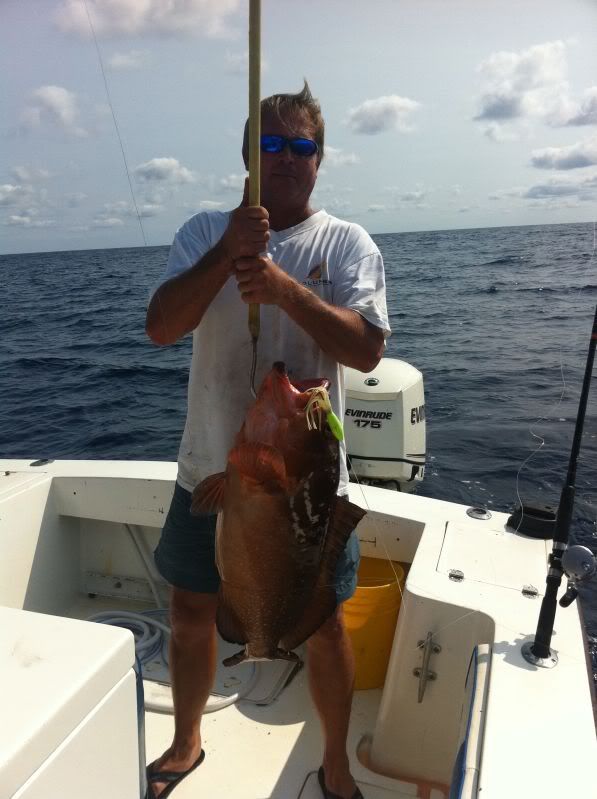 Well now it is only a little after 9AM and we think we have a money fish in Jacks and a respectable backup in mine to go towards the slam so we make the decision to troll.
We miss a short strike or two but Mike eventually get a hook in one and a 17.7# dolphin goes in the box. With #2 of the slam under our belts, we continue to troll in hopes of increasing it's weight. We get a hit on the long bait and see a 25-30# bull jump twice before throwing the hook :cuss After awhile longer without any results, we make the run inshore at about 11:30 to try for the last species, be it a cobia or king.
We catch some nice sardines on a small wreck and head to a known kingfish area. With no luck there, we head to another spot. We livebait there and before long get the 3rd species, a 7.7# kingfish which Tim letting go of the helm long enough to catch it. Jack gets on a fish that just expoded on a bait but it turns out to be a foulhooked bonehead. Mike gets into another one and it's acting like the right kind only to have it bite thru the wire :1bang
By now it's getting late so we head to the buoy line to finish out the day.
We checked ahead on the weights and 66# or so was leading the slam. Our calculation put us a couple of pounds shy with Jack's fish so we threw mine in the slam and weighed his in the grouper category.
His goes on to win the grouper by a comfortable margin :good
The calcutta was a 70/30 split this year and that turned out good for us as the heaviest fish in it was...33.4#.
Yes, we got beat out by .1 of a pound.
but did pick up the second place 30% money.
Here's 3 of the happy crew (Tim was taking the picture) after receiving the beautiful carved trophy by Chris Costello.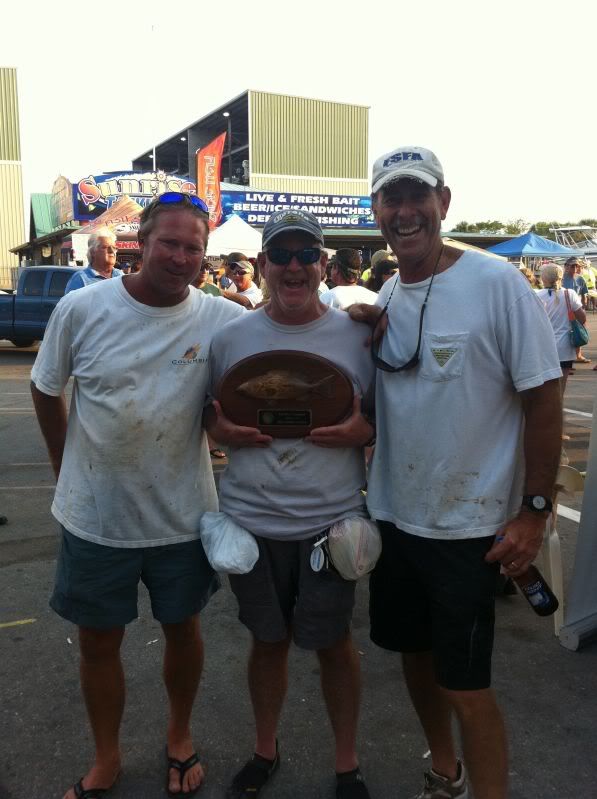 A great day on the water with an awesome crew.