Home
›
Ten Thousand Islands General Fishing & The Outdoors
Past couple weeks fishing trips 1/14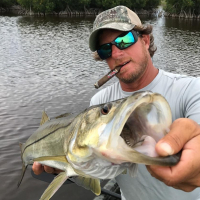 Joe Snook
Senior Member
port of the islands in Naples
Posts: 468
Deckhand
Had some great trips in jan. So far this month the weather has been awesome but windy most days so Ive been staying inside every trip the whole time. This trip was a few guys from chicago we got a few reds and some pretty nice snapper and trout for them to take to the marco brewery to cook for them to eat after fishing the whole afternoon.
uploadfromtaptalk1358209145256.jpg
I finally broke down and bought an off brand boga so people can hold the fish without really having to touch them.
This guy went out with his buddy to catch some dinner so I took em to get some great eating and fun fighting fish to put in the bag.
uploadfromtaptalk1358209523697.jpg
at the end of their trip I just couldnt help myself while heading in I saw some tarpon rolling and the dude was able to capitilize and land his first ever tarpon.
uploadfromtaptalk1358209725085.jpg
Ive been slacking on taking pictures so my posting has slacked as a result. Tear em Up!
Sent from my SPH-M820-BST using Tapatalk 2
southwest florida fishing guide in the beautiful 10k islands, everglades and more
www.Joesnook.com