Home
›
Tropics
Panama Fishing Report - Black Marlin, Big Dorados, & More for Xmas! - DEC 22-30, 2012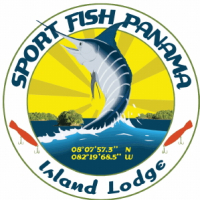 Pesca Pimp Panama
Posts: 184
Deckhand
We hosted two different groups here on Isla Paridas last week, had a day charter, and Santa sure was good to everybody!
It was the week preceding the full moon and, as usual, it was difficult to catch our staple bait Blue Runners. They just do not seem to want to make themselves readily available when there is a big moon and catching them at night is impossible once the moon is up. That being said.......the bite also tends to be good the week prior to the moon and also good when it's tough to catch bait.
We started out with newlyweds Jeff and Molly Volkman for a day charter outof Boca Chica the ocean was really nice but the bite was a bit slow around Isla Montuosa. The water was quite green and we only were able to find a trash line but it was loaded with Dorado! Jeff and Molly caught their first Dorados and we ended up with a nice Bull.
Matt Hill and family fished with us for two days and although we missed a couple of shots at Marlin we still did pretty well. Day one we fished around Isla Ladrones and hit all the usual spots for a Cubera or Rooster but came up empty. Upon arriving at one of the seamounts near Ladrones we came across a panga captained by a local idiot who was catering to some Spearos fishing with dive tanks! I lost my cool for a few moments in front of the Hills. I may have horrified the kids with a couple of my expletives but most of the bad words I had for the desperate Captain were in Spanish! It's illegal to spear and scuba in most of the world, including Panama, for a reason and it's even easier here because of no enforcement and nobody does anything about it. I called it in but I'm sure nothing was done. I decided to head out and find some Dorados. We missed a monster Dorado right off the bat and ended the day with a few real decent fish and everybody got in on the action. Day two was pretty much like the first but we got lucky and Nikki caught a nice Christmas Eve Cubera right off the bat. We released the Snapper and headed out to try and find some Billfish activity south of Ladrones. We ran into some nice deep blue water and located an area with plenty of bait and birds on the way to Isla Montuosa. Not minutes into the hunt we come across a massive grass patty stacked with bait. We miss a couple of big Bull Dorados but end up with the cows. We keep on trolling the plastics in the same area and raise a Marlin! It pegs the left short and then goes over and nails the right short! It's a small Black that jumps once and spits the hook! We keep on and get a couple more Dorados. Johnny can't keep up with filetting them as we are getting bit so often. Lot's of action. I decide to call it a day and as we are in neutral winding in the lures...... an electric Blue flash 10 feet behind the boat pegs my lure and takes off! I throw the reel to strike and we jam the throttles to put the hook in her good......she feels the hook, jumps high in the air and throws the hook! ****! But a great way to end the day!
Paul and Debrah Tatum, an avid sportfishing couple, fished with us for the three days after Christmas but the Gulf of Chiriqui still had some presents in store. They wanted to target Marlin so we headed strait to Isla Montuosa the first day. Greenish water still but a bunch of activity. Birds, bait, but only Dorados to be found. The second day we woke up to a big storm out near Hannibal Bank and Isla Montuosa. We burned up an hour or so trying to catch some Blue Runners around the island with little luck as the storm blew south. We made the slightly bumpy run out to Hannibal Bank to find clear skies! Upon arrival to the high spot.....we were the only ones there, a couple of tight big bait balls of Bonitos, and no Porpoises to be found. Perfect! We catch three Bonitos with ease and put them in the tubes. Johnny and I bridle up two on the 8/0s and we proceed to slow troll them over one of the bait balls. Not three minutes into the troll the long bait gets eaten! Johnny opens the reel and the fish swims away with the Bonito for a good 7 or 8 seconds. I yell at Johnny to put it in strike and as I get ready to jam the throttles and set the hook..... Johnny yells at me to grab the short bait because it just got ate as well!! Johnny gets tight on his fish and it erupts out of the water starting to thrash and move away from the boat quickly. I put my reel in free spool and let the second marlin get the big Bonito well into it's mouth. I was a little quick on the draw though because as soon as I throw the Tiagra up to "strike" the fish feels the pressure, turns toward the boat, jumps high out of the water, spits the hook out and it clings as it hits the deck right into the boat, and lands not 2 feet behind the starboard motor! Whoa!!! Quick on his feet... Johnny yells at me and our clients to hold on and he jams the throttles forward to set the hook into the fish's mouth. We strap the rod into Paul's stand up harness and the fight is on! The fish makes 7 or so more spectacular jumps and Paul wares the fish down pretty easily. An hour or so later she's at the wind on and Johnny's got her by the bill. She looks to be a good 600#s. We extract the hook, snap a few nice photos, and she swims away. Soon after we pick up a couple nice Dorados with one Monster that goes 55#s! Great day!
Check out the video of Paul's Black Marlin......
[video]
http://youtu.be/RDQ1fgbrkpU
[/video]
The following day we head to Isla Montuosa to find lots of bait and activity. At one point we find Porpoises and have 100# plus Yellowfin Tunas busting around the boat. We throw everything at them but they do not want to eat! Bonitos, Blue Runners, poppers, jigs, no luck! No wind to fly the kite we move on. We end up with more Dorados and do get into an exciting Sailfish doubleheader but only end up getting one to the boat that spits the hook boat side before Johnny can grab the bill. I put together this video from my footage and Paul's of Debrah's Sailfish......
[video=youtube_share;61ryeuqm9eA]
http://youtu.be/61ryeuqm9eA[/video]
Paul will be back in a few days with his son and a couple more guys so I hope that we can put together a few more exiting days for them as well.
Captain Shane Jarvis