Home
›
Ten Thousand Islands General Fishing & The Outdoors
Back in Paradise
blewitupsir
Senior Member
Everglades City/Labelle FL
Posts: 774
Officer
Well I am now back fishing trips at home. Had a trip with 3 great ladies yesterday. Two 17 year olds and one 18 year old, one had never held a fishing pole, one had been fishing a few years ago, and the third was the resident pro. Headed out of POI at about 0800, 10 dozen live shrimp in the tank and made my way to the front to check out conditions. Bit bumpy but I knew it should lay down so bit the bullet and made the long run to the local wrecks to see what was biting. Just as before the sheepshead bite is on folks. Get out there and bring some of these great eating fish home. Got us pinned down, and went to work. I like to use my light rods out there mostly, with 25lb leader to a 1/0 or 2/0 circle hook with a split shot to get it down but still look as natural as possible. Live shrimp work great, small peices of shrimp even better. The trick is to fish the edge of the structure and try to stay out of the middle or its retie city. We had a great time catching lots of sheeps, small snapper, and the spainsh bite was on fire. None of these are the rockstar fish we are known for, but they are the unsung work horses.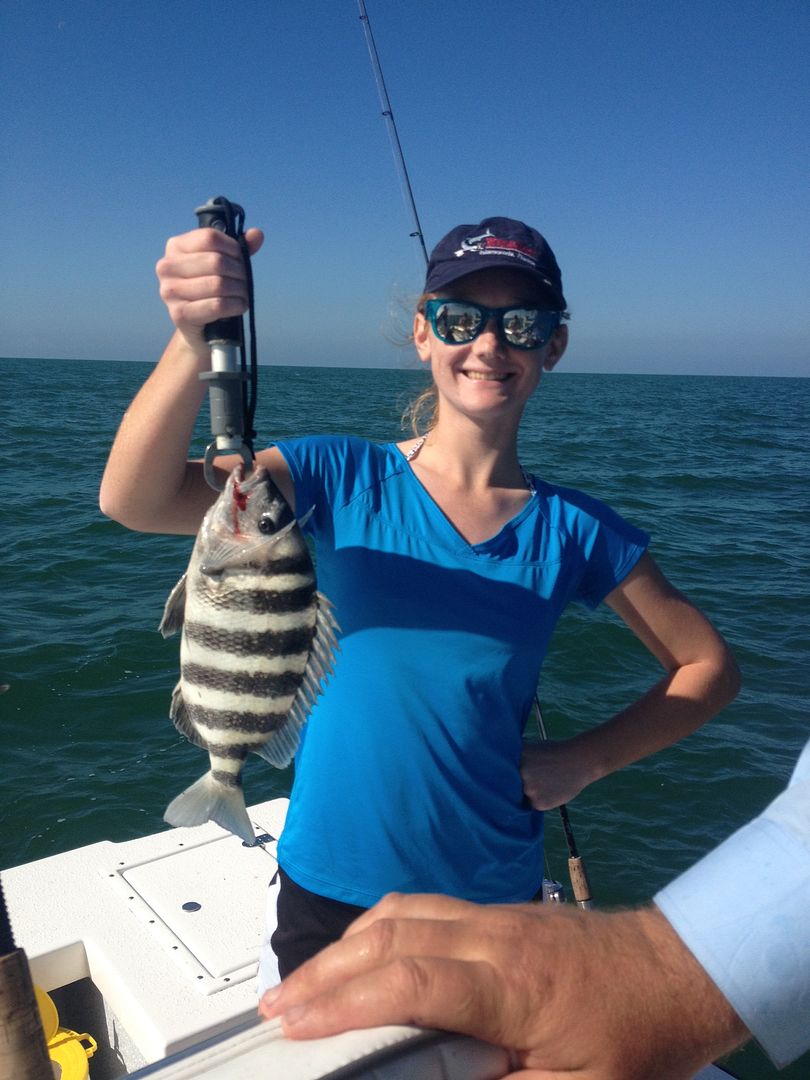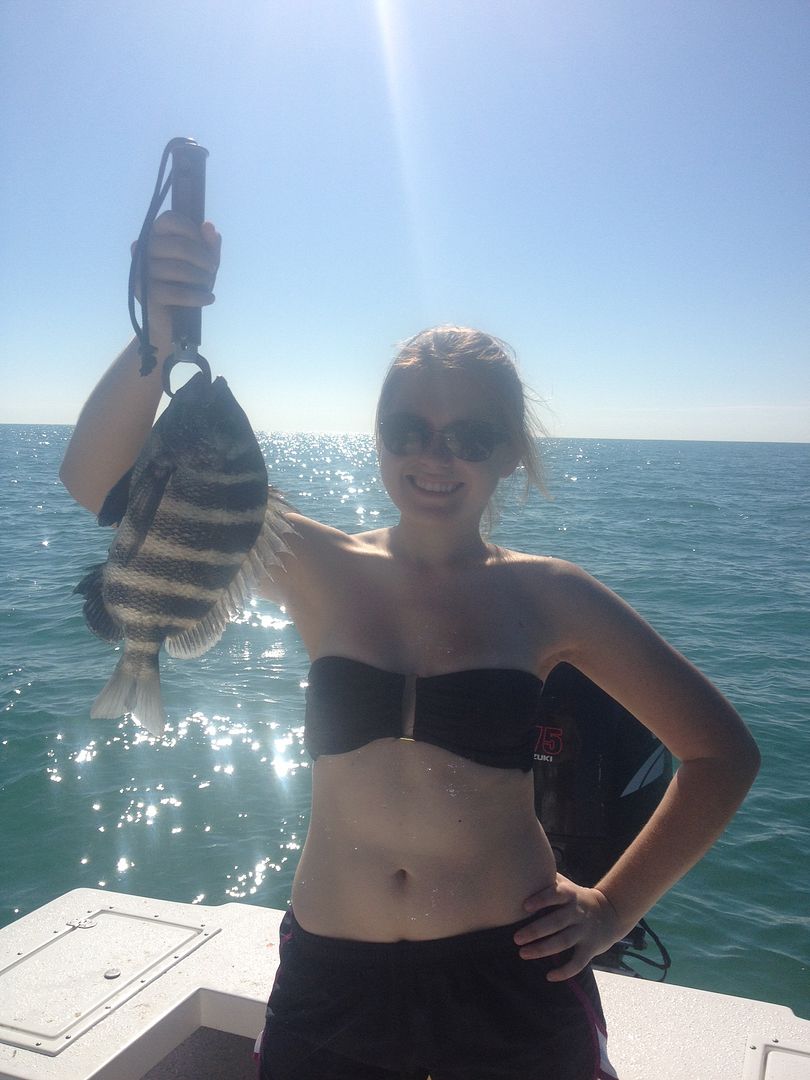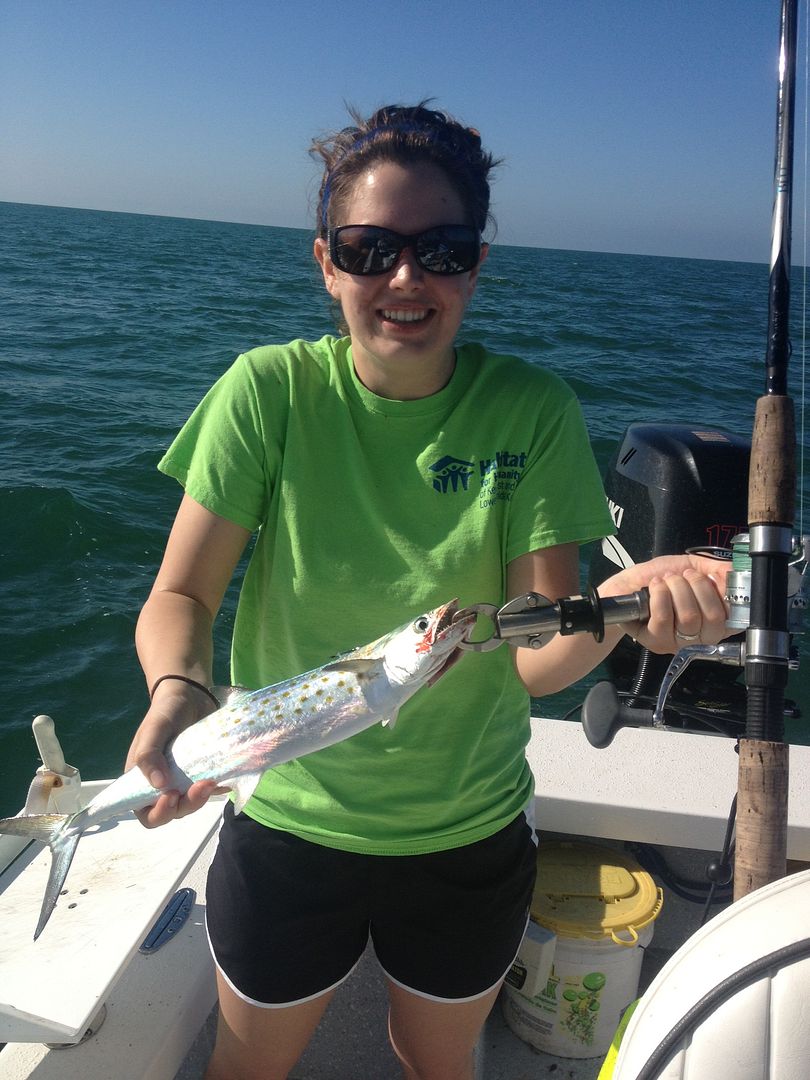 I had some great pictures of various things out there and my camera finally gave up, so I got these from the girls. On one of the final offshore stops I saw a big goliath follow up a sheepshead being pulled in. Told them that we were gonna have an issue if they were not speedy in their retreival. Just as I thought next fish was on its way up, then all of the sudden got real big and headed back down. Decided to have a little fun and rigged the penn international 50 I keep under the gunnel for just such an emergency. An unfortunate jack was the bait and it was game on. Got a good hookup then broke off. The girls were not happy that beast such as that could get under the boat. It was about then that my boat finally got christend with my first real case of gastroinpukeulitis so it was back inshore to finsh the day. Ran to a middle bay on the oysters in a mid rising tide. First stop and a slot red for the box. One girl started the fight and gave out, another having to finish the job of getting the fish over the gunnel. A few more snapper, and trout and we were heading for the dock.
Back to the hill, cleaned a few fish. A great day on the water, by the close of the day the young lady who had never fished was grabbing her own shrimp, baiting her own hook, casting her own rod and ready to go again. I look forward to it allready.