Home
›
Ten Thousand Islands General Fishing & The Outdoors
Awesome Snook trip 2 lil kids 12/27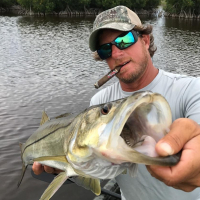 Joe Snook
Posts: 463
Deckhand
Had 2 kids 7 alex & 10 andrew today along with there father ira who live in galviston Texas and come down here at least once a year to fish and visit family. This was there first trip with me and I suspect ill see em again. seeing that they live in texas and have a boat I asked the usual questions and they said they never caught a Snook, plenty of reds and trout though. So thats my game plan Snook. I had some time for the tide to come in to get bait so we went for trips wich they have never heard of but had an absolute blast catching. They werent as available today but they got plenty and one big keeper.
uploadfromtaptalk1356651403511.jpg
uploadfromtaptalk1356651422831.jpg
It was bait time wicg was thin today but I managed just enough in time before my frusteration level started show.
uploadfromtaptalk1356651590109.jpg
the first spot was dead second spot pretty slow. The last 2 spots were pretty on fire. they got alot between 12 to 24 and Andrew got a pretty big one over 30 that pulled some drag, wich if you ever fished with me you know is not an easy task. This fish was so wrapped up in a tree I never thought it was gona come out, neither did anyone else he was heart broken. It took a while but eventually he was fighting in open water again. This lil Dude is gona be talking about this fish for a looong time I figure, He was so stoked.
uploadfromtaptalk1356652148075.jpg
what a fun fun trip watching the focus and passion Andrew had and Alex decapitating and torturing pilchards. Im just thankful things went well for them and cant wait to have em aboard again. Tear em up!
Sent from my SPH-M820-BST using Tapatalk 2
southwest florida fishing guide in the beautiful 10k islands, everglades and more
www.Joesnook.com